Rose Knox started the Knox Gelatine Company with her husband, Charles, in Johnstown, New York, in 1890. (Gelatine was the preferred spelling at that time.)
When Charles died unexpectedly in 1908, Rose stepped in as president and CEO. She made numerous changes that established Knox Gelatine as a company ahead of its time.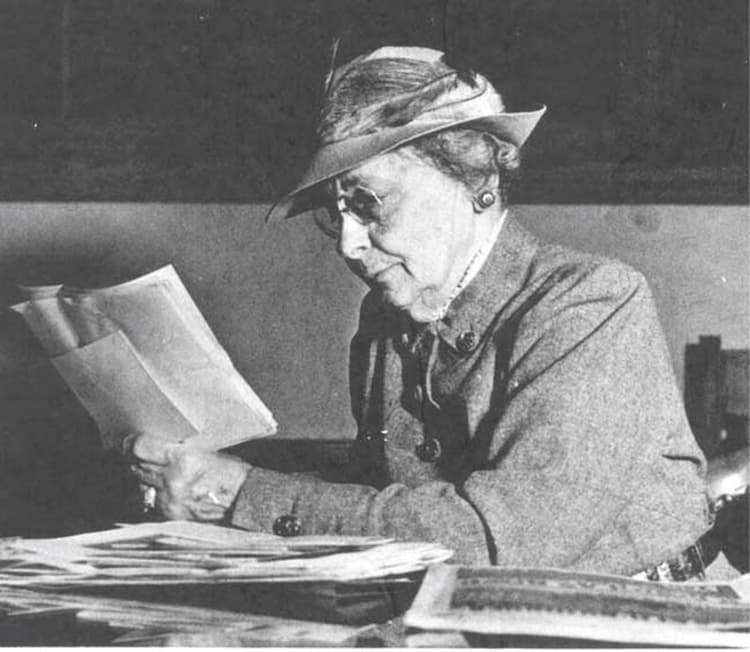 She knew women made the grocery decisions, so she re-targeted the company's marketing to reach that audience. She also made many changes for her employees. Some staff members were expected to come in the back door, and she pronounce that this practice would end. Rose explained it by saying: "We are all ladies and gentlemen working together here, and we will all come through the front door."
In 1913, she instituted the five-day work week, along with two weeks of paid vacation for all staff members. She also offered sick leave. All these benefits were unheard of at the time.
Share to Google Classroom:
Rose Knox: Early Years
Rose Markward (1857-1950) was born and raised in Mansfield, Ohio, where her father was a druggist. In the late 1870s, the family moved to Gloversville, New York. When she was old enough, Rose found a job working in a glove factory. She also met one of the company's salesmen, Charles Knox. They married in 1883.
Soon Charles Knox took a job as a knitwear salesman. This took them to New York City and then Newark, New Jersey. They eventually relocated to Johnstown, New York.
Rose and Charles Knox believed marriage was a partnership. Charles took a portion of the money he made each week and gave it to Rose to manage the household. Charles was one of the top knitwear salesmen in the country, and as his income increased so did her weekly allotment.
During this time, they became parents of three children.
Rose as Homemaker
Rose was busy with the household and took care of meal preparation herself. One of the delicacies that the upper classes enjoyed were fancy gelatin desserts. (Gelatin was also used to create meals for the sick.)
There were no instant or easy ways to buy gelatin, so it had to be made at home. The process involves extracting collagen from animal bones. The bones are boiled for most of the day. Then the mixture is strained so the bones can be discarded. The liquid is then left out for about a day to settle.
After skimming the fat off the top, flavoring is added. The result can be a flavorful, protein-rich gelatin dessert.
As Charles Knox observed Rose making gelatin in their kitchen, he wondered why it couldn't be simplified. A few companies were beginning to sell a powdered gelatin, but the Knoxes did not find them satisfactory.
Charles took on the challenge and experimented with ways to make pre-granulated gelatin. Rose and Charles tested and tasted everything. Eventually, they had a product that pleased them both.
Starting the Business
Rose Knox was always frugal with the money that she received for the household. Many weeks she was able to set aside something for savings.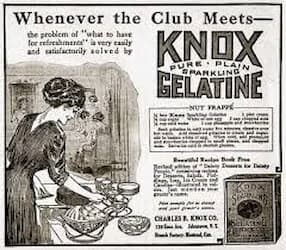 By 1890, she had saved $5000. When Charles and Rose heard that a gelatin business was for sale in Johnstown, they decided to buy it. Johnstown was a city with many tanneries so animal parts were easily available. And now that they were pleased with their manufacturing system, they felt they could make a go of the business.
Using the method Charles created, the factory went into production to create sheets of pre-granulated gelatin. Charles hired salesmen who traveled to introduce and sell the product outside of the Johnstown area.
To expand the market, Rose created recipes that showed all the ways the product could be used. Some of the recipes appeared in newspapers. Rose also completed a recipe book (click here to read a copy), Dainty Desserts for Dainty People. Printed as pamphlets, the books were given away in grocery stores.
The manufactured gelatin could be sold at a reasonable price, and the use of gelatin grew in popularity.
Promoting Gelatin
Charles Knox loved finding ways to promote the product. He was one of the first to use an airship (hot air balloon) for advertising. The "Gelataine" airship first flew in 1905 in Portland, Oregon, for the Lewis and Clark Exposition. It was piloted by George C. Tomlinson, an aeronaut from Syracuse, New York.
It's first launch was on September 4, 1905. The ascent was successful, but unfortunately, the motor failed, and Tomlinson had to land out of the Exposition grounds.
Knox also owned race horses and publicized them as the Gelatine String (gelatine was the preferred spelling at that time). His best horse, one that raced in all the major races, he renamed Gelatine King.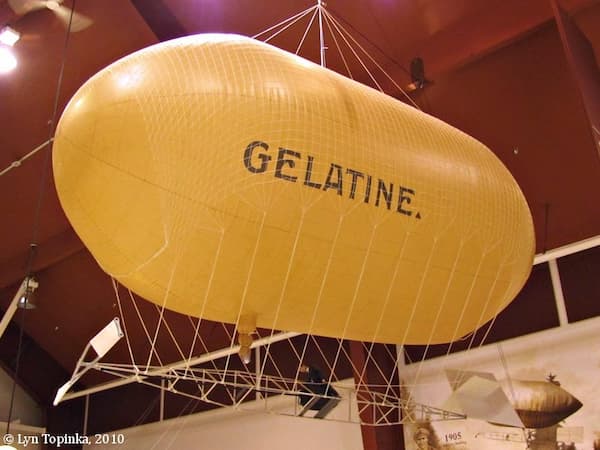 As the business grew, Knox acquired more companies, including a hardware store and a factory that manufactured soap, ointment, and tonic.
Untimely Death
In 1908 he took his two sons to Canada on a fishing trip. On the return home, Charles did not feel well. In Montreal, he booked the boys on a through-train home, and he went to the hospital. He was diagnosed with a heart ailment and did not survive.
Rose was devastated.
Rose Knox Takes Over the Business
Friends urged her to sell Knox Gelatine Company. Women just didn't run major businesses in that day. But Rose Knox was there from the beginning. She knew she was well-suited to take over. At first, she announced that her position was temporary, "until her sons could run the company." Of course, she stayed well beyond that.
One employee resigned immediately, saying he was incapable of working for a woman. Everyone else stayed and were glad they did.
She took two steps immediately. She sold off the tangential businesses, and she redirected the marketing to women, the customers who made the family food choices. The company grew and expanded as a result.
Rose Knox: New Plan
Rose Knox also changed the marketing plan for Knox Gelatin. The advertising emphasized the product's low cost and high nutritional value (almost 100 percent protein).
She inspected her factory regularly and improved the production plant to assure sanitary conditions—something she knew women would care about. She also undertook new cookbooks. By 1917 she issued a book called Food Economy, and many of the company advertisements featured her recipes under the heading: "Mrs. Knox says…"
She also paid immediate attention to the employees. She announced that from that time forward, no employee would be expected to enter by the back door. They were all considered team members and were to enter through the same front door.In 1913, she instituted the five-day-workweek and gave employees sick leave. She also provided for two weeks of paid vacation for all staff members.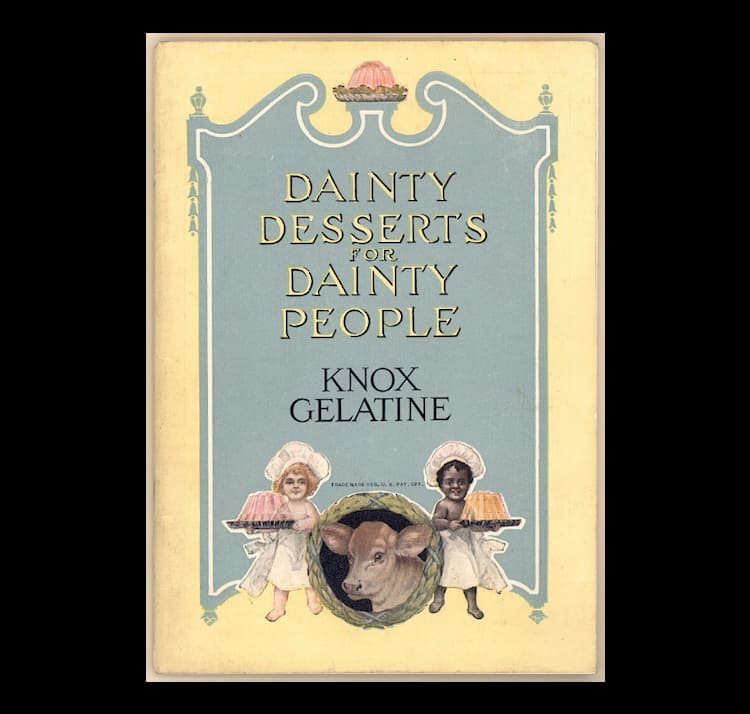 By 1915 the value of the company had tripled, and the Knox company built a bigger plant. In 1916, Rose Knox also negotiated to buy a half interest in Kind and Landesmann, one of their major suppliers of gelatin.
Happiness Headquarters
During the Depression, she was determined not to fire employees. She cut business costs where she could and still managed to grow the business 5 percent per year.
In November of 1937, Rose Knox's staff policies made news. Time magazine (11/29/1937), noted that 85 percent of their employees had been with the company for 25 years or more. The writer mentioned that there was a sign in the Johnstown company lobby that deemed it "Happiness Headquarters."
Rose Knox: Town Benefactor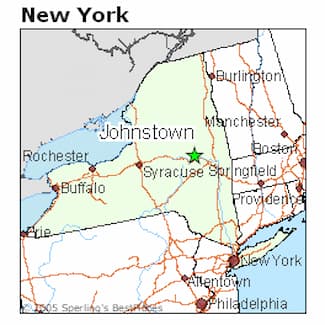 Rose Knox also believed in giving back to the town where the family had achieved so much. She donated money to everything from the YMCA to a fund to build an athletic field, and she purchased a church so the town could convert it to a home for aged women. She also served on many local boards.
She remained president of the company until 1947 when her only still-living son, James, took the helm. Even then, Mrs. Knox continued to remain active as chairman of the board.
Achieved Many Honors
In 1929, Rose Knox was the first woman to be elected director of the American Grocery Manufacturers Association, and in 1949 Collier's magazine referred to her as "America's foremost woman industrialist."
Company Continues
The Knox family maintained control of the company for many more years. The grandson of Charles and Rose took over when his father died, and John Knox added new products including Knox Drink for Nails and Knox Eat and Reduce Plan.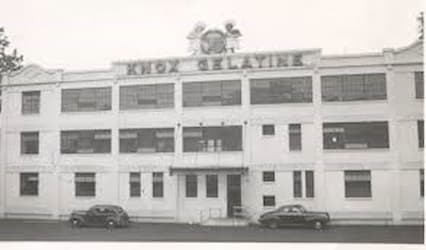 In the early 1970s, the T.J. Lipton unit of Unilever bought the company. Then in 1994 Nabisco acquired the American rights to Knox gelatin to add to its Royal Desserts Line (Nabisco is now part of Kraft). Kind & Knox became a wholly owned subsidiary of a German-based gelatin producer, DGF Stoess AG (stet), which now operates largest gelatin company in the world, providing gelatin for industrial applications, pharmaceuticals, and photography.
Rose Knox died in Johnstown at the age of 92.
To read the story of another strong woman business leader, read about Ida Rosenthal and how she pioneered the bra industry with Maidenform.