Made elegant clothing available to wealthy American women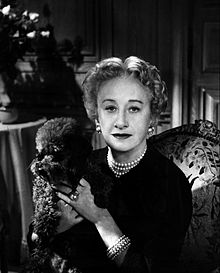 Pioneered concept of head-to-hem stores
Made the Carnegie Look the rage for fashion-conscious women
Henrietta Kanengeiser was born in 1880, the second of seven children born to a tailor and his wife in Vienna, Austria. While Henrietta was young the family's home burned, so her father immigrated to New York City where he opened his own shop and sent money back to the family until he could afford to have them join him.
Like thousands of other Jewish immigrants, the family settled on the lower east side. As a young teenager, Henrietta took what work she could including working as a messenger for Macy's and later as an assistant in a millinery workroom.
During this period she owned three blouses and a single skirt, but even then she had a sense of style that people noticed. Hattie also had blonde hair and blue eyes in a community where dark hair predominated. Rose Roth, a seamstress in the area, noticed Hattie and thought of using her as a walking advertisement. She told Hattie that she would provide clothing for Hattie to wear if Hattie would send business her way.
Dresses and Hats
This relationship eventually blossomed into a dress and hat shop that the two women ran together. By this time, Hattie had determined that she needed to "blend in" so she opted for a new last name. She purposely decided that "Carnegie," the name of one of the most successful men in the United States, was the right name for her as it suggested her aspirations.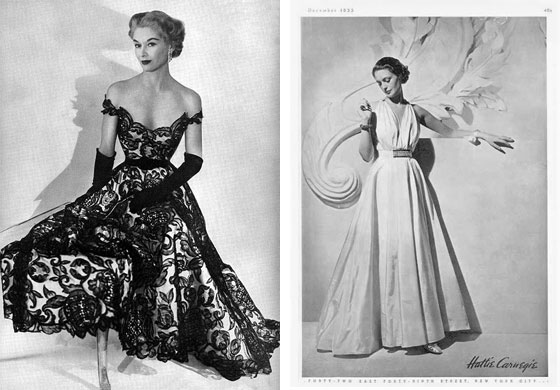 Their first shop was on East 10th Street and after four years they were able to move their business to a more desirable location on West 86th Street, nearer fashionable Riverside Drive. The shop was on the second floor above a deli and a Chinese restaurant but well-to-do women seemed to have no trouble coming to visit "Carnegie—Lady Hatter." Mrs. Randolph Hearst, Claire Booth Luce, and Tallulah Bankhead were among the women who were regular customers. Joan Crawford sent telegrams from Hollywood requesting that Hattie send clothing to her.
As created by Rose and Hattie, the store pioneered what is now the norm in many boutiques—what is referred to as "hat to hem," meaning that a shopper could go in and find everything but shoes.
Hattie Carnegie, Inc.
In 1918 Rose and Hattie were no longer getting along, so Hattie bought Rose out, calling the new company Hattie Carnegie Inc. While Hattie could neither sew nor draw, she regularly visited Paris to observe the latest in haute couture, and when she returned to America she was skilled at translating the French couture style to looks that could be made for Americans. This introduced ready-to-wear fashionable clothes to women who were accustomed to waiting for couture.
With the turndown in the economy in the 1930s, Carnegie opened a wholesale branch of her business so that she could sell less expensive clothing directly to stores. She continued to make a name for herself, and the Carnegie Look became well known in the fashion world.
Because she relied on others to actually execute her ideas, the company became an incubator for designers who were to later to establish themselves as big names. Among those who worked for Carnegie were Norman Norell, Claire McCardell, Pauline Trigere, Pauline de Rothschild, and James Galanos.
She received many fashion awards, including a Coty Award from the Fashion Critics and the Neiman Marcus Distinguished Fashion Service award.
Designed for the Women's Army Corps
In the late 1940s, the United States Army approached Carnegie to reinterpret her Carnegie suit—known for its classic and fashionable look—for the Women's Army Corps. Few things made Carnegie as proud as that honor did. She later was given the Congressional Medal of Freedom for the work she did in creating the uniform as well as for other charitable work she did.
By this time Hattie Carnegie Inc. was a multi-million dollar business. Her shop stretched from 48th streets to 49th Streets, and she had added fur coats and all types of accessories to her line. To accommodate the additional products, she moved the millinery shop to West 57th St. and a cosmetics, jewelry, and perfume store to 412 E. 59th Street.
Personal Life
Her first two marriages ended in divorce but with her third marriage she returned to someone she knew growing up. John Zanft had gone to work in the movie industry but they re-connected and married in 1928. He still spent time in L.A. but their marriage lasted—and probably benefited her business with his connections to movie stars.
Hattie Carnegie died in 1956. At the time her business was an $8 million dollar enterprise. Her brothers, who had worked as part of her company, tried to keep it going but without the Hattie Carnegie touch, it floundered. By the late '60s the store was closed.
There is more information on Hattie Carnegie at a site that has been created and dedicated to her. Visit www.hattie-carnegie.com to read more.