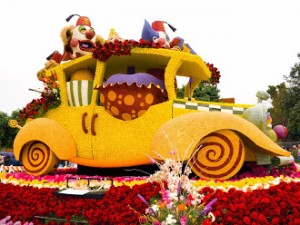 Isabella Coleman broke ground for women by being the first female to design floats for the Tournament of Roses Parade. Her design career began when she was a teenager, and she went on to run her own design company, making more than 250 award-winning floats over her fifty-year career.
Many of the innovations still used on floats today were ones pioneered by Isabella Coleman (1892-1982).
Coleman's Early Life
Isabella Sturdevant was born in Pasadena, but during her childhood, the family moved to Hawaii for a time. Izzy, as she was known, picked up the art of stringing flowers on leis while in Hawaii. This art was to have an effect on her future career.
By 1904, the family had returned to Pasadena, and Isabella Coleman began participating in what would become her life's work.
The Tournament of Roses Parade began in 1890, and in the early 1900s, it was very much a community affair without commercialism. Families tied flowers to the wheels and benches of horse-drawn carriages, and the flowers used were those that could be picked in Pasadena gardens in late December.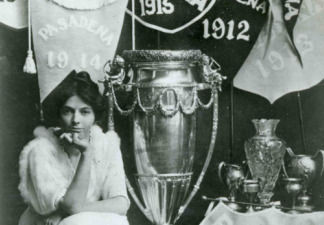 Of course, schools and church groups liked to participate. For Izzy, at age 12, her first effort was helping with the Pasadena High School float.
Just a few years later (1910), Izzy decorated and entered a float of her own design. Her entry won second place in the "horse-drawn conveyance" category.
After that, Isabella Coleman was hooked. She entered at least one float every year, and often, she had a hand in multiple float designs.
Parade Followed by Chariot Race
Pasadena was still experimenting with what type of activity to hold in the afternoon following the Parade. The very first year, there had been a football game, but it had been so one-sided that spectators found it boring. The following year they scheduled various athletic competitions for community members. By 1912, the organizers had chosen to hold Chariot Races after the Parade. (This article explains why football was not in favor.)
The Chariot Races were one of Coleman's early crusades. If community members were going to drive chariots, she wanted to be among the drivers. Organizers said no women would drive, but Coleman refused to take "no" for an answer. Ultimately, Isabella Coleman took the reins of one of the chariots.
Coleman Begins Business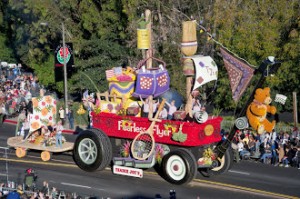 In 1913 Coleman accepted her first client, the Pasadena Board of Realtors. Two years later, she received her first major award. The award was for a float for the city of Los Angeles that was a reproduction of a Spanish galleon. Clearly, the Parade was growing beyond being a community gathering.
In 1916 Coleman was commissioned to do three floats: one for the Pasadena Board of Trade, one for the city of Hermosa Beach, and another for the Los Angeles Chamber of Commerce. With these commissions, her fate and her career were launched.
The Process
For many years, Isabella Coleman's business operated out of a Quonset hut on North Lincoln Avenue in Pasadena.
As soon as one parade finished, planning and dreaming were underway for the floats for the following year. Designing could all be done on paper, but by each June, the actual work on the floats was underway.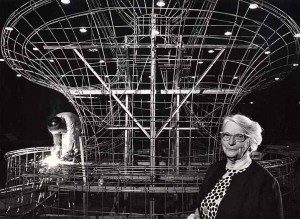 Welders were the first workers on the scene. They needed to come in and shape the designs in steel. Whether it was to be a lacy curtain, feathered birds in trees, or a jeweled crown, the welders followed Coleman's blueprints. Coleman always watched carefully as they worked. Sometimes she would see ways that her plans needed to be modified.
Decorating with the live flowers has always been a "last few days" affair. While Coleman had staff to organize and start the flower work, volunteers were always needed to help get the various-colored flowers in the glass vials and to follow the charts as to the placement of each color. Then and now, each float requires so many flowers that a great many hands are required. [Los Angeles Times, 1957.]
Coleman's Experience Leads to Innovations
As float designs became more sophisticated, Coleman wanted a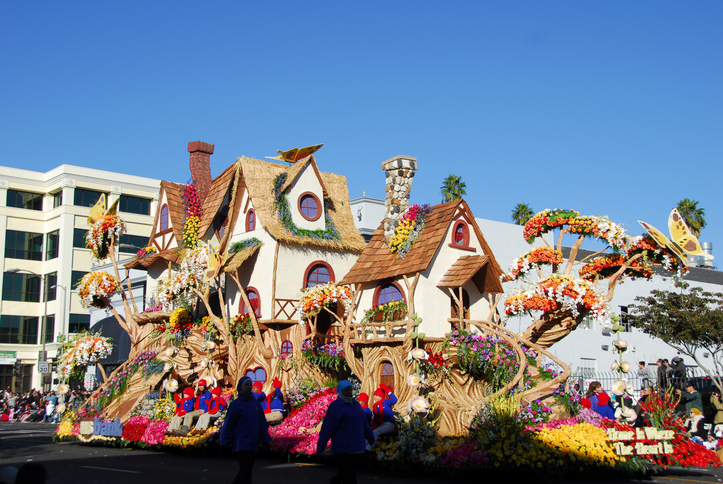 method for the floats to seem to move on air. This required developing a system that hid the carriage of the float from view. After much experimentation, Isabella Coleman selected a steel undercarriage welded to a truck frame. Within this, there was a hidden cockpit for the driver. She chose small-diameter airplane wheels for the unit, as they made the float appear to hover just above the street.
Coleman also is credited with the idea of using water-filled vials to hold the flowers, thereby extending their freshness.
Firsts for Women
Isabella Coleman was a pioneer in float-making, and she she also paved the way for women to enter the all-male field of float design. Later she became the first female member of the Tournament of Roses Association.
She retired in 1969. Five years later, the Association added the Isabella Coleman Trophy for best presentation of color and color harmony in flowers.