Elsie the Cow is one of the most famous marketing mascots ever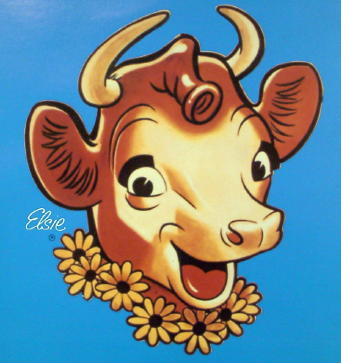 created. She has been more popular than the Pillsbury Doughboy, better than the Campbell twins, and more accessible than Tony the Tiger. During her heyday (1940s-1960s), Elsie led the Rose Bowl parade, raised $1.6 million for World War II bonds, celebrated her tenth birthday at the Roosevelt Hotel, her 25th at the Waldorf, and collected keys to more than 600 cities.
She also appeared on Broadway and played the role of Buttercup in a Hollywood movie, Little Men. She has also written several recipe books, and one of her calves was born at Macy's. (Red drapes were discretely draped across her store-window birthing area.)  And she was a lovely guest wherever she went. She often delivered 30 gallons of milk to her hosts as her bread-and-butter gift.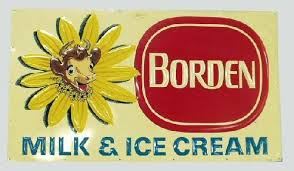 She has received a plentiful supply of fan mail from all over the country. When it came to children being told they were going to see Elsie, the Borden Cow,  Elsie raised as much excitement as Joe DiMaggio or Mickey Mouse. She was almost of a rank with Santa Claus, she was so well liked.
Best of all, she proved extremely effective at selling Borden Dairy Products.
How Did Elsie the Cow Come About?
The first ads that featured Elsie were created in 1936 by Borden's director of advertising, Stuart Peabody, and a staff illustrator, Walter Early.  (To read more about the story behind The Borden Dairy Company, click here.)
In the 1930s, milk was not the drink we know today. Much that was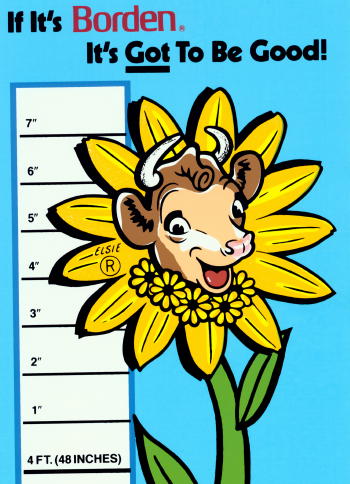 sold in the U.S. during the early part of the century was disease-laden. In 1907, the Department of Agriculture revealed that dairy cows frequently carried tuberculosis and that unsanitary conditions on farms meant other illnesses were carried in the milk supply as well. Most milk was shipped to stores without any form of processing.
The Borden Company was in the forefront of change. They had purchased a dairy in New Jersey that was among the first to install equipment for pasteurization.  However, the world changed slowly when it came to perceiving that "processed" (pasteurized) milk was better than regular cow's milk.
Chicago was the first city to require pasteurizing of milk (1908) but the first state-level mandate did not occur until 1947 when Michigan passed such a law.
This meant that in 1930s dairy processors like Borden had their work cut out for them to convince the public that their milk was more worthy—and safer—than the dairy cow on a family farm.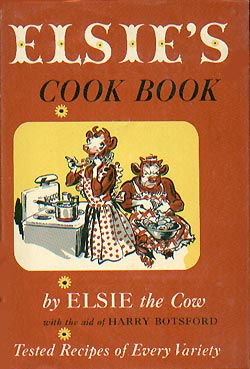 Borden ad man Stuart Peabody knew his first approach to selling Borden milk needed to be through the medical establishment. If doctors understood that pasteurized milk wouldn't make people sick, they would start recommending it to their patients.
Peabody felt the ads needed to be light in tone.  His first ads were in the form of Letters to Mama: "Dear Mama, I'm so excited I can hardly chew! We girls are sending our milk to Borden's now. Love Elsie." These ads were accompanied by artist Walter Early's illustration of a perky, friendly cow. (The Advertising Age Encyclopedia of Advertising credits Walter Early; the Borden site attributes David Reid with having created the image of Elsie. Reid would have been only 19 at the time; perhaps he was a member of the marketing team who created Elsie.)
As early illustrations show, Elsie had a kindly face, huge brown eyes, and wore a chain of daisies around her neck. She generally wore an apron, and whatever she was doing, she had her calves around her. Husband Elmer, later the face of Elmer's Glue, took orders from her, repairing things around the house.
In 1938, Peabody expanded Elsie ads into some consumer publications, and he began buying radio time for her as well.  Elsie took off quickly. A survey done in the 1940s found that 98 percent of the American public recognized the Borden cow.
World's Fair Brings Need for Real Cow
For the 1939 New York World's Fair, the theme was World of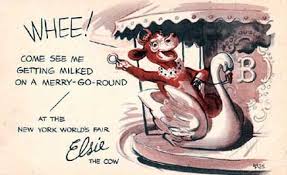 Tomorrow. Companies came in to show their vision of how they expected their industry to look in the future. Borden's exhibit was an advanced view of a dairy barn. It involved a "Rotolactor," which was an automated rotary milking parlor with live cows coming on and off an over-sized turntable with several milking stations.
The guides at the exhibit were assigned to keep track of questions asked by the public. This meant that Borden quickly learned what was catching people's attention: 20 percent of the questions concerned operation of the Rotolactator; 20 percent concerned the whereabouts of the bathroom; and a full 60 percent of the questions were about which cow was Elsie.
Clearly, the Borden Company needed to cast the role of Elsie! Those in charge of the cows quickly identified one cow as having more "personality" than the others, so she became Elsie. The actual cow was a Jersey cow born in March of 1932 at Elm Hill Farm in Brookfield, Massachusetts. Her real name was "You'll Do, Lobelia."
And thus began Elsie's public appearance schedule.  For practical reasons, Elsie was sometimes played by a substitute cow from a farm that might be closer by to the location where she was scheduled to appear.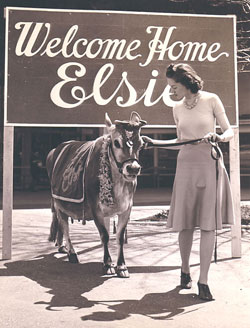 One day in 1941 Elsie (You'll Do, Lobelia) was on her way into New York City for a milking appearance near the Schubert Theater. Her truck was rear-ended by another truck, and Elsie was badly hurt. The handlers took her back to her farm hoping that something could be done, but the veterinarians agreed that her back was broken; saving her would not be a kindness to Elsie.
For Borden's sake, it was fortuitous that they had other Elsies-in-waiting.
For a time, the demand for Elsie was so great that Borden established an East Coast Elsie and a West Coast Elsie. All was well until the late 1940s when local newspapers picked up wire service stories about the doings of both Elsies on the same day. Borden received irate letters from parents who were upset that their children now knew there was more than one Elsie. After that there were still multiple Elsie's, but there were never two Elsie publicity appearances on the same day unless it was clearly the same cow going from one place to another.
Elsie's Family Grows
Elsie traveled to Hollywood in 1940 in a private railroad car to play Buttercup in the film, Little Men.  Her calf, Beulah, was born during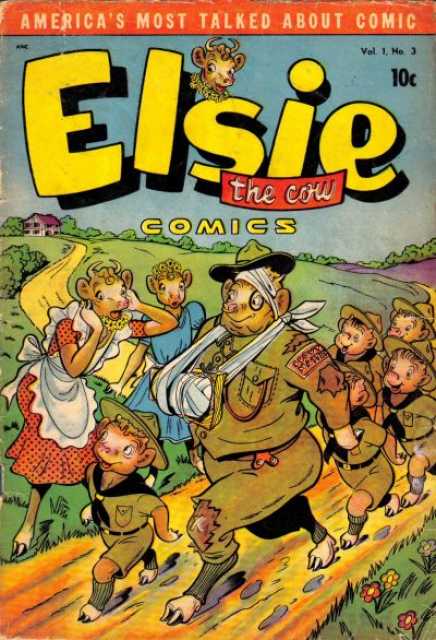 this time, and Elsie and Beulah returned together for the final summer of the New York World's Fair.
Special provisions were made for the birth of Beulah's little brother. Elsie was making a guest appearance at Macy's around the time she was due, so Macy's put up some temporary drapes in the store window where Elsie was the main attraction. The baby was born quite discretely without having to be in public view.
Then a contest was held to name the baby bull. One million entries were received and ultimately the judges picked "Beauregard" in honor of the Civil War Confederate General P.G.T. Beauregard at the Battle of Bull Run. (They clearly disregarded the fact that Elsie would have been a Union cow.)
A Typical Day for the Real Elsie
A typical event for Elsie was described in The New York Times on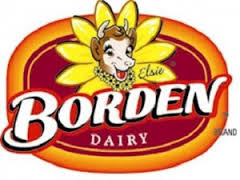 October 17, 1940. She was to be awarded a "Distinguished Service" award during the second season of the World's Fair. Among those in attendance at the awards ceremony were two bear cubs, a horse and colt, two goats, and some monkeys. The bear cubs, who had been provided with milk bottles, were acting up during the event and after a few glowering looks from Elsie, those in charge of the show had them removed from the scene.
Elsie's citation read: "The New York World's Fair hereby confers upon Elsie this citation for distinguished service; because she has been such a sensational attraction at the New York World's Fair; because of her genius as a decorator and designer of barnyard boudoirs; because she has inspired so man thousands of calves of the future to have better parents; because she created so much extra work for countless newspaper photographers; because she has established that a girl can have a career and still be a good wife—but mostly because through her, more of the milk of human kindness is available in all quarters than ever before."
For more information on Elsie and her barn, click through to "Elsie, The Borden Cow, Was a Local Girl," from the Town of Schodack, New York.
Elsie the Cow Takes on a Cartoon Personae
After World War II, the world of television became a more important part of American life. Borden needed Elsie to appear in its television commercials. Live cows are interesting to see at fairs, but their dramatic ability is severely limited to simply looking cow-like. The marketing department's next task was to create an animated version of Elsie. Here's an example of a television commercial from the 1970s that shows the animated version of Elsie.
Elsie Retires and Then Un-Retires
By the late 1960s Elsie had been retired by the marketing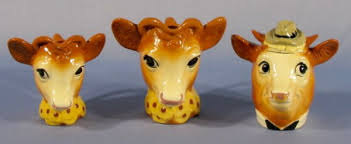 department. They felt it was time for an updated marketing approach. But with flagging sales during the early '90s, Elsie was revived in 1993. In 2000 she was voted one of the ten most outstanding marketing mascots of all time, and today her face adorns the packages of Eagle Brand Condensed Milk (Borden's original product), Borden Dairy Products, and she is also mascot for the 22,000-member Dairy Farmers of America.