The Borden Dairy company is an extraordinarily old American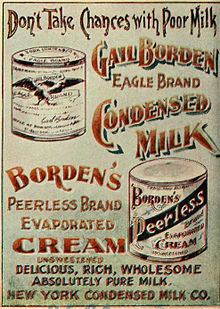 company. It was started by Gail Borden, Jr. (1801-1874) in the decade before the Civil War. The first product Borden tried to sell was a dehydrated meat biscuit, and his experience with it led him to patenting and marketing condensed milk, a form of milk that needed no refrigeration.
Borden was born in Norwich, New York, and raised in Indiana. When he was about 20 years old, Gail Borden followed his brothers to Texas. He had been told the dry climate would help with a persistent cough he had. He joined one brother in a surveying business. They also maintained a family farm as surveying was not full-time work. In 1835 the brothers started a newspaper for the Galveston area (1835).  In addition, Borden was active with the Texas Baptist Education Society, which eventually founded Baylor University.
Borden's Life as an Inventor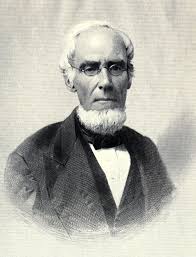 Like most inventors, Borden was a tinkerer. During the 1840s he had several projects underway. One involved a large-scale system for refrigeration; another was a prairie schooner that he was attempting to make into a land-sea transportation method. Neither went beyond the prototype stage.
One day when he was boiling down beef stock to make glue, he was struck by an idea. He knew Native Americans traveled with meat they preserved by drying it.  He decided to add flour to the boiled down meat stock, and when it hardened, he had a meat biscuit that was nutritious but did not spoil if it wasn't eaten right away.
In 1849, Borden relocated to New York in order to have access to a bigger market for his biscuit. He gained the attention of some important people, among them British explorer Elisha Kent Kane (1820-1857). In 1850-1851 Kane carried Borden's meat biscuits to the Arctic when he went in search of the missing explorer Sir John Franklin.
The biscuit was being endorsed by important groups, but sales were not following. In an effort to boost the market, Borden traveled to London to exhibit his meat biscuit at the Great Exhibition in 1851; he received a first-place medal for his food preservation product.
Borden's New Idea
On shipboard returning from London to New York City after the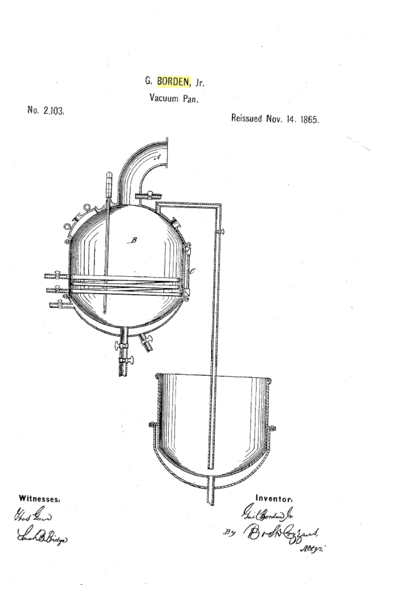 Exhibition, Borden noted that many people were sickened by milk that had become contaminated through poor storage on the ship; some of the children died. Borden began to wonder about inventing a way that milk could be preserved for long journeys.
Like all inventors, Borden was always observing the way people did things. In New York he lived near a Shaker settlement and had observed their methods of canning fruits. Could this method be used with milk?
Borden Condensed Milk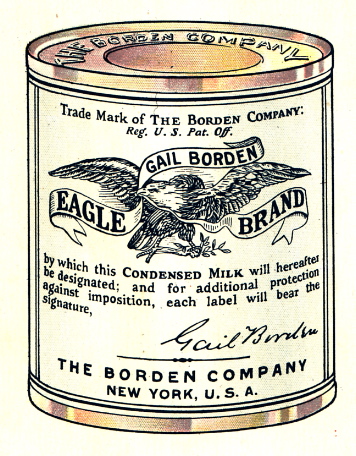 He spent several years on it, and eventually developed a method that used a copper vacuum pan that warmed the milk and evaporated the water from the milk solids.  It could then be preserved without refrigeration. He received a patent for this condensed milk process in 1856. Borden's work pre-dated Louis Pasteur's discoveries, so Borden had scant idea why the vacuum system helped preserve the milk's longevity. What he knew was it worked.
Borden's work in farming taught him that farm cleanliness and maintenance could make a big difference to the quality of the milk. He insisted on the milk suppliers from whom he was purchasing follow his sanitation suggestions to keep their cows disease-free.
In 1857 he founded Gail Borden, Jr., and Company to condense and sell milk. Initially he tried door-to-door sales in New York but business was slow.
One day on a train he happened to sit by financier Jeremiah Milbank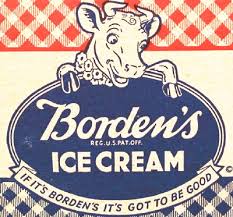 (1818-1884). Milbank had originally made his money in the wholesale grocery business, so he listened to Borden's concept and thought it had merit. He offered to fund the business in return for 50 percent of the stock. The Gail Borden Condensed Milk Company became the New York Condensed Milk Company with this partnership.
With the start of the Civil War, condensed milk became a valuable commodity for the military. The Union Army became Borden's biggest customer, and he had difficulty filling demand for the milk. He opened a second factory in Connecticut, two more in New York, and a fifth in Illinois.
As the war continued, and the North needed more and more milk for the soldiers, Borden and Milbank opted to license the patent and trademark to other companies in Pennsylvania and Maine so that they, too, could provide the Union Army with the milk they needed.
Borden Dairy Had to Change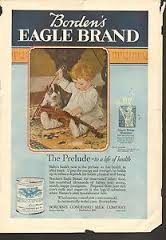 When the war was over, however, Borden realized that the licensing had diluted the strength of the company's brand. He altered the process somewhat, and started marketing under a new brand: Eagle Brand Condensed Milk, a product that is still available today.
With the war over, Borden needed to identify a new consumer for condensed milk. The company began marketing it as an infant formula. By adding water, mothers would have a highly nutritious substance that wouldn't spoil.
Later on, other products were created that were better suited for infants, and so the Borden Company re-positioned the product by holding recipe contests and distributing free recipe books that used condensed milk.  That is still a primary purpose of condensed milk today.
Age had not improved Borden's cough and breathing issues. He decided to return to Texas for the dry climate.  He established a meat-packing plant at what is now Borden, Texas, twelve miles west of Columbus. He also invested in a sawmill and copperware factory. And he continued to experiment: he worked out a similar vacuum process for condensing various fruit juices, beef extract, and for coffee.
Borden Dairy Continues to Grow
Gail Borden, Jr., died in 1874 but the company he began continued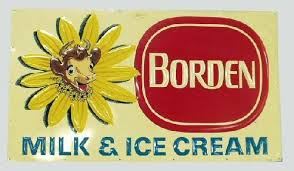 to grow.  Two of his sons, Henry Lee Borden and John Gail Borden, had entered the business. Under their ownership (in continuing partnership with Milbank), they purchased one of the first dairy farms employing pasteurization.  They eventually pioneered in selling milk in glass bottles.
In 1899, the New York Condensed Milk Company changed its name to the Borden Condensed Milk Company in honor of its founder. The company also established the Dairyman's Ten Commandments that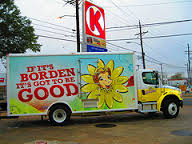 stressed sanitary farm conditions; this was a cause that had been important to Gail Borden from the beginning.
In 1919 the Borden Company issued its first annual report was that year, and the company showed ownership of 21 milk plants, eight milk farms, 56 bottle plants and 3400 horses and wagons.
Over time, the company became a conglomerate. The Borden Foods division acquired companies that made pastas and sauces (Creamette brand), bakery products, snacks, jams and jellies, and of course, cheese, milk, and ice cream. Another division, Borden Chemical, owned plants that made adhesive, plastics and resins, including well-known Elmer's Glue and Krazy Glue.
In the early 1990s, the business suffered major financial losses. In 1995 it was purchased in a leveraged buyout by Kohlberg Kravis Roberts & Co.  KKR closed Borden's food products operations in 2001, and divested all its other Borden operations by 2005.
But Borden dairy brands live on. The Borden name is still on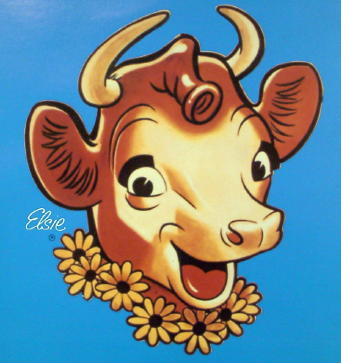 products coming out of Dean Foods Group, and Dairy Farmers of America also licenses the name and icon for its cheese. Eagle Brand Condensed Milk is still available. and  the company that owns it still uses the logo featuring Elsie.
Regardless of the company's ups and downs, the Borden brand is a true American success story. Two of the most successful marketing icons ever created were part of the Borden family—Elsie the cow for the dairy products, and her husband, Elmer, the bull, for his own brand of glue.  This, coupled with the fact that today's consumer can still purchase Borden cheese, make a dessert using Eagle Brand Condensed milk, or create an art project using Elmer's glue, demonstrates the strength of Gail Borden, Jr.'s initial vision.