Fannie Farmer (1857-1915) became famous as an author of a highly

popular cookbook that broke new ground by specifying exact measurements in its recipes. She also served as principal of a cooking school and frequently lectured on good cooking and the science of nutrition.
She accomplished all this despite having suffered a paralytic illness when only 16. Her illness left her bedridden for many months, and her recovery took several years. Even then she was left partially paralyzed, and as a result, she always walked with a limp.
(There is no connection between this Fannie Farmer and the Fanny Farmer Candy Company.)
Fannie Farmer: Early Years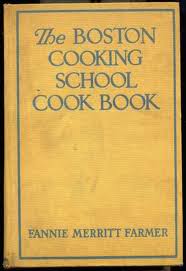 Fannie Farmer was one of four daughters born to working class parents. The children were raised in Medford, Massachusetts, and their parents believed strongly in the importance of education, even for daughters. Farmer was a student at Medford High School when she became seriously ill which left her partially paralyzed. (The author of the "Fannie Farmer" entry in American National Biography speculates that her illness might have been polio.)  It took several years for her to even partially recover, and though she helped out at home, she was not able to resume her education.
In 1887, Mrs.Charles Shaw, a family friend and a prominent member of Boston society, hired Farmer as a mother's helper. After Fannie had lived and worked at the Shaws for a time, Mrs. Shaw observed Fannie's love of cooking and encouraged her to take classes at the Boston Cooking School.
The Boston Cooking School
The Boston Cooking School was founded in 1879 by the Woman's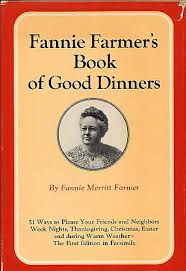 Educational Association of Boston, and it was part of a growing movement of the 1870s. As more of the country's population moved to cities for jobs, there was an increasing awareness of the number of people with health problems. In addition, educators were beginning to learn about the importance of good nutrition in achieving better health.
The Boston Cooking School had two educational tracks: classes for domestic workers who were working as family cooks, and classes for wives who wanted to learn to supervise workers in the kitchen and perhaps do a little cooking themselves. Added to the practical classes were visits from guest lecturers from area hospitals and schools like Harvard Medical School; the lecturers came in to talk about subjects like anatomy, digestion, and food chemistry.
The first principal at the school was a woman named Mary Johnson Lincoln. When Fannie Farmer began classes there, she looked to Lincoln as a mentor. The two women got along well, and when Farmer graduated in 1889, she was offered a job at the school. In 1891, Lincoln had to retire because of a family matter, and Farmer became the new principal.
Success at the School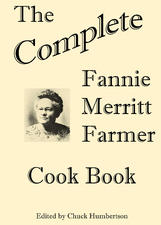 Fannie Farmer was very successful at running the school and soon undertook revising one of the cookbooks written by Mrs. Lincoln in 1893.
In updating and amending The Boston Cooking School Cookbook in 1896, Farmer broke new territory with the specificity of her recipes. Up until that time, most recipes called for a "dash of salt" or "teacup full of flour," and of course those measurements left room for interpretation. Farmer took pains to write clean, simple directions with exact measurements for the ingredients. She specified "a level measured cupful" or "1/4 teaspoon of salt," so that recipes would be more consistent.   (This must have led to an increase in sales of exact measuring implements.)
"Correct measurements are absolutely necessary to insure the best results. Good judgment, with experience, has taught some to measure by sight; but the majority need definite guidelines," said Farmer.
The cookbook contained almost two thousand fully tested recipes as well as information on good nutrition.  In the first two chapters of the book, Farmer wrote about the science behind various methods of cooking and explained the nutritional value of various foods and ingredients. These were the topics that were commonly covered at the school, but it was not yet the kind of information easily available to the public.
"It is my wish that [the book] may not only be looked upon a as a compilation of tried and tested recipes, but that it may awaken an interest through its condensed scientific knowledge which  will lead to deeper thought and broader study of what to eat," wrote Farmer.  Farmer's other secret ingredient in her books was her love of both food and cooking.  Her recipes were fun to make, and Farmer used more interesting seasonings than the recipes in Mrs. Lincoln's book.
That first year the book did well enough that was reprinted each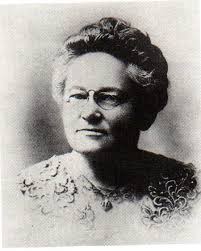 year and Farmer fully updated in 1906. By the time Farmer died in 1915, it had sold more than 350,000 copies. The book is continuously updated and still sells well today.  Marion Cunningham (1922-2012) has been the cookbook's most recent author.
Fannie Farmer Starts New Cooking School
In 1902 Fannie Farmer had made enough money from book sales that she decided to step away from the Boston School of Cooking and begin Miss Farmer's School of Cookery. By this time, household help was less common, and so Farmer emphasized the importance of homemakers learning to cook well. Her popularity was such that students followed her and soon the Boston School could not keep going.
Farmer kept revising the Boston Cooking School Cookbook, later known as Fannie Farmer's Boston Cooking School Cookbook; later it became known as The Fannie Farmer Cookbook.  Farmer also wrote other books including one that was particularly important to her: Food and Cookery for the Sick and Convalescent. The book specified diets for certain illnesses, and also stressed the importance of making food attractive and fun for those who were ill.
As a result of her fame as an author, Farmer became a sought-after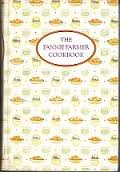 lecturer in both New York and Boston, sometimes speaking at fine restaurants and other times at medical schools.
Sometime after 1910, Farmer suffered a series of strokes which confined her to a wheelchair. But as soon as she felt a little better, she was back at work at her school and continuing to lecture until she died.
After Fannie Farmer' death, one of her teachers, Alice Bradley, took over the business and ran it until the mid-1940s.  Of course, The Fannie Farmer Cookbook in numerous forms is still in print today.