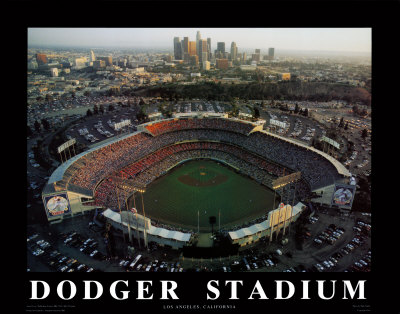 Dodger Stadium in Los Angeles has only been home to the Dodgers team for a little over fifty years. Here's how the Brooklyn team moved from Ebbets Field to a new city and a new field in Chavez Ravine.
But first, a quick note about baseball in Los Angeles. The Pacific Coast League's Los Angeles Angels were based in the city from 1925-57 (they were a minor league team during these years). They played in L.A. Wrigley Field, which was a copy of Wrigley Field in Chicago.
When Walter O'Malley, owner of the Brooklyn Dodgers, failed to work out a deal with Brooklyn to build a new domed field in the New York area, he opted to move his team to Los Angeles. Los Angeles agreed to provide free land if the Dodgers would underwrite the cost of a 50,000-seat stadium.
O'Malley had spotted a site, Chavez Ravine, from the air and felt it would be perfect. The city had been acquiring land for a public housing project in that area during the early '50s. The spirit behind public housing shifted, and L.A. continued to buy up the land, but now with the Dodgers in mind. The acquisition of the land in what was a Latino neighborhood, however, was not without heightened tension.
Brooklyn Dodgers Move to L.A.
When the Dodgers first arrived in 1958, they initially played in the 92,000-seat Los Angeles Coliseum (now used primarily for the USC Trojan football team). They played there from 1958-61, including the 1959 World Series game which they won.
When the stadium was completed in 1962, it was home for both the Dodgers and a newly-formed major league team, the Los Angeles Angels (who referred to it as Chavez Ravine until 1965 when the Angels moved to Orange County and became the California Angels; in 2005 taking on the name of Los Angeles Angels of Anaheim). From that time on, the stadium has been Dodger Stadium. It is known for its immaculate grooming and its beautiful views of downtown, the Elysian Hills and the San Gabriel Mountains.
Dodger Stadium is the third oldest ballpark in the Major League (Fenway and Wrigley are older) and it is the largest in seating capacity.
The Dodgers have always been a quality team and several former Dodgers are in the Hall of Fame: Sandy Koufax, outfielder Duke Snider, pitchers Don Drysdale and Don Sutton, and managers Walter Alston and Tommy Lasorda.
This year the team continues to attract fans with high hopes for game victories.