Satchel Paige was one of the greatest baseball pitchers of all time. He was a gifted player who worked tirelessly to maintain his edge. But as a Black man, he never had the opportunity to play in the Major Leagues when he was in his prime.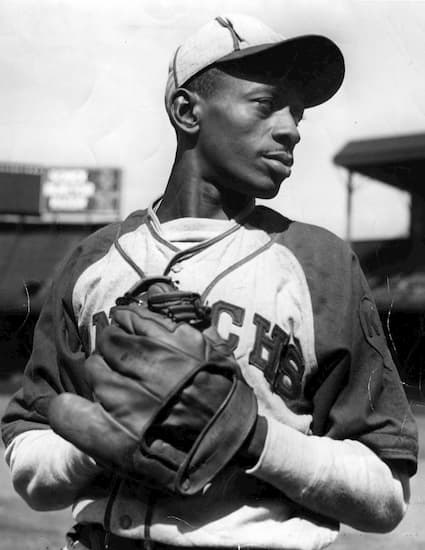 Instead, he built his career playing twenty seasons in the Negro Leagues. He barnstormed during the rest of the year, rarely sitting idle. On these cross-country trips, he played against all the best players—white and black—to demonstrate his prowess.
He was highly popular and attracted huge crowds everywhere he played. Later in his career, he developed a three-inning system. He would work for hire, pitching three innings for a team before moving on.
Finally in 1948, when Paige was 42, Bill Veeck, the owner of the Cleveland Indians plucked him to save his team. He was the oldest rookie in Major League history. Veeck's gamble paid off. The Indians won the pennant that year.
Of course, he deserved to be in the Baseball Hall of Fame. But that story, too, was a Jim Crow tale.
Satchel Paige deserved better.
Satchel Paige's Early Life
Leroy Robert Page (1906-1982) was born in Mobile, Alabama, to John Page, a dock worker, and Lula Page, who worked as a maid. John died a few years after their son was born, and Lula changed the spelling of the last name to Paige, perhaps to mark a new beginning.
Leroy Robert had many siblings and was known to everyone as "Satchel." His nickname came about because of an after-school job at the train station. Boys could earn tips for helping passengers with bags (satchels). Paige was not content with carrying two or three suitcases at a time. He arrived for work with a long pole on which he could hang the bags. The more he carried, the more he earned, and he became known as "Satchel." The name stuck.
Reform School
At age 12, Satchel was arrested for shoplifting. This followed some other minor thefts and truancy. He was sent to the Alabama Reform School for Juvenile Negro Lawbreakers in Mount Meigs, Alabama.
One of the staff members noticed Satchel's natural talent for ball-playing. He told Paige: "All that wild loose feeling you put into rock throwing, you ought to put into baseball." The teacher began working with Paige to develop his skills. By the time he left school at the age of 18, he was a very good ball player. (For another story about a young person whose life was changed by reform school, read "Louis Armstrong's Childhood.")
Playing in the Negro Leagues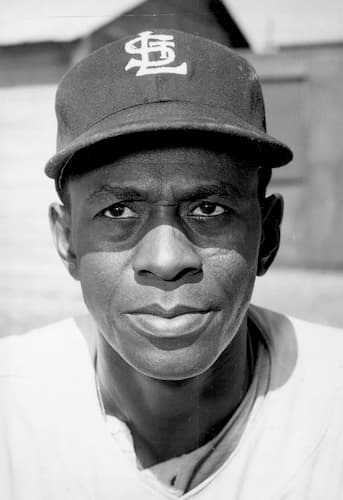 Initially, Paige joined a semi-pro Negro team called Down the Bay Boys in Mobile. From then—1926—until 1948, he played for at least eight different Negro League teams, including the well-regarded Kansas City Monarchs. With the Monarchs, Satchel and the team played in five Negro American League pennant games.
Satchel was particularly known for his fastballs, but that was just one of his options on the mound. He had a number of unique pitches to call upon. He was also wise about his job: "If a man can beat you, walk him."
Paige also told reporters that he could anticipate what a batter's weaknesses were by the way he moved his knees as he warmed up with the bat just before play. "Then I knew how to pitch so he can't get it."
When Paige joined the Pittsburgh Crawfords in the early 1930s, he already had a following of fans who loved to see him play. The owner of the Pittsburgh team made additional money by farming Paige out to semi-pro clubs that needed to boost attendance. With Satchel Paige pitching, the teams would have no trouble getting a crowd.
Satchel Paige: Barnstorming
Satchel Paige didn't see the point of time off. When the baseball season ended, he sometimes barnstormed on his own. Other times, he and Bob Feller, one of the best white pitchers of the day, would each put together a few guys for their travel teams. Feller and Paige were the headliners, but the rest of the players showed off well, too.
On his own, Paige sometimes traveled as many as 30,000 miles a year. In one streak, he pitched twenty-nine days in a row–a punishing schedule as any modern-day pitcher would testify. Paige couldn't resist the opportunity to pitch before the huge crowds.
"I liked playing against Negro League teams," Paige told a reporter. "But I loved barnstorming. It gave me a chance to play everybody and go everywhere . . ."
Integrating Baseball
When Jackie Robinson was selected to be the first African American to play in the major leagues, Paige was annoyed. He knew he was a better player. But Brooklyn Dodgers manager Branch Rickey knew what he was doing. Jackie Robinson was an excellent player with an even-tempered personality.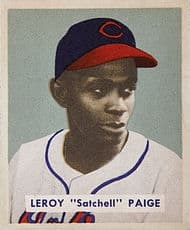 Branch Rickey knew that the first Black player on a white team needed to be able to remain calm and cool no matter what happened. Some teams threatened to walk off rather than play against a team with a Black player. Crowds thought nothing of catcalls and tossing items onto the field to express their disapproval of a Black player.
Paige eventually accepted that Robinson was the best man for that job. Despite his acceptance, he still held out hope that he would one day play for a major league team.
Satchel Paige to the Majors
In 1948, two years after Robinson moved out of the Negro Leagues, Satchel Paige had his chance. Owner/manager Bill Veeck signed him to pitch for the Cleveland Indians. He was the first Black pitcher in the American League and the seventh player to move from the Negro League into the Major League.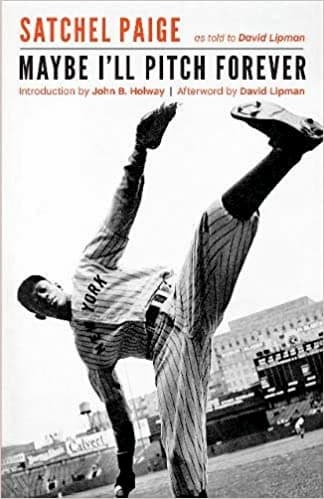 Though still a great player, he was also 42–the oldest rookie to ever join a major league team. Despite his age, he went on to help the Indians win the American League pennant that year. Later, he also played for the St. Louis Browns, also a major league team.
Paige's Style
Satchel Paige was the type of man that people told myths about. He was tall and rangy, yet he held playing power far beyond what people expected. He had great speed but tremendous control.
Paige told a reporter: "They started talking about me like I wasn't even a real guy, like I was something out of a book."
He never rushed ("they can't start the game without me"), and he always created a good show for the crowds he attracted. Some described him as "a clown," but Satchel Paige was a smart showman. He believed in giving the crowd a good time, but when it came time for the game to start, he knew just what he had to do.
When Paige turned to the work at hand, he was always deadly serious. He worked hard to stay in shape throughout the year, and as he aged, he learned to make up with cunning what he might have lacked in strength.
One of his biographers, Larry Tye, noted that Paige thrived on playing to white expectations…but then exceeding and defying them."
Later Years
In 1953, he was selected to play on an All-Star team, At 47, he was the oldest player ever selected.
His last game was in 1965 when he was 59. He was hired to make a three-inning appearance with the Kansas City Athletics. He didn't give up a single run. Because of all the article about his age, he asked for a rocking chair in the dugout and a nurse to rub his shoulder between innings. The crowd loved it.
Hw had wise words about aging–and clearly lived by them: "Age is a question of mind over matter. If you don't mind, it doesn't matter."
Baseball Hall of Fame
In the 1960s, only two players from the Negro Leagues were recognized by the Baseball Hall of Fame: Jackie Robinson and catcher Roy Campanella.  The committee working on selection claimed that Josh Gibson and Satchel Paige were not eligible because they had too few—or no–seasons outside the Negro Leagues.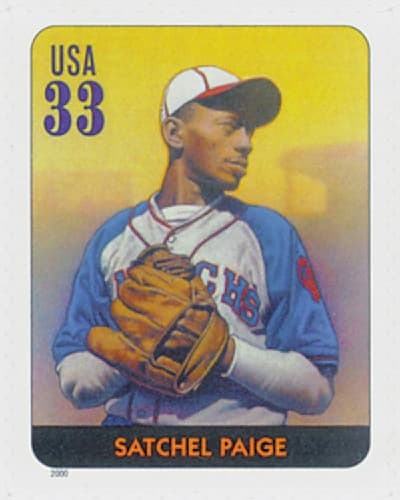 Sportswriters were incensed. Just as they championed getting Kenny Washington on to the Los Angeles Rams professional football team, they wanted to right this wrong. Many columnists wrote articles advocating for including the Negro League players.
In 1971, a new committee was formed. They reached their decision: They would create a separate section for these inductees.
Reporters reacted immediately.  Sporting News reporter Wells Trombly wrote: "Jim Crow still lives…So they will be set aside in a separate wing. Just as they were when they played."
Milton Gross, columnist for The New York Post, bashed MLB commissioner Bowie Kuhn and quoted Jackie Robinson: "The Hall of Fame is …run by outdated rules which, as Jackie Robinson said, 'can be changed like laws are changed if they are unjust.'"
Later that year the committee backed down. In August of 1971, Satchel Paige was inducted into the Hall of Fame.
Today a statue of Satchel Paige is featured in the Hall of Fame courtyard. (It was added in 2006.) His left leg is up…the baseball is nestled in his right hand. His eyes are closed, readying in his mind the perfect pitch.
Death Catches Up With Him
In 1982, Satchel Paige died of a heart attack; he was 75. 
He knew his fate would have been different if had he been white: "They said I was the greatest pitcher they ever saw…I couldn't understand why they couldn't give me no justice."
***
For more information read Ross Uitts's article about Satchel Paige and the baseball cards created for him:  www.oldsportscards.com