One of the most prominent African-American scholars in the 19th and 20th centuries
 gave voice to African-Americans, from the end of slavery to the civil rights movement
Only woman of any color to be quoted in the current edition of the U.S. Passport
Anna Julia Cooper was born in 1858 to an enslaved woman in Raleigh, North Carolina.  Anna and her siste were thought to have been fathered by their mother's white master.
In 1867, two years after the end of the Civil War, Anna was able to attend Saint Augustine's Normal School and Collegiate Institute, a coeducational school for former slaves. She received the equivalent of a high school education and taught for a couple of years.
In 1877 she married George A.G. Cooper, who had been a teacher at the school. As was the custom, Anna Cooper was no longer able to teach once she married.  When her husband died unexpectedly two years later, Cooper needed to regroup. She decided the best plan was to pursue a college degree. She attended Oberlin College in Ohio on a tuition scholarship, earning a BA in 1884 and a Masters in Mathematics in 1887.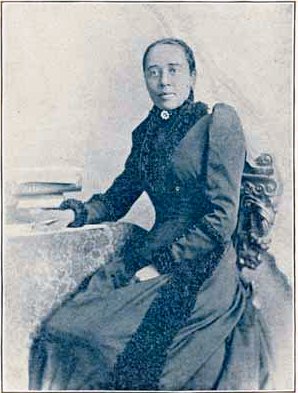 After graduation, Cooper returned to Raleigh to teach.  Soon she was invited to teach math and science at the Preparatory High School for Colored Youth (later known as M Street and today as Dunbar High School) in Washington, DC so she moved there.  From 1902-1906 she was principal  of the school but her curriculum, which involved college prep for the students, ran afoul of the D.C. school board's thinking.  In 1906 she resigned.
While living in DC, she also worked at Frelinghuysen University, an adult education school that offered liberal arts and professional courses for working African-Americans.  From 1930-40 she served as president of Frelinghuysen University.  Cooper believed that education was the key to success, and she particularly advocated for women to have equal rights in both education and in the world in general, including the right to vote.
In Washington, D.C., Cooper helped establish local organizations for women, young people, and the poor.   Since the Young Women's Christian Association (YWCA) and the Young Men's Christian Association (YMCA) did not accept African American members, she created "colored" branches to provide support for young blacks moving from the South into Washington, D.C.  These and other organizations she formed help address issues involving education, housing, and unemployment.
Published Black Feminist Work
In 1892, Cooper published her first book, A Voice from the South by a Black Woman of the South. In addition to calling for equal education for women, A Voice from the South advanced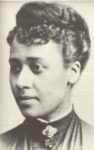 her belief that educated African-American women were key to uplifting the entire race.
The book of essays gained national attention, and Cooper began lecturing across the country on topics such as education, civil rights, and the status of black women. In 1893, she was invited to speak about the needs of African-American women at the Chicago World's Fair, and in 1900, she was one of only two African-American women to address the first Pan-African Conference in London. Many additional speaking opportunities followed.
In 1911 she began work toward a doctoral degree at Columbia University in New York, but in 1915 a death in the family curtailed her academic work. She took time off to absorb the responsibility of raising her brother's five grandchildren. In 1924 she moved to Paris and enrolled at the Sorbonne in order to continue work on her doctorate. In 1925, at the age of sixty-seven, Cooper became the fourth African American woman to obtain a Doctorate of Philosophy.
On February 27, 1964, Cooper died in Washington, D.C. at the age of 105, having been an effective advocate for African-Americans from the post-slavery era to the civil rights movement.
In the current U.S. Passport, several  American men are quoted for their wise sayings, but  Anna Julia Cooper is the only woman of any color who is quoted.   Hers reads:
 "The cause of freedom is not the cause of a race or a sect, a party or a class—it is the cause of humankind, the very birthright of humanity."