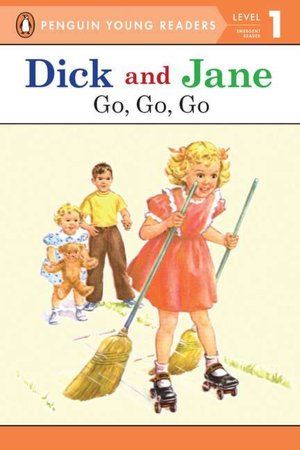 Dick and Jane books were the predominant readers in public schools from the 1940s through the early 1960s. The books were created by educator Williams S. Gray and former teacher and reading consultant Zerna Sharp, who believed that the "whole word" method was the ideal way to teach reading.
To understand the phenomenon of Dick and Jane, it is helpful to have a little background on the books that preceded the series.
Learning to Read Before Dick and Jane
In the early 19th century, schoolhouses were not well-supplied with books of any kind, so students were asked to bring a book from home. Few families owned many books, so the most common one children brought was a Bible.
The early one-room schoolhouses made it impossible for children to be separated by age or ability, so teachers did their best to provide students with skills that could be used regardless of the book they had in front of them. For that reason, phonics—sounding out words—was the preferred reading method. It could be applied by students reading at various levels.
Textbooks Were Needed
The first popular reading textbook was written by William H. McGuffey (1800-1873) and published in 1836. McGuffey was born to Scottish parents who settled in Pennsylvania. They raised the McGuffey children to value education and religion. At the age of 14, William McGuffey became a traveling teacher who moved from community to community in search of subscription scholars–children whose parents would pay for their education.
When he had the time and the money, McGuffey returned to attend classes at Washington College (now Washington & Jefferson College) in Pennsylvania. In 1826, he became a professor at Miami University in Oxford, Ohio. While there, he was hired by a publisher to prepare a template for a reading primer that could be scaled for different reading levels.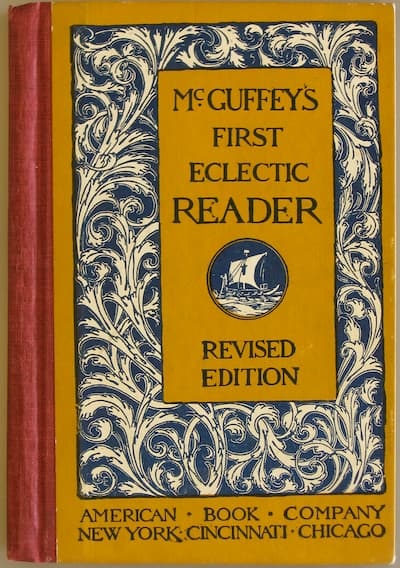 McGuffey created four levels of the reader. He selected short stories, poems, prayers, oratories, and religious stories for the textbooks. In this way, the children were exposed to a curated but varied selection of writing. Because of the variety of material, reading phonetically was important.
As times changed, so did the content. More immigrants came to the country and brought with them a wider variety of religions, so the religious material was no longer appropriate. By 1879, the text was nonsectarian but the stories offered good examples of family values and morality.
The McGuffey Readers were the preferred textbook in the classroom for many years, selling an estimated 122 million copies over almost 90 years.
But by the late 1920s, the theories behind teaching were changing.
Reading Theories Change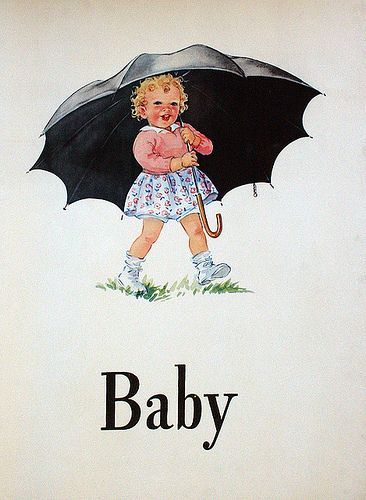 As early as 1898, psychologist and education reformer John Dewey (1859-1952) and others were urging reform of primary education. Dewey wrote that at a time of massive social change, it was important to re-examine the way reading was taught. Dewey advocated for teaching children from experiences to which they could relate. While he did not advocate for a specific way to teach reading, he was among those who set the stage for the coming changes.
William S. Gray (1885-1960) was among those who led the way for a new way of teaching literacy. Gray received a Ph.D. in education at the University of Chicago. He then became dean of the college of education at the University and eventually was chairperson of its teacher preparation committee (1933-45).
Gray's strong background in education and his specialty in reading assessment made Gray attractive to Scott, Foresman and Company. The publisher was looking for an expert to create a reading curriculum for schools.
Zerna Sharp (1889-1981) was a former classroom teacher who was hired by Scott, Foresman as a reading consultant.
Whole Word Reading Method
Gray and Sharp came from two different educational backgrounds, but both observed that some students struggled with sounding out words.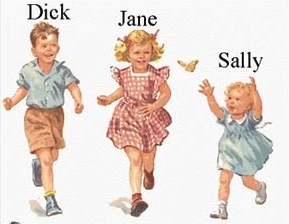 They were among the educators who became enamored of what is known as the "whole word" or "look-say" method of reading. This method taught children to look at each word as a whole unit. These educators felt students could recognize the word "house" or "down" more easily than they could sound it out.
With this philosophy, Gray and Sharp created the Dick and Jane stories. They originally appeared as part of what was called the Elson-Gray reader published by Scott, Foresman. (William Elson had been a text book writer at Scott, Foresman since 1909.)
When interviewed later, Zerna Sharp described Dick and Jane as her "children" and said that she selected the names. Given Gray's and Sharp's backgrounds, we might assume that Sharp was the story editor, carrying out an overarching theory of learning laid out by Dr. Gray.
Dick and Jane Content
The stories featured a very limited vocabulary with clear illustrations demonstrating whatever the page was about. For example, if the word to be emphasized was "up," the story might involve Dick launching a toy airplane into the air with Jane and Sally talking about it. "See it go up. Up up it goes."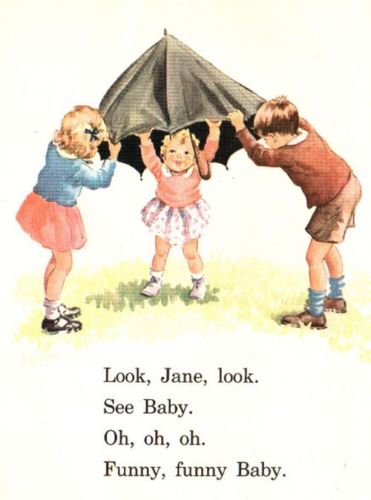 In the very earliest books (the Elson-Gray readers) the characters were not yet fully identified. Siblings Dick and Jane had a sister, called Baby. Baby, of course, eventually becomes Sally. Their cat, Little Mew, eventually became Puff. The dog in the stories was a terrier. Later, the dog acquired a name, Spot, and became a cocker spaniel. Tim was the well-loved Teddy bear. And of course, Mother, Father, and Grandmother, and Grandfather all appeared in some of the stories.
A typical first primer contained about 80 words. Zerna Sharp believed that children became overwhelmed by too many new words, so one new word was added only every third page. There was a lot of repetition, and a typical page might read: "See Dick run. Run Dick run."
Classroom Readers
The readers that were sold for classroom use came with a page-by-page teacher's guide that listed the vocabulary for each of the textbooks. In the classroom, phonics drills of letter sounds were replaced by word flashcards. The teacher could hold up cards with "house," "up," "down," or "Spot" written out, and the children practiced recognizing the word.
There were more advanced levels of Dick and Jane books written to be used through Grade 9, but the early books were the more popular. By the 1950s, it is said that almost 80 percent of primary grade classrooms used Dick and Jane.
William Gray believed that by the time a child completed second grade, students needed phonics to sound out more complex words. In the leap to teaching "whole word," it is not clear that school systems ever got the message about teaching phonics later.
The Illustrations Were Important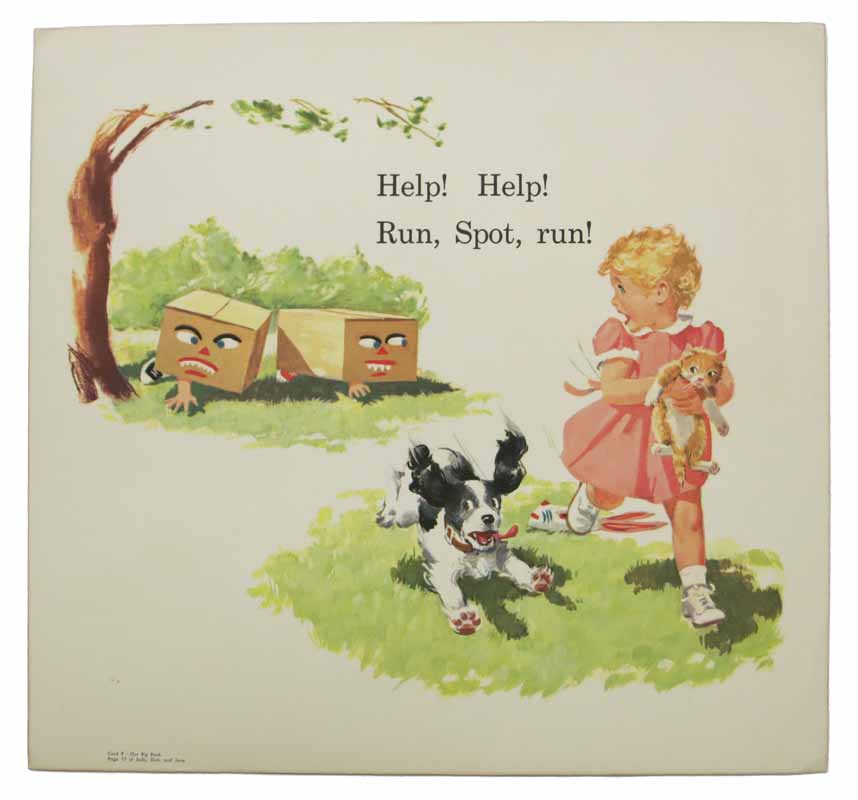 Perhaps because the text is so dull, the illustrations stand out in memory. The first books were illustrated by Eleanor Campbell and Keith Ward. Campbell was said to have pored over recent Sears catalogs to put the family in clothing that was the latest fashion for the day.
Robert Childress illustrated the books of the 1950s. Richard Wiley started his career as an illustrator after the war (1946). He was the first to illustrate books with African American characters in the series (1965). Until the late 1970s, Wiley continued to work as a commercial illustrator, and later transitioned into portrait work until the late 1980s/early 1990s when his deteriorating eyesight forced him to put away the brushes. 
Dick and Jane in Anytown, USA
The world created for Dick and Jane was very bland. They lived in a suburban neighborhood; their house had a white picket fence, and Mother took care of the home while Father went to an office during the week and mowed the lawn on weekends. To appeal to all regions of the country, the stories are devoid of any indications of location.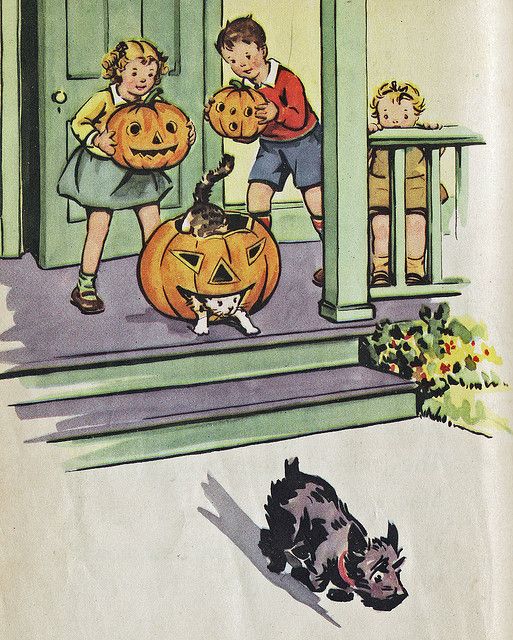 There were few additional characters, but those who appeared were white. Zeke, the gardener, was a little different; perhaps his dark hair and slightly darker complexion was to indicate ethnicity of some type. The children loved him, but he was in a worker role.
While the creators felt that in Dick and Jane's world, they had created a neighborhood with which children could identify, the limited number of words each volume could use severely restricted the action. While Dick might send his toy plane up in the air, there was little opportunity for more excitement.
Besides teaching reading, Dick and Jane set examples of positive contributions. They did their chores, they were helpful to other people, and they were kind to each other. Laughing at baby Sally was done in good fun.
Other Opinions
As early as 1929, experts were raising alarm over the "whole word" or look-say reading method. Dr. Samuel T. Orton (1879-1948), a neuropathologist and expert in reading disabilities, wrote that the "whole word" sight reading method would cause problems for a large number of children. While he realized that there were children who could benefit, he wrote a paper for the Journal of Education Psychology (February 1929) where he described the "whole word" method as an obstacle to reading for the majority of students. (His paper is quoted in Chalcedon Magazine, a Christian education publication.)
But that did not slow the pace of the reform movement. Other publishers were mimicking the style, and by the 1950s, Dick and Jane books were in an astounding 80 percent of American classrooms for early education.
Sentiments Change
By the mid-1950s, the tide was finally turning. In an article in Life magazine in 1954, author John Hersey (1914-1993) sought to answer "Why Do Students Bog Down on First R?" In reporting on the issue, Hersey noted that these books were dull. How do you inspire children with insipid content?
Shortly after the Life article, Rudolf Flesch, an author and reading consultant, wrote Why Johnny Can't Read. In the book, he condemned the "whole word" method.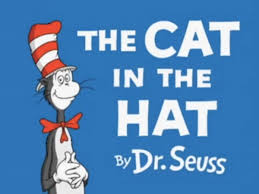 These events were the underpinnings of the rise of Theodore Geisel. A former advertising illustrator, Geisel's first book for children was published in 1937, and it was And To Think That I Saw It On Mulberry Street. But with the press covering the dullness of children's literature, Houghton Mifflin and Random House asked him to take on a challenge: Could he write an engaging children's primer using only 220 vocabulary words?
Indeed he could. The resulting book was The Cat in the Hat. (1957).
The book changed Theodore Geisel's career by making him a household name, but it also changed the trajectory of children's literature. Children's books no longer had to be "white bread" stories, devoid of imagination. Dr. Seuss's work helped erode the power of the look-say reading method that was so entrenched in the schools.
More Change Needed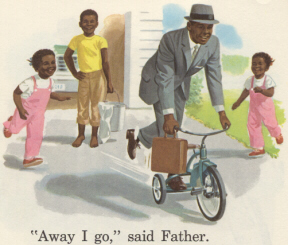 White suburbia was losing its luster by the early 1960s. The civil rights movement was in full swing. Brown vs. Board of Education (1954) outlawed "separate but equal," and President Lyndon Johnson brought a new view to the White House in 1963. Johnson had attended a teachers college for his higher education. From 1928 to 1929, Johnson paused his studies to teach Mexican-American children at the segregated Welhausen School in La Salle County, Texas.
Johnson needed the income to pay for the rest of his education but the year gave him more than salary. He saw that most of the students couldn't even dream of college because they were too poor. In remarks made at Southwest Texas State College in 1965 he said: "I think it was then that I made up my mind that this nation could never rest while the door to knowledge remained closed to any American.
Johnson taught for a couple of more years before going into politics, and those experiences never left him. When Johnson assumed the presidency, he called for an Act of Congress to improve the education opportunities for underprivileged students.
The result was the Elementary and Secondary Education Act. It provided money for supplemental educational material but with a provision: The subject matter had to also be appropriate for urban schoolchildren.
As desegregation was enforced in the late 1960s, book publishers realized they needed to reflect future classrooms. Dick and Jane acquired a black family in their neighborhood in Fun with our Friends (1965), but it was really too late for Dick and Jane. The 1965 books were the last new editions of the series. Scott Foresman (no longer Scott, Foresman) moved on to publishing other materials that emphasized a multicultural world.
Place in History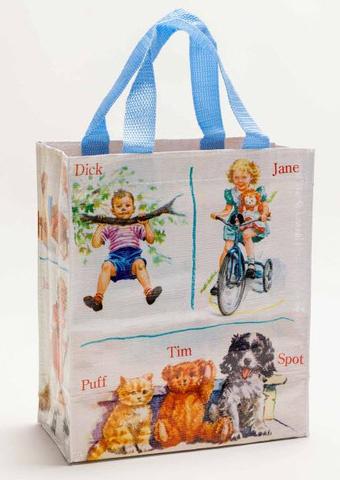 For many reasons, Dick and Jane earned a place in our history. Their names are synonymous with early reading books. And if you should still have any copies of a Dick and Jane book, you may be in luck. They are considered collector items.
They are so iconic that in 2003, Grosset & Dunlap re-released the original Dick and Jane primers. The publisher added a disclaimer, noting that the books are nostalgic and were not intended to be used to teach children to read.
They sold over 2.5 million copies of the reissue, which spawned merchandise. Mugs, refrigerator magnets, T-shirts, and carry-all bags have all been produced with the iconic imagery and catch phrases, like "See Spot run!"
Note: While my own children were learning to read, I was involved. Now that I've read more in depth about the learning process, I realize that word recognition was key for them in the beginning… then they needed phonics.
Of course, this is what William Gray recommended, but his full message never seemed to be conveyed.
To read about another classroom reading staple from this era, read about Weekly Reader.
And if you remember Dick and Jane, you might also enjoy reading about the School Safety Patrol.