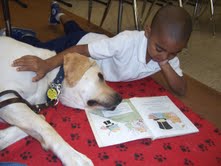 The BARK Therapy Program was created to help children learn to read by reading to dogs. It works because of loving and dedicated volunteers.
If you ever want proof that our country is made up of inspirational people, turn away from Congress and look around your own community.
I found such inspiration when I came across Josie Gavieres and her seven-year-old, all-volunteer nonprofit, BARK TherapyDogs in Los Angeles County.
The route to BARK Therapy Dogs started with another good deed Gavieres undertook. Several years ago, her son, then 14, came to her and asked if they could foster future guide dogs (generally an 18-month commitment before the dog goes to school for final training).
"Giving back a puppy you love isn't easy. Think about it and let's talk tomorrow," she told him.
The next day her son said, "I would rather have a dog for 18 months and give it up because it was going to help another person, than to have a dog for 14 years and lose it when it dies."
With that, Gavieres and her son took the first of what would eventually be six guide dog puppies they fostered for Guide Dogs for the Blind in San Rafael. Only two out of three dogs make it all the way through the full training program, and when their last puppy didn't qualify, Gavieres took the dog, Groucho, back.
Groucho Qualifies as a Therapy Dog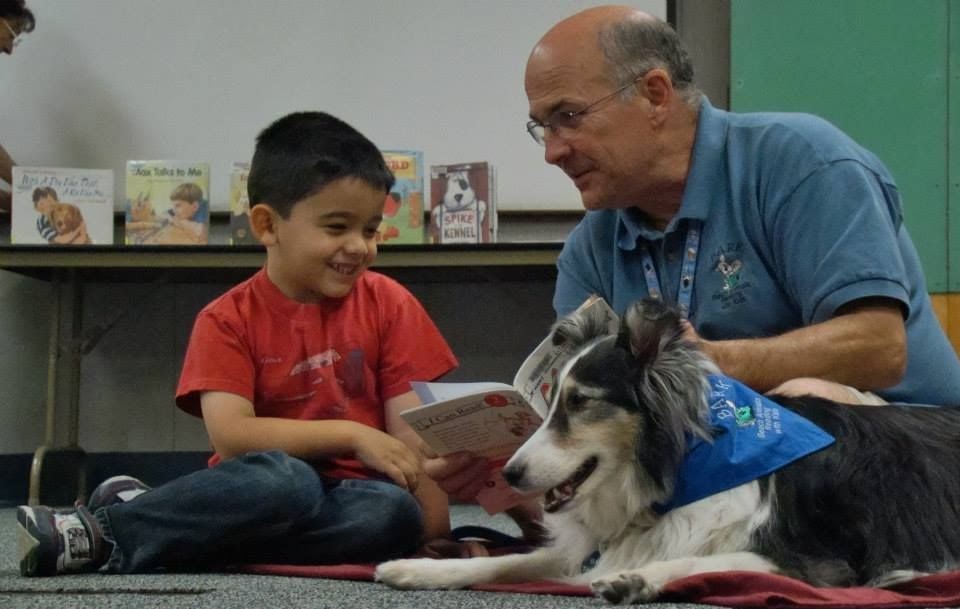 Groucho didn't qualify for guiding the blind, but he quickly passed the certification to be a therapy dog, so Josie Gavieres began looking for ways she and Groucho could help others. She read of a national organization that was running a program where children had the opportunity to read to dogs. She had always hoped to be teacher, so the idea appealed to her. When she ran into some obstacles with the national organization, she decided she and Groucho would go out on their own. She began calling local schools and offering to volunteer in the classroom.
Making phone call after phone call, Gavieres met with rejection until she called one of the last places on her list: Bryant Elementary School in Long Beach, California. The principal there said, "Sure. Come on in."
With that invitation, BARK Therapy Dogs was born (2007). That year she amassed 25 volunteers with dogs that all passed the therapy certification. She now has 170 teams serving the Los Angeles area. She could place even more teams if she had more volunteers.
About BARK Therapy Dogs
BARK Therapy Dogs is largely about children, but the organization also sends teams into hospitals, nursing homes, and veteran centers. They have also recently had great success with a program on a few college campuses to provide stress relief during exams. "One tweet goes out, and our volunteers are surrounded by students who welcome the break," says Gavieres.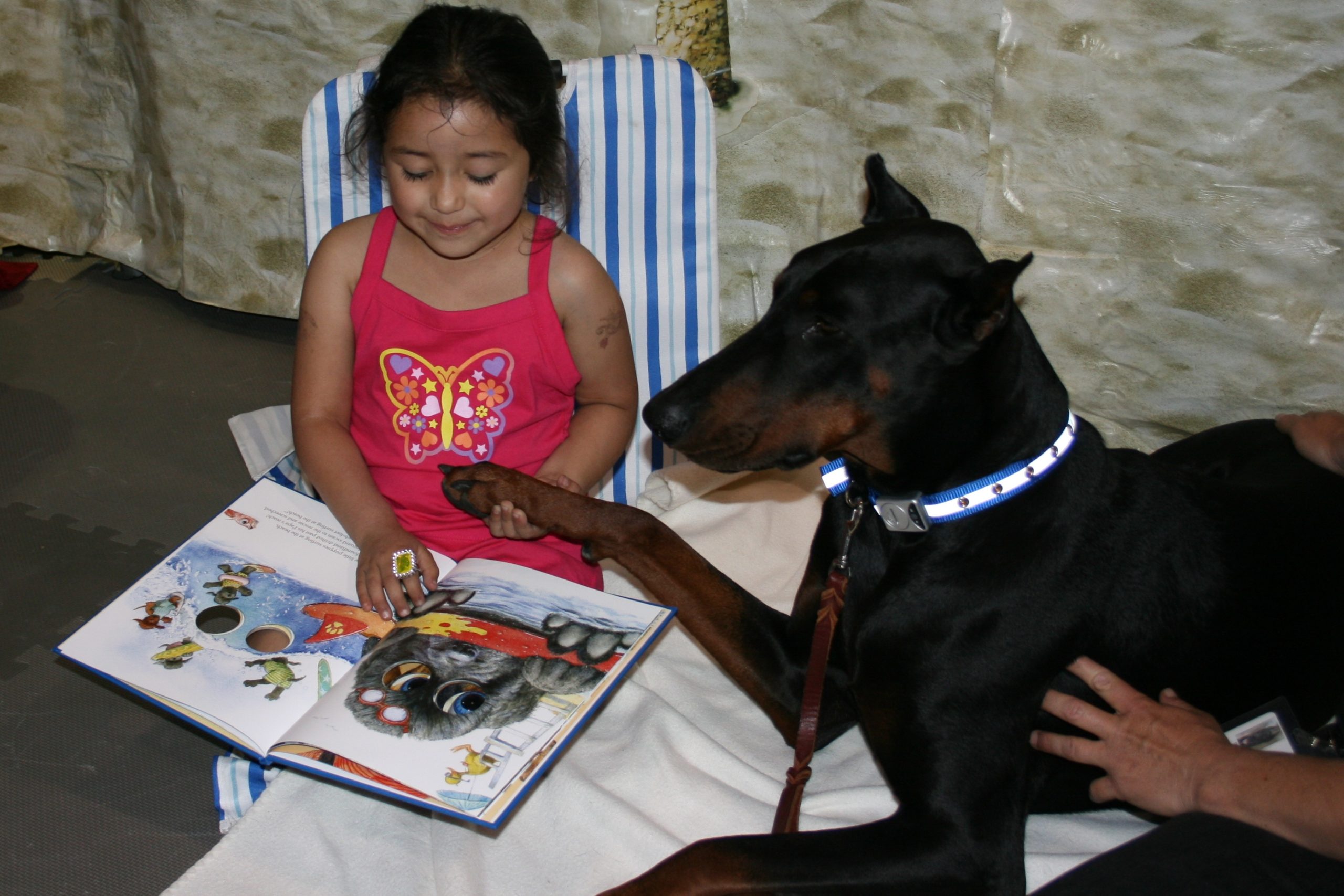 BARK coordinates numerous school programs, but volunteers also visit community centers and libraries at specified times. I visited one library where seven teams were available for an hour-and-a-half for children to stop by, pick out a library book, and read to as many of the dogs as they liked. Volunteers chat with the child and help with any hard words, and show those who need help how to interact with the dogs. After each reading, the child earns a paw hand stamp and receives a bookmark that describes the dog to whom they read.
Drop-In Visitors
One father who stopped in the library on the day I happened to visit brought his two children; there was some hushed squealing from the daughter when they entered the room. The little girl had recently been bitten by a dog, and she was nervous. The librarian who monitors the room wisely steered the family to one of the calmer dogs. The children spent at least 45 minutes reading to the dog and talking to the volunteer… there were no signs of fear after the first few minutes.
Also on that day, two granddaughters visiting from Arizona had come with their grandmother who lived in the area. They had begged their grandparents to delay that day's trip to Disneyland. Their priority had been getting to the library to read to the dogs.
The volunteers tell of children who return out of love for a special animal, of an autistic child who did not speak at all until he started verbalizing "good dog" while he petted his new friend, of children who gain confidence over time by being able to read to the dogs. All the volunteers express great satisfaction in the work; many sign up for several sessions each month, often fitting it in around their own full-time work schedule.
What Good is Reading to a Dog?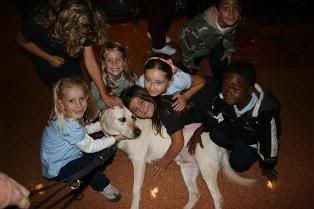 Naysayers might wonder how reading to an animal helps with reading skills, but that's where Josie Gavieres is filled with assessment statistics as well as wonderful stories. First, a story:
A little girl they affectionately refer to as "Can't read it, Won't read it" was selected by her teacher to participate in the program, and she came into the room where a volunteer and the volunteer's dog named Tank were waiting. The little girl firmly announced that the book was too long, the words were too hard, and that she wasn't going to read to the dog or the volunteer.
Reading to Tank
Tank's owner, Nancy, immediately said, "That's okay. You don't need to. We're really here to help Tank. Tank goes into hospitals and nursing homes, and so I've asked if I can bring him into schools where kids can help him learn to settle down when he goes into these other places. All you have to do is sit by him and show him how to be calm and patient."
That day, the three of them sat together.
The following week, the volunteer arrived with a Carl book. (The Carl books tell the story through illustrations.) Nancy asked the little girl to show Tank the pictures, which the little girl was happy to do.
The third week Nancy arrived with Tank and a flap book. That day, the little girl lifted the flaps so Tank could see the pictures underneath, and before the reading time was up, she was attempting to sound out the words.
"'Changing little lives 15 minutes at a time'–I'm going to have to add that as our tag line," says Gavieres. Fifteen minutes Is the length of each reading session at the schools.
In the Schools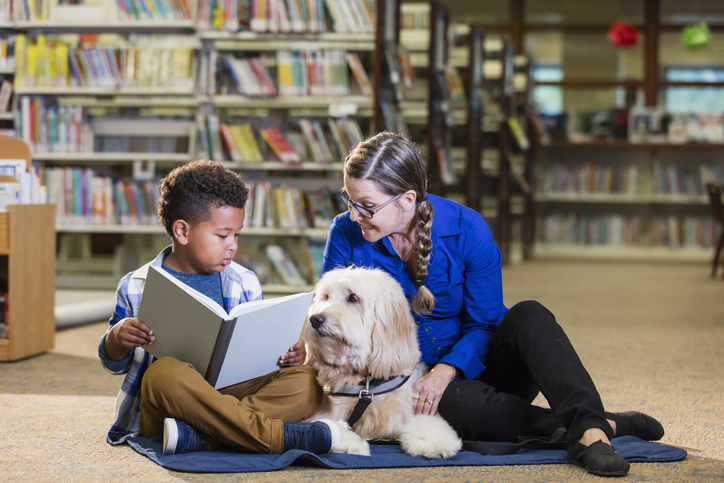 While libraries and community rooms provide a self-selected group (parents who chose to bring their children in for the opportunity), schools are a different matter. Teachers select children for the eight-week program for various reasons: They may be reluctant readers or very shy, or they may have a difficult home life.
"Children are self-conscious if think they are being pulled out because they need help," says Gavieres. "We make certain that the children know that they are coming to help the dogs. When they go back to the classroom, the other children want to hear what it was like. This way they have a great topic of conversation that the rest of the class is interested in."
Each child who participates in the school program is given parting rewards: a small stuffed dog, a brand new hardcover book appropriate to his or her reading level, and a bookmark that tells about the dog they helped.
First Book
"For many, it's the first book they have ever owned," says Gavieres. "They are in disbelief when they learn they can take it home and keep it."
At the conclusion of the eight weeks, a new group of students comes in. At the end of the year BARK and the schools conduct an assessment. The schools report that 80 percent of the students improve their reading skills; 90 percent of them show an increase in class participation; and 95 percent of them show an increase in self-confidence.
As part of the school program, volunteers are given suitcases with a selection of books at all different reading levels. Gavieres receives some grant money from local organizations, and has received some books via donation. She still draws no salary. To pay her own bills, Gavieres does medical transcription work at night.
Individuals Like Gavieres Are All Around Us
There are Americans like Josie Gavieres in every community—Dedicated, selfless, and inspiring. Gavieres, however, deflects all personal compliments and credits her teams. "They are the ones out there giving so much."
As Groucho sat beside us, I asked if Groucho and Gavieres still went out as a team.
"Oh yes, but Groucho prefers the school programs," she says. "He is at his best when he is surrounded by thirty children who all want to pet him. And he doesn't mind at all if they want to use his tail as a propeller."
If you would like to donate to BARK or inquire about becoming a team member, check out the website.
*
To read about other therapy dogs, read A Hearing Dog Named Heather.