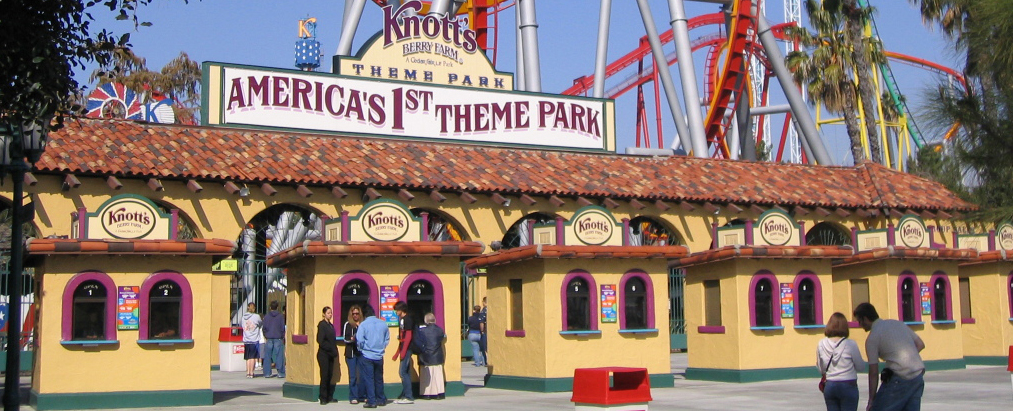 Walter Knott (1889-1981) is best remembered for creating Knott's Berry Farm, now a popular amusement park. He deserves to be remembered for many more contributions to the country. He was a dedicated and gifted farmer who was the first to grow the berry now known as the boysenberry; he was a scrappy businessman who kept his family fed and his farm going despite the challenges of the Depression; he also left a legacy of the past by preserving buildings from the gold mining towns of the West.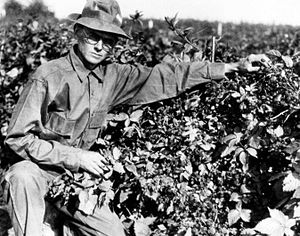 The core of what became Knott's Berry Farm started—not as an amusement park—but as a roadside berry stand. Later, the Knott family added a dining area where chicken dinners cooked by his wife Cordelia were served. The popularity of the restaurant led Walter to set aside land and bring in attractions so that diners had something to do while they waited for a table.
Early Life
Walter Knott was born into a small family. His father, Elgin, was a preacher whose church assignment took the family (a wife and two sons) to Pomona, California. When Walter was only six, his father died. His mother took a job in a laundry to support them.  Within a few years, Walter, too, was adding to the family income. He delivered newspapers, got a job cleaning the church once a week, and he grew vegetables for the family to eat. When he saw that he was producing a surplus of vegetables, he sold some of what he grew to neighbors.
Grandmother Rosamond Daugherty was a big influence on Walter's life. Rosamond grew up in Texas, and then she and her husband joined a wagon train going West. They traveled through arid lands with poorly defined roadways, survived Indian attacks, and eventually stopped near what is now Azusa, California, where they bought farm land.
Rosamond's husband died unexpectedly, leaving Rosamond to manage for herself and the children. She sold the farm and re-invested in a large house in San Bernardino that she converted into a boarding house. San Bernardino was bustling because the railroads brought men from ranches, mines and lumber mills into town.
When Walter and his brother visited, she told them stories from her wagon train days, and they met all types of interesting characters who stayed at the boarding house.
Walter Knott Dreamed of Farming
During his youth, Walter often talked about owning a farm. Despite protests from his mother, Walter left high school after his sophomore year and took a job picking melons in the Imperial Valley. With the money he saved that summer, he had enough to buy land in Coachella Valley (1909-10). The land was not fertile but Walter persevered. He grew peas and made the crop profitable by cutting out the middle man, selling directly to customers.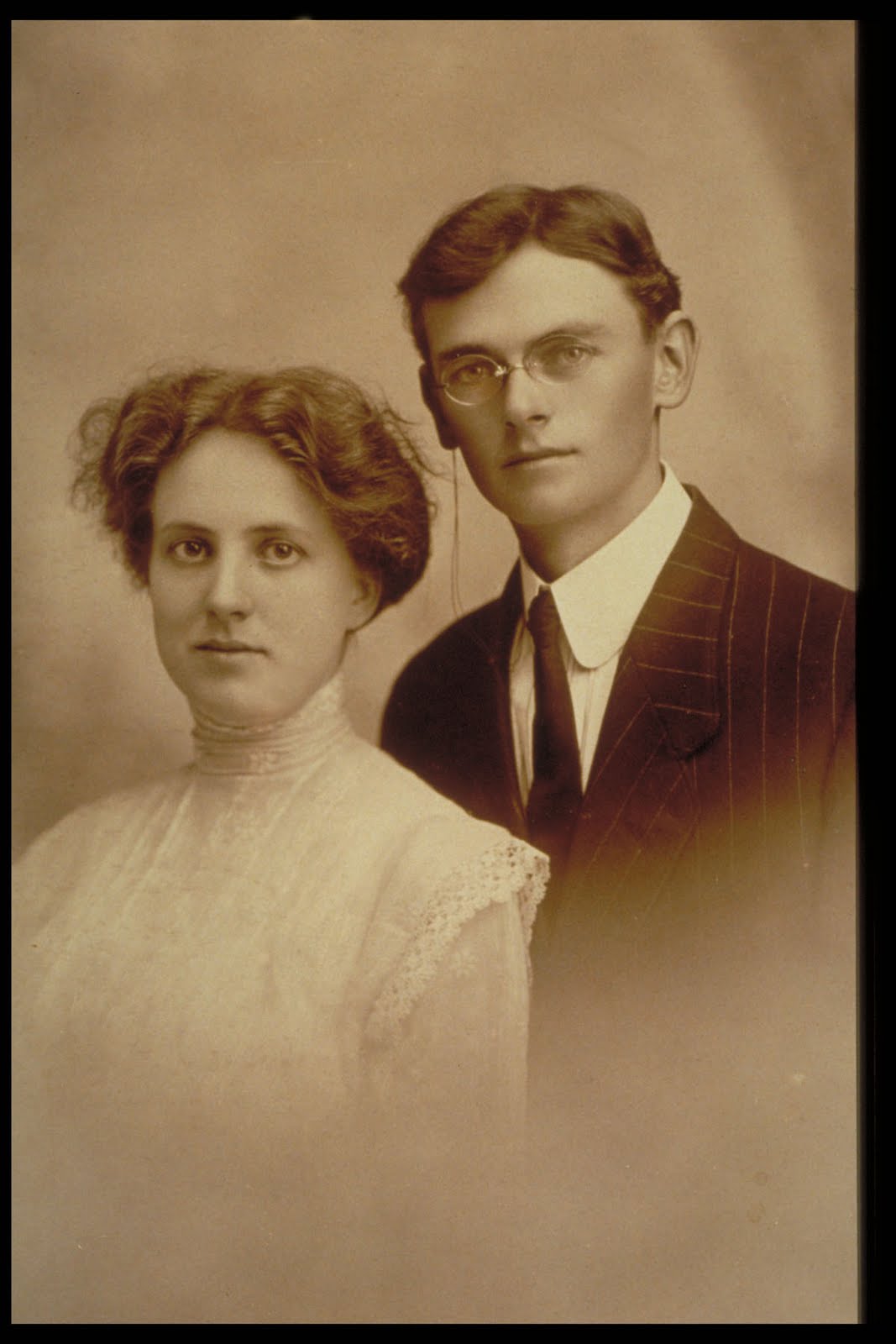 That autumn, he returned to Pomona to marry a young lady he'd admired from afar during high school, Cordelia Hornaday (1890-1974). They lived in Pomona during the early years of their marriage. Walter worked as a cement contractor, and their first child, Virginia, was born.
Walter still dreamed of farming his own land. When he heard about homesteading opportunities in the Mojave Desert, he contacted the U.S. Land Office to learn more.  Homesteaders were required to spend three years on the land to gain ownership. People who knew the area told him water was there if he had money to dig a deep enough well. Walter put in an application and was granted 160 acres of land about 25 miles east of Barstow, near the Calico Mountains.
Becoming Homesteaders
Cordelia preferred Pomona but went along with the plan. Walter bought two horses, a cow, and some chickens and went ahead of the family. Cordelia and Virginia came by train to join him.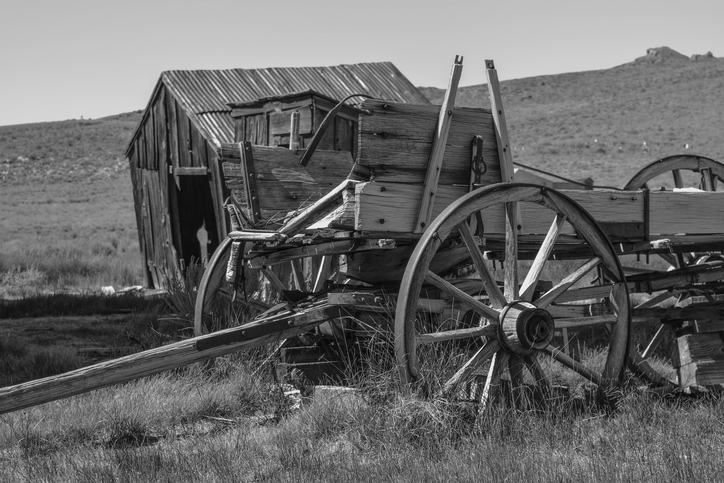 Walter hired a company to dig a deep well but the well was problematic. It kept filling with sand, and Walter soon ran out of cash to pay for repairs.  He dug a smaller, shallower well by hand. This provided water for the family, and he filled buckets with water to irrigate a small number of grape vines he planted. Sand storms soon uprooted the plants, and Walter's farming plans were dashed.
While there, Cordelia and Walter had two more children. To make money, Walter befriended newcomers, and some hired him to help with their own homestead efforts.
In 1915, the mining town of Calico began to come to life again.  Up until 1896, a lucrative silver mine brought people to the area. When silver prices dropped, residents moved away. With a wartime economy heating up, businessmen moved in to revive the mine and the town.  Walter took a job working as a carpenter there; soon he was in charge of the crew. Calico was too far away to go home each night, so he stayed nearby. He wandered the town in the evenings, investigating all the old abandoned buildings. He came to love Calico.
Walter knew the family needed him. When a job with a county road crew came along, he took it and moved back home.
The Knotts lasted on the homestead for 3.5 years, thereby, becoming landowners of the full 160 acres. But they couldn't stay.
Moving On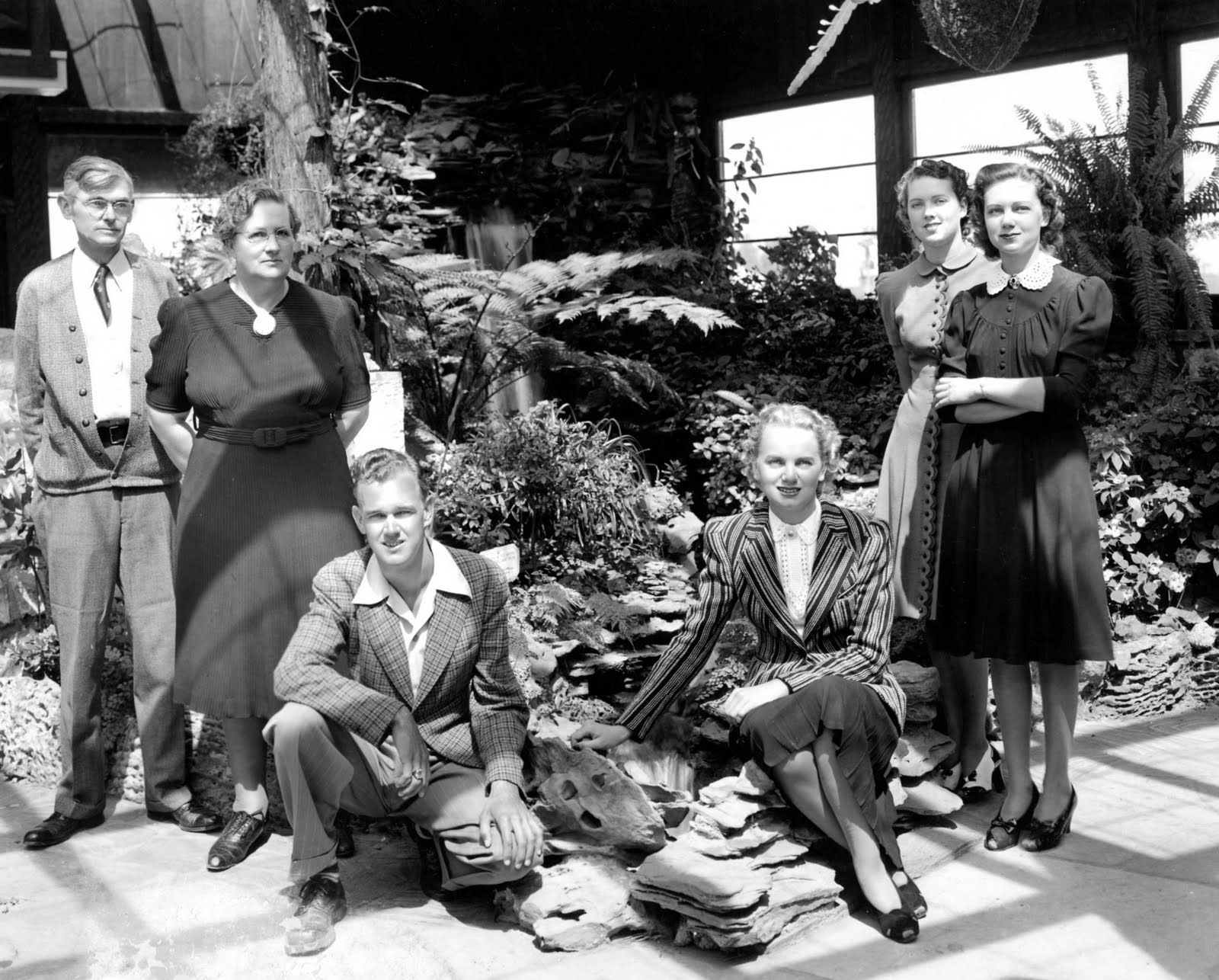 One night Cordelia suffered from a bad toothache. It took a day and a half to get her somewhere for help. Walter realized that the area was too remote to raise a family. He agreed to move, but told Cordelia that now that the homestead was theirs, he would never sell it, and he didn't.
While working road construction, Walter met a rancher with land near San Luis Obispo. He wanted someone to farm some of the land. Walter visited the ranch near Shandon and saw good possibilities. He came back for his family.
Some people were buying automobiles by this time, but Walter knew nothing about them and certainly didn't have the money. He packed the family and their belongings into their wagon. The travel was rugged, and the trip to the Shandon ranch, located halfway between Los Angeles and San Francisco, took three weeks.
Walter's crops on the ranch did well, and Cordelia earned extra money by making candy in her home kitchen and selling it. However, the couple decided to move on. They wanted a better place for the family and a place where Walter could one day own the land.
Buena Park Opportunity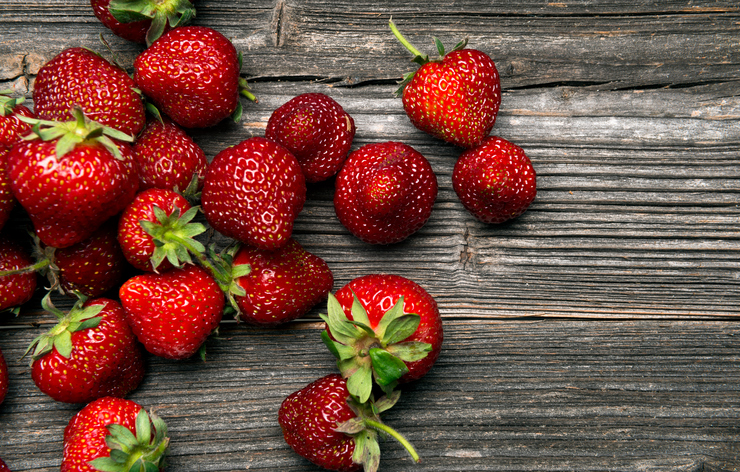 Walter's cousin, Jim Preston, was farming on rented land in Buena Park. When he heard Walter would consider moving, he suggested Walter join him; they could rent more land and work it together. Between Cordelia's and Walter's earnings, they had enough money to buy their first Model T for the trip. In 1920, they drove to Buena Park, little knowing that it would be their forever home.
The rented land was well-located near a main road. Well-to-do residents of Pasadena frequently took it on their way to vacation in Newport Beach. Walter and Jim built a roadside berry stand to sell directly to passersby.
The farm was hard work with successes and failures. When oil was found nearby, the prices of land rose. The owner wanted to sell them the land or take it back. Preston said he wanted out.
Walter swallowed hard, bought his cousin's share of the business, and signed to buy 10 acres of the land for a premium price of $11,500. To manage this, Walter asked for and received a time payment plan from the owner.
Owning the Land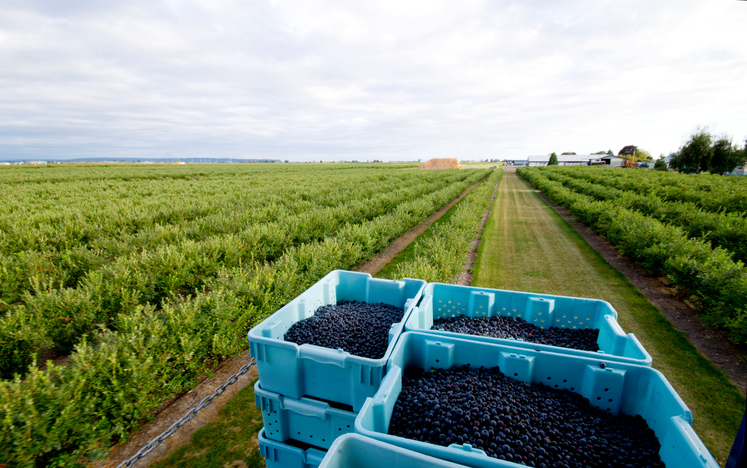 With the firm commitment of having his own land, Walter built a bigger berry stand and a home for his family (there were now four children—Virginia, Russell, Rachel, and Marion). Cordelia asked for a good-sized kitchen so she could preserve fruits, make jellies, and bake pies to sell. They also decided to add a tea room where people could enjoy some lemonade and a slice of Cordelia's pie.
As the Depression deepened in the 1930s, the Knott family struggled. Walter needed to keep up payments on the land. This time Cordelia came up with a plan. Why not see if they could make a little more money by serving dinners? The story goes that on a Sunday in August 1934, Cordelia got out her wedding china and served eight chicken dinners to diners in the tea room. The next day they served 10 more. As word of Cordelia's cooking spread, more and more people stopped by.
The Story of Boysenberries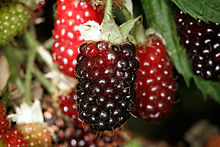 Walter was well-known for his berry-growing. When George Darrow, Chief of the Small Fruits Department for U.S. Department of Agriculture in Washington, D.C. heard rumors of a big juicy berry being grown in California, he knew the man to call.
Walter did not grow the berry himself, but he asked around and heard that a fellow named Rudolph Boysen tried a special strain of berry up in Napa Valley.  Boysen was no longer in the northern part of the state. As it happened, he was working as parks superintendent in nearby Anaheim. When Darrow arrived in Buena Park, Walter pulled out the phone book, and the men called Boysen to find out about the berry.
Boysen told the men he couldn't make a living growing berries so he took the parks job. He had, however, transplanted a few plants to his father-in-law's land in Anaheim. Boysen led them to a neglected part of his relative's orange grove. They found six scraggly plants still growing, despite several years of neglect. The men agreed that Walter Knott should move the plants to his own nursery.
With Knott's careful touch and regular tending, the berries matured and were just as Darrow heard—as big and round as a good-sized man's thumb. By 1932, Walter was selling the berries from his roadside stand. The berries were great for canning, cooking, and eating directly out of the bowl.
When customers asked what they were called, Walter—in typical self-effacing fashion—responded "boysenberries."
The Chicken Dinner Restaurant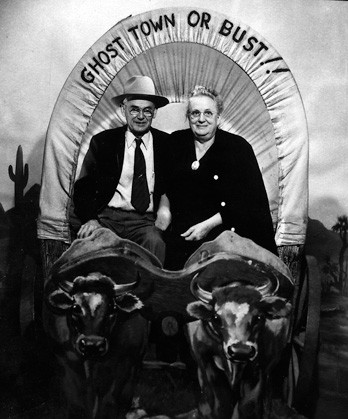 Cordelia's fame for her cooking grew. She used local women to help with food preparation and kept her menu simple: chicken, vegetables, and mashed potatoes. Pie or berries were available for dessert. The children helped by serving the customers, and Walter kept the rest of Knott's Berry Place running.
Word spread about the great food at a good price. Soon the Chicken Dinner Restaurant, as it was called, served 85 dinners per day. By 1936, Knott's Berry Place needed a much larger dining room, and by 1937, the restaurant was open year-round.
The lines of people waiting for tables were a high compliment, but Walter Knott knew the customers needed to be kept happy. His first effort to accommodate the crowds was to create a park-like area with seating and a waterfall. This also accomplished the goal of hiding an irrigation pipe for the farm.
Honoring the West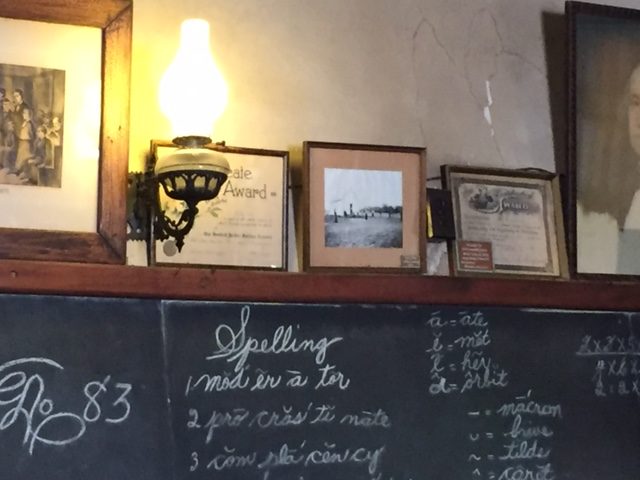 By the late 1930s Walter had turned 50 and business was good. It was time to undertake something important to him: honoring America's debt to the pioneers. He thought of his grandmother and the stories she shared with him, and he remembered how much he enjoyed wandering around the abandoned buildings in Calico when he worked there in 1915. What about bringing to Knott's Berry Place some old buildings from around the West?
The first building Walter Knott purchase was the Old Trails Hotel in Prescott, Arizona. The hotel dated to 1868, and Knott and one of his employees, artist Paul von Klieben, thought it would be a perfect place to house a cyclorama telling the pioneer story. By 1940, the hotel was in place. It was the first of an entire town that recreated the Old West. Knott acquired and brought in a jail, a blacksmith shop, a covered wagon, a stagecoach, and a schoolhouse that was purchased "lock stock and barrel." Tourists today enter the schoolhouse and see the same items on the wall that students saw on their last day.
From 1940-1955, Walter Knott fully established the first "town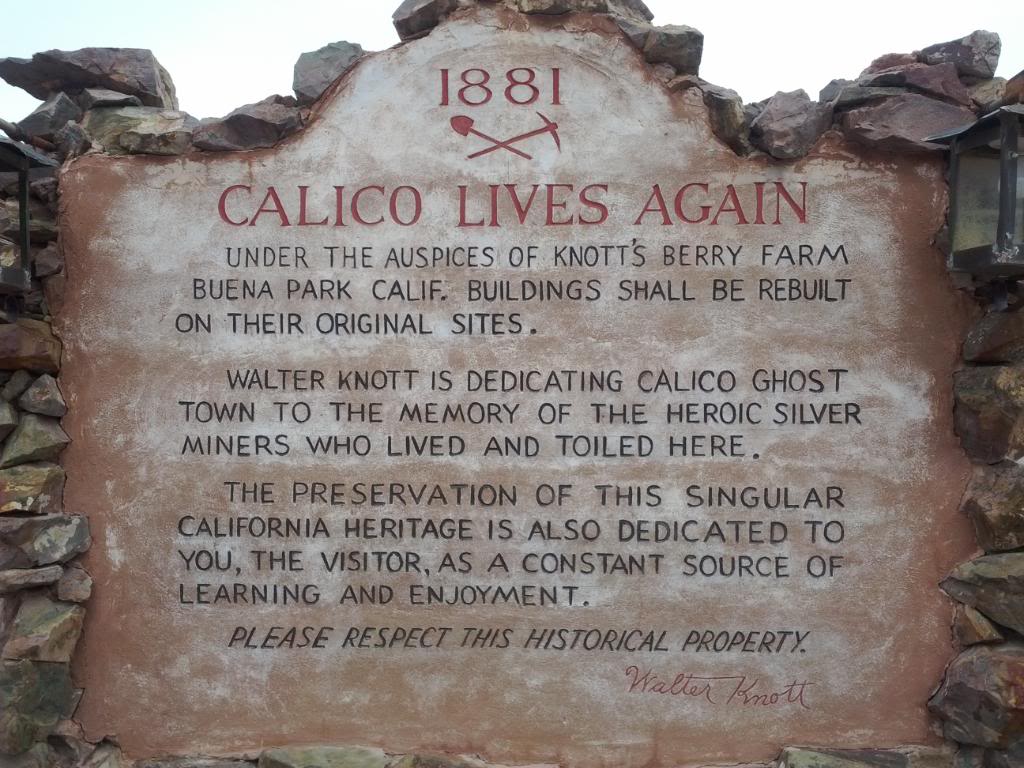 museum," both in the Ghost Town he recreated in Buena Park, and in Calico, California where he fulfilled another dream. In 1951, Walter bought the town and installed an employee to take care of it, inviting people to stop by and see an old mining town. In 1966, Walter donated the town to San Bernardino County and it became a county park that can still be visited today.
During this time, the name of the park was permanently changed. In 1947, Knott's Berry Place became Knott's Berry Farm.
Disneyland Threat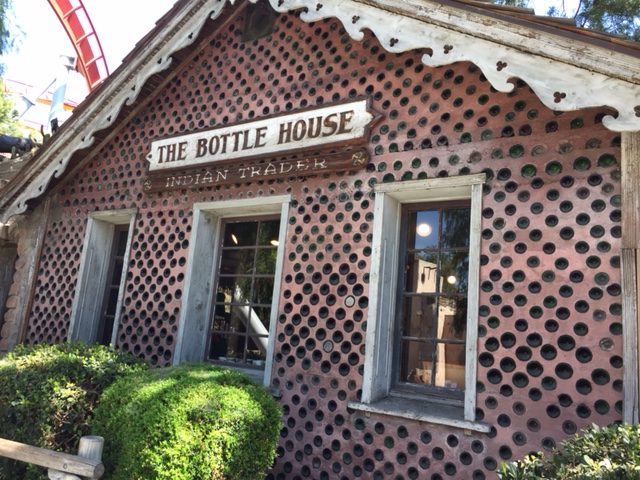 Walt Disney and Walter Knott were friendly. Disney visited Walter at Knott's Berry Farm and benefited from his advice. When Disneyland was to open in July of 1955, Cordelia and Walter Knott were sent invitations to the grand opening. Though Disney was a friend, they went with heavy heart, concerned that Disneyland would mean a certain death for Knott's Berry Farm.
Over the weeks that followed, Walter watched his receipts and saw that instead of a drop in business, he was seeing an uptick. Because Disneyland brought people to Anaheim, they stayed and explored nearby.
Based on the success of Disneyland, Walter Knott realized that to compete, he needed to keep building fresh attractions.  Among the additions was the Bird Cage Theatre. With Hollywood nearby, Knott's Berry Farm attracted up-and-comers. Steve Martin was among those who performed regularly.  New rides were being planned. The Calico Mine Ride opened in 1960 and was the first among the more adventurous rides.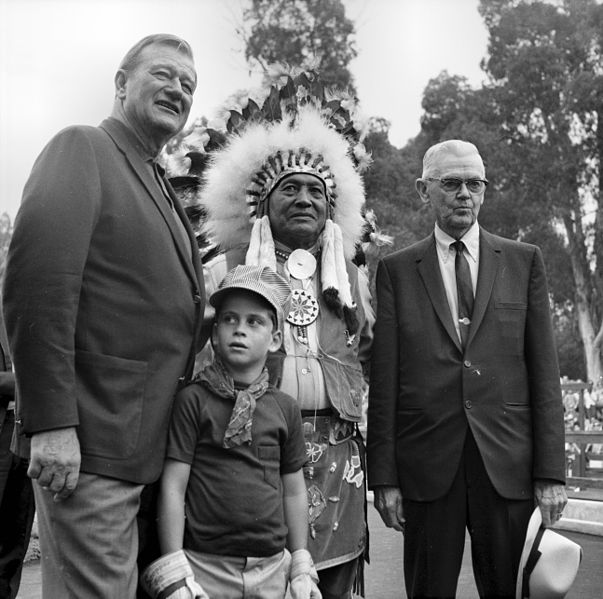 Some of the attractions were run by concessionaires. In 1949, Bill Higdon started with 2 horses for a wagon ride. Within five years, he had thirty horses.
Wendell Hurlbut was their "master of rides." Walter Knott found him when Hurlbut was restoring an old carousel. Knott invited him to install the carousel at Knott's Berry Farm. The two men got along and together they tackled all sorts of innovative rides.
One of their splashiest openings was for the Calico Log Ride. Tourists rode through a mountain to tour a lumber mill and ended with a thrilling ride through a flume-like waterway. John Wayne was a personal friend and came to the Park in 1969 to open the Log Ride.
Knott's Berry Farm Modernizes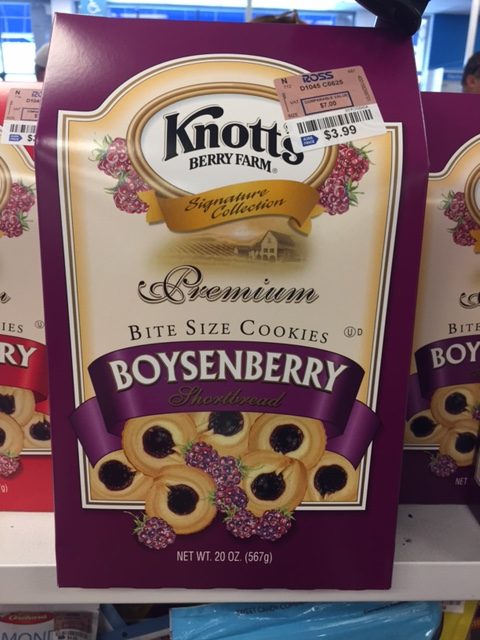 Until 1968, visitors paid nothing to wander throughout the park. Tickets were sold for rides and certain attractions. By the mid-1960s, change was necessary. Knott's Berry Farm was a local teen hangout. On weekends, the teenagers often got wild, bothering tourists.
The family convinced Walter it was time to build a fence and charge an entrance fee. Walter was reluctant, but the family outvoted him. The entrance fee was set at only a dollar. Locals complained but it was a change that had to happen.
Independence Hall in Southern California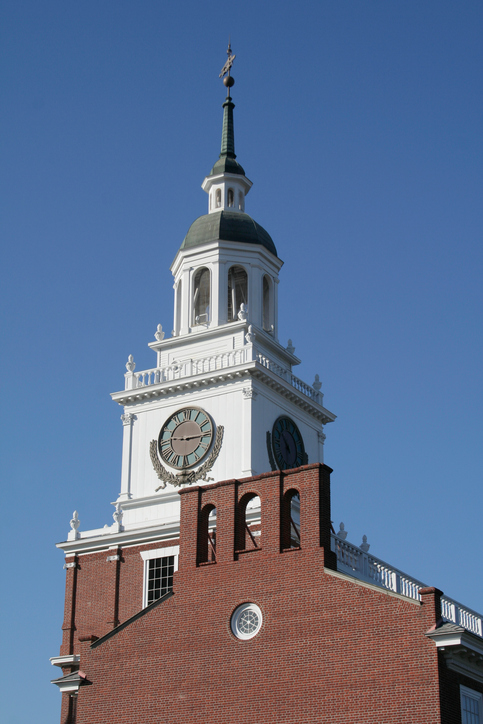 Walter Knott loved this country. He was so grateful for America and its founding fathers that he wanted to add an exact replica of Independence Hall to his Farm. That way people on the West Coast could learn about the beginning of our country.
Walter Knott and his staff gained permission to enter Independence Hall in Philadelphia and study it brick-by-brick. Once back in Buena Park, Walter Knott oversaw the building of full-size replica, complete with its own cracked Liberty Bell. It was completed in 1966.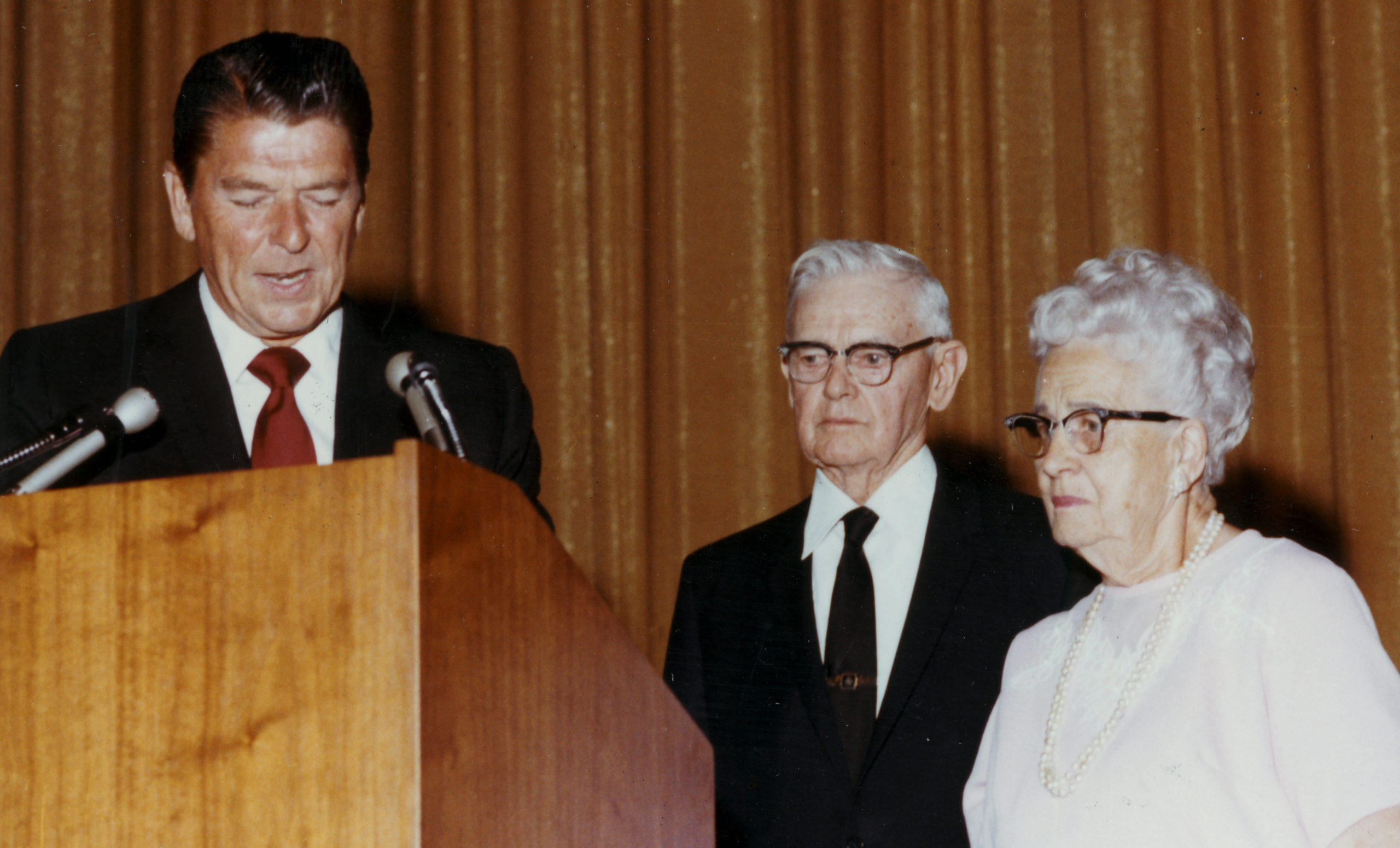 At the opening, Walter Knott told a reporter: "I'm humbled [by being able to do this.] It took fifteen years to build the original Independence Hall, but the form of government which was conceived in that original building gave us an economic system which allowed this brick-by-brick reconstruction to be completed in seven months.
"I'm not a well-educated man. I'm no history scholar. I don't read all that well. But I know that any system that could make it possible for my wife and me, with no education and no money and relatively little ability to accomplish what we have, is a good system."
Independence Hall is on the property but outside the gated area. There is no charge to visitors.
The 1970s Bring Change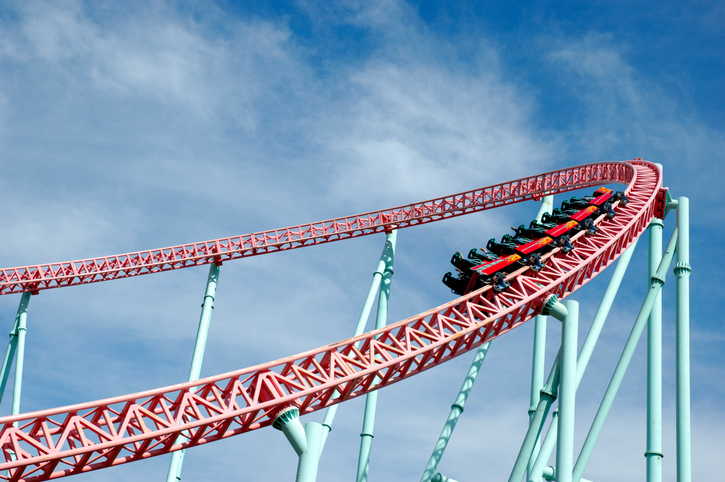 Cornelia died in 1974, and while Walter stayed active, the business was being run by daughter Marion. During these years, an employee suggestion changed the nature of amusement park business nationwide.
Halloween was normally a quiet time at Knott's Berry Farm. When a staff member suggested that a few employees could dress up and make it Knott's Scary Farm, the family decided they should give it a try.
Today this event—and many other holiday-themed events including Knott's Merry Farm– keep people coming back throughout the year.
Administrators at other amusement parks witnessed the success at Knott's. Now theme parks throughout the country all celebrate holidays with special attractions to bring regulars back.
Family Ownership Ends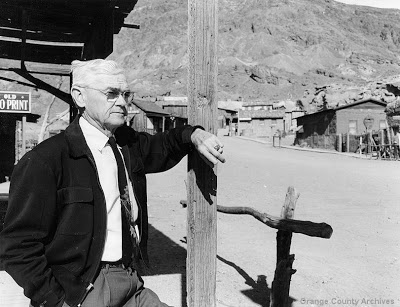 In 1997, after 78 years of family ownership, the family finally decided it was time to sell. Cedar Fair Entertainment of Sandusky, Ohio, purchased the theme park. Cedar Fair was known for their great roller coasters, and while they have kept up a steady introduction of new thrill rides and roller coasters, they also honor the past. Ghost Town is still an important part of the park. An education department runs regular tours for schoolchildren to educate them about the West, and one of the first projects after Cedar Fair purchased Knott's Berry Farm was a restoration of Independence Hall.
J.M. Smucker Company owns the Knott's Berry Farm Food Company.
Walter and Cordelia Knott would be pleased.
This article was inspired by a historical tour of Knott's Berry Farm, offered by their education department, to members of the Los Angeles City Historical Society in 2016.
To read about another amusement park, click on Santa's Village: The First Franchised Amusement Park.