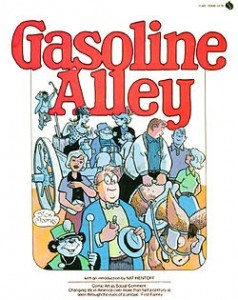 Today our cultural images of parenting are formed by movies, television, and what we see online.  But in the 1940s and '50s, societal images were influenced by earlier forms of media, including radio programs and comic strips.
With that in mind, I wanted to look back at some comic strip fathers. What messages were conveyed about dads at that time? After a little research, I decided to hopscotch through time and take a look at the father figures in Gasoline Alley, Blondie, and Dennis the Menace. (Both Blondie and Dennis the Menace are still printed in those papers that continue to run comic strips. The messages have been updated slightly.)  A more recent strip, Family Circus, brings us up-to-date.
Great Role Model in Gasoline Alley
Gasoline Alley, created by Frank King (1883-1969), surprised me by offering the perfect role model for a father in its main character, Uncle Walt.  The strip itself first ran in the Chicago Tribune, and its name derived from the fact that it was about a group of men who spent their spare time tinkering with old cars.
When the co-publisher of the Tribune wanted to broaden the focus of the strip so that women might read it, King needed a new plot line. Uncle Walt was unmarried, and no other character had a significant back story. However, Frank King came up with a plot device: Walt wakes up one morning to find a baby in a basket on his front doorstep. He instantly becomes a single father.
Love and Care to Spare
Gasoline Alley was notable for permitting the characters to age. The relationship that develops between Uncle Walt and Skeezix, the boy he raises as a son, is one of the most loving and caring relationships imaginable. Two prime examples come from both father and son: When Skeezix is only a toddler, Walt takes the much-too-young Skeezix to the circus because Walt is so excited to share the experience with him. Walt points and shares and enjoys all that they see; Skeezix remains focused on the balloon Walt buys him. (How many parents can identify with that overwhelming desire to share what you love?)
Much later, Skeezix is serving in the infantry in Europe during World War II. At mail call, he receives a couple of letters. Skeezix eagerly rips into one of the letters, saying, "Nina first! I hope Uncle Walt doesn't mind." (Skeezix goes home to marry Nina and run Walt's garage for him as Walt ages.)
Any father today could turn to Walt as an example of the beauty of a caring and involved parent.
Dad Dagwood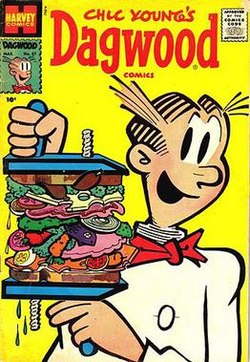 Today we know this comic strip, Blondie, because of the bumbling dad, Dagwood. He's often in trouble at work, doesn't always know what to do with his kids, and he's famous for loving a big sandwich. ("Dagwood" sandwiches—tall and multi-layered–are still occasionally offered on menus.)
But the strip started out being called Blondie for a reason.  The strip by Chic Young (1901-1973) began in 1930 and was about Blondie Boopadoop, a flapper with many boyfriends. But as King Features felt the impact of the Depression, they asked Young to come up with a new story. It seemed that Americans facing the challenges of the 1930s were not amused by Blondie's superficial social problems.
Young and the syndicate came up with a plot twist. Blondie would marry one of her rich boyfriends, Dagwood Bumstead. But his family would be so upset that they would disinherit him. This propelled Dagwood and Blondie solidly into the middle class, facing regular family woes.
Regular Family
Though Dagwood fulfills the stereotype role of reluctant family participant in things like chores, Blondie and Dagwood's offspring reveal themselves to be pretty good kids.  Son Alexander is a star high school athlete; Cookie, their teen daughter, is an A student.
Blondie plays the more active part in parenting, but Dagwood is a lovable family member. He comes home after work and is often seen with devoted dog Daisy by his side.
While Dagwood is far from serving as a role model for fathers today, he was a man of his era, and he displayed enough positive qualities to be a part of a good and loving family.
Dennis the Menace's Dad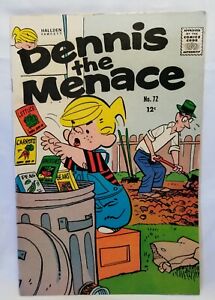 Dennis the Menace, created by Hank Ketcham (1920-2001) in 1951, is still enormously popular.
Dennis, always age 5, expresses childhood innocence as well as an abundance of curiosity. He has a streak of mischievousness that often lands him in trouble. Then he is sent to the corner to sit in his rocker and think about what he has done.
Henry, Dennis's father, is tolerant and usually doing yardwork or puttering in the garage.  He is probably best remembered for his various intonations of "DENNIS!" depending on the level of Dennis' most recent transgression.
Dennis's sweetness is underlined by the fact that his bedtime prayers often include a Dennis-style apology for any wrong doing.
Family Circus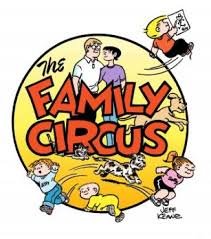 More up-to-date families are depicted in comics like Family Circus, created by Bil Keane (1922- ) in 1960. Keane realized his own family was providing him with daily ideas for a comic panel.
The strip started with three children and added a baby, PJ, bringing the kid count to four. After a few years of letting them age, Keane locked the children into specific ages and stages, ranging from Billy, the oldest at 7, and PJ, the baby, one and a half. While the mother in the Family Circus does the bulk of the house and child care, the father is very much in the center of what is happening.
Best Role Model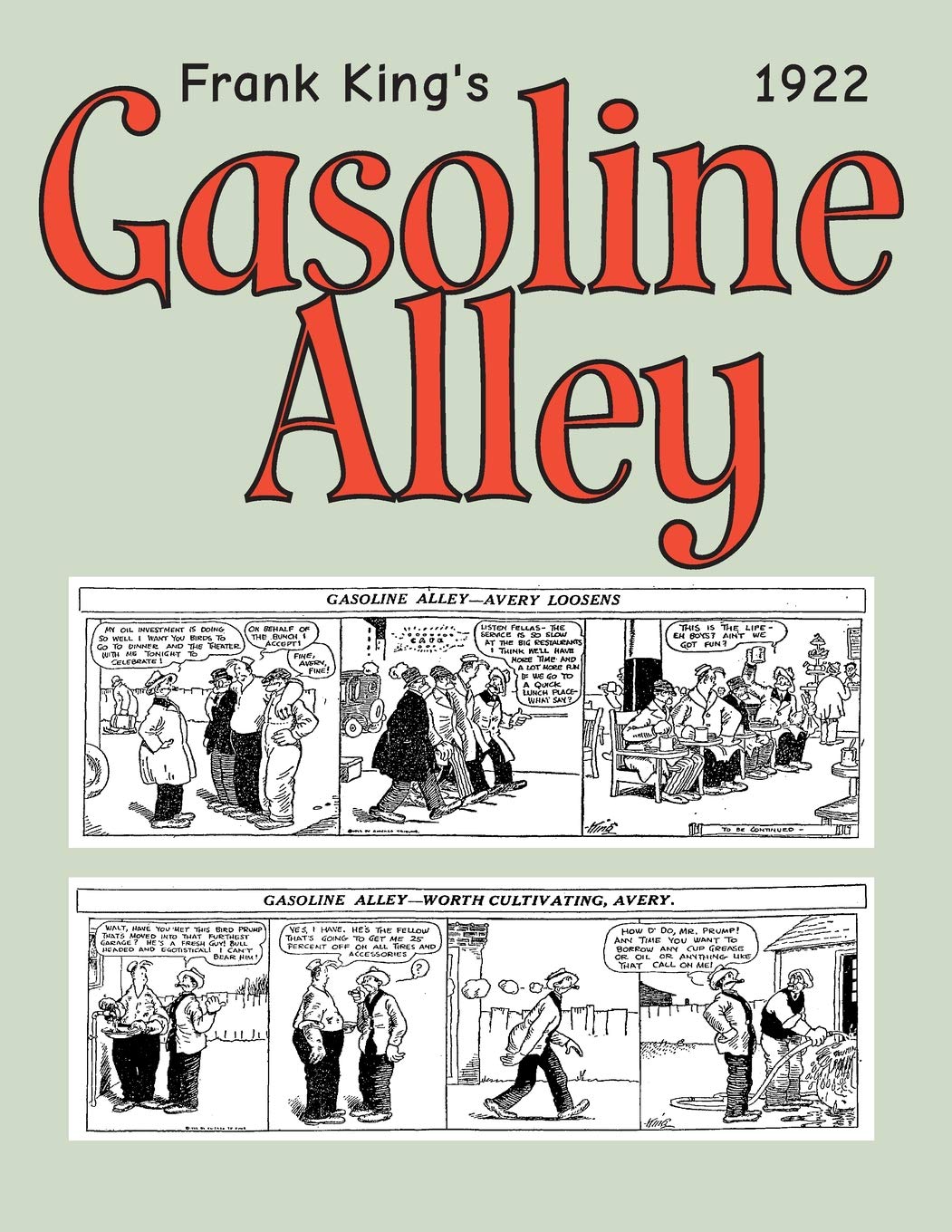 But for my money, I would send readers off to re-read some of Gasoline Alley. The loving relationship between Uncle Walt and Skeezix shows that the spirit of fatherhood is in the heart, not necessarily the genes.
It would be hard to find a more loving father-child relationship than that shared by Walt and Skeezix.
For more about comic strips, see Marmaduke, or read about the first African American female cartoonist to create a strip that was syndicated,  Jackie Ormes.