Bill Clinton grew up with dogs, so it was only natural that at some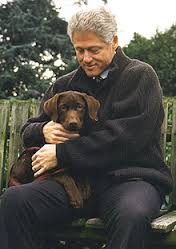 point the Clintons would add a dog to their family. The decision to expand their "pack" came as Chelsea was preparing to leave for college.
The four-and-a-half month-old chocolate Labrador arrived at the White House in the fall of 1997 with the name of Teddy (the breeder thought he looked like a teddy bear). However, in a 90-minute press conference concerning news issues of the time (December 16, 1997), Bill Clinton took a moment to announce that he was naming the dog Buddy.
Clinton told the press that he had had a great-uncle who raised dogs, and the man, who was called Buddy, had been very influential in Bill Clinton's life. The relative had recently died so Bill found it an appropriate way to remember him.
Clinton Cat and Clinton Dog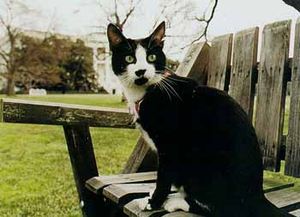 Until Buddy's arrival, the only pet in residence in the Clinton White House had been Socks, the cat. The cat was said to have been a stray found outside the home of Chelsea Clinton's piano teacher. The cat approached Chelsea, and soon he was going home with her and had a loving home, first in the Arkansas governor's mansion and later at the White House.
Socks took issue with the presence of Buddy and after an initial unfriendly meeting—Socks arched his back and hissed loudly—the eventual solution was to keep Socks and Buddy in separate parts of the house. Socks favored the Oval Office, particularly the wing chair near secretary Betty Currie's desk, but there are also plenty of photos of Socks making himself fully at home on the desktop itself.
Clinton as Dog Owner
Bill was a good dog owner. There are numerous photos of him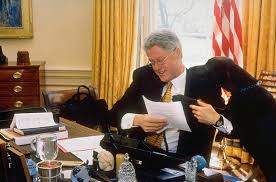 tossing a ball for Buddy on the White House lawn as well as in Chappaqua, and Chappaqua residents reported that Bill frequently took the dog with him into town where residents loved to see him. One shop owner said that people were far more likely to report that they had "just seen Buddy," than they were to say they had just seen Bill.
In her book Living History (2003), Hillary Clinton writes of the fact that Buddy was Bill's only family friend following the full reveal of the extent of the Monica Lewinsky scandal. At first Hillary believed Bill's original version of the occurrence where he explained to her that it was an innocent story blown out of proportion. He finally had to reveal the truth to her when he was called upon to testify about the Monica Lewinsky affair before Congress; testimony that was scheduled for just before a long-planned family vacation to Martha's Vineyard.
Hillary wrote: "Buddy, the dog, came along to keep Bill company. He was the only member of our family who was still willing to."
Socks and Buddy Team Up for Good Cause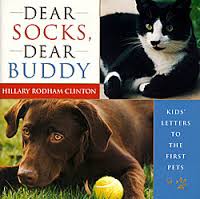 Despite their animosity for each other, the Clinton dog and cat did team up to raise funds to help others. In 1998 Hillary Clinton oversaw the assembling of Dear Socks, Dear Buddy: Kids' Letters to the First Pets. The income went to charity.
Socks was also a frequent guest at nursing homes and schools. He traveled in his own carrier. Photos show that whether he was with Hillary or Bill (often riding on Bill's shoulder), he was leashed for safe-keeping.
There were numerous websites and fan clubs dedicated to both Socks and Buddy, so neither Clinton pet suffered from a shortage of attention.
Leaving the White House
As the Clintons prepared to move out of the White House at the end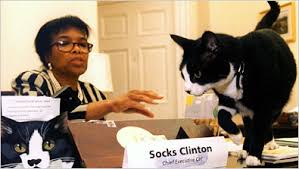 of the president's second term (early 2001), a tough decision was made. Socks and Buddy just did not get along. Chelsea was no longer living at home, and Socks had already picked a best friend at the White House: Bill's secretary, Betty Currie. It was then decided that Currie would provide Socks with a new home; Buddy would accompany Bill and Hillary to the home they had purchased in Chappaqua.
Buddy meets his End
On January 2, 2002, Bill and Hillary were not in residence in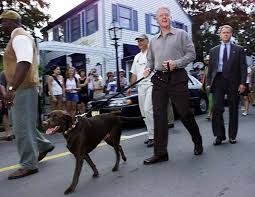 Chappaqua, but they had workers there for a construction project. When one of the contractors left the house, Buddy must have followed him out the door. The fellow drove out of the cul-de-sac on his way to Route 117, one of the main roads through Chappaqua. Buddy was hit and killed on that busy, winding street by a teen driver in an SUV.
The Clintons released the following statement: "We are deeply saddened by Buddy's death. He was a loyal companion and brought us much joy. He will truly be missed."
In 2005 Bill Clinton got another chocolate Lab and named it Seamus. The most recent press mention of Seamus was in 2012.
As for Socks, he lived a very good life with Betty Currie who fixed him home-cooked meals and nursed him through the cancer that eventually took his life. He died in 2009 at age 20. For more on Socks Clinton, read Mental Floss: The Nine Lives of Socks Clinton.