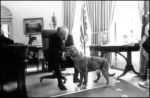 Liberty, a presidential dog, surfaced as a good subject to profile because it provided variety to readers who may want to read about more than dog movie stars or war dogs. Because the Fords were genuine "dog people," their golden retriever seemed a good choice. Then I hit paydirt. Stick with me to read what Gerald Ford says about liberty. It's perfect.
Betty and Gerald Ford had owned two golden retrievers before they moved into the White House, but sadly their most recent dog had died before Ford assumed the presidency. Daughter Susan entered into a conspiracy with White House photographer David Hume Kennerly to remedy the Ford family's "dogless" state. Kennerly agreed to call around to breeders who might have pups available. He soon located an 8-month-old dog from a good breeder in Minnesota.
When David and Susan followed up, the breeder was cautious, wanting to be certain that his dog would be well-placed, and the screening began. He asked who the dog's owner would be, and David and Susan said they were not able to say. The kennel owner said they couldn't have one of his pups then because he didn't do business that way; he needed to know the dog was going to a good home.
David and Susan assured him the dog would be in a good home—that it would live with a couple and their four children and they had owned golden retrievers before.
"What kind of a house do they live in?" And here the stories diverge. David and Susan reported that they said, "a big white house with a fence around it." But Ford wrote in his memoir, that there was a question about whether the family owned or rented, and David replied: "I guess you might call it public housing."
The questions continued: Did the father have a steady job so buying enough food for a big dog wouldn't be an issue? Given that the presidency is not a steady job, David and Susan agreed that they were never going to get the dog without specifying that the dog was to live at 1600 Pennsylvania Avenue.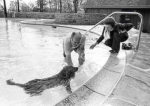 They revealed the truth, and a deal was made.
Ford's Dog, Liberty
Susan brought the dog, originally named Streaker, to the White House where she surprised her father by letting Liberty (the name Susan chose for her) introduce herself with a run around the Oval Office. In his memoir, Ford writes of his delight at the four-legged surprise, and he told of how he immediately got down on the floor to play with the dog.
Then on October 9, 1974 Ford gave a speech in Philadelphia where he was honoring William Scranton (Ford later appointed Scranton to be U.S. Ambassador to the United Nations.) In an aside, he told the following story:
"A reporter happened to ask Susan who is going to take care of Liberty; who is going to feed her and groom her and take her out each night or every morning? Susan did not hesitate one minute. She said, 'Of course, it will be Dad,' So I have this feeling–this is one Liberty that is going to cost me some of mine."
President Ford concluded with this additional thought:
"But in a broader sense, that is the true nature of liberty. It comes with both privileges and obligations. Freedom, we all know, is seldom free."