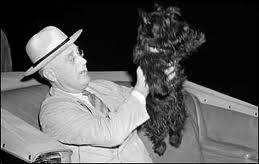 The year was 1940 and Franklin Delano Roosevelt (1882-1945), the 32nd president of the United States had been in office since 1933, governing through the years of the Great Depression and attempting to maintain U.S. neutrality despite the onset of fighting in Europe.
That November President Roosevelt's cousin, Margaret Suckley, brought him a six-month old Scottish terrier, a gift from Miss Katherine Davies of Westport, Connecticut. The puppy lightened his spirits and captivated his heart.
FDR embraced having Fala around at all times, and Fala–usually looked after by Margaret Suckley–traveled with FDR, slept on a special chair at the end of the president's bed, and was generally hand-fed his dinner by FDR. Many dignitaries waited for President Roosevelt to join them for dinner; he himself usually fed Fala first.
FDR and Fala: Life at the White House
In 1943 a 13-year-old girl from Massachusetts wrote to the president inquiring about the origin of Fala's name. On behalf of the president, a secretary replied: "…his kennel name, Fala, was after a remote ancestor of the President whose name was Murray, the outlaw of Fala Hill. Fala Hill was his ancestral estate in Scotland and he was descended through many generations of Murrays." (The New York Times, 12-24-43)
The Secret Service referred to Fala as "The Informer." Because Fala had to be taken outside for walks, anyone who saw Fala on one of his outdoor visits knew the president was nearby.
While there is no doubt how much FDR loved Fala, Fala also was used to facilitate communication with the public. When the U.S. was encouraging everyone to make sacrifices as part of the war effort, Fala did, too. The White House released the fact that Fala was giving up his rubber toys so that the toys could be donated as part of a rubber collection drive. The government encouraged other dog owners to follow Fala's lead.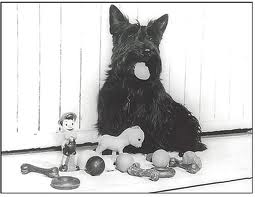 Letters to Fala were written, often by the owner in the voice of his or her dog. One offered to share her flower bed full of bones with Fala; another wanted to know what Fala ate. A secretary wrote back: "…it is too difficult to describe, but consists of various diets of all kinds which are prescribed by a veterinary." (Fala's files are kept at Hyde Park, along with the rest of the presidential papers.)
In 1943 MGM requested permission to make a movie of Fala's life in the White House (supporting cast included the president and Diane Hopkins, the young daughter of Harry Hopkins; Hopkins was one of Roosevelt's closest advisors). Theodore Strauss of The New York Times writes on April 25, 1943 of the film crew's experience. The crew must have missed shots of Fala chasing the White House squirrels, so they borrowed a squirrel from the zoo, and when they released this "new" squirrel from the cage, Fala gleefully chased it, just as he did the native White House squirrels. Fala also avidly read the scrapbook of his news clippings—after the crew hid bits of bacon around the pages.
Fala and the Election
In 1944, the country was preoccupied with the war. Before the presidential campaign was fully underway, GOP operatives accused FDR of leaving Fala in the Aleutian Islands and then sending a destroyer back to find him, with taxpayers bearing the cost of the trip. The Navy denied this report, so Minnesota Representative Harold Knutson (R) demanded that the House of Representatives look into whether it was a plane, then, that was sent back to the Islands to retrieve Fala.
Roosevelt opened his re-election campaign with a speech to the Teamsters Union in Washington, D.C., on September 23, 1944, and after covering several important issues, Roosevelt won over the room with comments about Fala:
"These Republican leaders have not been content with attacks on me, or my wife, or on my sons. No, not content with that, they now include my little dog, Fala. Well, of course, I don't resent attacks, and my family doesn't resent attacks, but Fala does resent them. You know, Fala is Scotch, and being a Scottie, as soon as he learned that the Republican fiction writers in Congress and out had concocted a story that I had left him behind on the Aleutian Islands and had sent a destroyer back to find him – at a cost to the taxpayers of two or three, or eight or twenty million dollars- his Scotch soul was furious. He has not been the same dog since. I am accustomed to hearing malicious falsehoods about myself – such as that old, worm-eaten chestnut that I have represented myself as indispensable. But I think I have a right to resent, to object to libelous statements about my dog."
The room filled with Teamsters loved it–and they loved him.
Fala outlived the President by seven years. The little dog spent the remainder of his life with Eleanor, living with her at he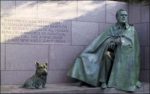 r apartment across from Washington Square in Greenwich Village or staying with her at her house, Val-Kill, near Hyde Park.
In her autobiography Eleanor wrote poignantly of an occasion when General Eisenhower visited the Roosevelt estate to lay a wreath on the president's grave: "When Fala heard the sirens [of the police escort accompanying Eisenhower], his legs straightened out, his ears pricked up, and I knew that he expected to see his master coming down the drive…"
Fala died in 1952 and is buried at Hyde Park next to Franklin and Eleanor.