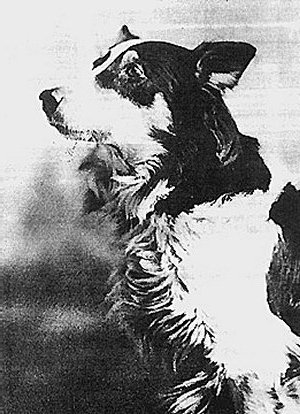 Before Lassie and Rin Tin Tin, there was another canine screen star, one who starred in silent films. She was a Border collie, known as Jean, the Vitagraph dog.
No one originally planned for Jean to become a star; it was a case of her owner being at the right place at the right time.
Jean was owned by Maine resident Laurence Trimble (1887-1954), an aspiring writer and actor, who moved to New York in 1906. Trimble sold an article to a magazine about the new art of movie-making, which brought him to Vitagraph Studios in Brooklyn. He happened to be on set when the director was looking for a dog to play opposite Florence Turner, an actress known as the "Vitagraph Girl." Trimble suggested his dog might be able to play the role. Both he and dog, Jean, soon became members of the Vitagraph stock company.
Jean Becomes a Star
Jean was quite popular with audiences, and Trimble soon found himself directing many of the films with Jean. Together, Trimble and Jean made between 16 and 18 films for Vitagraph; they were one- and two-reelers focusing on various dog adventures. Titles ranged from Jean Goes Foraging (1910) to When the Light Waned (1911); Tested by the Flag (1911) Jean Intervenes (1912), and Playmates (1912). Jean's role was always as canine companion.
Helen Hayes (1900-1993), who was to go on to be one of the most respected actresses of the twentieth century, recalled that when she was only 8 years old, her mother took her to the Vitagraph studio in Brooklyn: "I had long curls, and they let me play the juvenile lead in two pictures in support of Jean, the collie. Jean was the famous dog of the day, and I was very thrilled." (New York Times, 3-15-31)
In 1913 Trimble, Turner and Jean left Vitagraph to start Turner Films in England. However, World War I made film-making in England all but impossible, and in 1916 Trimble moved back to the United States, relocating to Los Angeles where Vitagraph had moved.
Unfortunately, Jean died in 1916. Trimble and Vitagraph started exploring their options. The first dog they tried, Shep, did not work out, but after the war, Trimble decided to travel to Germany in search of another type of dog. He found a military dog, a German shepherd, named Etzel von Oeringen and brought him home. The dog was an attack dog who had never been domesticated, so Trimble worked to re-train the dog. He eventually became known as the huge film star, Strongheart.