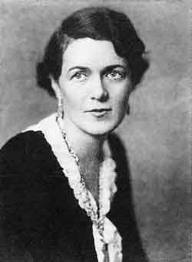 Freed American women from corsets by designing and patenting a bra (1913)
Mary Phelps Jacob (1892-1970) wanted something more comfortable than a corset to wear under one of her ball gowns. She designed what we now know of as a bra. Hers consisted of two handkerchiefs and some ribbon. Later she got a patent for it.
Early Life
She was born into a life of privilege and was named Mary Phelps Jacob, called Polly. The family lived in Manhattan and Watertown, Connecticut. Polly attended Miss Chapin's School in New York City and then continued her education at Rosemary Hall preparatory school in Wallingford, Connecticut.
About Corsets
In the early twentieth century a woman of social standing who paid attention to fashions would have worn a corset to give her what was considered the fashionable look of the day. Corsets were made of starched or firm fabric and had bone inserts that ran up and down the length of the corset. A woman was then laced into the corset. The result was that her waist was cinched in to be as tiny as possible; her torso was held very erect. A corset was very confining, and many women found it difficult to breathe easily in them.
At the age of 19, Polly was dressing for a debutante ball and intended to wear a light, filmy evening gown. When she tried on the dress over her corset, she saw that the whale bone stays in her corset were actually visible under the sheerness of her gown, and she sought a solution. Working with her maid, Polly asked for two silk handkerchiefs and she used pink ribbon for the straps and cord to encircle her body. That evening she looked quite lovely in her dress and was also much more comfortable.
Showed To Friends
The next day she showed her invention to friends, and they wanted them, too. A few weeks later, a complete stranger contacted her and offered her $1 if she would craft one for her. At that point Polly realized she had the makings of a business.
Patenting Her Bra
On February 12, 1914 she filed for a patent and that following November she was given the first U.S. patent for a 'Backless Brassiere." (see picture)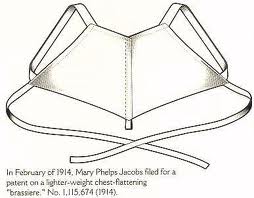 In her application, she noted that her invention was "well-adapted to women of different size" and was "so efficient that it may be worn by persons engaged in violent exercise like tennis."
It is important to note that others had developed similar concepts. In France in 1889 a couturier named Herminie Cadolle (1845-1926) had created what was a two-part corset with the bra section separate from the waist-cinching part of the corset. Over time, some women in Europe began wearing only the bra. Whether or not Polly was aware of Cadolle's work is not clear, but nonetheless, she was the first to patent it in the United States.
Polly went on to marry a fellow named Richard Peabody and they moved to Boston where Polly set up a company, Fashion Form Brassiere Company. For a couple of years, she had women manufacturing the wireless bras for her. However, Polly's marriage to Peabody soon fell apart, and this changed her connection to the business. She married Harry Crosby. Crosby was not in favor of Polly staying in the United States to run her business, so she sold the brassiere patent to the Warner Brothers Company for $1500 (what would be about $20,000 today).
Life in Paris
The Crosbys went to Paris where they took up a bohemian lifestyle and became publishers of many well-known writers including James Joyce and Archibald MacLeish. During her time in Paris as a publisher, Crosby suggested she take a new name to develop a new persona, and it was at this time that she started calling herself Caresse.
Warner manufactured the Crosby bra for awhile but it did not sell particularly well and eventually they discontinued it. However Warner went on to build a huge business based on their ownership of the bra patent. They are still a very successful company today.
In later years, Caresse Crosby wrote: "I can't say the brassiere will ever take as great a place in history as the steamboat, but I did invent it."
Women today would differ with this statement.
To read about another inspirational business owner, read about Ida Rosenthal: Pioneered Bra Industry with Maidenform.