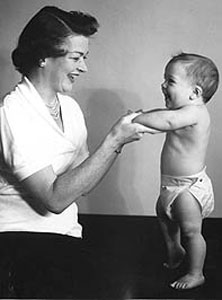 Marion Donovan (1917-1998) grew up as the daughter of an inventor, so when she became a mother and began to see the areas where child care and homemaking could be improved. She naturally turned to problem-solving, and she patented what she invented.
Her first patented invention was a diaper cover. In the early fifties, she received four separate patents for different aspects of this item. The diaper cover was made from a very light plastic that could "breathe" so that the dampness did not cause the baby to get a rash. She also used snaps to close the diaper cover, meaning that mothers could do away with safety pins.
During this time, she knew that using a paper liner could result in a disposable diaper, which would be the ultimate improvement. However, diaper manufacturers failed to pick up on any aspect of her ideas.
By the end of her life, Donovan had earned an advanced degree from Yale Architecture School, worked as a consultant to manufacturers of home products, and obtained twenty different patents on various types of personal conveniences.
Marion Donovan: Early Life
Marion O'Brien Donovan was born in 1917 in Fort Wayne, Indiana. When her father and his twin brother were young men, they invented an industrial lathe that could be used in creating automobile gears. So popular was the "South Bend lathe" that the brothers' factory manufactured nothing but that lathe, and they did very well.
Marion's mother died when Marion was only seven, so Marion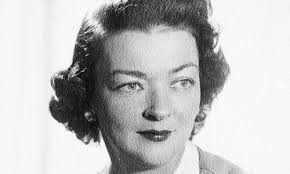 frequently spent her after-school time at the factory. Her father encouraged her curiosity, and when she wanted to create a new form of tooth powder, he helped show her what she needed to do to come up with her product. In the process he taught her a can-do spirit of problem solving.
After college, Marion took a job as assistant beauty editor at Vogue and met James Donovan, a leather importer. The couple married and moved to Westport, Connecticut and started a family.
Idea Sparked by Necessity
Donovan got tired of using cloth diapers on her children. When she got the children up after a nap, the odds were good that the cloth diaper had leaked so she not only had to change the diaper and the baby's undershirt but she generally had to change and launder all the bedding as well. (Diaper covers at that time were not very effective.)
Feeling that other mothers were probably similarly annoyed, Donovan sat down at her sewing machine with a shower curtain and began fashioning what she called a "boater" (to her, it looked like a boat). After much experimentation—and many shower curtains later—she created a reusable, leak-proof diaper cover.
The final product was made of nylon parachute cloth that seemed to reduce the incidence of diaper rash; the air could circulate through this lighter material so the baby's bottom could dry off. Another improvement Donovan made was replacing safety pins with snaps. With a wriggling baby, annoying pin pokes to either mother or baby were entirely possible, and the snaps solved that problem.
In 1949 Donovan successfully marketed the diaper cover to Saks Fifth Avenue. Shoppers made it an instant success. Adam Gimbel, president of Saks Fifth Avenue at the time, wrote to Donovan: "It is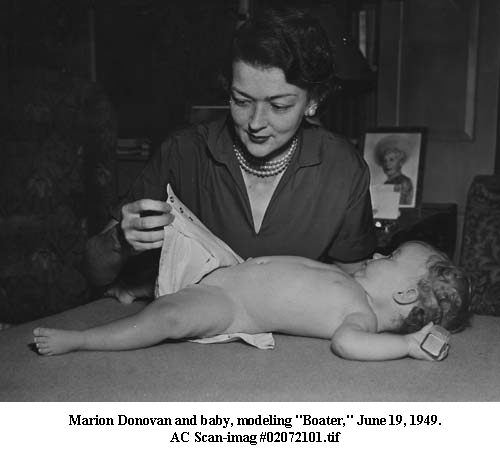 not often that a new innovation in the Infants' Wear field goes over with the immediate success of your Boaters."
By 1951 she received the four patents she had applied for on the product. Later that year she sold the rights to Keko Corporation of Kankakee, IL for $1 million.
She used that money to fund other inventions; her goal was always to create products that made life more convenient and more organized.
Set to Work on Disposable Diaper
Donovan's next goal was to dispense with the need to do so much laundry. She wanted to create a disposable diaper, and she set out to find a different type of paper that would be absorbent but also pull the moisture away from the baby's skin to prevent diaper rash. She came up with a prototype of a paper diaper and began visiting paper manufacturers. However, no one was interested. The men all responded with the fact that the disposable diaper was "not necessary."
Though she continued to discuss the idea, she was never able to find the right company to manufacture her idea.
Other Interests
During the 1950s, Donovan had also been working on getting a degree in architecture. In 1958 she was one of three women in her class at Yale to receive this degree.
Between 1951-1996, Donovan received a total of twenty patents. She created the "Zippity-Do," an elastic cord that could be temporarily attached to a zipper on the back of a dress; then the wearer could use the cord to pull up the zipper by reaching over her shoulder. She also invented a soap dish that drained into the sink, and the DentaLoop, a dental floss circle that could be used by see-sawing the loop between the teeth. Her invention, The Big Hangup, was a hanger that could hold 30 garments neatly and store them conveniently.
Companies also hired her to consult on product development, and she used her knowledge of architecture to design her own home.
Marion Donovan's philosophy –that it was always worth looking for ways to improve even the simplest things—paid off.
As for the Totally Disposable Diaper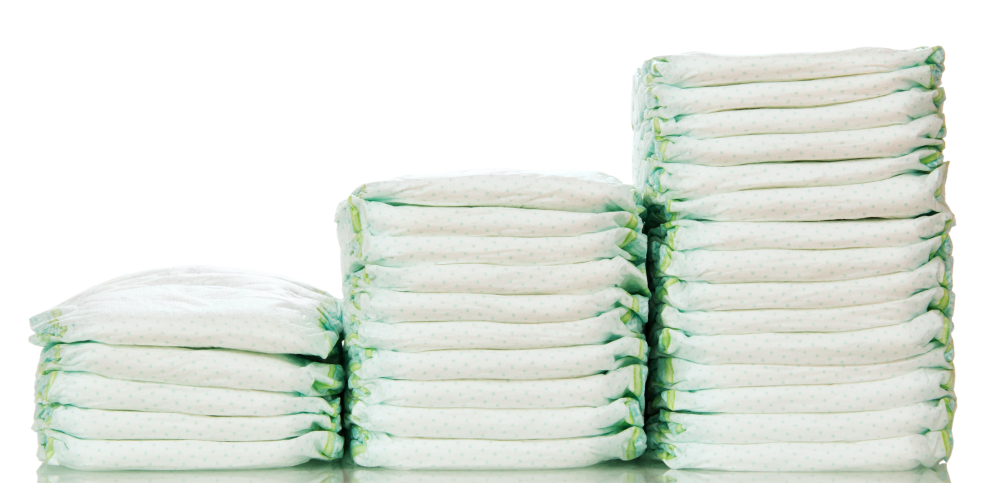 The first totally disposable diaper in the U.S. was introduced by Proctor & Gamble in 1961. The company purchased the Charmin' Paper Company in 1957. They assigned one of their chemical engineers, Victor Mills (1897-1997), to create new paper products.
Whether Mills had actually met with Donovan is not recorded, but certainly by that time the idea of a paper diaper was in the air. In Europe, a disposable diaper was even on the market, so many people were thinking about the possibilities.
Victor Mills was a grandfather who must have had some experience with diaper-changing and maybe even laundering, as he is the one credited with suggesting the product to P & G. These early disposable diapers still required pins but the change-over to tape was to complete the simplification process that Marion Donovan began with her boater.
One has to think that Donovan, the maker of the very popular "boater," must have somehow helped bring about this new invention.
Either way, Marion Donovan earned a place in the national Inventors Hall of Fame. She created many patented items that made life more convenient. She was inducted in May of 2015.