Bullet, the German shepherd who starred in the The Roy Rogers Show on television, was a family pet-turned-show dog. He was amazing. He alerted Roy when bad guys came near, and chased them when necessary. If stars Roy Rogers or Dale Evans were in trouble, Bullet arrived for the rescue.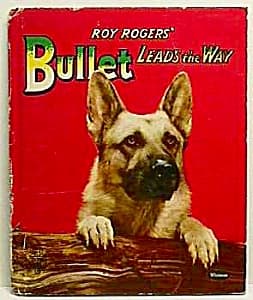 Bullet also had to be fast. No trick photography was used at that time. If Roy was riding Trigger on his way to save someone, Bullet needed to be right beside Trigger for each and every shot.
The best part of Bullet's story is that when he was not performing, Bullet lived a fine life as the beloved pet of married couple Roy and Dale.
Share to Google Classroom:
Roy Rogers and Dale Evans: Who They Were
Roy Rogers was born Leonard Slye (1911-1998). During the Depression, his parents moved the family from Ohio to California in search of work during the Depression. Leonard was old enough to work, so he did everything from driving trucks to picking fruit. At night he entertained the other workers by playing his guitar and singing. When he saw that his music resonated with people, he decided to move to Los Angeles to see if he could make it as a performer.
He and two friends, Bob Nolan, and Tim Spencer, formed a musical group, "Sons of the Pioneers." Westerns were very popular at the time, and he found work for both himself and the musical group. The group was best known for western songs that celebrated the land and the lifestyle of the West. It still exists today.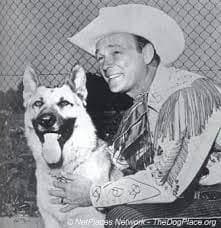 Rogers also became an excellent horseman which increased his employability. His later success was largely due to his intelligence as a businessman. As early as 1940, Rogers asked for contracts that gave him the right to all merchandising of anything created in his likeness in voice or name. Over the years, toys, games, and comic books followed in vast numbers.
Dale Evans was born Francs Octavia Smith (1912-2001). She had a successful singing career long before she appeared with Roy Rogers. "Happy Trails," the song that closed out their television program, was written by Dale.
The two married in 1947, she for the fourth time and he for the third; both brought children to the marriage.
The TV Show With Trigger and Bullet
Like most television shows, the characters and the story first debuted on the big screen. Bullet was born in 1949, and his film debut was in 1951 in Roy Rogers's film, "Spoilers of the Plain," produced by Republic Pictures.
The television show was geared for young people. It aired for six seasons, from 1951-1957. The program starred Roy Rogers as a ranch owner who lived in fictional Mineral City, and Dale Evans as the proprietor of the town's Eureka Café. Pat Brady was Roy's humorous sidekick and Dale's cook. Brady's jeep, Nellybelle, was enough of a presence to be considered a character on the show.
Trigger and Bullet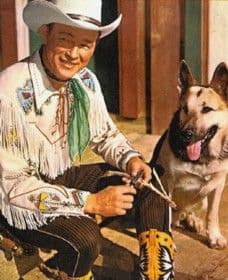 Trigger, a gorgeous Palomino, was said to be only the third mount auditioned for the role of Trigger. Roy chose the horse when he saw the horse's abilities and his response to voice command or soft touch. Spurs were never used on Trigger.
Because the Slye family had lived in such poverty, Leonard/Roy never and any pets. As Rogers began to make money, he bought a ranch and began adding dogs. He was said to have had about 30 dogs most of the time.
Bullet was chosen for Rogers's sidekick, simply because he was usually with Rogers anyway. He was a beautiful, smart dog and a perfect companion. Bullet responds to Roy's spoken commands to crawl, roll over, sit up, leap, fight, snarl and attack a person. If a cameraman needed a particular expression, Bullet could hold the expression for long enough to get the shot.
Reporter Visits Set
Bullet was very popular with audiences, so it was no surprise that reporters often set up appointments to do stories on him. One reporter from the Long Beach Press-Telegram visited the set and was given a demonstration of all that Bullet could do.
First, the reporter was told to put his hand on the ground, pointing to a spot on the floor. With that, Bullet rushed at his arm, growling like mad. The reporter noted that he feared becoming a "one-armed typist," but it turned out that Bullet understood his power. At first the reporter felt very light pressure on his hand from Bullet's jaws. On command, Bullet began licking the reporter's hand.
The reporter also learned that if Roy napped between scenes on the set, Bullet stood watch. No one bothered the cowboy during that time.
Promoting the Television Show
Roy Rogers and Dale Evans became big stars, but promotion was still part of keeping them on top. During the 1950s, contests were a popular promotion vehicle for television series.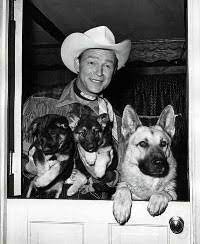 Since the audience for the show was young people, essay contests worked well. The show would run newspapers ads asking children to enter essay contests on street safety or patriotism—whatever seemed timely.
Prizes for the winners ranged from tickets to the show to Frontier Outfits—one for a boy and one for a girl. Grand prize winners had their photographs taken with Roy Rogers and Trigger. Roy, of course, personally autographed the photograph for the family before it was sent out.
Roy Rogers also made money by sponsoring products. In the 1950s, he appeared in ads for "Sanforized jeans." This sent me off to find out what "Sanforized jeans." Sanforizing was an early process used to pre-shrink the denim. If customers bought jeans that were not Sanforized, then they were likely to shrink up to 10 percent in length. The jeans that Sanforized shrank a bit, but the percentage was more like 1-3 percent.
Best Contest: Winner Gets a Puppy
In the spring of 1953, children in Fort Worth had the opportunity to enter the best contest of all. Bullet had become a father so there were puppies on the ranch. The challenge for essay writers was this. Using no more than 25 words, children were to write: "I would like one of Bullet's puppies because…"
The winner would be presented with one of Bullet's puppies on a live local television program that April on Fort Worth's WBAP-TV.
The Roy Rogers Museum
For many years, a museum dedicated to memorabilia from Roy and Dale was located in Victorville, California. In 2003, it was moved to Branson, Missouri. The thought was that Branson would attract the right audience, and the museum would be more popular. Unfortunately, the museum could not last and closed in early 2010. The contents were sold at auction. A preserved version of Bullet sold for $35,000 and a stuffed Trigger was sold to the same buyer for $266,000.
Reruns of the show can still be found on television. Many of them are also on YouTube.
How Old Was Bullet When He Died?
Readers have asked how old Bullet was when he died. I've searched and have not found any information.
If anyone knows, please contact me: [email protected]
If you enjoyed reading about Bullet, don't miss the stories about Lassie or Yukon King from Sgt. Preston of the Yukon.