"Battlefields are outdoor classrooms," says David Duncan, president of The American Battlefield Trust.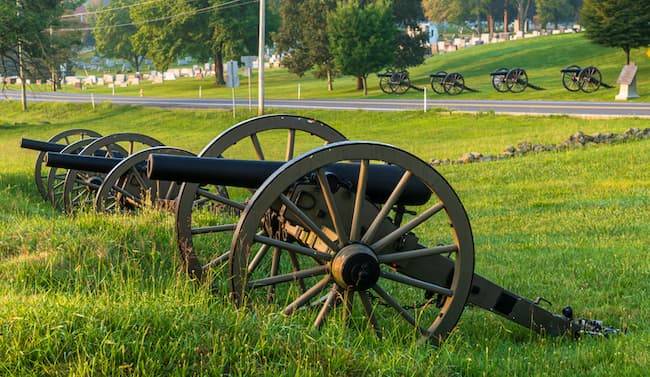 There is no better place to learn how the acts of man shape the fate of a nation.
Parks With Stories
The third week of April brings us to National Parks Week. I'll take this occasion to note that battlefields are actually parks with stories. Some people come for the history; some come to enjoy nature and wildlife, and some simply follow a road sign and find themselves in a beautiful place to spend some free time.
Many of you likely grew up near a battlefield and may have taken school field trips to some of the locations around you.
My family missed that chapter of American travel. I grew up in Colorado, so our trips did not involve battlefields, though we visited many historic sites.
By the time I visited my first battlefield, I was an adult. Lucky for me, it was Gettysburg.
Gettysburg National Military Park
At Gettysburg, the guide pointed out bullet holes that pockmarked many of the homes and buildings in town. It made me think what it might have been like to be a family hiding in a basement. They must have wondered how their small town became the center of a massive battle.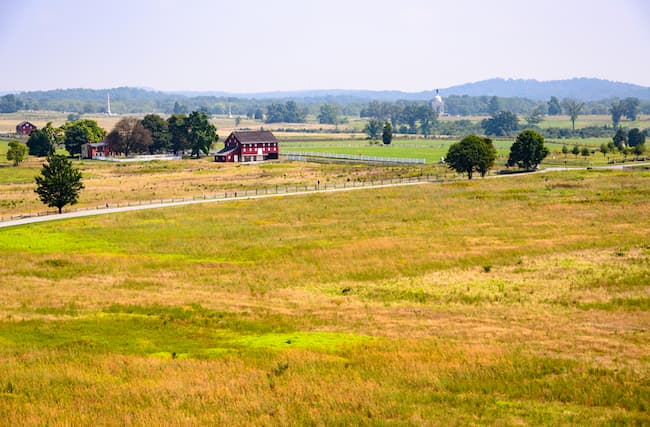 I understood service and sacrifice to one's country in a way that I have never understood it before. I could tell you this clarity arose because of the impressive visitors' center at Gettysburg, Or I could say it was the beautifully restored cyclorama that inspired my awe. Perhaps I could credit the marvelous descriptions provided by the licensed battlefield guide who accompanied our group, but none of those explanations would be adequate.
What gave me chills and put a prayer of gratitude in my heart was overlooking the fields where the fighting took place and thinking of the Union soldiers defending our nation. They started shoulder-to-shoulder in a line that stretched for more than a mile along Cemetery Ridge. Despite empty stomachs, inadequate footwear, and scratchy wool uniforms in July–not to mention the fatigue of two years of fighting–those soldiers fought to maintain the integrity of our Union.
Evergreen Cemetery
As our ancestors knew, cemeteries are parks, too. At Gettysburg, you can gain an even greater understanding of the American people. As visitors enter Evergreen Cemetery, they soon come upon a monument to Elizabeth Thorn. Her husband was the caretaker of the cemetery but had left to fight in the war. Elizabeth was six months pregnant, but for days after the battle of Gettysburg, you could find her with a shovel, helping to bury the dead.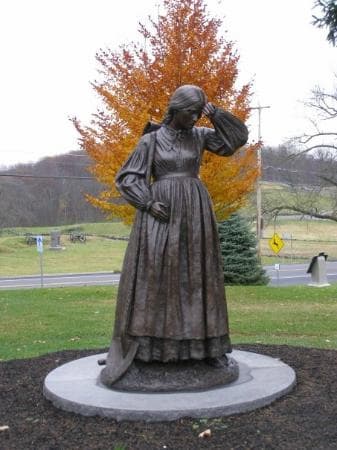 The Government Still (Mostly) Works
Almost 250 years after the United States Constitution was ratified, we still govern according to the plan spelled out by our Founding Fathers. While societal change is never instant and progress and freedom for all comes in fits and starts, the significance of the Union victory in the Civil War has meant that our democracy and our system of government continue on.
The Importance of Preservation
Like parks, battlefields needed organizations watching out for them. I'm on the board of trustees for the American Battlefield Trust. When we meet, one of our most important tasks is hearing about battlefields that are threatened and what can be done to save them. In addition to Civil War battlefields, the federal government has also tasked our nonprofit group with looking out for Revolutionary War and War of 1812 battlefields that should be saved.
Developers are always looking for new land for commercial or residential development, so the ABT staff is listening and going out into the field to evaluate the importance of particular land that might change hands.
What's Wrong With Neighborhoods and Shopping Malls?
Of course, our towns and cities are going to grow. But planning commissions and organizations like the American Battlefield Trust can truly help in keeping track of open space and what should be preserved.
In the last thirty years, preservationists and historians have felt a new sense of urgency. They've wanted to ensure that Americans will be able to visit "hallowed grounds" to remember a vital chapter in our American history. Ironically, we may have the Walt Disney group to thank for a renewed awareness of the importance of our real American heritage.
In 1993, the Walt Disney Company began making plans to build an American-history theme park in the northern Virginia Piedmont area. The location was 35 miles from the White House and only 5 miles from the Manassas Battlefield where another important Civil War battle took place.
In a historic civic fight that involved historians, environmentalists, American citizens from many states, and the U.S. Senate, The Disney Company was eventually convinced that their plasticized, animatronic version of American history was not appropriate for that neighborhood. The preservationists heaved an initial sigh of relief, but they only paused briefly. They saw that with or without Disney, urban sprawl was beginning to mar the land that is an important part of our shared American history.
Many Battlefields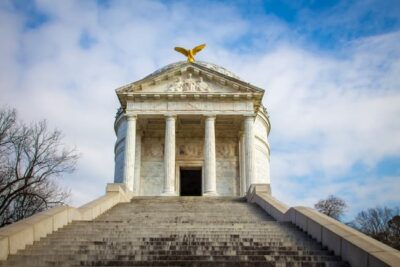 Gettysburg is spectacular, but there are battlefield sites throughout most of the East and through parts of the Midwest. Many of them have excellent visitor centers. If you haven't stopped at one long enough to meet a park ranger, I encourage you to return another time. These people are very knowledgeable and are lifelong learners. They will tell you a little about a site if you have children tugging on your hands. Or they will share a lot about a battlefield if you have time to hear a full story.
You don't even have to be interested in history.
The staff at the battlefields are delighted when people simply come for nature walks or bike rides. A couple of years ago, an eagle nested in one of the tall trees in Shiloh National Battlefield Park in Tennessee. A 24-hour "eaglecam" was established. Shiloh administrators were delighted at how many visitors came out to the battlefield to see what they could firsthand.
How the American Battlefield Trust Increases Accessibility
And while park or battlefield visits are highly recommended, the American Battlefield Trust is doing all it can to preserve the land and present the stories of what happened and why it's important.
If you visit battlefields.org, you'll see that the Trust has a tremendous web presence with articles, battle maps, videos, and even some virtual reality experiences. They are all themed around what happened during America's first three wars. The ABT also excels at partnering with federal, local, and state governments as well as battlefield "friend" groups and preservation nonprofits.
One recent partnership with the South Carolina Battleground Trust maps out historic stops through South Carolina and what was happening there during the Revolutionary War. Though we hear a great deal about the fighting in the Northeast, America's independence was actually secured through battles in South Carolina, across its swamps, fields, woods and mountains. The information is accessible on the website but also as an app so that Americans can travel along with the stories.
The Black Experience
Another full-scale project of the American Battlefield Trust is the story of the African American experience. In addition to a robust section on their website, they worked with the Civil War Trails, Inc., to create the "Road to Freedom" program.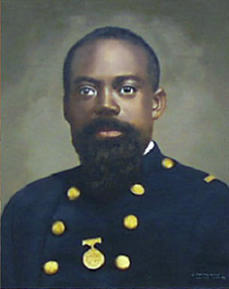 The trail highlights 88 spots across Virginia. Sites stretch from Alexandria, Virginia, to Abingdon, near the Tennessee border. The stories told are of soldiers, slaves, educators, politicians and others. The spots identified are where they were born, educated their children, fought for freedom, and staged full-scale rebellions.
"The contributions and experiences of African Americans during our nation's first century have traditionally been under-told," said Trust President David Duncan. "Through preservation opportunities and outreach initiatives, we have the ability to elevate these stories for this and future generations."
Maps for the Road to Freedom are available at many visitor centers across Virginia, and an app can be downloaded from the ABT website.
National Treasures
Whether you decide to go hiking in Yosemite or Yellowstone, or visit a battlefield park, get out and enjoy the good weather.
And remember, parks and battlefields are national treasures. We need to experience them ourselves and then go back and share them with our friends and families.