The story of the U.S. Post Office is one of an agency that worked hard to make mail delivery better and better. Whether it was building better roads, developing canal systems, or subsidizing a network of railroads, the post office was accustomed to pushing forward. (Historically, the post office has been remarkable in helping to grow our country. (Recently, however, the postal service has become mired in bureaucracy.)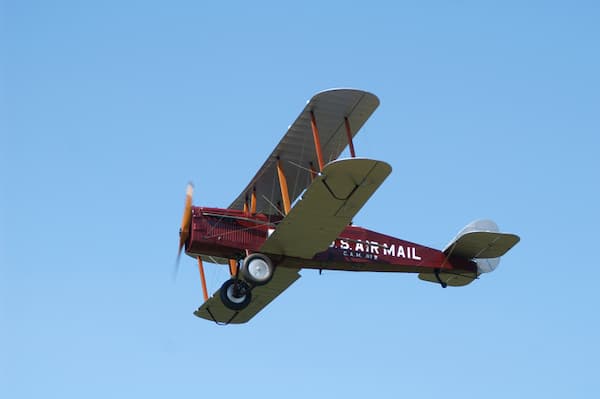 In the early 20th century, flight was one of the most exciting developments to come along. The postal administrators noted it and were early in envisioning how they could use it.
Wrights Come To Government
Shortly after Wilbur and Orville Wright's first successful flight in 1903, they turned to the U.S. government hoping for financial support. The brothers approached the War Department, thinking the military would welcome this new tool. But none of the officers saw much value in it.
However, the post office saw great possibilities offered by flight and were eager to embrace it.
First Mail Carrier Pilot
In 1911, Postmaster General Frank Hitchcock swore in Earle Ovington as a mail carrier pilot and assigned him a regular mail run. Ovington was to fly daily from Garden City to Mineola, New York. Hitchcock was so excited about this new beginning that he paid Ovington a dollar from his own wallet on the day of the first flight.
Many people were very skeptical of this form of mail delivery. One fellow in Los Angeles had already written to the Postmaster General that "he does not want any of his mail transported by aeroplane." (New York Times, 10-12-1911)
Planes were not set up for carrying cargo at that time. When Ovington boarded his open-cockpit monoplane, the Dragonfly, he knew he would have to carry the mail bag on his lap. But this was satisfactory. As the only person on board, he was responsible for "delivery." This involved flying over a set location and tossing out the mail bag. The local postmaster would then retrieve it.
First Delivery
The first day did not go well. As Earle Ovington approached Mineola, he brought his plane down to 500 feet and threw out the mail bag. The bag burst open on landing. The mail scattered across the landing area. Some pieces got caught up in the wind and traveled even further. It was a mess.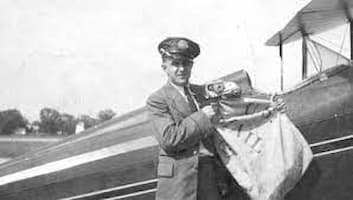 Fortunately, the postmaster had known this flight was experimental. Only postcards and souvenir mail were carried for the first few days.
The next day a heavier, better-bound bag was used. From that point on, Ovington flew regularly from Garden City to Mineola with the mail.
More Experimenting
In 1911 and 1912, the postal service set up 52 more experimental flights. They also lobbied Congress for money to fund airmail service. It took several years, but finally funds were allotted.
Initially, the Army's Signal Corps was used to get the air service up and running. Three months later, a civilian-operated postal air division was created. The postmaster appointed Benjamin B. Lipsner, formerly a part of the Signal Corps, to run this new service.
That first year, banks were the most enthusiastic customers. They realized that by sending financial papers and checks by airmail, their own bottom line could benefit.
First Year of Air Service
In 1918, the first regularly scheduled postal air service was instituted between New York and Washington. But no plane could fly that far without stopping for fuel. Philadelphia was selected for stopping for regular service.
Initially, a mix of aircraft were used. But as the pilots began their early routes, they found they preferred the World War I surplus de Havilland DH-4.
Once the decision was made to focus on the de Haviland, mechanics and designers worked out how the planes could be re-fit to carry mail bags. The gasoline tank was moved up to an area right behind the engine, and the pilot's cockpit was moved back to where the gunner had formerly sat. A mail cargo compartment was built into the plane as well.
After remodeling, the planes could travel about 350 miles at an average speed of 115 m.p.h. The mail load carried was about 500 pounds.
Initially, most routes did not have enough customers to equal 500 pounds of mail. In the early days, the post office loaded the bags with other first-class letters as well.
What Did Airmail Cost?
No one had a clue how to charge for airmail delivery. Initially, the price for airmail stamps was set at 24 cents. That included special delivery at the destination.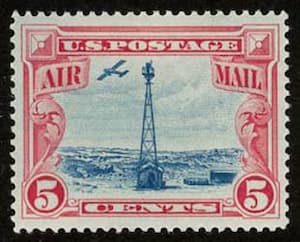 But that price was prohibitive. While banks might be able to pay for airmail, regular people would not. Relatively quickly, the post office dropped airmail costs to 16 cents for the first ounce; 6 cents for each additional ounce. As service improved, stamp prices were changed. The U.S. was divided into zones, and customers could pay 8 cents for a stamp that would provide airmail delivery within three zones. If a letter needed to be sent across the country, the price was back to the original 24 cents.
Early Pilots
Early pilots did not have it easy. Flying in open cockpits could be freezing cold, and if it was raining or snowing, pilots experienced it all.
Their equipment was primitive. Most planes had a simple altimeter (altitude meter), a compass that might or might not have worked, and an air speed indicator that pilots uniformly reported never did.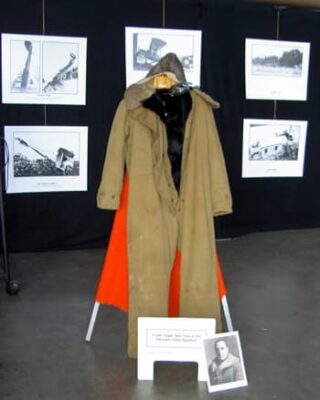 As a result, the pilots flew by sight, feel, sound, and wit. One early airmail pilot, Harry Huking said: "You could tell whether you were moving or side-slipping by the feel of air on your face."
The pilots followed rivers or train tracks for certain routes, and they learned to watch for certain landmarks as they got to know a route.
Spotting a landmark often involved tipping the plane sideways so the pilot could see below.
Sound was also important. The wind drumming on the fabric of the wings provided an experienced pilot with information, as did the "singing" of the wires. If he was flying too fast or too high, the sound changed. This let the pilot know he needed to modify his landing.
Another pilot, Harold T. Lewis, heard about the idea of an instrument panel in the cockpit. "An instrument panel is just something to clutter up the cockpit and distract your attention from the railroad or riverbed you're following," he told a reporter.
Bad Weather
Bad weather should have halted flying, as storms took away so many of the "signposts" pilots needed. But Assistant Postmaster General Otto Praeger who oversaw the airplane program was not a pilot and had never been up in a plane.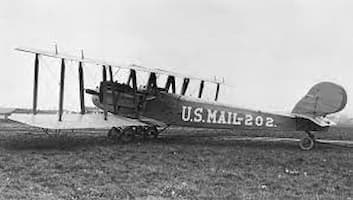 As a result, he was hard-nosed about the flying schedule. Clouds? Rain? Thunderstorms? The mail needed to stay on schedule. Of the first 40 pilots hired during those early years, at least half were killed in weather-related crashes.
Flight Maps
Because flying was so new, no one had mapped routes. The best a pilot could hope for was to get directions from other pilots. But they would be something like this: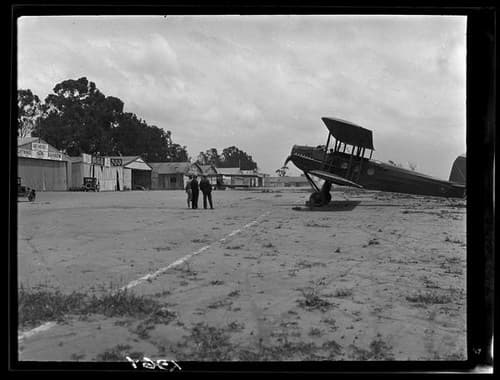 "From the end of the runway, follow the main road, keeping to the left of the small lake. Pass straight over the big tree at the end. Then head for the water tower in the distance. (If it's foggy, you may not be able to see it….)"
Transcontinental Route in 1920
Just as banks were the first customers for airmail, they were also the most eager for coast-to-coast delivery. They kept asking, how could checks and financial papers leave New York and arrive in San Francisco more rapidly?
By 1920, the postal service crafted a transcontinental route that got the service started. At that time, planes did not yet fly at night. Darkness took away all ability for pilot navigation. The plan established was for an airplane to fly to a specified location. (The spot chosen was one that should be reachable by air during daylight.) Then the mail was transferred to railway baggage cars at a nearby station for night travel.
When dawn broke, the mail was put back on a plane at the nearest airfield. It was a primitive method, but it worked.
Night Flying
Within just a year, the post office was under pressure to speed up delivery time even more. They began experimenting with night flights. By 1921, they saw that there were ways to fly certain sections of the country at night.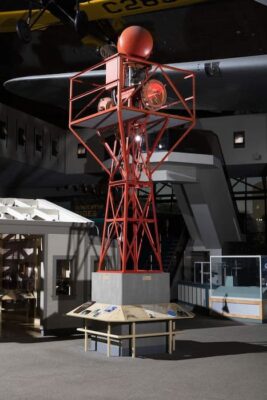 The post office hired workers to be on hand at specific locations each evening. They would then light bonfires that the pilots could use to light their way through the Midwest and West. The pilots followed the fires. If they needed to refuel, they knew they could do so by landing near a bonfire.
Travel time was reduced to only 35 hours coast-to-coast when the mail could remain airborne from start to finish. This beat the fastest transcontinental trains by at least three days.
Congress Provides More Support
In 1925, the country was beginning to understand the potential of air travel. Congress passed a law to permit the Postmaster General to contract outsiders for mail service. This enhanced the opportunities for the post office, and it stimulated commercial aviation.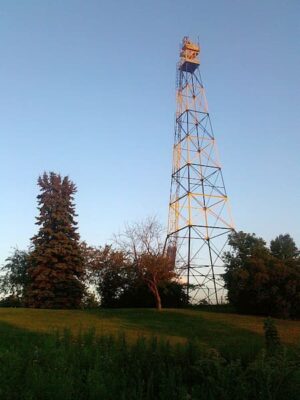 By the end of 1926, more and more private contractors were taking on the postal air routes. Over time, the post office transferred the facilities created for the airmail service. Airways, landing fields, radio service, and landing beacons were assigned to the Department of Commerce. By September of 1927, all mail was carried by non-governmental planes.
These early mail flights paved the way for passenger service. It was not uncommon for young men to hang out near the fields where they knew a mail plane would be landing. When the plane touched down, they would ask to hook a ride to the next place by sitting atop a mailbag in the back of the open cockpit.
Ground Improvements For Flying
As the country retrofit itself for airplane travel, many improvements were made.
Daytime travel was improved by labeling buildings in towns. Giant letters were painted on rooftops so that pilots would know what town they flew over. If the distances between towns was great, barns or big boulders were painted as well. In some areas they painted static directional compasses as another way to guide pilots.
And when construction crews were pouring cement for runways, they also added giant cement arrows so that pilots would have an easier time orienting themselves.
Bonfires Light the Night
But none of those navigation aids helped at night, and the effort to keep bonfires going across the country was work-intensive. There was also no way to supervise. If a bonfire was not lit on any given night, the possibility of a lost pilot could become a reality.
The next step was installing beacons along the way. This required stringing wires and erecting stands on which a beacon could rotate so that pilots could see it from different directions.
The fist lighted airway beacon was installed in 1923, and soon Congress provided funds for lighting the way along the route that the post office was using for airmail travel.
Funding for Beacons
The plan was to locate the first beacons in the middle of the country. Airplanes could depart from either coast and would most likely reach the lighted portion of the route by nightfall. For this reason, the first segment for beacons was a preferred flying route between Chicago, Illinois, and Cheyenne, Wyoming.
Construction of these beacons actually proceeded quite rapidly.
Beacons were generally placed every ten miles. In mountainous regions they were placed closer together so pilots could better judge what they were flying through. Every 15-20 miles emergency airfields were cleared for pilots in distress.
Generally, the beacons were 53 feet tall. Engineers theorized that in hills and valleys, it was probably best to vary beacon height however. If there was fog in an area, they hoped that pilots could see below or above fog or clouds.
Colored beacons provided more information. A green beacon identified an airport. A red beacon signaled an airway. The lights also used Morse Code to provide identifying information as to location.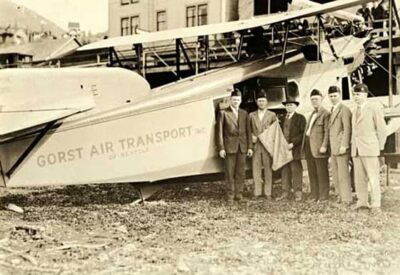 And there was one final item for which all night-flyers needed to be equipped. In the dark it was difficult to judge distances for landing. Pilots were trained to carry and to use flares. When pilots approached a landing site, they dropped a flare. The lighted flare showed how far below the ground was and how much of a descent they needed to make to land.
By July 1924, the route was in use.
Today, hikers were occasionally come upon a beacon in mountainous areas. No one felt it was worth removing. And Montana made the decision to keep their beacons in service. They are still considered useful and are maintained with state funds.
Changes During World War II
By the 1940s, flying methods were more reliable, and radio communication systems were added in many locations. However, pilots still relied on directional information from the ground.
Things changed after the attack on Pearl Harbor. The military became concerned that "airmarks" (the signage painted on the ground) might direct enemies to air landing locations. The government requested that airmarks be removed. But pilots struggled, so the ruling was changed so that there were to be no airmarks within 50 miles of flight training airfields.
Missile Mail
While airmail eventually became the way of the future, not all of the postal ideas did blossomed in the same way. In the mid-1930s, missile enthusiasts were looking for practical uses for their devices, and they approached the post office. Why not send mail via guided missile?
The first experimental flight was made in 1935, and contained a "live cock, a hen, and 189 messages."
The idea did not catch on right away, but on June 8, 1959, the Navy decided to give it a go. A Navy submarine fired a missile carrying 3,000 letters to the Naval Auxiliary Station in Mayport, Florida. The flight was a success, and pundits started predicting that mail would be delivered "within hours" from New York to California or as far away as India.
But "missile mail" never took hold. Next up? Drone mail.
To read other stories about the U.S. Mail, read about the amazing women in the 6888th Central Postal Unit during World War II that madesure the mail got through to the soldiers. Or enjoy the story about Owney, the Post Office Dog.
For more on early air travel, read about Jackie Robinson's cross-country flight to spring training: Jackie Robinson.