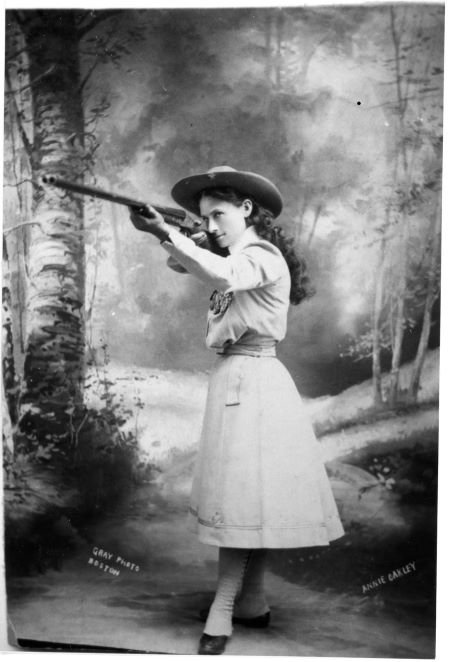 Annie Oakley was born Phoebe Ann Mosey. She developed uncanny sharpshooter skills, and became part of a traveling show. At that point, she changed her name to Annie Oakley and became famous throughout America.
Her level of marksmanship was extraordinary. Her work required great vision, dexterity, excellent eye-hand coordination, and the ability to function under pressure. What's more, Oakley did what we all dream of. She found a way to make a living doing what she loved.
Simply put, she was America's first female superstar.
Oakley's Early Life
Phoebe Ann Mosey was born on a farm in the western part of Ohio (Darke County). She was the sixth of seven surviving children born to her parents.. Her father died when she was quite young. To help provide the family with food, Phoebe set traps in the woods. One day when she was 6, she reportedly took her father's gun and killed a squirrel.
Her mother remarried and was widowed again. Phoebe (who seemed to go by Annie as a child) was placed in the care of the superintendent of the county poor farm.
Eventually her mother married yet a third husband, and Annie moved back home.
Because of the family situation, Annie never attended school regularly. Instead, she hunted to help the family. She killed enough game that she could sell it to local hotels and restaurants. With this added income for the family, her mother worked to pay down the mortgage on the farm.
Locals Knew Of Her Shooting Ability
Over time, Annie's shooting ability became well known. When marksman and traveling showman Francis E. Butler brought his act to Cincinnati, he placed a one hundred dollar bet with a Cincinnati hotel owner that he could out-shoot any of the local people.
Phoebe was 21 at the time. The hotelier knew Annie because he bought game from her and knew how good she was. He arranged for the two to compete at a shoot-out in Greenville, Ohio. Annie won, and Butler was smitten. The two were married in June of the following year.
Marries the Competition
Annie Mosey and Butler started married life in a section of Cincinnati known as "Oakley." It is from there that she took her stage name.
Butler continued to travel and perform as part of a two-man act, and Annie assisted. One day Butler's partner was ill, and soon Annie became the favored performer. In 1885, Butler and Oakley began performing in Buffalo Bill's Wild West Show.
Over time, Oakley slowly began getting higher billing in the Wild West Show ads. People loved hearing the stories of her dead-on marksmanship. It was even better if they could see her do it.
Annie sewed her own costumes so that she could look good but have freedom of movement. She made her skirts shorter than what were worn in that day, but she always wore leggings to be certain she never showed any skin.
How Good Was Annie Oakley?
How good a shot was Annie? Remarkable.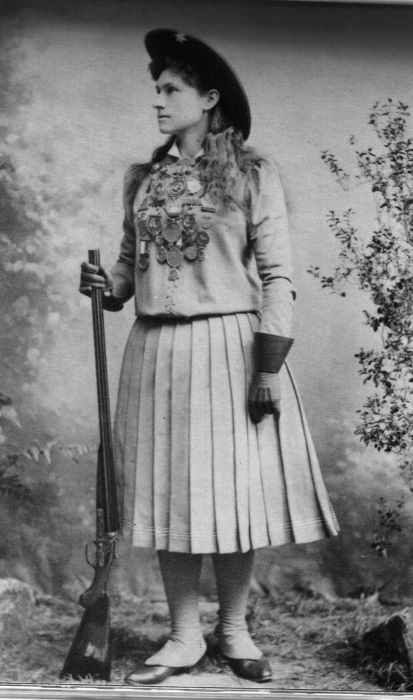 She taught herself to shoot with both her left and her right hands, and she could work with a pistol, a rifle, or a shotgun. Glass balls were frequently the target of choice for performances. One day, using a .22 rifle, she hit 4472 glass balls out of 5000 tossed for her. And at 90 feet, Annie could shoot a dime tossed in the air. She also could slice the thin edge of a playing card, and then puncture the card with five or six more shots as it floated to the ground.
To see a very brief demonstration of Annie's ability, click here. This was filmed in Thomas Alva Edison's film studio, known as Black Maria.
Oakley Offers To Go To War
In 1898, when it appeared that the United States might enter into a war with Spain, Oakley wrote to President William McKinley. She offered the government "the services of a company of 50 lady sharpshooters who would provide their own arms and ammunition should the U.S. go to war with Spain."
McKinley did not accept the offer.
Annie Oakley Injured
In 1901, Annie Oakley was badly injured in a train accident. She fully recovered, but it took five operation on her spine to do so.
In 1902, she returned to performing, but she opted out of the Buffalo Bill show. Instead, she performed a stage play written for her: The Western Girl.

During World War I Oakley traveled for the National War Council of the Young Men's Christian Association and the War Camp Community Service. At stops along the way, she gave demonstrations of her shooting ability.
Through her sixties, Oakley continued to perform and set records. At age 62, she competed at an event in Pinehurst, North Carolina. From 16 yards away, she hit 100 clay targets in a row.
Supported Causes for Women and Orphans
Because she had grown up in poverty and had not always had the luxury of living at home, she gave generously to causes related to women and orphans. She believed all women should learn to shoot (and taught many). However, she did not support women's suffrage.
In 1922, Butler and Oakley were in a serious car accident. Oakley needed a steel brace for her leg, but a year and a half later she was performing again. When she returned to performing 1n 1924, she set new records.
The next year her health began to decline. She died in 1926. Butler was so devastated by her death that he refused to eat and died 18 days later.
For another story about a woman who defied tradition, read about Annie Edson Taylor: An American Daredevil. She successfully went over Niagara Fall in a barrel.