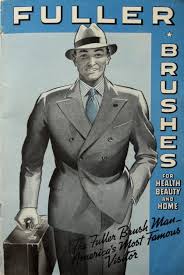 The Fuller Brush man is an iconic part of America's past. He became part of popular culture via movies and cartoon characters, and during his peak years of popularity, he was often featured in off-color jokes.
Though today's working families coupled with our current safety consciousness make door-to-door selling almost unheard of, the Fuller Brush man actually followed a long American tradition practiced by traveling peddlers as early as the American colonies. The men would cover big territories with a wagon and were a welcome site by people who lived in remote parts of the land.
So how did Fuller Brush Company become an extension of the American story?
Fuller Brush Company: In the Beginning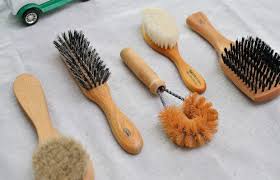 The Fuller Brush Company was started in 1906 by Alfred Carl Fuller (1885-1973). Fuller was born in Nova Scotia, Canada, the 11th of twelve children. Self-sufficiency was an important family value, and many of the Fuller children moved to the United States to find work when grown. Fuller eventually followed some of his older siblings and settled in Somerville, Massachusetts.
Fuller took several jobs–trolley car conductor, gardener, and groom (for other men's horses)—but didn't find the right fit. One of his brothers worked at a brush-making company, and Alfred decided to try that. The brush company owner provided him with a case of assorted samples and sent him out to learn the job, going door-to-door in a well-to-do section of Roxbury, Massachusetts.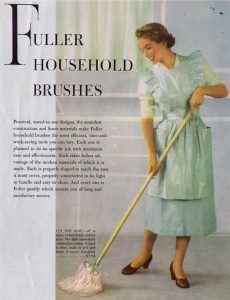 As Fuller honed his sales call technique, he found that politeness and being helpful were absolute necessities. While he generally offered to help with cleaning tasks so that he could demonstrate his various brushes, he sometimes took on whatever the lady of the house needed (hanging laundry? Moving furniture?) if it gave him a few minutes for conversation. In an article in American Heritage (1986), Alfred Fuller is quoted as saying, "I washed babies with a back brush, swept stairs, cleaned radiators and milk bottles, dusted floors—anything that would prove the worth of what I had to sell."
After a short time selling this other fellow's brushes, Fuller decided this was the right business for him. He knew brushes could be easily and cheaply made, and his customers gave him all sorts of ideas for brushes to create. He was living in his sister Annie's house, so he set up a workbench in her basement where he mounted a hand-operated wire-twisting machine and spools of various sizes of wire. He also purchased horse hair, fibers, and hog bristles. He planned to sell from his sample kit and then make the requested brushes at nights or on weekends, delivering orders the following week. Cash was required for payment; a lifetime guarantee came with all purchases.
Fuller Brush Man in Hartford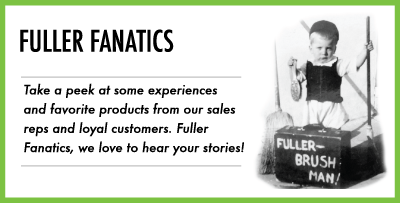 Fuller sometimes visited other towns in order to expand his territory. A visit to Hartford, Connecticut, the insurance capital of the world, convinced him that those stately Victorian homes featuring intricate paneling and iron grillwork were all in need of dusting. He opted to make Hartford his base of operation.
As his business grew, Fuller built a factory specifically for brush-making, and it became one of the biggest factories in the country. By 1913 he also began using representatives to sell for him. He initially recruited men by advertising in a popular magazine of the day, and he soon had 260 dealers (salesmen) nationwide. At one point he sold under the company slogan: "45 Brushes—69 Uses—Head to Foot—Cellar to Attic."
The Fuller Brush Sales Force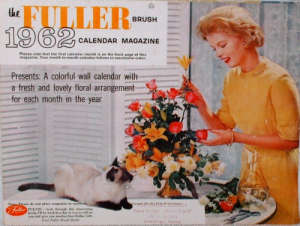 Part of the attraction to men joining the sales force was Fuller's conviction that this was the land of opportunity—anyone could make their way in the world. One of Fuller's favorite aphorisms was that "the word 'American' terminates in 'I can,' and 'dough' begins with 'do.'"
The salesmen were assigned territories so that the families would get to know their Fuller brush man. The work wasn't easy. The men were expected to cover 6 miles each day, and the hours were long.
Fuller had many techniques to pass along to his men to improve their sales. One of the first was how to manage bad weather: he taught his men to always wear overshoes a size too big. That way, if they got invited into the home, they could quickly and easily step out of the wet, snowy shoes.
Dogs were an ever-present problem. No salesman wanted to be bitten, but if you kicked or hit the family pet (fierce as it may have been), the owner was sure to chase you away giving no opportunity to make a sale. Fuller taught the men to enter the yard with a firm and brisk step, looking like "a friend of the family," all the while keeping the sample case between themselves and the dogs. Philosophically, Fuller also taught his salespeople that they would probably get bitten about once every four years. The Fuller "dog system" generally worked, however, and even the U.S. Post Office contacted Fuller for advice.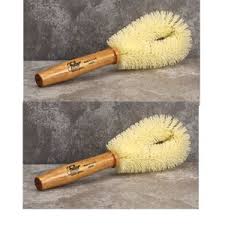 The company structure was excellent for maximizing profit. The salesmen were considered independent contractors, and therefore, Fuller did not have to pay Social Security, unemployment, or workers compensation. The company also bore no expense for setting up new salesman. The men (and they were all men) paid for their own sample kits, including the cost of the "Handy Brush," a vegetable brush that was offered free to households who invited the Fuller Brush man in to demonstrate the brushes. Once the money for a sale was collected (cash always, in the early days), the salesman sent that money minus his commission (50 percent in the beginning) back to Hartford. As the company began to provide more training, supervision, and branch warehousing, the company enlarged its cut.
Famous Sellers and Famous Customers
Lots of famous men were Fuller Brush men for a time. The best known, perhaps, was evangelist Billy Graham. More recently, Paul Reubens (Pee-Wee Herman) put in time as a Fuller Brush man.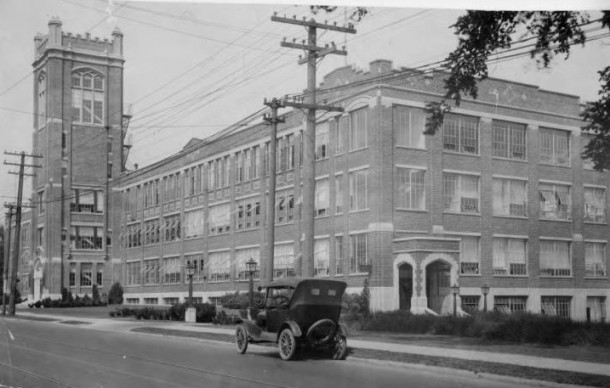 The company also employed Frank Stanley Beveridge for many years. Beveridge went on to start Stanley Home Products (now owned by Fuller). Stanley Home Products achieved fame for the "party plan" form of selling, which was brought to the company by Norman W. Squires (1905-1991) who invented it. Brownie Wise learned the system at Stanley Home Products and took it to Tupperware where she essentially saved the company.
The company also had famous customers. One sales rep in Westchester County, New York, got in to meet with the original John D. Rockefeller at his estate, Kykuit. Not far away in Hyde Park (Dutchess County), New York, another salesman was busy convincing the Secret Service that Franklin D. Roosevelt would want to see him. Eventually the fellow gained access and sold FDR a set of matching brushes. (The housekeeper at the White House already bought Fuller brushes regularly. The DC rep called on her regularly.)
During the Korean War, it was only natural for Harry Truman to invite a Fuller Brush man to 1600 Pennsylvania Avenue to talk to him about the best brushes for cleaning guns. (Fuller made brushes for this purpose in World War II as well.)
Cultural Icon Then and Now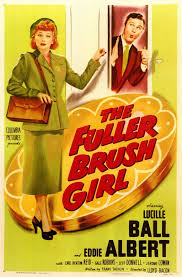 As early as 1922 Fuller Brush was well enough known that the Saturday Evening Post coined the term, "Fuller Brush Man." There have been movies made about Fuller Brush characters—The Fuller Brush Man (1948) with Red Skelton, and The Fuller Brush Girl (1950) with Lucille Ball. The Fuller Brush Man also has been a part of various cartoons and comic strips. In addition to Mickey Mouse, Donald Duck, and Mutt and Jeff, and the comic strip, Blondie, the Big Bad Wolf appeared as the Fuller Brush man as a ploy to try to get into the home of the Three Little Pigs in Disney's Silly Symphony.
Here is a 1:20 trailer for The Fuller Brush Man with Red Skelton:

The Fuller Brush Man also has inspired songs. In 1944 singer Julia Lee sang "I've got a Crush on the Fuller Brush Man," and much more recently, folk rock artist James McMurtry recorded "The Fuller Brush Man," which appears on his 1995 album, Where'd You Hide the Body? (Columbia Records).
Days of Door-to-Door Selling End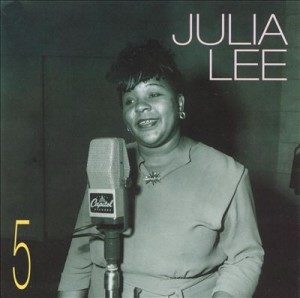 By the 1920s, cities and towns began to take a dim view of door-to-door selling. Many passed laws that prohibited the salesmen from approaching a home unless they had been specifically invited by the homeowner. In 1931, the Green River Ordinance (Green River, Wyoming) was the first law that limited door-to-door selling. While the Fuller Company identified itself as a manufacturing concern and thereby was protected from lawsuits, the company recognized what this could do to their business. Fuller had his attorneys fight the ordinance all the way to the Supreme Court. But on March 1, 1937, it was dismissed by the court "for want of a substantial federal question."
As this issue became more common, the Fuller Company came up with a plan to get their representatives invited into the home. The technique involved creating a catalog that featured Fuller products surrounded by helpful articles as well as a promise of a free gift if the salesmen were invited to call.
Business Changes during World War II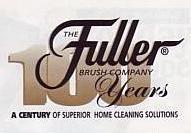 When the Second World War began, the brush business had to accommodate. Fuller's resources were needed by the government, and the company put its muscle into the war effort. They began making brushes for gun-cleaning during those years.
By 1943, Alfred Carl Fuller was ready to become chairman and let his oldest son, Howard, take over the business. As the war ended, Howard Fuller got the factory machinery going on the core products again, and he expanded their product line to include toiletries, vitamins, and household chemicals. He also gave a try to hiring women, referring to them as Fullerettes. But the men in the sales force were resentful of the women. After a couple of years the effort to employ women folded. Despite this failure, Harold knew how to grow the business. By 1960, the company had gross sales of $109,000,000.
Unfortunately for the Fuller family, Harold and his wife were both killed in an automobile accident in 1959. The report was that Harold was driving at a high rate of speed in Nevada in his Mercedes Benz. The car blew a tire. He lost control of the car, and it rolled over a couple of times, killing them both.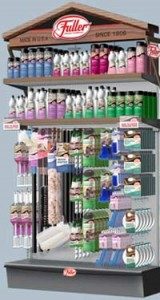 With Harold's death, younger brother Avard took over. While Avard did all he could, the business world had changed. Avon Company, a business that had put its trust in the hands of women, was having great success with its Avon Ladies. Fuller Brush lagged behind in employing women, and while Avard busily set about adding women to change the picture, the company was challenged by the business environment. To respond to the market, Fuller changed the product line, adding door locks, kitchen utensils, cleaning products and toiletries. Avard gave it his all, but when the Sara Lee Corporation offered to buy the company in 1968, he knew it was time for the family to sell.
Today the company is owned by Galaxy Brush Company, which also owns Stanley Home Products. Galaxy is headquartered in Lakewood, New Jersey, and brought the manufacturing plant back to Great Bend, Kansas, where it had been since 1972 (relocated by the previous owner). The new owners also brought back more than 60 classic Fuller Brush items that had been previously discontinued.
The Fuller Brush Company now sells a broad array of branded products for personal care and for commercial and household cleaning, and of course, they still sell brushes. In addition to their website, they are introducing a catalog and also bringing back an independent sales force.
As Sam Max, CEO of Fuller, says: "It's a return to Alfred Fuller's original philosophy, started in 1906: 'Make it work and make it last.'"