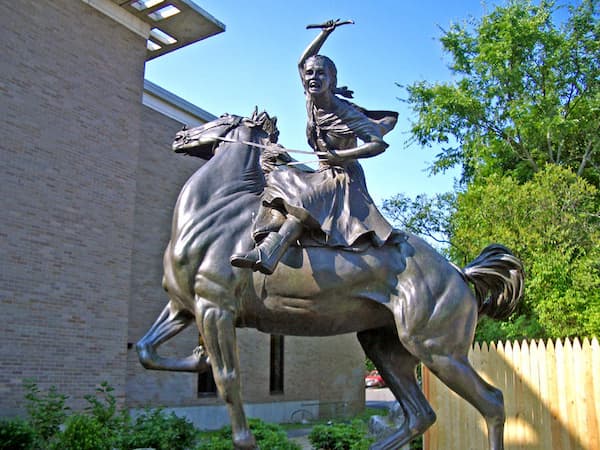 Sybil Ludington is known for her 40-mile night ride through parts of New York and Connecticut to alert American Patriots that the British military had come ashore in Connecticut and were marching inland. The date was April 26, 1777, and Sybil was the person chosen to alert the colonial militia so that the British could be pushed back.
About Sybil Ludington
Sybil Ludington (1761-1839) was the 16-year-old daughter of Colonel Henry Ludington of Fredericksburg in Dutchess County (the town is now Patterson, New York).
Sybil's name is spelled in many ways; her tombstone is Sibbell. Other spellings to describe her are Sebil and Sibyl and Cybil. It is said she herself used the spelling, "Sebal."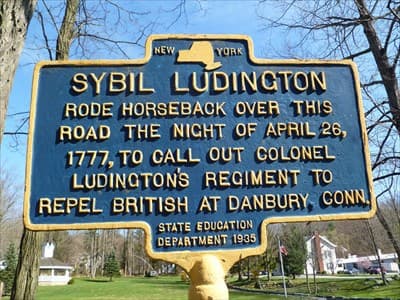 Her father was the commander of the Seventh Regiment of the Dutchess County Militia. The militia pre-dated the Revolutionary War. It consisted of colonists who volunteered to help protect their communities when needed. During the war, they supplemented the Continental Army. Those in the Continental Army served full-time during their term of conscription.
The challenge for the militia was dual responsibilities: needing to take care of matters at home while also being available to serve in the military. Certain times of year were particularly difficult, and in April it was important to be at home for planting. If the farmers did not get their fields started, there would be less food to eat.
The Threat
Colonists heard rumors that the British planned to destroy colonial supplies when they found them. Fishkill, New York, was a prime location for storage, but no definite timing was known. In preparation for this, the colonists moved some of their supplies to Danbury, Connecticut, to minimize the risk in Fishkill.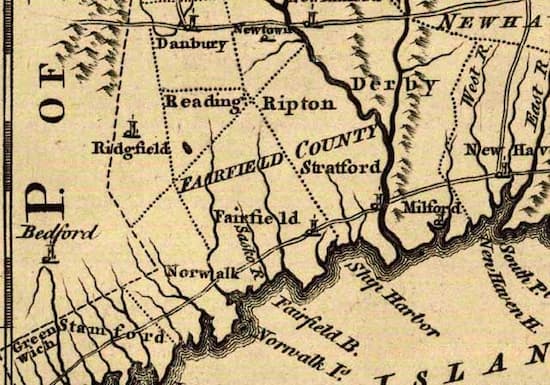 The British must have gotten word of the new location, as their latest plan was to land at Compo Beach in Connecticut and march inland. Their destination was Danbury. Their plan was to steal or destroy the colonial supplies. However, after landing on Compo Beach (near what is now Westport), they marched north toward Fairfield to mislead any scouts sent out by the Patriots.
Colonel Ludington Alerted
On the evening of April 26, 1777, Henry Ludington and his family were at home when an exhausted messenger and his horse pulled up in front of the Ludington house. He informed Ludington that the British military were ashore at Compo Beach. The Redcoats met up with the Loyalists in the area. (These were colonists who remained loyal to the Crown.) Both Loyalists and Redcoats were marching northwest in Connecticut.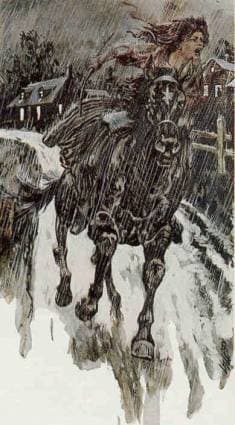 To have the British Army marching inland was a serious threat. Ludington feared their goal was Danbury. He needed to gather his militia, who were all at home tending to their farms, to push back the British.
Alerting the Militia
The messenger who brought the news was totally spent as was his horse. Ludington had no nearby neighbors to send out to notify his militia, but he often relied on his older children. Sybil and her two sisters were the oldest of what would eventually be 12 children. Sybil and her next-in-age sister Rebecca regularly carried messages for the Colonel who owned property elsewhere in the county. One of them would have to do it.
While anyone would worry about sending a rider out on such a dangerous mission, Ludington had confidence that his sixteen-year-old daughter Sybil could do it. She was an excellent rider, and she knew the terrain and the whereabouts of Patriot's farms.
The additional challenges for the rider were the timing and the weather. The message needed to be carried immediately, even though it was night. The weather had also been terrible. Several days of rain left the roads muddy, and the rain was still pelting down. Very little moonlight shone through.
The ride would be difficult, but he knew if anyone could do it, Sybil could.
Carrying the News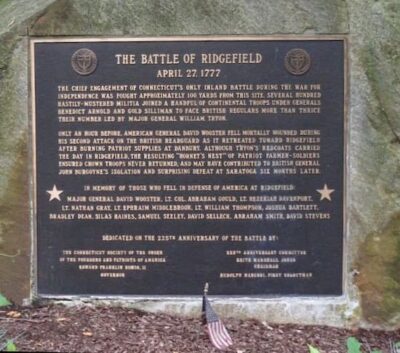 Sybil left home shortly after 9 p.m., riding an experienced horse. She carried with her a long, sturdy stick. Her father told her not to take time to dismount…to use the stick to rap on the windows or doors, shouting: "Call to arms! Call to arms! The Regulars and Tories are burning Danbury! The Militia is needed! Call to arms!"
At each home, she rode up and rapped hard on the door and gave her call. Generally, a sleepy homeowner holding a lighted candle peeked out to see who was at the house at that hour. A few recognized Sybil; all understood her call.
The militia knew that in such an emergency they were to get to Fredericksburg quickly to receive orders from Colonel Ludington.
After Sybil left home, the rest of the family were busy making cartridges that would be used in the muskets the men used. Henry melted lead to make the musket balls, and other family members cut paper to wrap the ball and pack each with extra gunpowder.
Ludington Learns Sybil Made a Good Start
As the first men arrived in Fredericksburg, the Colonel was relieved to see them and to know that Sybil was making her way along the route. More men came in, and when about two hundred gathered, he led the first group out to find the British. Word was that the British had already sacked Danbury and were on the way to Redding, Connecticut.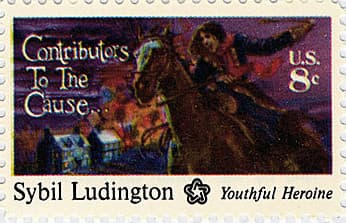 As Sybil traveled the route, more men made their way to Fredericksburg. When they had another couple of hundred, they, too, made their way toward Redding.
Sybil's Ride
Ultimately, Sybil rode a 40-mile loop to spread the news through what is now Putnam and Dutchess Counties. Her ride is described in a family memoir, Colonel Henry Ludington: A Memoir, written in 1907 by Willis Fletcher Johnson:
One who even now rides from Carmel to Cold Spring will find rugged and dangerous roads, with lonely stretches. Imagination only can picture what it was a century and a quarter ago, on a dark night, with reckless bands of Cowboys and Skinners [highway men] abroad in the land. But the child performed her task, clinging to a man's saddle, and guiding her steed with only a hempen halter, as she rode through the night, bearing the news of the sack of Danbury.
There is no extravagance in comparing her ride with that of Paul Revere and its midnight message. Nor was her errand less efficient than his. By daybreak, thanks to her daring, nearly the whole regiment was mustered before her father's house at Fredericksburg, and an hour or two later was on the march for vengeance on the raiders.
Highway men often lurked along the roads to rob unsuspecting travelers. The fact that Sybil was not stopped may be testimony to the bad weather. Not even a bandit thought it worth being out.
Arriving back home Sunday morning, her clothes were soaked through from the rain; she was hungry and exhausted. Her mother greeted her with relief and gave her a warm breakfast and put her to bed.
Sybil Ludington's Accomplishment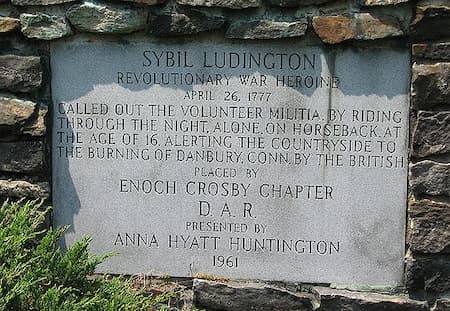 Recent writers who tell Sybil's story note that the tale might be apocryphal. Some speculate that the story came about long after the war to glorify women. Primary documents disprove this theory…and remember, women didn't have the vote in 1907 so why would anyone be worried about creating heroines?
The first known telling of the story was in the 1880s by well-respected historian Mary Lamb. She reported that she used primary documents, they are not cited in her article. Then in the early 1900s, Sybil's great nephew (Louis S. Patrick), a historian in Connecticut, decided to tell Colonel Ludington's story. He gathered papers from Connecticut as well as from Dutchess and Putnam Counties, and then turned to seek out family diaries and journals of which there were plenty.
His effort became a journal article about Colonel Ludington that mentioned Sybil's ride. After this brief biography, the family must have commissioned Willis Fletcher Johnson to write a more complete biography. Johnson worked from diaries, journals, and war documents gathered by Louis Patrick and produced "Henry Ludington: A Memoir." The memoir was published privately in 1907, paid for by Ludington's grandchildren. (The memoir is now available online.)
These early reports about Sybil were all included as part of a bigger story, and none of them glorified her as a hero. The story was told matter-of-factly: Sybil's father needed help, and she was the oldest child. He turned to her and to his other children for help when he needed it.
Other Demonstrations of Family Unity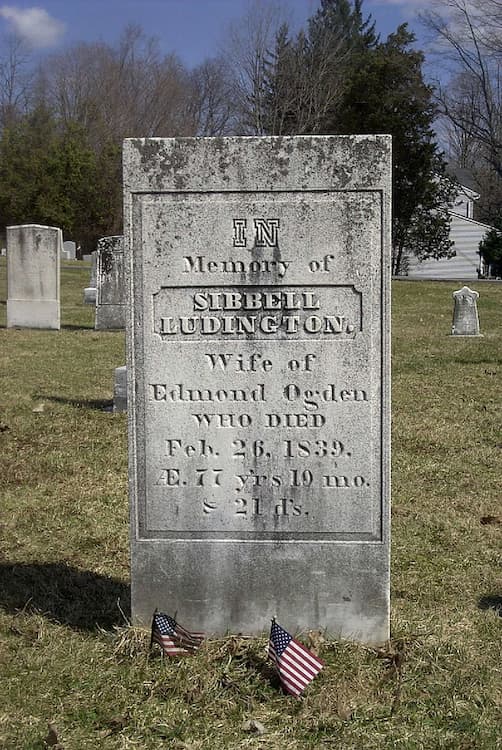 The British and Americans were no strangers to each other, having fought together during the French and Indian War. Colonel Ludington fought for the British and was well-respected. When he turned against the Crown, Tories and Loyalists knew this was a harmful thing for them.
And because the Colonel was a great militia leader for the Patriots, British officers offered a bounty of 300 guineas to anyone who could capture the skillful military leader. (Three hundred guineas would have been more than a colonist could make in a year.)
Rumors spread about the bounty, so the Patriots knew of it and were protective of their colonel. If members of the militia were in Fredericksburg, some of the men were assigned to guard the Ludington house.
But since the militia was part-time, they weren't always there. For this reason, the family drilled for what to do if there were an attack. They suspected that any type of trouble would occur at night. Many evenings, Sybil and Rebecca kept watch on the woods from the second floor. Overnight, Henry slept lightly, listening for any trouble.
On Guard
One night, Sybil and Rebecca heard a commotion outside. The family knew what had to be done. The girls woke the next-oldest children who put on the Patriot hats their father gave them for such an occasion. Each also had a musket.
Sybil took candles, lighting and placing them in the rear of the upper story rooms where the lighting would provide long shadows of the children as they went back and forth in front of the light. In their hats and shouldering the muskets (probably with some difficulty) they patrolled back and forth before the candles. The Loyalists decided the militia was standing guard. This was enough to send them back to their own homes, leaving the Ludingtons alone.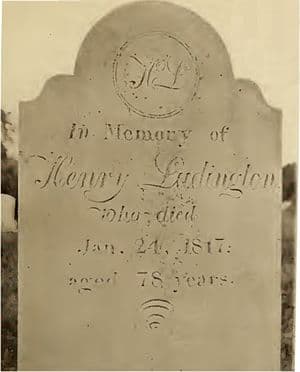 The older children were also given the code words identifying spies. Because the Ludington house was on a frequently-traveled road, Ludington became a place where spies could pick up and leave messages. Even if their father wasn't home, if the fellow knew the code words, they were permitted to come in and wash up and be fed.
The Ludington family had a lot of responsibility, and the took it seriously.
Later Life
In 1784, Sybil Ludington married Edmond Ogden. Ogden served in the Continental Army during the War, and he was also a tenant and tavernkeeper of an inn on Henry Ludington's property. Sybil likely met him on one of her trips carrying miscellaneous messages.
When Colonel Ludington sold the property, Sybil and Edmond bought another inn in the Catskills where they raised their son, Henry. When Edmond died in 1799, Sybil stepped in to run the inn.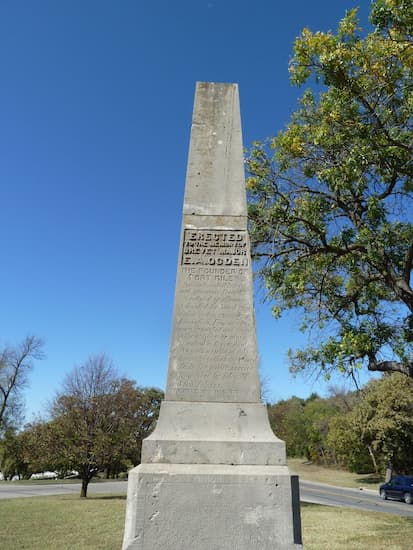 Son Henry married and became an attorney. When he and his wife decided to move to Unadilla, New York, they didn't want to leave his widowed mother behind. Sybil joined them, and the couple went on to have several more children.
One of them, Edmund Augustus Ogden (1811-1855), went on to West Point. He had numerous military assignments but is best remembered for overseeing the planning and building of Fort Riley in Kansas. There is a monument to him there.
The War Was Won by Colonists Like Sybil
The Revolutionary War went on for seven years with battles up and down the East Coast. To win freedom from the Britain required bravery and brilliance from thousands of colonists who saw what had to be done to rid themselves of the tyranny of being ruled from afar. Sybil was among them.
To read stories of more women during the Revolutionary War, click here.
A Need for Scholarly Concern?
Modern scholars have worried about the accuracy of the Sybil Ludington's story.
The incident—the British arriving in Connecticut and torching Danbury—is well-documented. Night riders raised the alarm, but was Sybil among them?
Suspicion of the story arose because the first time Ludington's ride was documented in a history book, the year was 1880. The thinking goes that the centennial of the Revolution was being celebrated in many ways during that time. Perhaps Sybil's story fit neatly into that. (But we also need to acknowledge there are many reasons why a young female teenager's story might not have been told.)
In an article on this subject in The Smithsonian magazine (March 2022), the writer notes that historian Vincent Dacquino had access to a trove of Ludington family documents. Among his findings was an 1854 letter written by one of Sybil's nephews. Charles H. Ludington's letter urged for recognition of her and wrote: "My Aunt Sybil rode on horseback in the dead of night..through a Country infested with Cowboys and Skinners to inform General Putnam."
Clearly, the story was told among family members and should lend added credibility to the story as it is told today.
And to read about other teenagers who took charge of their own lives, read about the Abernathy Boys.