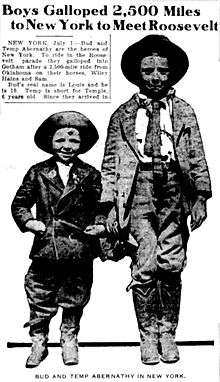 Teddy Roosevelt had his own sons and daughters whom he loved deeply, but two children, Louis (called Bud) and Temple Abernathy, became his friends while he was in the White House. Roosevelt admired Bud and Temple for living the childhood that Teddy Roosevelt—who was sickly during most of his youth—yearned for.
The Abernathy children were adventurers from the very start. They traveled the country by horseback, by auto, and eventually by motorcycle, all before Bud turned 13 (Temple was 4 years younger). Their father occasionally met up with them during their travels, but their trips were self-initiated and accomplished on their own.
How the Abernathy Boys Came to Meet the President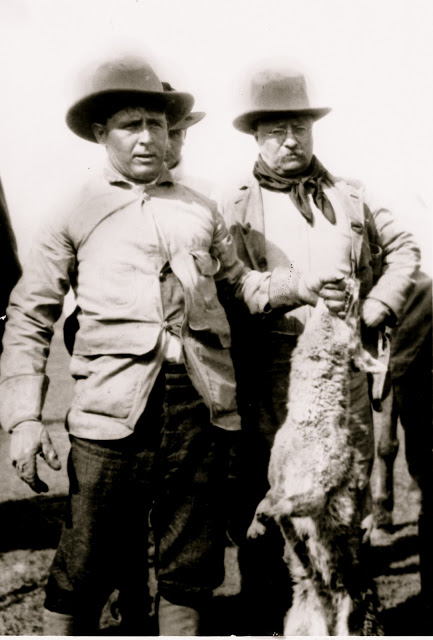 The Abernathy boys's mother died when they were very young, leaving John Abernathy to raise six children–four girls and two boys—on his own. John, sometimes referred to as "Catch 'Em Alive Jack" was a man already known for his derring-do. He mastered the art of hunting wolves and catching them alive so that they could be sold to zoos and menageries.
His self-invented method involved leaping off his horse at an opportune moment to land on or near a wolf, wrestle it to the ground, and ram his fist down the snarling animal's mouth in such a way that it temporarily paralyzed its jaws and gave Jack time to bind the legs and wire closed the wolf's mouth.
This was certainly the type of American who would catch Teddy Roosevelt's interest. During his presidency, his staff contacted the Abernathy ranch in Oklahoma to arrange for the President to participate in a wolf hunt. Roosevelt traveled to Oklahoma in 1905, and it was on that visit—Bud was 6 and Temple was a little over 2—when Roosevelt first met the boys.
Abernathy Boys as Adventurers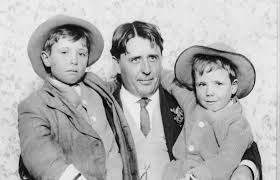 The boys themselves dreamed up their own adventures. The first was when they were ages 9 and 5. They prepared a plan to present to their father showing how they wanted to ride by horseback from the family ranch in Oklahoma to Santa Fe, New Mexico, where a friend of their father was the new governor.
Jack Abernathy's own past gave him confidence in his children. From an early age, he shouldered adult responsibilities. At age, 7, Jack worked as a cowhand, and by the time he was 11, he earned a spot on the Goodnight Ranch's cattle drive, riding with the best of the best.
When his kids came forward with a well-reasoned plan, he saw no reason to say no. Had their mother still been alive, the answer probably would have been a different one.
Preparing for the First Adventure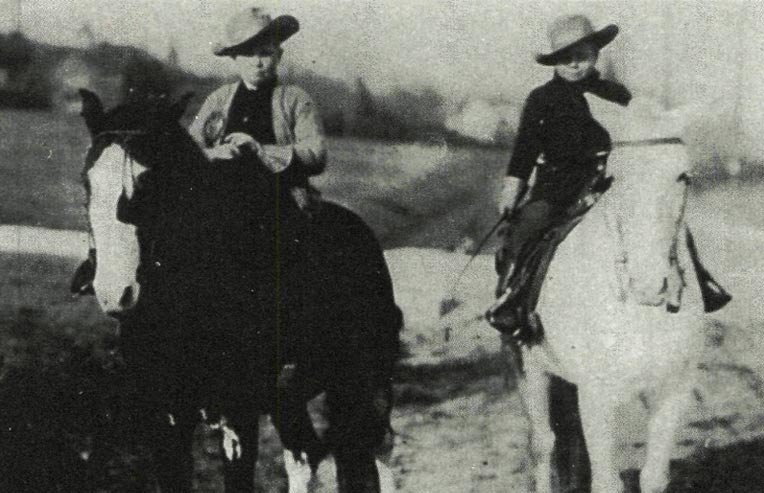 Their father responded positively to the New Mexico plan, partly because he had eyes and ears throughout the West. Shortly after Teddy Roosevelt's visit in 1905, Roosevelt appointed Abernathy to be the first U.S. Marshal of Oklahoma Territory. This gave him a network of lawmen who would be on the lookout for his boys. He also made sure they were mounted on good horses. Bud was on one of his father's favorite horses, Sam Bass; Temple rode a pony named Geronimo.
Jack Abernathy set up a bank account so they would have funds as needed. (While the boys planned to camp many of the nights, he also wanted them to have money for a hot meal and a shower at an occasional hotel along the route.) Jack also handed Bud a copy of the New Testament saying, "Carry this with you, and above all, both of you say your prayers at night."
The boys sent back telegrams when they could, but because of Jack's network, he heard about them as they traveled.
Disapproval from Others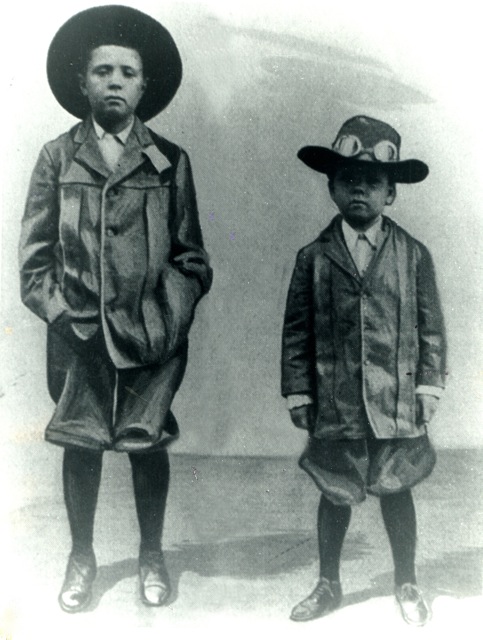 As the children rode in and out of towns, they attracted attention. Even in the early 20th century, this was not a normal way for children to live. While children were sent to work in factories at a very young age in the early 1900s, the Abernathy boys lived lives as adults.
One woman confronted Temple, saying "Where is your mother? Why did she let you go on such a dangerous trip?"
Temple answered that his mother was dead. The woman then became hysterical and started to scream: "Where is your father then?" Jack Abernathy had met them in Santa Fe, so to Temple's great relief, his father was elsewhere in the crowd. Temple pointed him out and slipped away. She then stalked off to greet Jack and tell him he was crazy for letting two young boys make such a trip.
Eyes were Everywhere
While the boys were making their way home from New Mexico, they encountered a group of cowboys branding cattle out in the middle of nowhere. The men were suspicious of the boys at first, but then after they heard their story, they invited to camp with them and share their supper.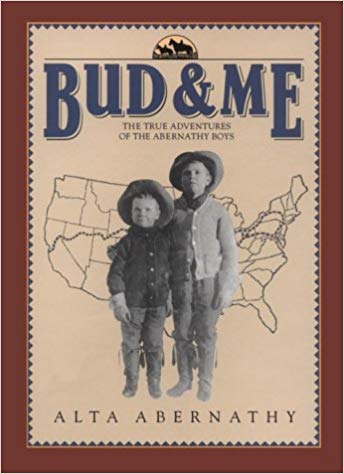 The next morning, the wind picked up making it somewhat difficult to see because of the blowing sand, but the boys had a goal for that night so they started off.
After a few hours travel, they looked back. In the distance they could see a lone cowboy. He didn't seem to want to overtake them. They were puzzled but continued on.
When they got home, the mystery was solved. Their father showed them a letter addressed to "The Marshal of Oklahoma." It read: "I don't like one hair on your head, but I do like the stuff that is in these kids. We shadowed them through the worst part of New Mexico to see that they were not harmed by sheepherders, mean men, or animals." It was signed, "A.Z.Y."
The men who befriended Bud and Temple were cattle rustlers; Abernathy earned their enmity when he shot one of their gang. Despite this, Bud and Temple won the respect of the outlaws.
Next Trip
Their next proposal to their father was to go to New York to meet Teddy Roosevelt. He was no longer president and was sailing home from Europe after traveling in Africa and Europe. The ship was scheduled to dock in New York harbor in a couple of months.
"How will you afford train tickets?" asked their father.
"We already have them," Bud replied. "They are in the barn eating hay."
With that, the two boys began sketching out their route from Oklahoma to New York, mapping out how long they needed for the trip and what they would need to take with them. The plan was for them travel ahead; Jack would take the train several weeks later and meet them in New York.
By this time the boys were celebrities. Townspeople and reporters were out to greet them along their route. Often, they were fed and feted by the townspeople, and too often for Temple, the women wanted to kiss him, because "he was so cute."
The trip to the northeast was arduous. The roads were not good, and bad weather made the trip very challenging. Roads and bridges got washed out. The boys often waited while men set up hastily-built trestle crossings for travelers to use with caution.
Their route took them to Washington, D.C. where they made a social call at the White House to say hello to President Taft. From there, they journeyed to New York.
New York
After meeting their father in New York, they all were at the pier on the day Teddy Roosevelt's ship arrived. Before disembarking, Roosevelt made a few remarks to the crowd. During his speech, he noted the Abernathys and called out to them with delight, urging them toward the front of the crowd.
A ticker tape parade was held for the former president. He didn't permit the parade to begin until the Abernathy boys—Bud on Sam Bass and Temple on his new pony, Wylie Haynes–took their places on horseback right behind him.
Homeward Bound by Auto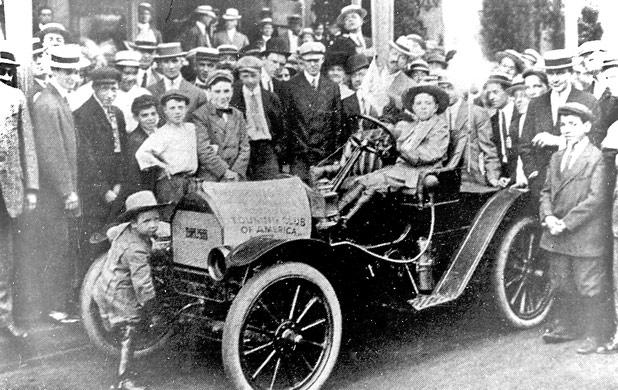 Jack's intent had always been to ship the horses home from New York and take the boys back with him by train. After a few days of sightseeing, the boys tested him with another idea. Bud and Temple wanted an automobile so they could drive home. (There were no laws as to driving age at that time.)
Their father was skeptical but turned them loose, saying, "If you can find a car you could manage that is cheap enough, I'll take a look."
The boys spent two or three days visiting car dealers in Manhattan. On the last day they were to be in New York, they came upon a car known as a Brush Runabout. The dealer felt it was the "perfect" automobile for two youngsters to drive to Oklahoma.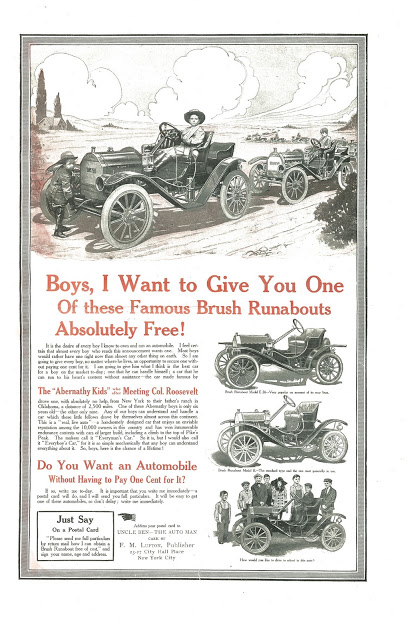 The boys rushed back to the hotel to get their father. Jack returned with them and agreed that at $485 for the small, light car, they should be okay. As long as the boys were going by car, he decided to buy himself a more substantial one known as a Maxwell. This way he would have a bigger automobile for the family. (Money did not seem to be a problem for Abernathy; later, the boys earn money from sponsors but at this point, we must assume a U.S. marshal was relatively well paid.)
Trip in Brush Runabout
Bud spent an afternoon learning to drive the car, and a few days later, they were ready. As they traveled, the Brush Runabout did quite well. The Maxwell was heavy enough that bad roads and bad weather waylaid it frequently. Jack finally arranged to ship the Maxwell home and bought himself a train ticket. The boys navigated the rest of the trip on their own.
Jack Becomes a Stage Father
By this time, the children were known all over the country. Companies wanted to capitalize on them, and of course, first in line was the Brush Automobile Company. The car company used illustrations of Bud and Temple in their car ads, and later, they hired the boys to come back to New York for appearances at the auto show.
Jack decided they were movie material and put together some silent films starring the kids. He also became friendly with Fred Thompson and Skip Dundy who were the men behind Luna Park, one of the amusement parks on Coney Island. The men saw publicity possibilities written all over Bud and Temple.
Promotion Men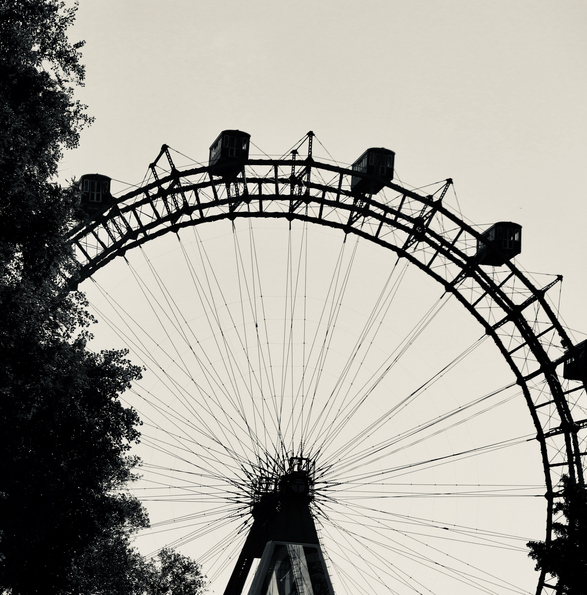 First, Thompson and Dandy hired the boys to bring their horses to Luna Park where they were on hand to meet people and tell their stories.
Next, the men mapped out an election-related stunt to keep the two kids in the public eye. The men planned a race from New York to Washington, D.C. for a donkey and an elephant with each Abernathy boy riding one of the animals. The winning animal would foretell the result of the 1912 election.
Since both boys loved Teddy Roosevelt, a Republican, each hoped to ride the Republican elephant. Temple, however, as the younger brother, found himself on the donkey, symbol of the Democratic party.
When the race concluded, only one thing was foretold: Elephant feet are not able to withstand long trips on hard surfaces. Jenny the elephant's feet became so sore that they had to cancel the closely-watched race.
Cross-Country on Horseback
The next event ironed out with Jack by promoters Thompson and Dandy was a New York to San Francisco trip for the boys by horseback in fewer than 60 days. It was scheduled for the summer of 1911. The boys would carry a flask of water from the Atlantic Ocean (retrieved from the beach near Luna Park) to the Pacific Ocean near San Francisco. To increase the challenge for the boys, the race was only valid if they did not eat or sleep indoors throughout the trip. Jack insisted on the provision that the boys be given Sundays as a rest day, and those days would not be part of the count.
The prize money was $10,000.
The boys competed masterfully, but the Rockies proved difficult, and the Utah dessert was their undoing. They were low on both food and water, and the heat was almost unbearable. One night when they stopped to sleep, they were too tired to hobble the horses. During the night the horses wandered off looking for water. The Abernathys devoted 2-and-a-half days to searching for the animals. First, one horse was found, and then the other finally appeared when they reached a small town, but the boys lost precious time.
Bud and Temple weren't quitters and completed the rest of the route. On the 62nd day, they gamely descended toward the ocean near San Francisco. With the horses knee deep in water, Bud emptied out the well-traveled flask of Atlantic water into the warmer currents of the Pacific.
They didn't earn the prize money, but they set a record for pace of travel. By this time, they were ages 11 and 7.
One Final Adventure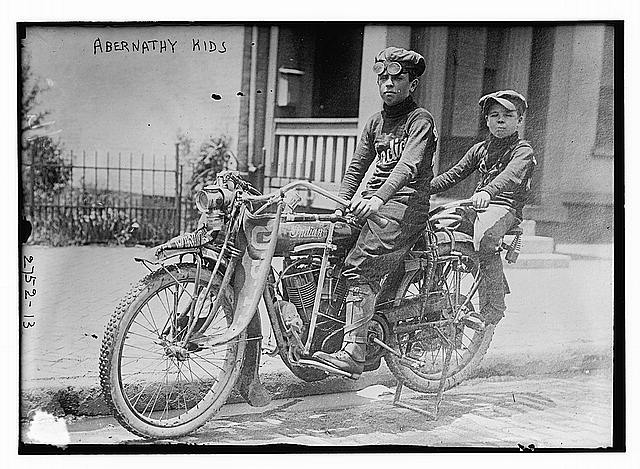 In 1913, the Abernathy family received a new proposal. The Hendee Manufacturing Company in Springfield, Massachusetts, was selling the new Indian motocycle (then spelled without the "r"), They proposed giving the boys a custom-made 1913 cycle to ride to New York as a promotion. It was yet another adventure for these two not-afraid-of-anything-for-long brothers.
Adventures End
After that trip, their lives became more focused on school and life in Guthrie, Oklahoma. Bud went on to be a lawyer, serving the community as a district attorney and a county judge. Temple worked in the oil and gas business with his father.
Inspiration from Roosevelt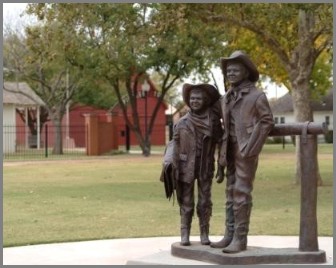 In his book Bud and Me, Temple recalled something Teddy Roosevelt said to the two of them when they visited him at Sagamore Hill. Temple attributed the advice to having inspired them:
"Keep your eyes on the stars, but remember to keep your feet on the ground. Courage, hard work, self-mastery, and intelligent effort are all essential to successful life. Alike for both the nation and the individual, the one indispensable requisite is character."
Also see Growing Up to be Teddy Roosevelt.