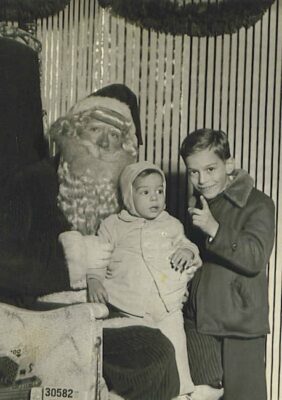 Where was the first department store Santa in the United States?
There are three contenders:
Was it Macy's?
Or a store in Philadelphia?
Or was it that smaller store in Massachusetts?
First Store Santa at Macy's?
The earliest mention of a department store Santa is in 1862 at Macy's in Herald Square. This is just four years after the store was founded, but long before it hosted its holiday parade. (The Thanksgiving Parade of today began in 1924 as a Christmas Parade.)
There is not much detail on this Santa and for that reason, it's appropriate to look at other possible Santa "firsts."
Perhaps Philadelphia Had the First Santa?
James Wood Parkinson (1818-1895) is sometimes suggested for being first. According to the Encyclopedia of Food & Culture, he was the first to introduce a live Santa whom children could visit.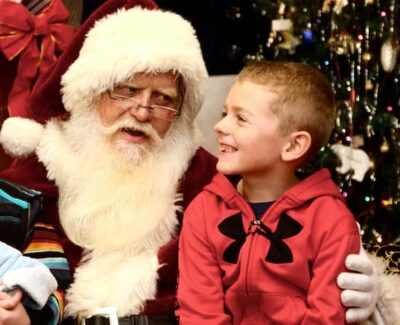 The year James Parkinson was born (1818), his parents purchased an inn in Philadelphia, the Pennsylvania Arms.
They were confectioners, but they planned to switch to inn-keeping as their primary business. However, their reputation in candy-making preceded them, and the public clamored for their sweets.
By the mid-1840s, son James, who wanted to be a chef, was ready to set up his own place. He acquired financial backing to open a restaurant in a lavishly furnished mansion on Chestnut Street. There was a main room for fine dining, a rose garden for outdoor dining, and a delicatessen/general store where Parkinson sold imported toys and foods as well as some of the family confections.
Parkinson arranged for a Santa to be on hand throughout the holidays. While the store was often filled with people who wanted to see the beautifully-made bonbons or the delicacies imported from Europe,Parkinson gave them a special reason to come to the store at Christmas time and bring their children to see Santa.
Or Perhaps the Store Santa Was in Massachusetts?
When merchant James Edgar moved to Brockton, Massachusetts (about 30 miles south of Boston)in 1878, he opened a small department store—called The Boston Store.
When he saw the town had no community celebration for the Fourth of July, he wanted to rectify that. He decided to provide the kids with a daylong outing in honor of the country's birthday.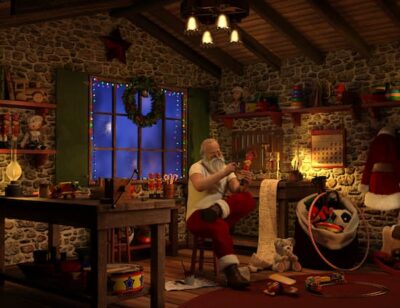 Children were invited to arrive at the store in the early morning of July Fourth, and Edgar rented town trolley cars to take them to a picnic ground in Avon, Massachusetts. There, he arranged for food and entertainment to last throughout the day. Within a few short years, Edgar was transporting 3-4 thousand children to the picnic grounds.
The Fourth of July showed James Edgar the fun of dressing in costume. The first year he wore a clown costume. The next year he was George Washington, then as an Indian chief, and one year, he took a page from his ancestral roots and wore a Highlander kilt.
Santa in Spirit For Sure
In the mid-1880s, he decided to experiment with this at holiday time. His first year (in the 1880s), he wore the clown costume to the store. When people enjoyed it, he had a Santa suit made for the following year.
Rather than sit in one location as Santas today do, Edgar enjoyed wandering the aisles to chat with customers. In the beginning, he devoted an hour each week day to being Santa–on Saturday, he set aside 3 hours to wander the aisles in costume.
As word about Santa traveled, people came from as far away as Boston and Providence to meet "the real Santa Claus." He finally enlisted one of his other employees to be Santa, so that Santa was more available than the hours James Edgar could devote to him.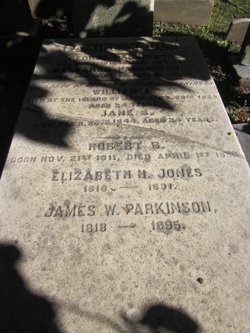 In many ways, James Edgar himself embodied some Santa-like qualities. He paid his clerks better than other clerks in town, and taught his staff that " the poorest person [who comes into the store] must receive as courteous treatment as the richest…"
James Edgar's Philosophy Outlived Him
In 1909 when he was only 67, James Edgar suffered a stroke. He died shortly after. The store remained a community mainstay, and the new owner assumed the responsibilities that James Edgar always felt.
In the 1920s, Brockton suffered an economic downturn. Families struggled and among the items they often couldn't afford were new shoes for their growing children. As a result, the kids couldn't get to school.
Santa There Anyway
The new owner of The Boston Store knew that James Edgar would have found a way to help out. For this reason, he closed the restaurant on the top floor of the building and turned it into a shoemaking and shoe repair shop.
An "Edgar Barrel"was placed on the main floor of the store. Families who were better off and had shoes to donate could leave them there. In addition to making new shoes, the shoemakers could repair and re-sole the donated shoes. All the shoes made were distributed for free to those in need.
So my money is on James Edgar as having been the first store Santa. If he wasn't actually first, he still was the fellow who embodied the Santa spirit of giving.
Store Santa Tradition Grew
By the 1920s, department store Santas were very important for selling holiday merchandise. Department stores created "Santa Lands" with wandering pathways that took families by mammoth Christmas trees, jugglers and magicians, and sometimes even live animals—all to keep thefamily entertained while waiting for a turn with Santa.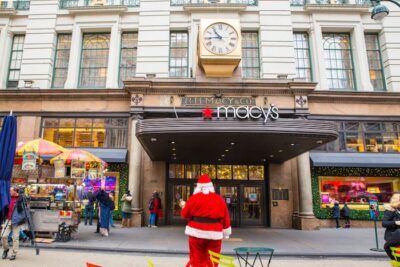 Once a childreached Santa, they told him what they wanted, had their picture taken with theBig Guy, and then receive a special present from the store. (A copy of the story, "Rudolph the Red-Nosed Reindeer," began as a Santa hand-out at Montgomery Ward in Chicago.)
Today times have changed in Santa's world and in merchandising. At big stores like Macy's, Santa and Santaland remain popular—so popular that you need to go online to make a reservation to set up an appointment with Santa. (If families arrive without a reservation, the elves will try to accommodate them, but there is no guarantee.) The Macy's website also notes family's may make requests for Santa. If you prefer your child speak with an African American or a Hispanic or Chinese Santa, the bigger stores will do their best to accommodate.
Times Change
So while life at the big stores is working out fine for Santa, the same is not true everywhere. The Wall Street Journal (12-18-18) ran a feature discussing the sad state of Santas in small towns and in some shopping malls. Often there is little or no foot traffic, and Santa is idle. If the mall is truly empty, then most mall managers agree that it's fine for Santa to read or to check his phone.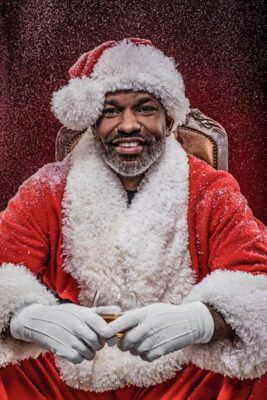 If there is some foot traffic, however, Santas are taught to put on a "resting smile" and look attentive.
One Santa told The Wall Street Journal reporter that without a line of waiting people, some families were inclined to linger for awhile, and he ran out of things to say. For that reason, he created a "back story" for each reindeer. That way he has plenty of stories to tell to those who stay!