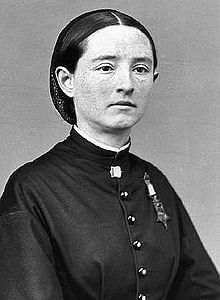 Dr. Mary Edwards Walker overcame resistance from the military and served as a battlefield surgeon during the Civil War. She was acknowledged for her work when she was awarded the Medal of Honor—the first woman to be so recognized.
Later, a law was passed against giving the Medal to those who weren't in actual combat. The government tried to take away her medal, but Mary Walker was having none of it. She wore it for the rest of her life.
Early Life
Mary Edwards Walker (1832-1919) grew up in Oswego, New York, near the Southern shore of Lake Ontario (about 40 miles north of Syracuse). Her parents were forward-thinking people and felt all their children should participate equally in the work necessary to keep the farm going.
They also believed in equal education for all. They started a free school so that their six daughters and one son had a place to learn. The school was also open to other nearby children. Abolition of slavery, temperance, and the importance of health and hygiene were among the values conveyed to the students.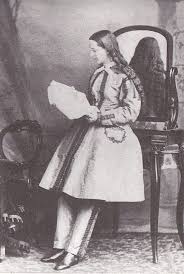 In 1851, Mary Walker attended Falley Seminary, an alcohol-and tobacco-free coeducational school near Fulton, New York. She graduated in 1852 and taught briefly, saving her salary for medical school.
Walker attended Syracuse Medical College, graduating in 1855. She was the only woman in her class, and she was among the first women doctors in the nation. (Elizabeth Blackwell was the first to earn a medical degree (1849).
Married and Divorced
She married a fellow medical student but refused to assume his last name. For a few years, the two practiced medicine together in Rome, New York.
When Mary discovered he was unfaithful to her, she left him but maintained the medical practice for a time. Divorce was legal in New York at that time, but Walker met multiple obstacles—finally gaining a divorce decree in 1861.
Volunteered for War
As it became clear that the U.S. was going to war, Dr. Mary Walker wanted to do her part. She traveled to Washington, D.C. and volunteered to help the Union Army. The medical staff was not prepared for accepting a female surgeon, so Walker stepped in to work as a nurse.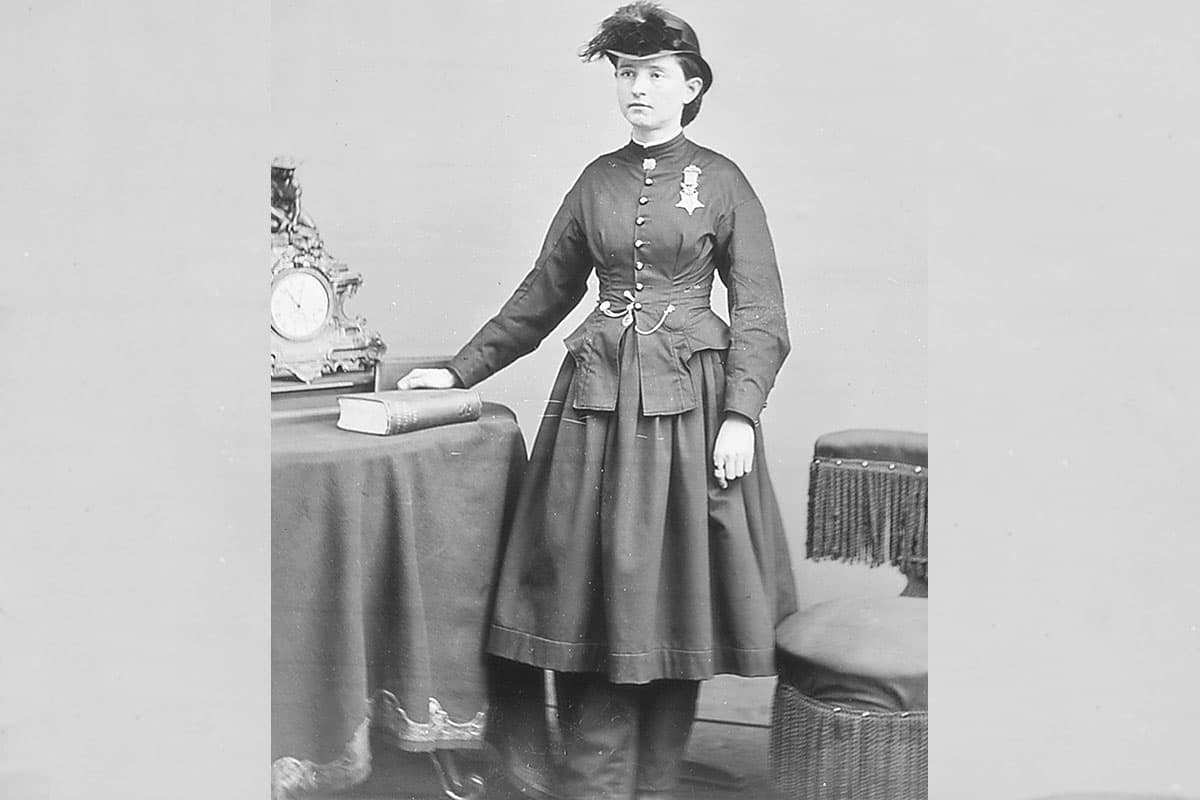 Her earliest assignment was in the Patent Office, which had been converted to serve as a Union Hospital. When she left work in the evenings, she noted that the wives and mothers of soldiers were arriving in Washington and had nowhere to stay.
To relieve their plight, she helped create a Women's Relief Association (this preceded the creation of the Sanitary Commission). The association helped women connect with people for temporary housing, and it suggested helpful tasks for them to do to help the patients.
Relocated to Virginia Hospitals
By 1862, the Union hospitals in Virginia needed additional staffing. As the situation became more dire, Walker was permitted to use her surgical training—she was needed.  She spent two years there.
In her job, she wore a modified Union uniform with trousers which provided her with more freedom of movement.
Dr. Walker became well-known to many of the Union generals. She hoped with their backing that she might be given a commission as a Union surgeon. She put together many appeals for this, finally reaching out to Secretary of War Edwin Stanton and later, President Lincoln, but she could not get a "yes."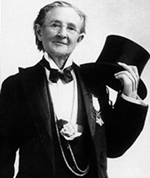 Finally, in March of 1864, she appeared before the Medical Board for another review, but she was again denied. However, Union General George Thomas finally intervened and assigned her a position, that of contract surgeon for the 52nd Ohio Volunteers. Though she did not receive a commission, she at least was guaranteed a paycheck, earning $100 per month. She was the first woman to ever be designated as a part of the military medical staffing.
Dr. Mary Walker did not remain with the Ohio Infantry for long, however. She was needed at the Louisville Women's Prison Hospital. Later she went on to work at an orphanage in Tennessee.
Mary Walker Helped Union by Spying
She often went into the field to tend to the wounded. She also traveled to visit civilians who were sick.  These "sick visits" often took her into enemy territory. At first, the Confederate soldiers paid little attention to her, so she could use these visits to listen and observe and report back to her superiors.
When the Confederates realized she was taking information back to the Union, they captured her and imprisoned her at Castle Thunder. This was a converted tobacco storage facility near Richmond, and it was known as one of the toughest Confederate prisons.
Four months later, she was released in a prisoner exchange. When she returned to her unit, she filed an application for a commission, but it was again turned down.
Discharge from Military
She was discharged from the army on June 15, 1865. She continued to apply for a retroactive commission, with no result.
Finally, President Andrew Johnson rejected her request for a commission but  signed a bill presenting Dr. Walker with the Medal of Honor. In part her citation read:
Whereas it appears from official reports that Dr. Mary E. Walker, a graduate of medicine, "has rendered valuable service to the government, and her efforts have been earnest and untiring in a variety of ways," and that she was assigned to duty and served as an assistant surgeon in charge of female prisoners at Louisville, KY., under the recommendation of Major-Generals Sherman and Thomas, and faithfully served as contract surgeon in the service of the United States, and has devoted herself with much patriotic zeal to the sick and wounded soldiers, both in the field and hospitals, to the detriment of her own health, and has endured hardships as a prisoner of war four months in a southern prison while acting as contract surgeon; and
Whereas by reason of her not being a commissioned officer in the military service a brevet or honorary rank can not, under existing laws, be conferred upon her; and
Whereas in the opinion of the President an honorable recognition of her services and suffers should be made;
It is ordered that a testimonial thereof shall be hereby made and given to the said Dr. Mary E. Walker, and that the usual medal of honor for meritorious services be given her.
The Story of the Medal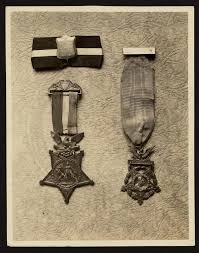 In 1917 Congress revised the standards for the Medal of Honor, stating that it was to be given only to those who were in actual combat with the enemy. Walker's medal, and the medals of 910 others, were to be taken away.
Dr. Walker refused to give hers up. She continued to wear the medal with pride, just as she had since 1865.
Almost 50 years after her death, her great-great-grand niece took on this issue as a cause. In 1977, President Jimmy Carter signed a bill reinstating her medal posthumously.
The medal is now kept by the historical society where Mary Walker grew up: Oswego County Historical Society.
Later Career
After the war, she became a writer and lecturer supporting such issues as health care, temperance, women's rights and dress reform. She also spoke out about worker's rights and veteran's compensation.  She traveled frequently to talk before groups, and she wrote two books pertaining to women's rights.
During medical school, she adopted what became her classic look. She shortened her mid-length skirt to knee-length and always wore a pair of trousers underneath. In later life, she traveled to various cities to speak out on women's rights, suffrage, and dress reform.
On several occasions in different cities she was arrested for a charge of "impersonating a man."
Dr. Walker Broke with Suffrage Groups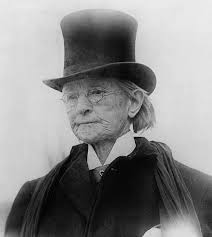 Though she began working with Belva Lockwood and later, Susan B. Anthony and Elizabeth Cady Stanton, she soon separated from these groups. She believed that the constitution already gave women the right to vote as citizens. She wanted Congress to recognize what she saw as fact.
In 1871, she attempted to vote at a polling place in Oswego. She was turned away.
Final Days
By the time of her death in Oswego, New York, in 1919, progress could be seen with many of her causes. Slavery was abolished; women's suffrage was gaining traction, and fashion houses were beginning to offer a modified style of clothing—harem pants.
For more information on medicine during the Civil War, visit the National Museum for Civil War Medicine. 
And to read about the importance of veterinary medicine during the war, see During the Civil War, Some Heroes Had Hooves.