Mary Pickersgill (1776-1857) was a well-regarded flagmaker in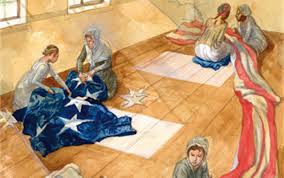 Baltimore, Maryland. In 1813 she was approached by U.S. military representatives to make an oversized United States flag that would fly over Fort McHenry, the army post that guarded the Baltimore harbor.
This flag was to become what we know as the Star-Spangled Banner.
 A Family of Flagmakers
Mary Young was born into a family of flagmakers. Her mother, Rebecca, was so well-regarded that she had been commissioned to make the very first U.S. flag ordered by George Washington.
Rebecca had been widowed at a young age, and Mary was the youngest of her children. Mary grew up in her mother's shop, helping with the stitching as soon as she was able.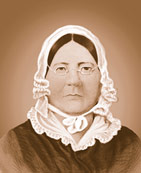 At 19, Mary wed John Pickersgill, and the couple moved to Washington, D.C. They had four children but only one child survived beyond infancy.  John himself died on a trip to London, leaving Mary a single mother at only 29.  Mary and her daughter returned to Baltimore to live with her mother and join the flagmaking business.
The War of 1812
In June of 1812 the United States declared war on Britain to settle continuing border disputes near Canada, iron out trade issues concerning shipping to and from Europe, and to force the British to stop impressing American seamen.
Fighting between the two countries began along the northern border near Canada in the summer of 1812, and as the war continued, the British Navy, the mightiest in the world, began lining up outside Chesapeake Bay, threatening shipping traffic into the port.
Major General George Armistead was the U.S. Army commander of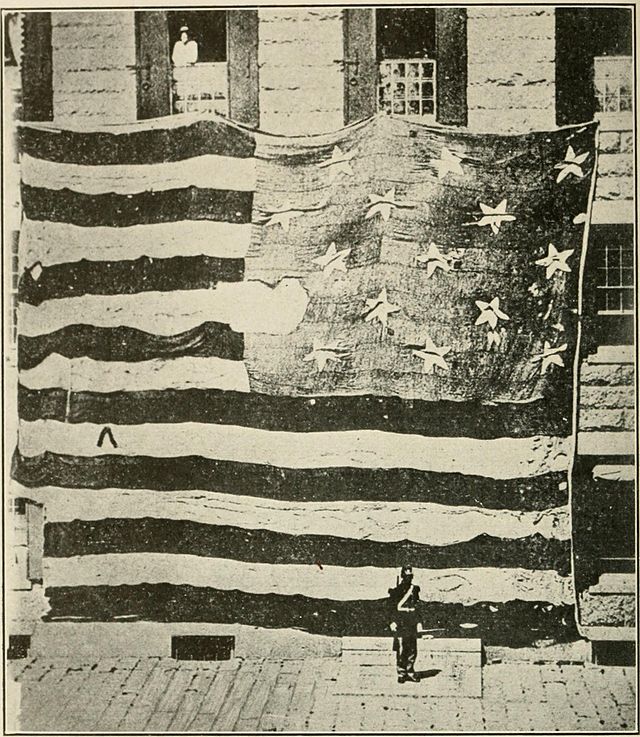 the Infantry and Artillery units at Baltimore's Fort McHenry. Armistead wanted to make the U.S. military presence known.  His concept was for two flags—one huge one that he described this way: "It is my desire to have a flag so large that the British will have no difficulty seeing it from a distance."  A second flag was to be created to be used during inclement weather.
A military contingent visited the Pickersgill flag shop and described what General Armistead wanted. When the order was placed, the over-sized flag was to be 30 by 42 feet, and Armistead wanted both flags delivered before summer's end. Despite Pickersgill's experience, this was a very challenging order on such a tight time schedule.
To get the job done, she rallied family and friends with flagmaking experience. Her team included daughter, Caroline, two nieces, and a free African-American apprentice named Grace Wisher. Mary's mother, Rebecca, almost certainly helped out as she could.
Making The Flag That was to become the Star-Spangled Banner
Pickersgill needed more than 300 yards of fabric for the bigger flag, which would feature 15 stripes and stars, one for each of 15 states of the Union (Vermont and Kentucky were the states that had most recently joined.)  Each stripe was two feet wide, and each of the stars measured two feet from tip to tip.
The large flag was too big to be made in Pickersgill's shop, so she contacted the owner of a local brewery and asked to use space there so that the flag could be fully opened and worked on as a whole.
Once the stars were placed, the flag was turned over, and the blue field on which the stars rested was cut out behind each star and additionally bound on this back side. This made the flag a two-sided flag.
Years later, Mary's daughter, Caroline, wrote to General Armistead's daughter, remembering that summer when they all worked late into many nights: "I remember seeing my mother down on the floor, placing the stars: after completion of the flag, she superintended the topping of it, having it fastened in the most secure manner to prevent its being torn away by [cannon] balls; the wisdom of her precaution was shown during the engagement: many shots piercing it, but it still remained firm to the staff."
Delivery of the Flags
Mary Pickersgill had the flags delivered to Fort McHenry on August 19, 1813, a full year before the Battle of Baltimore. The larger flag weighed 50 pounds. It was to be flown from a 90-foot pole, and it took nine men to hoist it aloft over Fort McHenry.
The government paid $405.90 for the primary flag, and $168.54 for the flag to be used in bad weather.
Inspiration for Francis Scott Key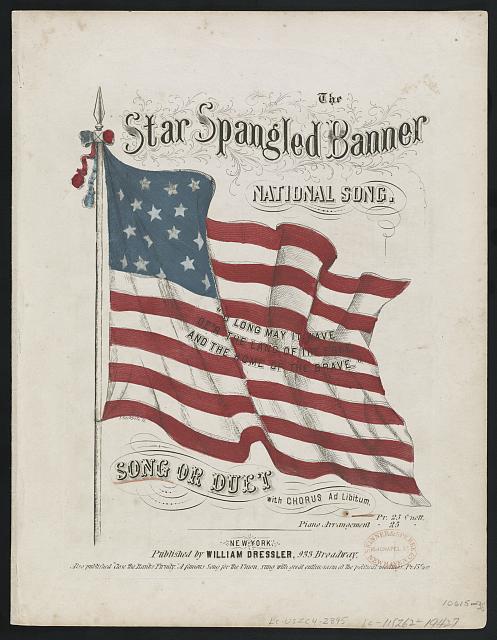 While Armistead's plan for a banner that would be visible to the enemy was in place, it was also seen by someone whom we remember well today: Francis Scot Key. In September 1814, He was an American attorney on a British ship to negotiate for the release of an elderly American prisoner.
Washington, D.C. had been overrun by the British, and as they battled their way toward Baltimore, the British officers held Key and his party as they felt he might have picked up something about their plans.  Fighting was vicious and lasted over 25 hours, but on the second day when Key woke, he saw by "dawn's early light" that the flag was still there. He knew the Americans had been victorious. This inspired him to write the poem, "The Defence of Fort Henry," which was later set to music. Today it is our national anthem, The Star Spangled Banner.  (For this story, click here.)
Mary Pickersgill After the War
Mary Pickersgill benefited from her added status as the maker of this important flag, and in 1820, her shop was profitable enough that she was able to buy the building where she worked. The building still exists as a museum and is known as the Star-Spangled Banner Flag House.   
Success for Pickersgill also meant that she could focus on issues she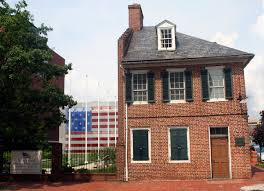 found important.  From 1828-1851 she served as president of the Impartial Female Humane Society and worked to provide housing and employment to disadvantaged women.
Pickersgill died in 1857 and is buried in the Loudon Park Cemetery in Baltimore.
In Maryland, she is well-remembered as a humanitarian. The Pickersgill Retirement Community of Towson, Maryland, bears her name, and the Star-Spangled Banner House tells her story.
A World War II ship was also named for her, and there is a rose known as the Mary Pickersgill Rose.
The Fate of the Flag
After the battle, George Armistead kept the large flag, and when he died his widow Louise maintained it. On several occasions she permitted it to be displayed, and she also removed small pieces of the flag to be given as gifts. This was a common practice at the time.
Her daughter, Georgiana, inherited it, followed by her grandson, Eben Appleton, who loaned it to the Smithsonian in 1907.  In 1912 the gift became permanent.  Not until 1998 did the flag undergo a badly-needed several million dollar conservation treatment.
Now the flag, originally stitched by Mary Pickersgill and her staff, is proudly displayed at the Smithsonian's National Museum of American History. If you're in Washington, remember the Smithsonian museums are our museums and there is no admission charge. Stop in, if only for a minute, to see the Pickersgill flag that has been through so much.
Also see Fun Facts about the U.S. Flag.