Lincoln Logs were invented by John Lloyd Wright, the son of architect Frank Lloyd Wright. John did not plan to be a toy inventor. But in so many ways, creating building block toys for children—possible future architects—was a fitting destiny for a man who grew up as one of six children in Frank Lloyd Wright's household in Oak Park, Illinois.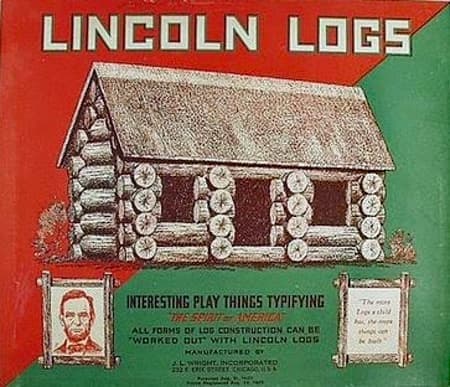 Early Influences
Early Influences
The Wright children (four sons and two daughters) began their education at home with their mother overseeing much of their education. Frank Lloyd Wright designed a playroom for his children and hand-picked many of the toys he felt they should have. There were all types of building blocks, and clearly, John Lloyd Wright must have had fond memories of them.
John Wright did not last long in college. He followed an older brother to the West Coast. He traveled throughout California taking whatever work was available. In about 1910, he saw a sign looking for "draftsman." He applied and joined the architectural firm of Harrison Albright whose office was in Los Angeles at that time. This experience whetted his interest in the field.
He applied to and was accepted to an architectural school in Vienna, but he had to get in touch with his father for money to travel overseas. At that point, his father essentially said, "Meet me in Chicago in two weeks. What can Otto Wagner (architect in Vienna) teach you that I can't?"
Working for Frank Lloyd Wright
John worked in his father's office in Chicago for a time. His father gave him reading lists and arranged a private class to learn engineering. When Frank Lloyd Wright was commissioned to re-build the Imperial Hotel in Tokyo in 1916, father and son both traveled to Tokyo for a site visit before the plans were completed.
While there, the two men had a falling out. Frank Lloyd Wright refused to pay his son a regular salary, and John resented the piecemeal way he was being paid. By mutual agreement, John returned to the United States.
The Wright office in Illinois had a few small projects underway, so John worked on those, but in his spare time he began experimenting with making wooden toys.
He loved working with wood. He and his wife had a fondness for birds, and their home featured wooden birds as part of the décor. This provided added inspiration for the toy company John Lloyd Wright built.
Red Square Toys
His first fascination was with blocks. He knew from his time in Tokyo that one of his father's chief concerns was creating an interlocking foundation for the hotel. Earthquakes were common in Japan, and the new building needed to withstand these possible pressures.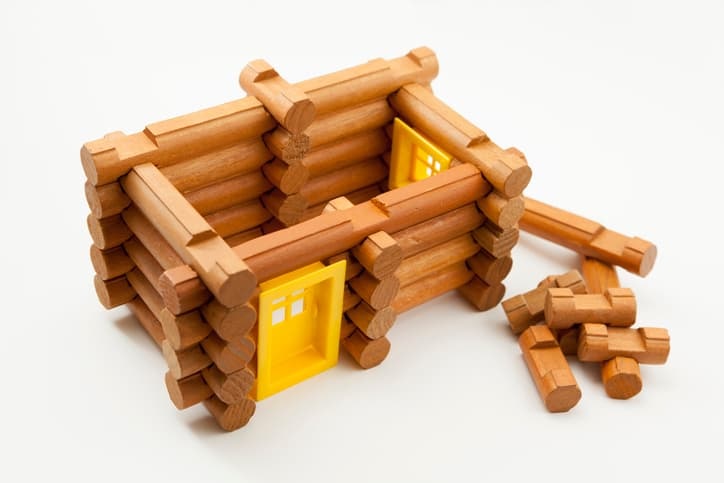 For John, there was also a meaningful lesson from his hours in the family playroom. With six children thundering through the space, block towers were often knocked over. What if he created interlocking blocks? (Though it is not documented, the Wright children may have played with a log cabin building set from a toy company in Vermont Ellis, Britton, and Eaton. The toys dated to the 1860s when log cabins would have been common.)
At any rate, John Wright proceeded with his work on what he eventually called Lincoln Logs. The early ads stressed that children could build something like Uncle Tom's cabin, or Abraham Lincoln's childhood home.
Toy Cabin Patent
In 1918 he applied for a patent (and received in 1920, Patent 1.351,086) for a "Toy Cabin Construction" set. His patent specified "This invention relates to improvements in toys and more particularly to education l toys calculated to develop a child's constructive inclinations."
Red Square Toys were greeted well by Chicago's major department store, Marshall Field. With that first big sale in place, Red Square Toys could expand. The company created other wooden toy animals, chess pieces, and jig saw puzzles featuring birds.
In 1933 he patented another type of building block—the kind that would have permitted children to build more complex structures like castles, but the Wright Blocks never caught on.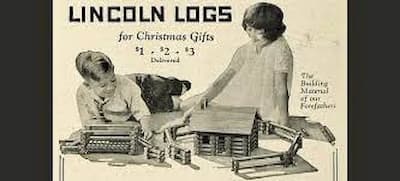 Lincoln Logs Survive War Rationing
During World War II, many types of unnecessary manufacturing businesses were halted. For example, the metal used for toy erector sets was needed for the war cause, so erector set toys could not be made. But wood was not rationed. For that reason, John Lloyd Wright could keep his business going throughout the early1940s. But by 1943 he was ready for a change. He sold the patent for Lincoln Logs to Playskool.
Lincoln Logs were popular throughout the 1950s, and they were one of the first toys to be promoted on a television show, Pioneer Playhouse (1953).
Lincoln Logs and Wright
In 2014, Lincoln Logs were acquired by K'NEX Industries, but by 2017, the company was bankrupt. However, the company was salvaged by Basic Fun, Inc. They now make Lincoln Logs, and manufacturing of the toy is done in the U.S.
Lincoln Logs were inducted into the National Toy Hall of Fame in 1999.
John Lloyd Wright continued to work in architecture. He settled in Delmar, California, and his architecture style was reminiscent of the Prairie School of Design.
Here's another story about a child and Frank Lloyd Wright. Frank Lloyd Wright's Inspiration for a Doghouse.