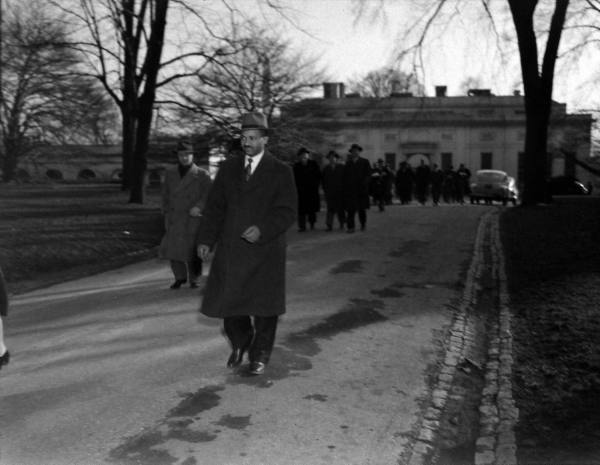 As of January 1944 no African-American journalist had ever been admitted to a White House Press Conference.
In February 1944, Harry McAlpin, a former Navy war correspondent and reporter for the National Negro Press Association and the Atlanta Daily World, received his requested credentials to attend an upcoming press conference with President Franklin Roosevelt.
As he waited with the other reporters to go into the Oval Office to hear the president, he was approached by a reporter from The Times-Picayune (New Orleans), a man who was also head of the White House Press Correspondents Association. Essentially the reporter told him that other reporters were upset by the fact that McAlpin was going in, but they couldn't stop him. The reporter added that if McAlpin himself chose not to attend, the other reporters would willingly share their notes with him so that he would have the same story. In addition, they would make him a member of the White House Press Correspondents Association.
Harry McAlpin ignored the fellow's warning and entered the Oval Office with the other reporters. At the end of the press conference, he approached President Roosevelt who was seated at his desk. Roosevelt shook McAlpin's hand, and said, "Harry, I'm glad you are here."
McAlpin's appearance at the press conference was notable enough for at least one major newspaper to write about it (New York Times, February 9, 1944).
Three years later, in 1947, the Negro Newspaper Publishers Association as well as some individual African-American news correspondents received accreditation from the Congressional Press Galleries and the State Department. (The early journalists accredited were James L. Hicks, Percival L. Prattis and Louis Lautier.)
McAlpin's Later Career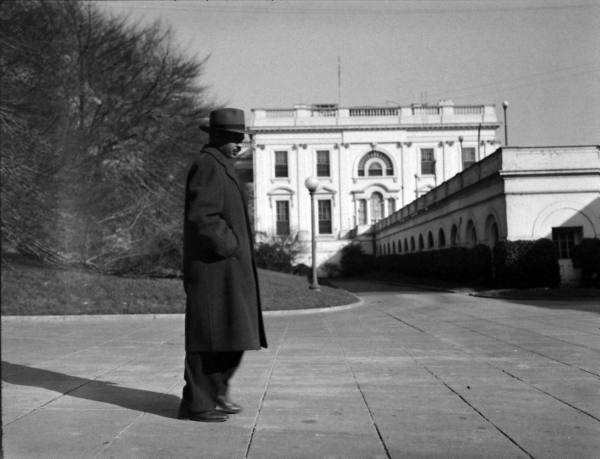 In 1967 Harry McAlpin was practicing law in Louisville, Kentucky where he previously had been chairman of the National Association for the Advancement of Colored People. In April he was one of the two leaders who were spearheading a protest against the board of aldermen in Louisville who voted down an ordinance that would have opened more neighborhoods to African-American citizens. McAlpine issued a statement that advocated boycotting of Louisville businesses in protest of what he called an "insult to Negro intelligence."
By 1968 he had returned to Washington, D.C. to work as a hearing officer for the Social Security Administration. Later he was in the news again for being named the "first Negro hearing examiner for the Agricultural Department." The date was October 10, 1971; McAlpin was 65 at the time.
Later he returned to his law practice in Louisville.
McAlpin's Own Words
From 1951-55, newsman Edward R. Murrow hosted a radio program called "This I Believe." People from all backgrounds recorded essays about their lives and beliefs. In his, Harry McAlpin talks of his father, who died when Harry was just 15, but whom Harry describes as teaching that despite the obstacles black people faced, all men really are created equal. McAlpin lived by this creed.
Here is another portion of McAlpin's essay:
The complexities of modern day living—particularly as I must face them day to day as a Negro in America—often put my creed to test. It takes a great deal of patience to accept the customs of some sections and communities, to try to fit into the crossword puzzle of living the illogic of a practice that will permit me to ride on the public busses without segregation and seating, but deny me the right to rent a private room to myself in a hotel; or the illogic of a practice which will accept me as a chauffeur for the rich who can afford it, but deny me the opportunity of driving one of the public busses I may ride indiscriminately; or the illogic of a practice which will accept me and require me to fight on the same battlefield but deny me the right to ride in the same coach on a train.
Social Security records show his death to have been in 1985.
The White House Correspondents Association finally decided to right the wrong that had been McAlpin's fate, and just 2 years ago, they established a scholarship in McAlpin's honor. To read about how this came about, click here.