One of first writers to address the experiences of black women
Her book, The Street, was the first book by an African-American woman to sell over a million copies 
Ann Lane was born in Old Saybrook, Connecticut in 1908. Her father owned his own business; Peter Clark Lane was a pharmacist and owned two drugstores. Her mother, Bertha, started as a factory worker but eventually amassed the money to have her own linen shop in Old Saybrook. Ann was one of three daughters. She always wanted to be a writer so from high school on, she wrote during her free time.
Despite encouragement to write from one of her English teachers, Ann followed the family advice regarding career preparation. She attended the Connecticut College of Pharmacy, graduating in 1931. Initially she worked in the family drugstores.
Though she later witnessed firsthand the difficulties of urban life for black people, Connecticut was not immune to racism. In 1946 she had an article published in Negro Digest called "My Most Humiliating Jim Crow Experience," where she wrote of a time when she was forced to leave a beach because of the color of her skin. There were other indignities as well but the family fared better in Connecticut than a family would have in an urban area.
In 1938 she married George Petry, a mystery writer, who lived in Harlem. They established their life there.
Became a Reporter
As she was getting to know the city, Ann worked in an after-school program on 116th Street. Her work with the children and her life in Harlem exposed her to how the urban poor lived. She soon began working for the Harlem Amsterdam News (1938-41), writing general news stories as well as selling advertising. Later she edited the women's pages of a publication called People's Voice (1941-44).
Her very first story was published in 1939 in The Afro American, but she published it under a male pseudonym. By 1943 her stores were appearing in other black journals under her own name. One of her stories was included in the Best American Short Stories of 1946. The editor of the volume also dedicated the book to Ann. One of her stories–perhaps this one when it was initially published in 1943–attracted the attention of an editor at Houghton-Mifflin. Ann received a $2500 literary award and a book contract for what was to become her novel, The Street.
The novel centers around the lives of residents of a single street in Harlem. The focus on a working-class black woman, Lutie Johnson, who dreams of leaving Harlem but is thwarted by poverty and racism. The book was notable for its vivid depictions of street culture and the difficult lives endured by the main characters.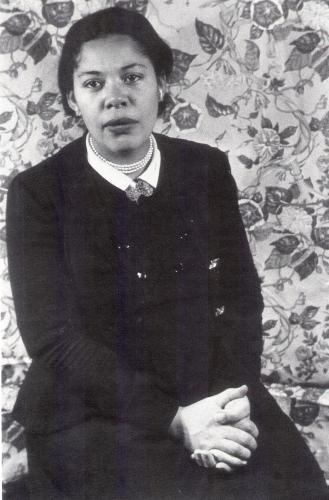 The Street was published by Houghton Mifflin in 1946, and it was a critical and commercial success. The book eventually sold 1.5 million copies, and throughout the U.S., Ann Petry was sought after as a guest speaker on the lecture circuit.
Petry described her goal in writing: "…my aim is to show how simply and easily the environment can change the course of a person's life…I try to show why the Negro has a high crime rate, a high death rate, and little or no chance of keeping his [sic] family unit intact in large northern cities."
Later Life
In 1947 she and her husband moved back to her hometown of Old Saybrook where they raised their daughter. She went on to write seven other books, a story collection, other novels, and two biographies for children—one about Harriet Tubman and another about Tituba of Salem.
In 1994 she was inducted into the Connecticut Women's Hall of Fame; she also received honorary doctorates from several colleges and universities.
She died in Old Saybrook in 1997.
A Selection from the Book
This is the selection from The Street that the Connecticut Women's Hall of Fame chose to feature on their site:
"The women work because the white folks give them jobs—washing dishes and clothes and floors and windows. The women work because for years now the white folks haven't liked to give black men jobs that paid enough for them to support their families. And finally it gets to be too late for some of them. Even wars don't change it. The met get out of the habit of working and the houses are old and gloomy and the walls press in. And the men go off, move on, slip away, find new women. Find younger women."