Founded the Associated Negro Press, the first international news agency for black newspapers
Advocated against segregation in the military and the segregation of the blood supply
Claude Barnett was born in Sanford, Florida.  His parents were domestic workers, and their marriage didn't last. While still a baby, Barnett moved with his mother to Oak Park, Illinois so they could live near his maternal grandmother.
As a child, Barnett worked when he could to help ends meet. When he graduated from high school he was admitted to the Tuskegee Institute where he completed his degree in only two years (1904-06).  His time at Tuskegee gave him a strong network of alumni and professors, which helped Barnett accomplish what he did personally and professionally. Barnett also took quickly to the principles espoused by the school's founder, Booker T. Washington (1856-1915): moderation, respectability, vocational training, capitalism, and taking responsibility for oneself.
First Job at Post Office
Barnett's first job was working for the post office (1906-15). It was here that he gained an awareness of the number of newspapers and magazines that were published, and he was fascinated by the advertisements and all they promised.  In 1913 Barnett began reproducing photographs of notable African-Americans and selling them by advertising in black newspapers.  Within four years the business was doing very well, and he and partners set up another sideline business selling cosmetics.
In 1915 Barnett took a job as a traveling ad salesman for the Chicago Defender, a black newspaper. As he traveled, he noticed a common trend; the newspapers for African-Americans were in dire need of substantive news to report. This led to his next business.
In 1919 Barnett created the Associated Negro Press (ANP), a service designed to provide a reliable stream of news stories for publications. Over time, he built a reliable team of news reporters (mostly freelancers) who provided stories of interest to African-Americans.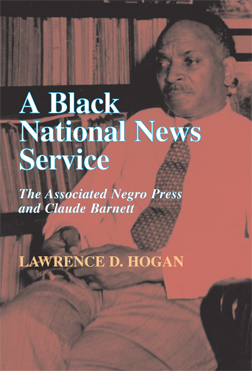 Barnett charged publishers $25 per week for access to the latest stories. Because most black papers were weeklies, the service began with mail delivery instead of delivery by wire.  At the start, packets were sent out once a week, eventually increasing to three mailings per week.
By 1935, the ANP was serving about 225 newspapers and magazines across the country. After World War II its membership grew to include more than 100 African newspapers as an increasing number of countries on the African continent moved toward independence.
The Fight Against Military Segregation 
During World War II, Barnett and other black journalists pressured the U. S. government to accredit black journalists as war correspondents. Barnett traveled widely and wrote many accounts on the adverse effects of segregation in the armed forces. (For an example of segregation in the Navy, read "Dorie Miller, Pearl Harbor Hero.")
Using the ANP to reach black Americans all over the country, he also spearheaded a campaign to desegregate blood donations.
Another story that hooked Barnett's interest was the story of the terrible living conditions of black tenant farmers. This caught the attention of the government during World War II, when food production was vital for feeding troops, and in 1942, Claude Barnett was named as a consultant to the Secretary of the Agriculture in an effort to improve their conditions. (He served in this capacity until 1953.)
For many years he was a trustee of the Tuskegee Institute and Barnett became involved with the Booker Washington Institute in Liberia.  Through this involvement and his friendship with President Tubman of Liberia, Barnett became an advocate for greater understanding between Africans and African-Americans.  This also brought him to the attention of the Phelps-Stokes Fund and on to its board.  Phelps-Stokes was started in 1911 upon the instructions of an early female philanthropist, Caroline Phelps-Stokes who wanted to fund educational opportunities for the underprivileged both here and abroad.
Barnett was also a governor of the American Red Cross, and on the board of director of the Supreme Life Insurance Company and Chicago's Provident Hospital.
Personal Life and Awards
In 1934 Barnett married popular entertainer Etta Moten. In 1942 the couple temporarily relocated to New York City when Moten starred as "Bess" in  Porgy and Bess" on Broadway.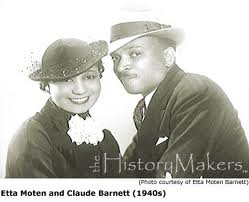 In 1949 Barnett was awarded an honorary Doctorate of Humanities Degree from Tuskegee Institute.  Two years later, Paul Eugene Magloire, the President of Haiti presented him the Chevalier Order of Honor and Merit and in 1952 Liberian President William V.S. Tubman bestowed the honorary title, "Commander of the Order of Star of Africa."
The Associated Negro Press was heavily based on the magnetism and management of Claude Barnett.  When his health declined in the early 1960s, he began to realize that the need for the service was winding down. With more interest in civil rights issues, black newspapers were becoming more prosperous and could afford wire services. In addition, the white press was doing a better job of covering civil rights news.
In 1964 he closed the business. Barnett died at home of a cerebral hemorrhage in 1967.
To read about other news reporters who broke the color line read about Alice Dunnigan and Harry McAlpin. McAlpin was the first Black to cover the White House; Dunnigan was first Black woman to cover a president.