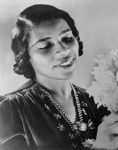 • Rose to stardom despite racial barriers
• Helped change segregation in theatres
• Broke color barrier at the Metropolitan Opera House in 1955

Marian Anderson was one of three daughters in a close-knit family. They lived in Philadelphia, and Marian began singing in the choir of the Union Baptist Church the family attended.
In 1910 the family was confronted with tragedy when her father died in a work-related accident. Marian was 12, so she, her mother and two sisters moved in with their grandmother, and her mother began taking in laundry and sewing to make a living. Marian was often needed at home to help with the work, so her school attendance was sporadic.
When she was 13, Marian was invited to join the church's senior choir. The other choir members felt Marian's voice was special—a gift from God–so they took up a collection to send Marian to music school. Unfortunately, the school the choir hoped she could attend turned her away without even listening to her; it was for whites only.
A local music teacher continued working with Marian for no pay, but the choir was intent that Marian deserved a great teacher. They held a benefit to raise funds so Marian could train with a well-respected contralto, Agnes Reifsnyder.
Marian was beginning to perform professionally, and the principal of her high school connected her with Giuseppe Boghetti, another well-known voice teacher. Anderson's student-teacher relationship continued for many years, even after she and her accompanist began scheduling professional concert tours.
While a white performer would have been taken on by a management company, Anderson and her accompanist, Billy King, booked their own tours. They performed primarily before black audiences in the beginning. When they traveled into the Southern states, Anderson and King had to follow Jim Crow laws. They would be asked to shift seats on the trains and move to the "colored only" car, which was located directly behind the engine. It was noisy and crowded, and if the windows were open the smoke and soot blew directly into the car.
Recording Career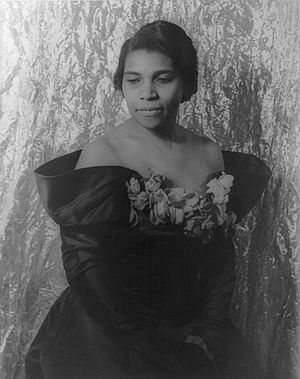 On a return visit to Philadelphia she was introduced to Joseph Pasternack, the conductor of the Philadelphia Philharmonic, and he arranged for her to begin recording with the Victor Talking Machine Company (1923-24). She was the first African-American to record spirituals for a major record label.
Her fame was beginning to grow. Anderson's teacher, Giuseppe Boghetti entered her in a prestigious contest in New York. The judges stopped the competition after the semi-finals and declared Anderson the winner, saying it was unnecessary to put everyone through a final round. Her prize was to appear with the NY Philharmonic (1925), performing before 7500 people.
Despite these gains in America, Anderson knew that opportunities for study and for performance for any black performer were greater in Europe, so in 1927 she embarked on a European tour. In Pairs, legendary manager Sol Hurok heard her sing, and he requested meeting with Anderson the next day. She signed with him immediately.
In Salzburg in 1935 Arturo Toscanini, the famous conductor, heard Anderson and remarked: "Yours is a voice such as one hears only once in a hundred years."
When she returned to the U.S. six months later, she gave a highly acclaimed concert at New York's Town Hall and reviews lauded her as one of "the greatest singers of our time."
Obstacles Remained

In 1935 Sol Hurok was setting up a U.S. tour and included Washington, D.C. The best venue for Anderson was Constitution Hall, owned by the Daughters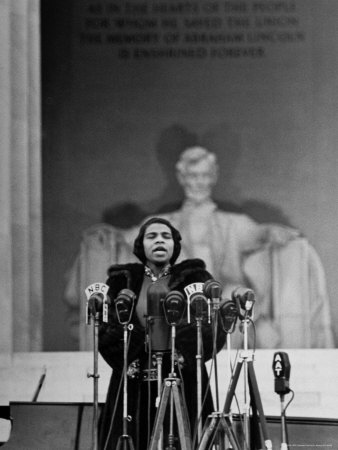 of the American Revolution, but they had a "whites only" performance policy and turned Hurok down. He located a high school with a decent auditorium so that Anderson could perform in the nation's capital.
This issue of segregation at this time was not limited to the performers; many places also had segregated seating. African-Americans were generally only eligible to buy the lesser seats in the back.
The National Association for the Advancement of Colored People (NAACP) urged Anderson to refuse to perform in segregated houses. Anderson preferred to invest her energy in her music and not politics, but with this cause, she successfully convinced houses to segregate more fairly. When she performed, the seats in the house were segregated vertically so that both whites and blacks had the opportunity to sit in the front of the theatre.
In 1939 Anderson was enormously popular, earning the equivalent of $3 million dollars per year in today's money. Sol Hurok wanted to bring her back to D.C., and still the only facility that could handle the crowds she would attract was Constitution Hall. Hurok, Howard University, and the NAACP petitioned the DAR but they again said "no." Hurok put forward a second plea to permit Anderson to appear, and again his appeal was turned down.
After this round of rejection, First Lady Eleanor Roosevelt resigned from the DAR, and when Marian Anderson appeared in Washington, the way had been cleared for her to give an outdoor concert on the steps of the Lincoln Memorial—steps away from Constitution Hall. Seventy-five thousand people came to hear her sing on Easter Sunday 1939.
Personal Life
For twenty years there had been a man in her life, Orpheus Fisher. In 1943, she finally said "yes" to marrying him. Fisher was a light-skinned black and had time to do the house-hunting. Several potential purchases fell through when Anderson arrived and the sellers or realtors realized the purchasers were African-American. Finally the couple bought a farm near Danbury, Connecticut.
Color Barrier in Opera
Though she performed at concert halls around the country, American opera houses were slow to open their doors to African-Americans. The most prestigious, the Metropolitan Opera House, had always had all white performing artists.
In Europe Anderson met a fellow named László Halász, who was shocked at the stories of discrimination in America. In 1944, he came to New York with additional purpose. He founded the New York City Opera and vowed to be inclusive.
Marian Anderson was at a career high. Hurok wanted her to hold out for the Met, so he did not book her with the new opera company. Todd Duncan, a classically trained African-American performer and teacher had become known because he was cast as Porgy for the opening of Gershwin's Porgy and Bess. In 1945, Duncan performed in the New York City Opera's staging of Pagliacci, becoming the first African-American to perform opera with an American company.
Almost ten years later Marian Anderson broke the color barrier at the Met. Rudolf Bing offered her the role of Ulrica in Verdi's Un Ballo in Maschera.
Slowing Down
By the late 1950s, Anderson knew her voice was not what it once was, so she limited her schedule somewhat but kept performing. She performed when Eisenhower was inaugurated for his second term of the presidency, and she appeared again at Kennedy's inauguration.
In the meantime honors were pouring in, and she was also appointed a delegate to the United Nations, a mostly honorary post but one Anderson took seriously. In 1963 she was awarded the Presidential Medal of Freedom by President Lyndon Johnson
By 1964 the time had come for a farewell tour, and fittingly, Hurok began her schedule at Constitution Hall in Washington. From there she traveled to 50 cities over 6 months, with a final sold-out performance at New York's Carnegie Hall on April 18, 1965. While her singing days were mostly over, Anderson continued with Hurok's lecture bureau, specializing in the narration of Aaron Copland's "A Lincoln Portrait."
Hurok died in 1974, and in 1975 her husband suffered a stroke, which brought Anderson back to the farm to spend as much time as she could with him.
Her Legacy
Marian Anderson was a person who broke barriers by living her life; she was a supremely gifted musician who stayed focused on her art. When barricades were placed in her way, she simply worked around them until the time was right to break them down.
Toward the end of her life, she wrote: "I have lived in a time of change, and the end is not yet. It has been good to see these changes taking place in our America, good for all of us…There is hope or America."