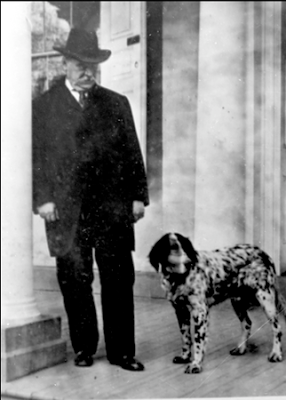 Grover Cleveland holds a unique place in American history. He is the only person elected for two non-consecutive terms of the presidency (1885-1889 and 1893-1897). In addition, he was the first Democrat elected after the Civil War. (Andrew Johnson was a Democrat  before the Civil War, but he and Lincoln ran on the National Union ticket that was supported by Republicans and War Democrats.)
Personally, Cleveland also went through changes. He was a bachelor when he began his first term, but he married 21-year-old Frances Folsom while in office, making him the only President to marry in a White House ceremony.
Grover Cleveland's marriage brought a family focus to his life, but he saw that his young wife needed to be shielded from the press—they sought her out for story after story. Cleveland opted that they spend only the social season (November and December) in residence at the White House. He bought a 27-acre working farm in Georgetown Heights so they could live nearby. This probably explains the reason behind the various reports about the pets in the White House during this time.
Here are the reports that have been documented about the Cleveland family and their animals:
Cleveland's Dogs: Three Dachshunds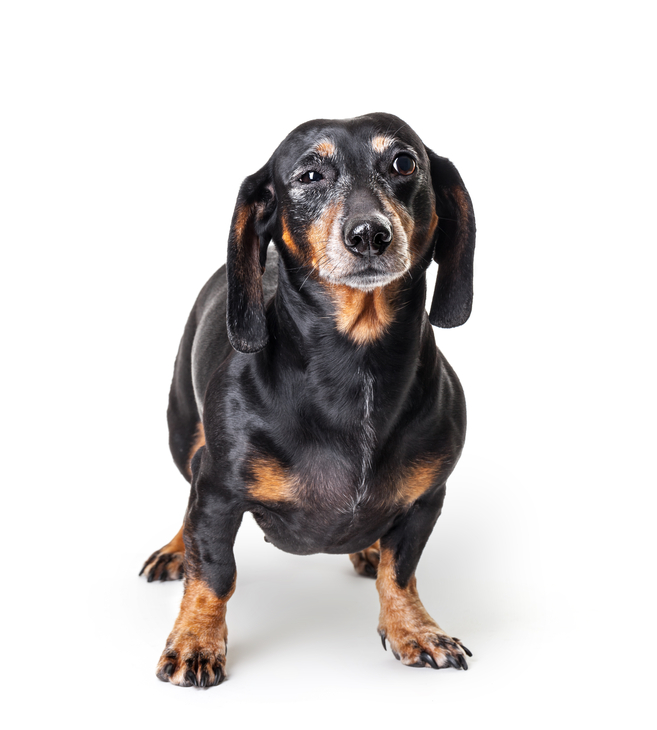 Three dachshunds were sent to Mrs. Cleveland by a Mr. Merritt, who was serving as U.S. Consul in Bremen, Germany. A reporter from the New York Times (9-27-1893) wrote that the dogs arrived at the White House "after a journey over land and sea of 4,000 miles."
Dachshunds were a relatively new breed in the United States. The first dachshunds were thought to have arrived with German immigrants during the 1870s. The Dachshund Club of America was established in 1895.
More Cleveland Animals
After his first term in office, Grover Cleveland bought a summer home along Buzzard's Bay in Massachusetts. They called the house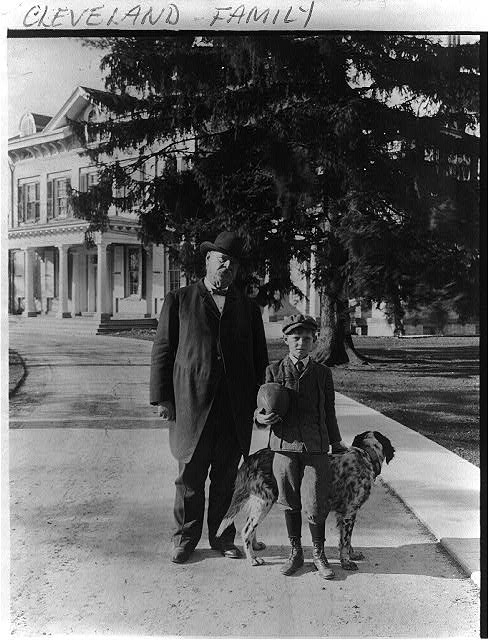 Gray Gables, and a reporter who visited there mentioned two dogs (though there were probably more): Millie, a fox terrier, is described as "very accomplished at sitting up for a morsel to eat," and Gallagher, a young cocker spaniel with a silky brown coat and ears of "inconvenient length." The reporter found them non-threatening, and wrote: "Both animals take great liberties with Mr. Cleveland when he is accessible to them and when not otherwise employed, are rolling each other about on the lawn." (The New York Times, 7-13-1891)
Cleveland's New Family
Cleveland and his young wife soon had five children. Esther, the second-born carried the distinction of being the first baby born in the White House (Sept 9, 1893).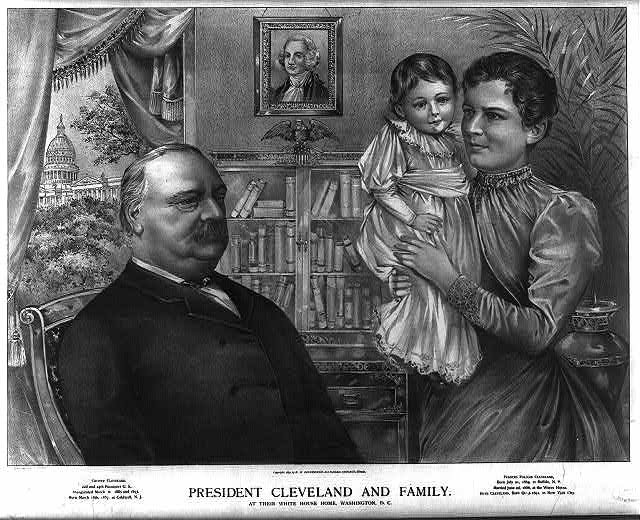 Their first baby, a daughter named Ruth, was born in New York City on October 3, 1891. Once the Clevelands were back in office, the press couldn't get enough of the activities of Baby Ruth. (Some stories say that the candy bar was named for Ruth Cleveland, but the bar was not created until 30 years later, and by that time, baseball player Babe Ruth was in his prime. Ruth Cleveland died of diphtheria at age 12 in 1904, so it seems unlikely that the candy bar was intentionally named for her when it was re-introduced in 1921. However, the Curtiss Candy Company claimed it was named for Ruth Cleveland; they had never negotiated an endorsement deal with the baseball star so they were likely protecting themselves.)
Many More Dogs and Animals
During their second stay in the White House, a wide variety of animals lived at the president's home. A Chicago Daily Tribune reporter (Feb 12, 1894) wrote that there were wild hares on the grounds… "furnishing rare sport for the foxhounds and dachshunds."
There were also imported fish, including many varieties of goldfish.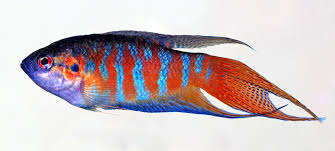 The ruler of Siam sent a paradise fish to the family. Near the stables were game chickens and fowls.  A pair of ponies belonging to Mrs. Cleveland were often seen pulling her in a low phaeton.
There were probably more dogs than were documented, but a Cocker spaniel named Hector was mentioned in the article, as was a "bow-legged squat-figured Dachshund, with long flapping ears." (This was likely one of three who arrived as a gift from Germany.)
Mrs. Cleveland also owned a prize-winning poodle, but the dog was left at Buzzard's Bay for the winter as a companion to the St. Bernard who had also won many prizes.
There must have always  been hunting dogs around as well since Cleveland was an avid hunter.
Grover Cleveland as a Hunter
When Grover Cleveland went hunting, ducks were the primary focus, however, he sometimes joined a party looking for rabbits.
In reading the accounts of some of his hunting expeditions while in the White House, it seems sometimes he brought along his own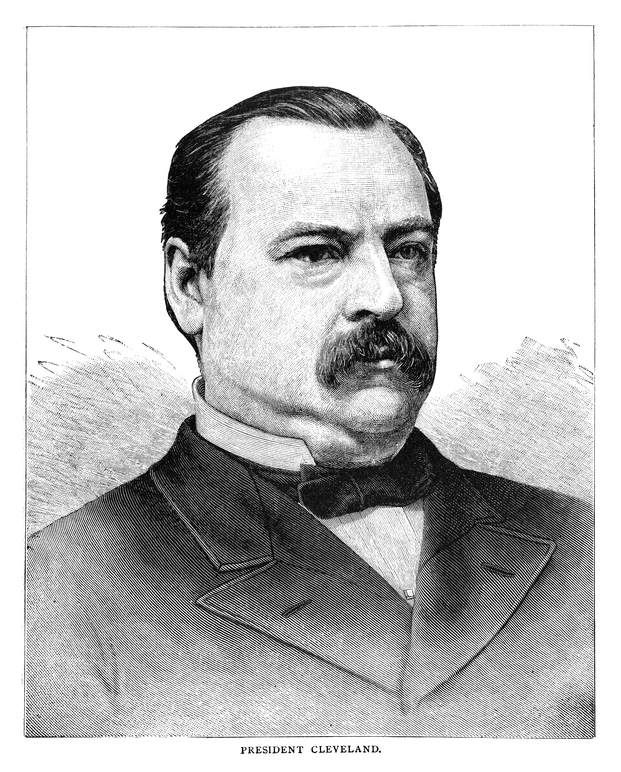 dogs, but often he relied on the hunting guides to provide the dogs. On one trip to upstate New York, the guides were going to take along "Major," a Scotch deer hunter who was famous in the region. Other dogs were also being selected for the trip.
On another trip, however, Cleveland provided his own hounds. He had been invited to Cranbury, New Jersey, for some rabbit hunting. Despite a heavy rainstorm, Cleveland arrived on time and was happy to join James Robbins, the fellow who had organized the hunt.
Dogs Lost
Unfortunately, two of the dogs Cleveland brought with him wandered off. As of the date of the article, the dogs were still missing. "Mr. Cleveland was not a little chagrined at his loss, for the hounds were recently given to him by a friend in the South, and he was enthusiastic over their good qualities." (The New York Times, 11-12-1898)
In 1905, Cleveland wrote an article about hunting that appeared in a publication called The Independent. He writes of the importance of giving a rabbit a fair chance and not shooting if a rabbit is still. He notes that the fastest dogs are not the best…because they are likely to scare the game into a hole at the start.
"The baying of three or four good dogs steadily following a little cotton tail should be as exhilarating and as pleasant to ears attuned to the music as if the chase were for bigger game," wrote Cleveland.
While the Grover Cleveland household is not known for its pet population in the way the Coolidge White House is, it is very clear that the family maintained a healthy number of animals at all times.