"Slate saved my life," is the way John Wiesniewski describes having a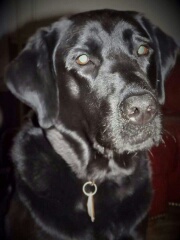 service dog like Slate by his side every day.
SSD Slate, a black Labrador, is trained as a psychiatric support service dog by Susquehanna Service Dogs (SSD), located in Grantville, Pennsylvania. These dogs are often placed with military veterans suffering from depression, severe anxiety or post-traumatic stress disorder (PTSD).
In late 2011, Slate was paired with another veteran–retired first sergeant Brian Coutch who died in 2014.
John, with a voice filled with awe and emotion, explains what he learned about how he came to be given this dog later in 2014: "Brian always told his family that if anything ever happened to him, the family should return Slate to Susquehanna Service Dogs so another placement could be made.
"Brian was watching out for his brothers even at the very end."
Here is Slate's story.
PTSD Service Dog to Veterans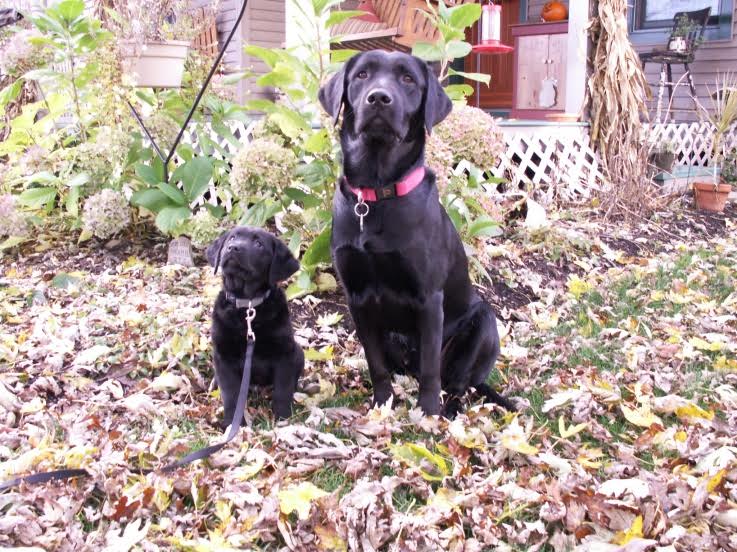 Slate was born in September 2009 as part of the SSD breeding program. These dogs are trained to fill various needs, depending on their qualities. Some become hearing dogs; others are trained to help with balance and mobility; some become psychiatric service dogs. SSD also graduates facility dogs that work in schools, prisons, and courthouses. Some dogs can also go on to become bomb or other detection dogs.
Psychiatric service dogs like Slate are chosen because their temperament is such that they intuitively pay attention to their partner. Whether the person's heart is racing, blood pressure increasing, or they are exhibiting other signs of fear or heightened alarm, the dog is trained take action.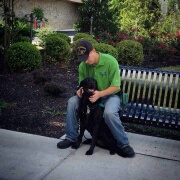 The dog's first task is to keep the person grounded in the present and to provide a calming influence. Next, the dog may encourage the person to leave the environment where the heightened anxiety occurred. At a mall, they find the nearest exit. In a social situation, the dog may nose the person to remind them of the pre-planned excuse: "My dog needs to go out. I'll be right back." Other times, the human partner will become calmer simply by the dog making himself an active presence—by making eye contact and by bumping the partner's thigh quite insistently until they get a reaction so that the partner recognizes that the dog is right there with them.
"Many of the veterans are uncomfortable if they are in a crowd," says Susan Tyson, a long-time volunteer with the Susquehanna Service Dogs. "The veteran can use the dog to unobtrusively block others from getting too close. The dog can stand perpendicularly in front or behind their partner, wherever the person is feeling pressured."
"Additional training can be given once a team of veteran and dog are paired," explains Tyson. "For example, one veteran became very panicked in a public place if he was separated from his wife. His dog was taught to keep track of or locate the spouse so that the veteran could quickly know where she was again."
When nightmares occur, these dogs know to turn on a light. If medication is needed for the veteran, the SSD dogs wear vests with pockets for medication so that it will be easily available if necessary. They are also taught to notify others if the situation is not improving.
Slate's First Service Assignment
First Sergeant Brian Coutch served 22 years in the military, earning 35 service medals, including the Bronze Star. He eventually had to be given a medical discharge because of traumatic brain injury, depression, and PTSD. He often suffered night terrors, which involved a racing heart and heightened blood pressure.
After the structure and comradery of the military, Brian found it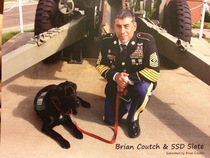 hard to adjust to living alone. His brother described him as not having much vigor for life.
In 2008, Brian started volunteering with the Pennsylvania Hero Walk, an annual 320-mile, 13-day trek from Philadelphia to Lower Burrell, Pennsylvania, to benefit the Wounded Warrior Project. During one of the walks, someone suggested Brian should apply for a service dog. He followed her advice and put in an application with Susquehanna Service Dogs veterans program.
Matching Service Dog and Veteran
After about two years of training, dogs are ready for placement. But just like a good date, dog and partner need to be well-suited to each other.  The matching process at SSD involves gathering a small group of veterans in a room to await the arrival of pre-selected service dogs. The veterans are instructed to be low key in their greeting of the animal—a pat on the head or an ear scratch is great but no over-the-top reaction. From there, the trainers, with input from the veterans themselves, observe whether any matches have been made.
In late 2011, Brian Coutch had just been paired with SSD Slate, and they were awaiting their first instruction class about working together.
As Brian sat, waiting, Slate tried to get into Brian's lap.  Brian was terrified that he would be rejected from the program—this wasn't the way it was supposed to go.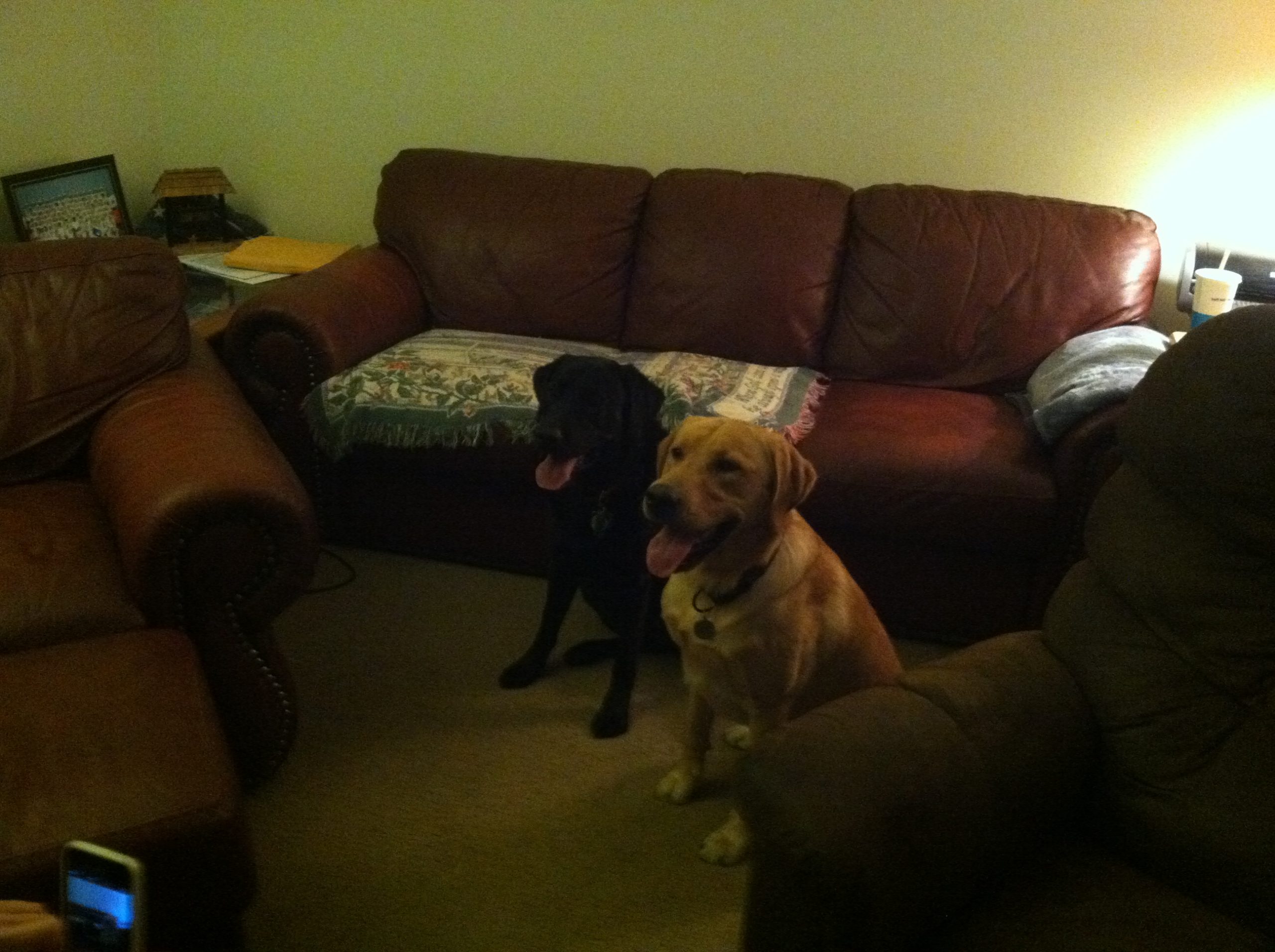 Slate's trainer Amanda Nicholson came up beside Brian and asked, "Are you anxious?" Brian quickly admitted that he was very anxious. Amanda explained: "Slate is doing what he was trained to do…he is trying to calm you."
After that, Brian and Slate were together constantly. Brian was out a lot, and he dedicated himself to helping other veterans. He also spread the word about the benefits of having a service dog.
He still had night terrors but Slate did his job—he nudged Brian awake and then put his big head on Brian's leg or body to calm him, showing him everything would be okay.
"He [Slate] can sense the changes in my blood pressure when my pulse starts racing. It's one of those things dogs can smell that we can't," explained Brian in an interview published in Washington, D.C.'s County Times (August 2012).
The SSD was quite shocked to receive the news that Brian Coutch died at home of natural causes. Slate was by his side. It was March of 2014, and Brian was only 47.
Slate stayed with Coutch family members for a few days, but the family accepted Brian's wishes and took Slate back to SSD so he could be paired with another veteran.
A few days after Brian died, a new litter of future service dogs was born at SSD. In memory of Brian—a man who had done so much for the cause—they named one of the puppies SSD Uncle Brian.
Funeral at Arlington Cemetery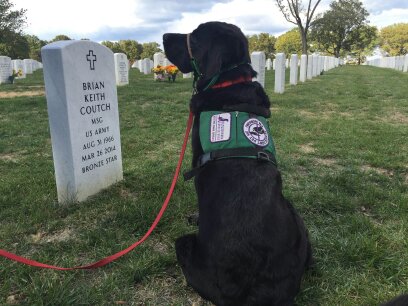 Arlington Cemetery has a waiting list of veterans to be interred, so there is always a delay in scheduling funerals. In Brian's case, the ceremony was three months after his death.
By this time, Slate had returned to SSD to undergo re-evaluation,
but the SSD and trainers wanted to be certain they—and Slate and Uncle Brian—were at the funeral. There was a big crowd of family and friends at the service as well.
In Cathy Scott's book, Unconditional Honor: Wounded Warriors and their Dogs, she describes that at the conclusion of the funeral, people drifted away, but Slate stayed at the grave site. Then he walked up to the casket and paused. Next, he rested his head on the casket's lid, providing one last moment of comfort for his master, in just the way he always had.
Back at SSD
Only a couple of days after the Arlington funeral service, Slate was among the dogs being introduced to potential partners.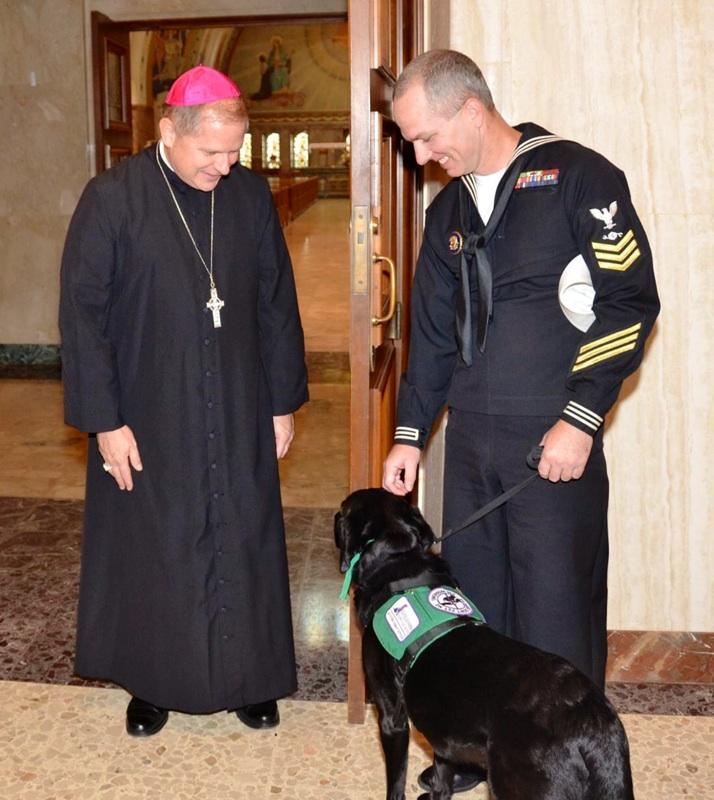 John Wiesniewski was one of the veterans there to meet dogs. This was the last possible group of dogs he would meet before having to wait for a new training class.
"Slate and I didn't particularly click that day, explained John in a phone interview from his home near Gettysburg, Pennsylvania. "But a few days later a staff person at SSD called me to come in and go through some training exercises with Slate.
"That visit was like a new day for both of us—we felt like a unit. I think the day we met—shortly after Slate had been to Arlington—wasn't such a good day for Slate. I'm thankful we had the chance to make a new start."
New and Happy Assignment for Service Dog
Like Brian, John suffered debilitating emotional issues from his time in the service. He had been in the SeaBees (U.S. Naval Construction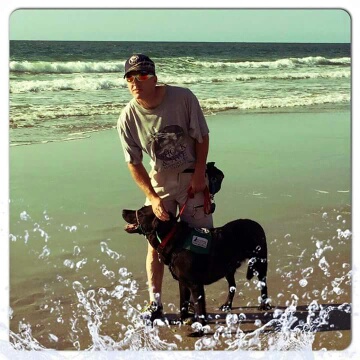 Forces) for 12 ½ years and intended to make the Navy his life's work. But he had been injured and was suffering neck, back, and hip issues. Then while running biological and chemical warfare testing under difficult circumstances, John had a major panic attack. More attacks followed.
In 2006, John had to accept the fact that he would be given an honorable medical discharge. He retired from the Navy Seabees as a Construction Mechanic First Class (CM1).  Because his whole life had been planned around life in the Navy, this led to overwhelming depression.
Married and with three children, John found it difficult to do much more than go to work and then come home and sit in his recliner. If he tried to attend one of his children's activities, he experienced panic attacks because of the crowds and the noise.
But thoughts of his children were frequently on his mind. His oldest son is diabetic, and one day John was on the computer investigating diabetic service dogs (they alert to diabetic spikes). He came upon SSD's application for their veterans' program. Why not see if he could be accepted?
Service Dog Provides Love and Support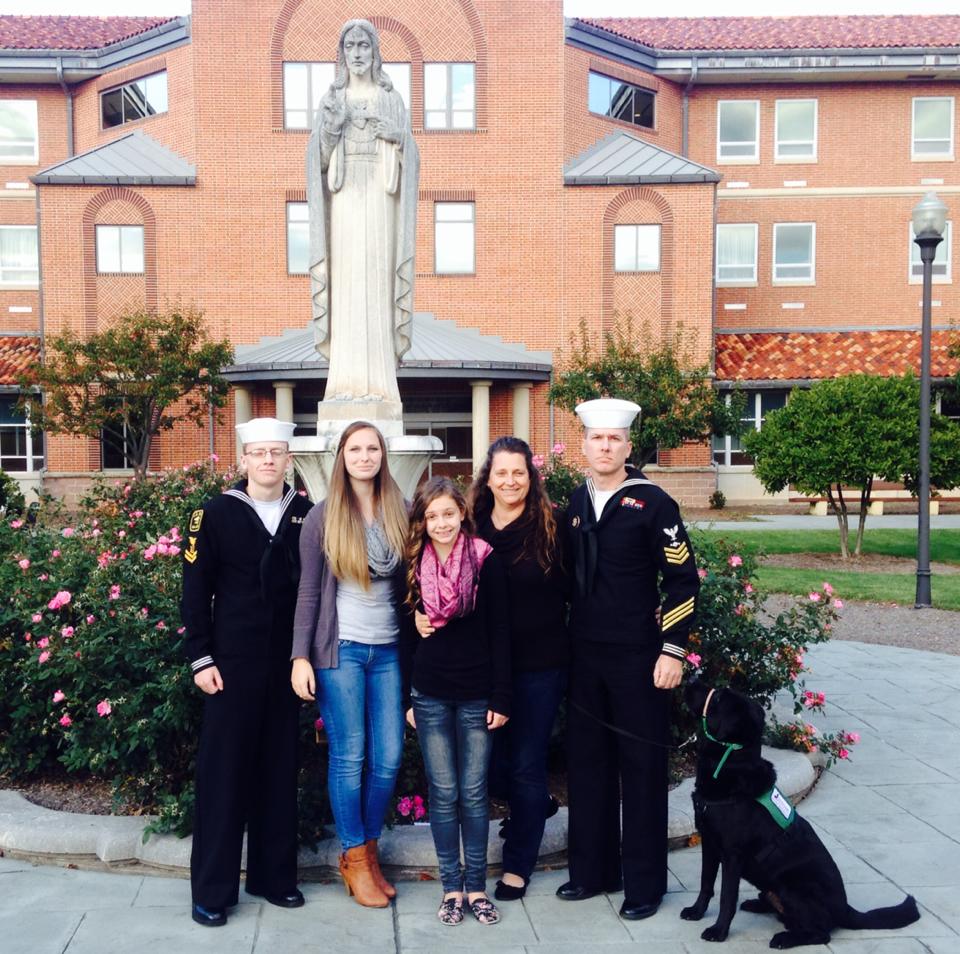 Today John is first to tell anyone that Slate made his life possible again. If John is having trouble getting up because of his back injury, Slate knows what to do if John gives him the cue for "brace;" Slate will then provide stability to help make it safe for John to get up. But Slate's primary job is to help John remain calm if he becomes anxious, slowing or stopping a panic attack.
Initially Slate's solution involved helping John exit a situation but increasingly, John says, the two of them consider strategies. Slate uses eye contact to keep John in reality, and uses the weight of his head on John's leg to apply pressure to help calm John. John can now reliably look forward to attending his teenagers's events.
In addition, John found a meaningful way to give back to the military. He is a volunteer with a youth group, the Navy Sea Cadets of which his son is now a part.
John is also back in school now, getting a degree to be an occupational therapist. "I hope down the line there will be a way to involve Slate in the process."
As for Slate, he's one happy camper. Some service dogs need play time to exercise and get out extra energy, and John says that he's conscious of that. "My wife has a dog, too, so sometimes I'll encourage Slate to go play, but he isn't that eager. He's happiest when he's right here, by my side."
Service Dog Loved by the Whole Family
Slate has been good for the whole family. Kim Wiesniewski was the speaker at this spring's graduation ceremony for the latest SSD dogs. Among her remarks were these: "Many summer vacations would be just the kids and me. The chaos, stress, and crowds are too much for John to handle.
Last summer Slate, John, and a close friend made a surprise visit during our two-week Myrtle Beach vacation. This was probably the most memorable vacation ever! We all spent much-needed quality time with John. The memories made during that time will be cherished forever. It was so nice to see John relaxed and enjoying himself without any care, with Slate by his side."
As for a diabetic dog for his son, John says: "He's starting college this year, so we all agree that it is his decision as to whether or not this is the best thing for him."
Susquehanna Service Dogs
Like other members of Assistance Dogs International, Susquehanna Service Dogs has a long list of requests for dogs.  They can always uses puppy raisers in addition to other types of volunteers, and of course, they welcome donations. They even offer naming opportunities for anyone interested in funding the full cost of training a service dog. For more information, visit the website.