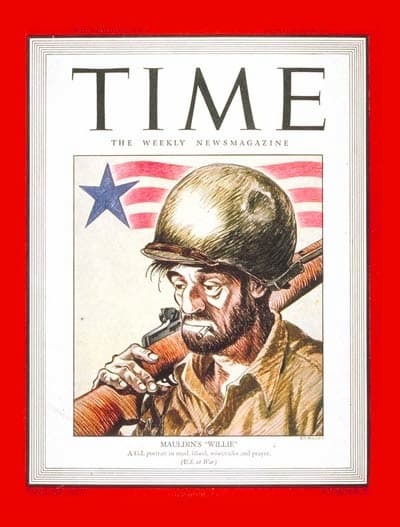 Bill Mauldin was a young artist in World War II who created a cartoon featuring two mud-covered, combat-weary infantrymen, Willie and Joe. Mauldin's work appeared in U.S. military newspapers where his foxhole-level view of the military brightened the spirits of U.S. soldiers by giving them something to laugh at.
His cartoons were picked up by civilian newspapers in the U.S., so he also provided Americans at home with a better understanding of the day-to-day life of an infantryman.
In 1945 he received a Pulitzer Prize for his work.
William Mauldin's Background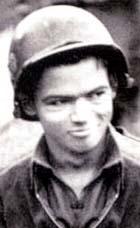 Bill Mauldin (1921-2003) was born in Mountain Park, New Mexico. According to Mauldin's obituary that appeared in Stars and Stripes on January 23, 2003, Mauldin started drawing in his early teens after he spotted an ad for a correspondence course in cartooning in Popular Mechanics magazine. He borrowed the $20 tuition from his grandmother. After learning the basics of cartooning, he was accepted at the Academy of Fine Arts in Chicago.
When he left Chicago, Mauldin settled in Phoenix, Arizona, and tried to sell his cartoons. It was slow going, and he needed money. In 1940, he signed up to be part of the Arizona National Guard. Within a few months, a military build-up began, and Mauldin's unit was absorbed into the Army as part of the 45th Division. The men were all moved to Fort Sill, Oklahoma, for training.
Communication on Military Bases
Military brass knew that morale improved when everyone on a military base felt they were part of a community. On most bases, a weekly newspaper was an important aspect of that effort. Generally, there were plenty of editors and writers who found themselves in the service, so newspapers were quickly staffed.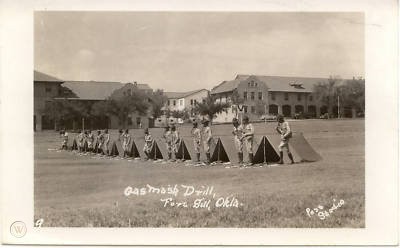 The 45th Division News was the weekly publication at Fort Sill. Mauldin dropped off some of his military training cartoons, and the editors liked them. They checked with Mauldin's superior and requested that in addition to his regular military training he be assigned to serve one day each week working at the newspaper.
This also offered another opportunity for Mauldin. One of his editors submitted Mauldin's cartoons to a local Oklahoma newspaper. The reaction was so positive that the editor helped Bill syndicate the material. Soon Mauldin's cartoons appeared in 159 city newspapers across the West. As U.S. entry into World War II seemed closer, Americans everywhere were worried about the war and had family members enlisting. Mauldin's cartoons helped citizens understand what the men were going through.
Mauldin's Subjects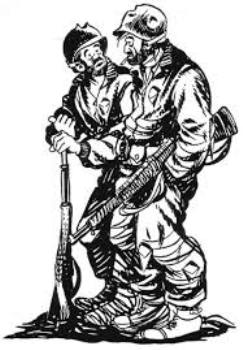 Mauldin titled his regular cartoon panel for the 45th, "Star Spangled Banter." His subjects always concerned the day-to-day doings of the Army inductee. Though he helped with the newspaper one day each week, the fact that he continued to drill with the other riflemen in his unit provided him with excellent perspective to draw what the soldiers were going through.
When the troops from Fort Sill departed for Sicily, the newspaper continued though somewhat less regularly. Mauldin's cartoons were spotted by an editor at the well-respected military newspaper, The Stars and Stripes. Bill Mauldin's work was so good that he was assigned to work for the newspaper full-time.
The Characters Willie and Joe
Willie and Joe began cartoon life separately. Joe appeared in cartoon form before Pearl Harbor. At that time, he was clean-shaven and energetic. Then after December 7, 1941 (Pearl Harbor), Mauldin created Willie. The two cartoon soldiers became friends. As Mauldin drew them over the next couple of years, they grew war-weary and resigned to the fact that they might not live beyond the war.
In the cartoon panels, Willie and Joe are almost always miserable–often wet and cold. The cartoons capture the gritty, grunginess of fighting as well as the moments of fear and those of total boredom. All of the scenes are infused with a grim humor. A typical cartoon shows Willie and Joe ducking artillery fire, and Willie says: "I feel like a fugitive from th' law of averages."
From Real Life
As one writer put it: "Willie and Joe were the guys who always got sentry duty when it rained…shrapnel in their backside when they left their foxholes, and they dealt constantly with lice, fleas, and terrible food."
Mauldin drew not the officers but the men "who were doing the dying."
In one particular cartoon, Joe and Willie are sitting near a battlefield amidst mud and reeds, their feet not visible because of the muck. Willie has something in his hands and says to his buddy: "Joe, yestiddy ya saved my life an' I swore I'd pay ya back. Here's my last pair of dry socks."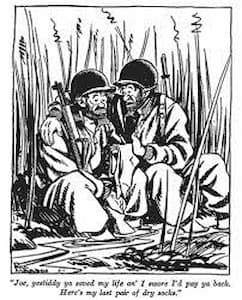 Reaction of Officers
The increased circulation of Mauldin's front-line soldiers brought Mauldin's work to the attention of the officers, many of whom understood that the cartoons gave release to the GIs' pent-up feelings.
A few of the top brass, General George Patton among them, strongly objected to the depiction of the grimy bedraggled fighting men. Patton was so incensed that he threatened to halt distribution of Stars and Stripes because of the "unsoldierly" appearance of Willie and Joe. His superior, General Dwight D. Eisenhower, disagreed. He believed in a hands-off policy on the newspaper, and no one wanted to cross him. However, in deference to Patton's strong feelings, he asked that Patton and Mauldin meet to discuss their differences.
Mauldin wrote of the meeting in his book, The Brass Ring. He relates that Patton berated him for depicting soldiers who "looked like bums." Mauldin explained his thinking, and the meeting concluded with Patton telling Mauldin "they understood each other now."
Despite this "understanding," Mauldin never changed what he drew, and the cartoons continued to appear in the Stars and Stripes.
Later, Patton reportedly said he would "throw Mauldin in jail" if Mauldin ever came back again.
Important to the Men
"The cartoons were not always appreciated by regular officers," confirmed Tom Czekanski, senior curator and restoration manager of the National World War II Museum, in New Orleans. "But the citizen soldiers …enjoyed [Mauldin's] look at the war from their perspective."
As to what happened to Willie and Joe, Mauldin intended to have them die at the end of the war. His editors fought against it, however. To Mauldin, the two infantrymen were reminders of the pain and suffering by all involved, and he carried guilt from the fact that his success grew from something that was truly so terrible.
While he resisted killing off Willie and Joe, he set them aside in his work. He revived Willie for some freelance articles he wrote in the format of letters to Joe. However, only twice were the pair drawn together again—-once in memory of General George Marshall (1959); the second time after the death of General Omar Bradley in 1981.
After the War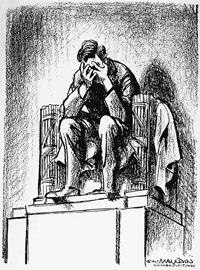 After World War II ended, Mauldin worked for the United Press service for a time and then was hired as an editorial cartoonist working for the St. Louis Post-Dispatch. While in St. Louis, he won another Pulitzer Prize (1959). This one concerned Soviet novelist Boris Pasternak saying to another gulag prisoner: "I won the Nobel Prize for literature. What was your crime?"
In 1960, he moved to The Chicago Sun-Times. One of his most poignant cartoons appeared in that newspaper on November 23, 1963. It depicted the statue of Abraham Lincoln that sits in the Lincoln Memorial in Washington, slumped over in grief cradling his head in his hands. It was the day after John F. Kennedy's assassination.
He remained at the Chicago newspaper until 1991, but his arthritis became so painful that he gave up cartooning. He retired to a home in his native New Mexico.
Even after retirement, one cartoon tradition continued, however. Cartoonist Charles Schulz was also a World War II veteran and thought the world of William Mauldin. Each year on Veteran's Day, the two collaborated on a cartoon to run in Schulz's strip, Snoopy. The last year the commemoration appeared was in 1998. Schulz signed the strip, "Schulz and my hero…" Mauldin's signature was below.
Mauldin also acted in two films and ran unsuccessfully for Congress in New York in 1956.
Word That He was Ill
A fellow veteran named Jay Gruenfeld, who served in the Pacific and now lives outside Santa Barbara in Lompoc, California, heard that Mauldin was at a veterans hospital in California, suffering from Alzheimer's. Gruenfeld had good memories of Mauldin's work. After being injured in the war, Gruenfeld was hospitalized for several months for a serious spinal injury. His father sent him several collections of Mauldin's work, and Mauldin's work helped him get through a difficult time.
When he heard that Mauldin was ill, he sent out letters to veteran groups, and he got in touch with two newspaper columnists: Gordon Dillow of the Orange County Register and Bob Greene, a former colleague of Mauldin's at the Chicago Sun Times.
Veterans Paid Respects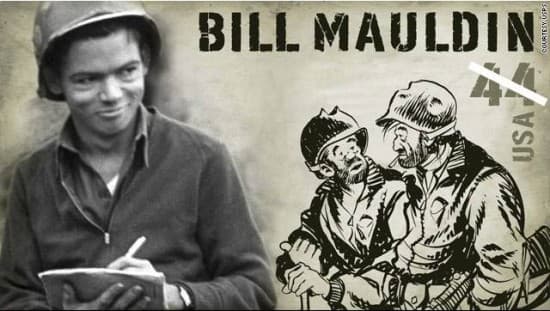 As word filtered out to veterans that Mauldin was quite ill, men stopped by the veterans' home where Mauldin was staying. They wanted to pay their respects.
Day after day, volunteers arrived wearing parts of their World War II uniform or bringing mementos to share with the man whose view of reality and dry sense of humor helped get them through the war. Soon there were so many visitors that the home introduced a sign-up sheet.
Mike Anton, a reporter for The Los Angeles Times in 2002, wrote that after visiting Mauldin many of them stopped in the lobby and cried. Anton quoted an administrator saying: "They have a connection to him that's extraordinary—a connection that I didn't anticipate."
As one of the men told Anton for The Los Angeles Times article: "We relied on Mauldin to break the tension for a moment, just a moment. He meant an awful lot to us."
Funeral at Arlington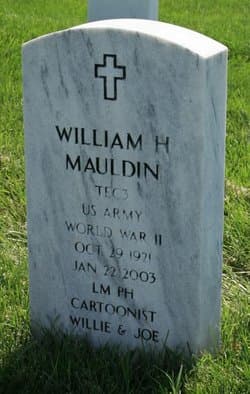 In 2003, Mauldin died. His funeral took place in Arlington National Cemetery on January 31, 2003. The day was gray and cold and drizzly, just the type of day that Willie and Joe endured so often during the war.
After the funeral, one of his sons spoke to a reporter about the regular calls he received every month from veterans checking on his dad. He also noted that one gift from a veteran made him cry: The fellow sent the family a pair of dry socks, just like what Willie gave Joe for saving his life in battle.
Honors
In addition to two Pulitzer Prizes, William Mauldin received many honors throughout his career. In 2010, the United States Postal Service issued a commemorative stamp honoring Mauldin and Willie and Joe. A little humor meant the world to men in the midst of war.
***
To read other stories about World War II, see "Kilroy was Here," or "World War II and Hollywood."