• Escaped from slavery (1862);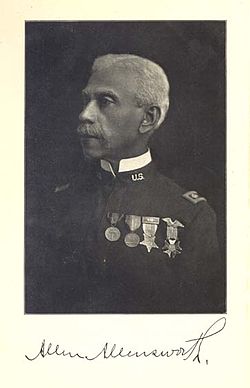 • Campaigned for two years to become a military chaplain;
• Retired from the military as a lieutenant colonel, the highest ranking African-American soldier of that day;
• Founded Allensworth, California in 1908 to offer hope and fairness for African-Americans.
Allen Allensworth was born into an enslaved family in Kentucky in 1842; he was the youngest of 13 children. As a child, he was assigned to the white family's young boy, and Allen began learning to read alongside his master. It was against the law for slaves to receive an education so his white mistress sent Allen to live with a Quaker woman, who also defied the law and helped Allen with his reading. When this was discovered, Allen was sent to work in the fields.
Escape from Slavery
A few years later, Allen was sold to a man named Fred Scruggs who owned race horses. Allen began as an exercise boy, and Scruggs soon found him to be a gifted jockey. In 1862, Scruggs and Allensworth, then 20, traveled to Louisville for a horse race where Allensworth met Union soldiers from the 44th Illinois Volunteer Infantry Regiment who were in the area. When he expressed his longing for freedom, the Union soldiers invited him to join their Hospital Corps. When the infantry left Louisville, the soldiers loaned Allensworth a Union coat, and he covered his face with mud to appear paler. Encircled by his newfound friends he got out of town without detection, ending his time of slavery.
Allensworth remained with the 44th as a nursing aide for a time and then enlisted in the U.S. Navy. After the war, he and a brother operated two restaurants while Allensworth taught in a Freedman's Bureau. Later, Allensworth attended Roger Williams University in Nashville to study theology where he also met and married Josephine Leavell, a music teacher and pianist. The two of them moved back to Louisville where Allensworth oversaw the work of several churches. He also served as Kentucky's only black delegate to the Republican National Conventions of 1880 and 1884.
Becoming a Chaplain
In 1882 a black soldier approached Allensworth to discuss a problem. While the U.S. military maintained two cavalry and two infantry units of African-Americans, the soldiers had no chaplain. Allensworth took the fellow's plea seriously. It took two years of letter-writing to members of Congress as well as President Grover Cleveland, but he was finally named chaplain, an assignment he maintained for 20 years.
His wife and two daughters followed Allensworth from Fort Apache (Arizona territory) to Camp Reynolds (California) to Fort Missoula (Montana). Allensworth used his work as an opportunity to provide spiritual comfort but also emphasize the importance of education. He wrote a Course of Study Outline and a book called Rules Governing Post Schools for the fort where he was stationed at the time. It became the standard army manual regarding the education of enlisted personnel.
Shortly before his retirement, Allensworth was promoted to the rank of lieutenant colonel, making him the first black officer to receive this rank. After he retired, he and his family settled in Los Angeles where he connected with four other concerned citizens: educator William Payne, former miner John W. Palmer, minister William H. Peck, and Harry A. Mitchell, a real estate agent.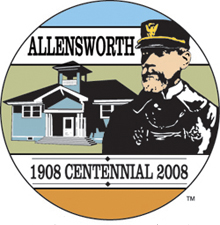 Founding a Town
The men were troubled by the societal issues of the early twentieth century—it was an era of segregation, Jim Crow laws, and lynchings. Allensworth, Payne, and the others began envisioning a town where African-Americans could find peace and have the opportunity to control their own destiny. They formed the California Colony and Home Promotion Association with offices in downtown Los Angeles.
They immediately encountered difficulty; no one wanted to sell them land. Finally they were approached by the Pacific Farming Company, a white-owned rural land development group that offered them acreage in Solito, thirty miles north of Bakersfield. The land was fertile, there was water, and best of all, it was a station stop for the Santa Fe Railroad as it passed from Los Angeles to San Francisco.
Within a year, 35 families moved to the area. Soon there were two general stores, a post office, a school, and eventually a library. The streets were named for African-American leaders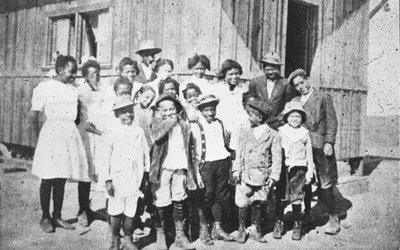 such as Sojourner Truth and Frederick Douglass, and the families that settled there created a real sense of community through creation of many organizations including a sewing circle, a theatre group, a choir, and for the girls, a Campfire Girls chapter.
But then the town's luck began to turn. Lt. Colonel Allensworth was visiting Monrovia for a lecture in September 1914, and he was hit by two white boys who were driving recklessly on a speeding motorcycle. Was it an accident or intentional? Nothing was ever proven but the event resulted in Allensworth's death, which left a spiritual gap in his still-new town. That same year, the Santa Fe Railroad, which had refused to hire African-Americans to staff the Allensworth train station, built a spur line so that most trains no longer stopped in Allensworth.
In addition, Pacific Farming began to pull back on their contractual obligation to provide the town with adequate water. Whether this had been a long-range scheme or whether they just found they could more profitably sell the water elsewhere is not clear. Allensworth eventually won a court case that Pacific Farming was in the wrong, but by the time the legal decision was handed down, the town's public water system was antiquated and the water table had dropped, creating an even bigger problem for the residents. People began drifting to other towns to find work.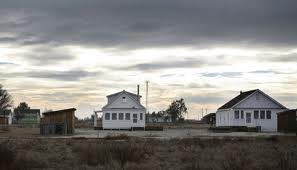 By 1969 Ed Pope and Eugene and Ruth Lasartemay realized that if they didn't take action all reminders of Allensworth were going to be lost. They started campaigning for preservation of the town to honor those who had founded it, setting the example that African-Americans could make their own way. In 1973 the state acquired the property and the department of Parks and Recreation approved plans to develop it. The Allen Allensworth State Historic Park was dedicated on Oct 6, 1976. The current website includes a virtual tour which gives a wonderful sense of place.
The California African-American Museum has dedicated itself to keeping Allensworth front and center in the American memory, and most recently, the museum offered an exhibit organized by photographer Rick Russell who invited other professional photographers to come to Allensworth to document the town as they saw it. In 2010-11, the museum sponsored an exhibit of the resulting photographs. The exhibition book accompanying the exhibit is still available through the museum: Allensworth: A Place. A People. A Story.