• First African American woman to earn a medical degree at a time when advanced education for women was rare.
• Wrote Book of Medical Discourses about medical care for women and children.
Rebecca Davis Lee Crumpler (1831-1895) was born free in Delaware in the early 1830s to Absolum and Matilda Davis who were free African Americans.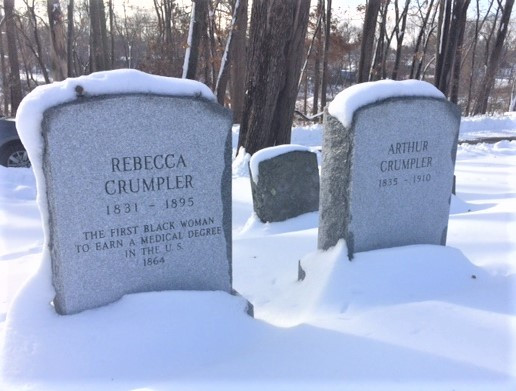 Rebecca was raised by an aunt in Pennsylvania who had a profound effect on Rebecca. The aunt was the person in the community to whom everyone came for medical assistance, She had no medical training, but she studied under other women who knew what to do about cuts, broken bones, and illnesses. As a result of watching her aunt, Rebecca wrote that when she began work she knew it had to be in a field where she could "relieve the sufferings of others."
Becomes Nurse
In 1852, Rebecca Davis (her maiden name) moved to Charlestown, Massachusetts where she became a nurse. There were no nursing schools at that time, so she learned on the job. She impressed the doctors with whom she worked. Several of them were so impressed by her skill and instinct that they submitted letters to the New England Female Medical College requesting that she be admitted. (The college was founded in 1848 by Samuel Gregory to train women to assist with childbirth. In 1874 it merged with Boston University to become Boston University School of Medicine.) Because the school had only accepted white women, many were surprised when Rebecca was accepted. There were few medical schools in the 1850s. Those that existed did not admit Blacks.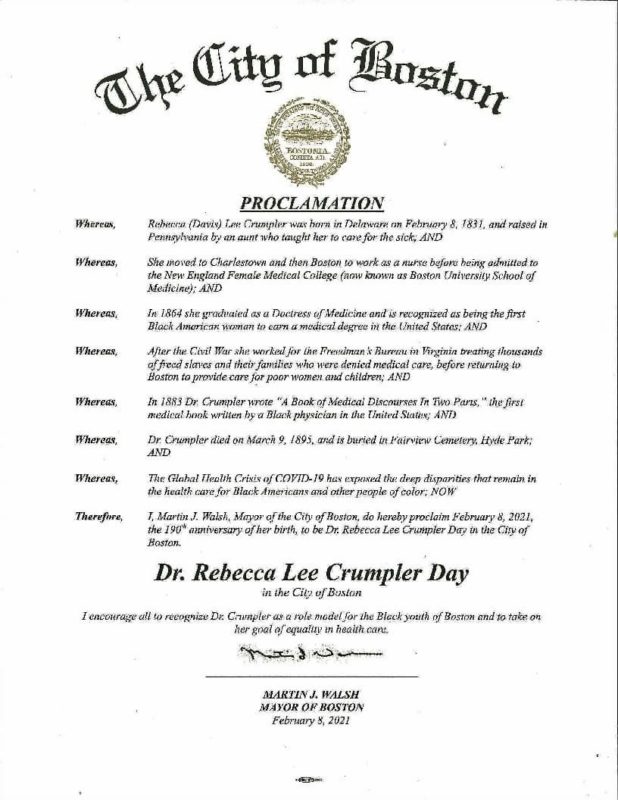 Rebecca Lee, now married to her first husband Wyatt Lee, started classes in 1860 but her studies were interrupted by the Civil War. Those who taught at the school and those enrolled as students paused so that they could help tend to the sick and wounded.
Her husband, Wyatt, died in 1863, but Rebecca Lee persevered and returned to school. She became the first African American woman in the United States to earn a medical degree. This of course meant that she was the first Black woman to graduate from the New England Female Medical College.
Moves to Virginia to Aid Freemen
Rebecca began a medical practice in Boston, but when the war ended in 1865, she moved to Richmond, Virginia. She heard how desperate the need was among newly freed Blacks. White doctors refused to help them, so others like Rebecca were vital in providing medical care.
She told friends in Boston that it would be "a proper field for real missionary work," and it was; racism was widespread. She worked in Virginia for two years. Then she returned to her home to re-open a practice in Boston.
Crumpler Establishes Practice in Boston
By 1869, Rebecca met and married her second husband, Arthur Crumpler. The couple moved back to Boston where she established a medical office at 20 Garden Street. She continued to focus her practice on caring for women and children.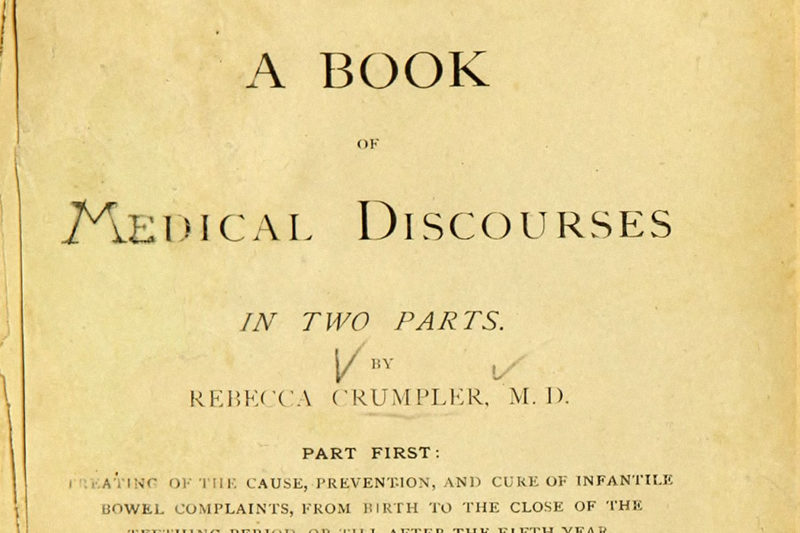 By 1880, the Crumplers had moved to Hyde Park, Massachusetts. Dr. Crumpler knew that there were no books about women's health that were written for laypeople. After settling in their new home in Hyde Park, she began work on the book she felt women should have. She based her stories and advice on journals she kept during her years of active practice.
In 1883 Book of Medical Discourses was published; the book was written for women to provide them with information to understand how to care for the health of their families.
Dr. Rebecca Davis Lee Crumpler died in 1895 in Fairview, Massachusetts.
Recognition Later in Life
No photos or other images of Dr. Crumpler survive from her lifetime. The little we know about her comes from the introduction to her book.
Though her story was not known for many years, today she is recognized for her groundbreaking achievements. In 1989 two women physicians founded the Rebecca Lee Society, an organization which supports and promotes black women physicians. Today there is an Association of Black Women Physicians, and a scholarship is still given in the name of Rebecca Lee.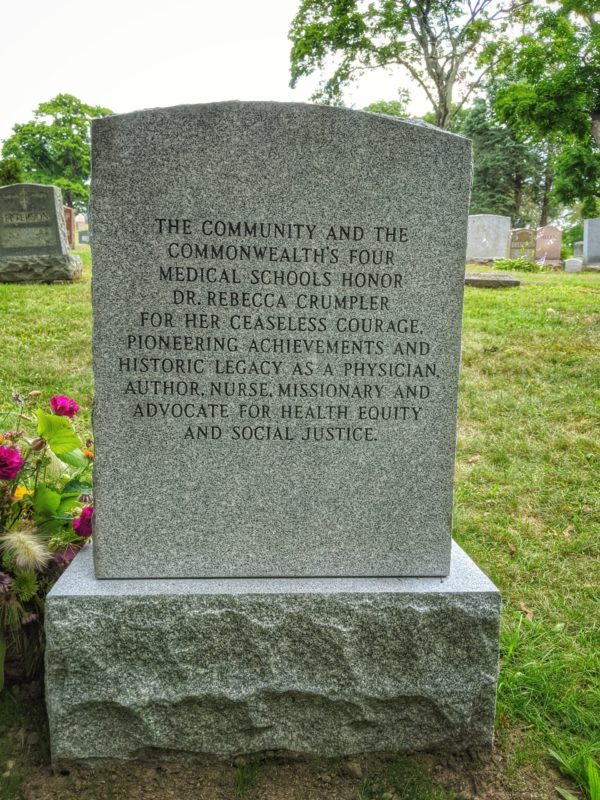 In addition, the community of Hyde Park realized the Crumplers should be better recognized. Rebecca and her husband Arthur were buried in Fairview Cemetery, but the writing on their tombstones had worn away. The Friends of the Hyde Park Library and teh Hyde Park Historical Society worked together to raise funds for tombstones to mark the graves of both Rebecca Crumpler and Arthur Crumpler. Many of the donations came from individuals. When Dr. George Q. Daley, Dean of Harvard Medical School, heard about hte project, he contacted the deans of other medial schools in the area (Boston University, University of Massachusetts, and Tufts University). All donated, recognizing that the Hyde Park Library Friends's effort was a fitting tribute to a woman who was a trailblazer for women in medicine.
The medical school at the University of Oklahoma also contacted me in search of descendants, as they were planning to name a wing in memory of Dr. Rebecca Crumpler.
Personal Thanks
With some of my articles, I am fortunate to hear from relatives or others who have additional information on the topic on which I have written. The article on Rebecca Crumpler generated a lot of interest as well as help from those who knew more about her life than I was able to find.
Anthony W. Neal, a Boston attorney who also writes for the newspaper The Bay State Banner, was in touch to clarify a few points of confusion on Rebecca Crumpler's life. The above article reflects those changes. Anthony Neal reveals the results of his research on Arthur Crumpler in an article in the Bay State Banner, and his article gives a more complete understanding of Rebecca Crumpler as well as the life of African Americans in the northeast in the late 1900s. I recommend that you read it.
Arthur Crumpler's story is now posted on my site, too. This story was brought to my attention by H. Lee Price, a mathematician who became interested in the Crumplers. Thank you, Lee!