First woman to openly teach former slaves at a school in Georgia.
Only African-American woman to publish a memoir of her work during the Civil War: Reminiscences of My Life in Camp with the 33d United States Colored Troops, Late 1st S.C. Volunteers.
Susie King was born in August 1848 to a slave family in rural Georgia. When she was seven years old, her owners permitted her to move to Savannah to live with her grandmother who had been given her freedom. Dolly Reed believed strongly in education and sent her granddaughter to a secret school for African-Americans. Taylor describes what it was like to have to pretend to not be going to school: "We went every day about 9 o'clock, with our books wrapped in paper to prevent the police or white persons from seeing them. …After school we left the same way we entered, one by one. The neighbors would see us going in sometimes, but they supposed we were learning trades, as it was the custom to give children a trade of some kind."
Shortly after the war began, Taylor had to return to the plantation where she had been born…her grandmother had been arrested for singing hymns. A little later, Taylor and her uncle's family along with other former slaves took refuge on St. Simons Island, off the coast of Georgia, where the Union Army was encamped.

The Union soldiers realized that Susie was educated and they asked her to organize a school for the slave families who were there. Her school was the first publicly acknowledged freedmen's school in Georgia. She taught about forty children during the day and a number of adults "came to me nights, all of them so eager to learn to read."
The island was evacuated later the same year, but by that time Taylor had married She began traveling with Sergeant Edward King of the South Carolina Volunteers (later the 33rd U.S. Colored Infantry). She also worked as cook, teacher and nurse. In her Reminiscences of that time she noted: the "first colored troops did not receive any pay for eighteen months" and that she herself "gave [her] services willingly for four years and three months without receiving a dollar."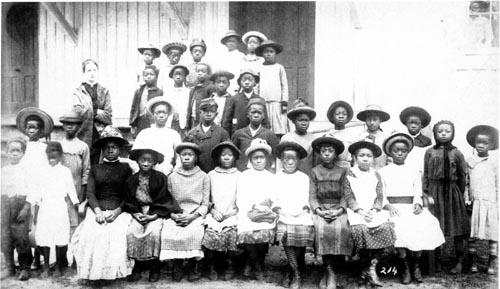 In 1866 she and her husband returned to Savannah, where she established a school for the freed children. Edward King, who found work on the piers, died in a work-related accident in 1866, just before the birth of their first child. In 1867, she and the baby moved back to the county of her birth and tried to start another school but she was not getting aid from the freedmen's organizations in the North so that school, followed by another effort at starting a school in Savannah, did not last long.
Because of these difficulties, Taylor eventually took a job as a servant to a white family. She left her son with her mother because she had to move with the white family to Boston. In 1879 she married Russell L. Taylor; not much is known of him but he died in 1901.
She continued to live in the North, taking on an important post-war mission: She founded (or helped found) Corps 67 of the Women's Relief Corps. These women's relief corps groups were an auxiliary unit to the Civil War veterans units. They did everything from helping to collect names of those who had fought to checking on the ill or disabled and tending to the cemeteries.
Later on her son became ill so she traveled to Shreveport to spend his final days with him. He wanted to be taken home to Savannah to die but a black person could not have access to a sleeper berth on the train, and he was too ill to travel any other way. They stayed in Shreveport where he died, but Taylor wrote: "It seemed very hard, when his father fought to protect the Union and our flag, and yet his boy was denied, under this same flag, a berth to carry him home to die, because he was a negro."
Hope for the Future
Taylor died in 1912; her book had been privately published in 1902, and having her words live on gives us some insight as to what she hoped for the future:
"My people are striving to attain the full standard of all other races born free in the sight of God, and in a number of instances have succeeded. Justice we ask, to be citizens of these United States, where so many of our people have shed their blood with their white comrades, that the stars and stripes should never be polluted."