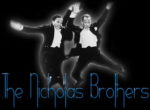 Magical tap dancers; charismatic performers
The Nicholas Brothers never became the household names that Gene Kelly or Fred Astaire became, but they deserve to have been. Astaire and Kelly were great dancers; the Nicholas Brothers were even better.
In Fayard's obituary (USA Today, 2006), Gregory Hines notes that if the Nicholas brothers' life story were ever to be filmed, their dance numbers would have to be computer-generated because no dancer could duplicate them.
Fayard and Harold grew up in a show business family in Philadelphia; their mother was a pianist and their father was a drummer so Fayard and Harold grew up in the theatres while their parents worked. As youngsters, they saw most of the great vaudeville acts and paid particular attention to the dancers whom Fayard began to try to imitate, adding in his own ideas on acrobatics.
As Harold reached a "dancing" age, he began mimicking Fayard, and they were soon finding theatre work for themselves. While at the Pearl Theater, they were seen and signed by the manager of the Lafayette, a well-known New York spot that showcased vaudeville acts.
From there, the Nicolas Brothers got a job at Harlem's Cotton Club (1932) where they amazed audiences with their dance technique, which involved rapid-fire synchronized tap dancing combined with acrobatics. They became famous for leaping into splits and landing without using their hands.
While at the Cotton Club, they worked with the orchestras of Lucky Millinder, Cab Calloway, Duke Ellington and Jimmy Lunceford. In 1932 they also filmed their first movie short, "Pie Pie Blackbird" with Eubie Blake and his orchestra.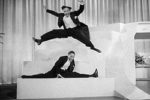 In 1934 they moved to Hollywood where they appeared in a couple of films and then returned to New York in 1936 to appear in the Ziegfeld Follies being choreographed by George Balanchine. Balanchine was so impressed by Fayard, 22, and Harold, 15, that he put them into the original Rodgers and Hart's "Babes in Arms the following year. Many people assumed they had been trained in ballet but they were simply masters at learning from observing the European ballet companies that toured, and of course, learning from Ballanchine.
During the 1940's, they signed with 20th Century Fox and they appeared in six films during this time. They continued touring and performing for many more years.
They achieved great acclaim during their era and have received many awards since that time, including being honored at the Kennedy Center, having a star on the Hollywood Walk of Fame, and getting an honorary degree from Harvard. All very much deserved, but their dancing is so amazing that they really ought to be top-of-mind when people think "great tap dancer." Take a minute and watch…
Stay with the clip until about 1:45 into it to see some remarkable dancing. Then continue until the end–the last minute is awesome.
To read about another Hollywood star from that era, read about Hattie McDaniel.