During World War II, a wife wrote a desperate plea to a man in the military whom she barely knew. She needed information about her husband, and my father and her husband were both serving in the same unit in the Second Infantry in France. It was December 1944, and their unit was in the thick of the battles near Belgium.
I am in possession of her letter because she wrote to my father, a sergeant in the unit.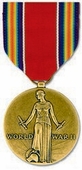 The letter begins:
"I don't know if you will remember me, but my husband has written to me so many times about you. I am very sorry to hear that you have been wounded, and you have my best wishes for a speedy recovery.
"The reason I am writing to you is that I received a telegram stating that P.F.C. Ernest Moore was missing in action in Belgium since December 17th. My last letter from him was dated December 5th, and at that time, you were still in Germany. Can you tell me when you last saw my husband, and under what conditions and anything else that might help us find whether he is a prisoner or dead? I know this is a lot to ask, but I have no one else to find out from.
…Please let me know when you possibly can. Thanks a million."
Letters of My Father
I have inherited my father's papers, and as I sort through what to keep for the family, I'm reading everything. This letter caught my attention because of her question that was worded so calmly, but could only have been covering a feeling of total desperation. Where was Ernest Moore?
Imagine her situation…a telegram…frightening war headlines…someone you love unaccounted for… And no good way to learn more.
I know Mrs. Moore is just one person in an uncountable number of family members throughout many wars who have been informed their loved one is missing in action. But her personal plea made me feel deeply for her and want to find out what happened.
Battle of the Bulge
By the time of her letter in January, the world knew that from mid-December on the Allies were fighting a fierce series of battles, now known as the Battle of the Bulge. My father was wounded in it, and something clearly happened to Ernest Moore.
When my father received her letter in mid-January, he was in a veteran's hospital in California recovering from serious injuries.
But Bret Kelly was the type of man who would have done anything he could to answer Mrs. Moore's letter. I don't have the reply he sent her, but fortunately, he saved her response. She writes:
"Thanks again for what information you were able to give me. I received your letter Monday, and yesterday I received one from Ernie, written on the 17th of January. He is a prisoner in Germany. But I thank God that he is alive. He says they are being treated well and that he is fine."
What Happened Then?
I wouldn't have felt comfortable sharing this information if I hadn't been able to find out a little more. Thanks to the wonders of online searching, I was able to find that Ernest Moore did come home to his wife in Colorado. He lived to age 76, dying in 1989. He was buried at Fort Logan National Cemetery in Denver, Colorado.
His wife lived until 1994. She was 72 when she died.
Deep Gratitude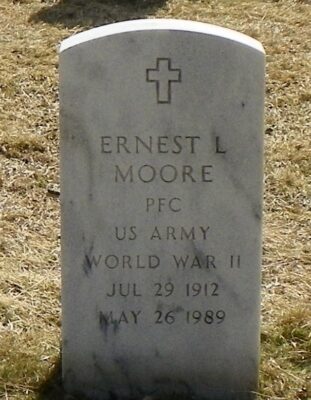 Thank you to Ernest Moore and soldiers like him for their service to our country. I'm glad Ernest Moore came home. As we know, so many don't.
I also send deep empathy to all the families who were (and continue to be) left to wonder and worry about their loved ones.
My Dad…
As for my father, he, too, was eventually well enough to return home. Again, a letter gives me a piece of incomplete puzzle.
Among his letters was one from one of the soldiers fighting alongside him the day he was injured. The fellow was writing to tell my dad what happened to the rest of the unit after he left. There was not much good news.
And as my father was loaded onto an ambulance bound for a hospital in Paris, he left his pistol and his glasses with his friend and fellow soldier. Leaving his pistol makes total sense. He wasn't going to need it in a hospital.
But his glasses? Was this a lack of hope on his part? Or was it signaling that he would see his friend again and reclaim his glasses?
Either way, my heart hurts at the thought of that moment.
World War II: A Closed Subject for Many Men
Like so many who fought in World War II, my father would never talk of his war service. We have a letter about the Silver Star he was awarded, but he specifically asked that the medal be put away and not discussed: "So many men were part of what I did…."
So I have these letters….and unanswerable questions…and much love for the many, many young men who go off to fight for our country.
Like others, I wish countries made better choices on how to settle differences. As we look at what is happening in Ukraine, this is more important than ever.
To read other stories of World War II, read about Dorie Miller or the Mae West Life Jacket that saved many.