George T. "Joe" Sakato (1921-2015) served in the American infantry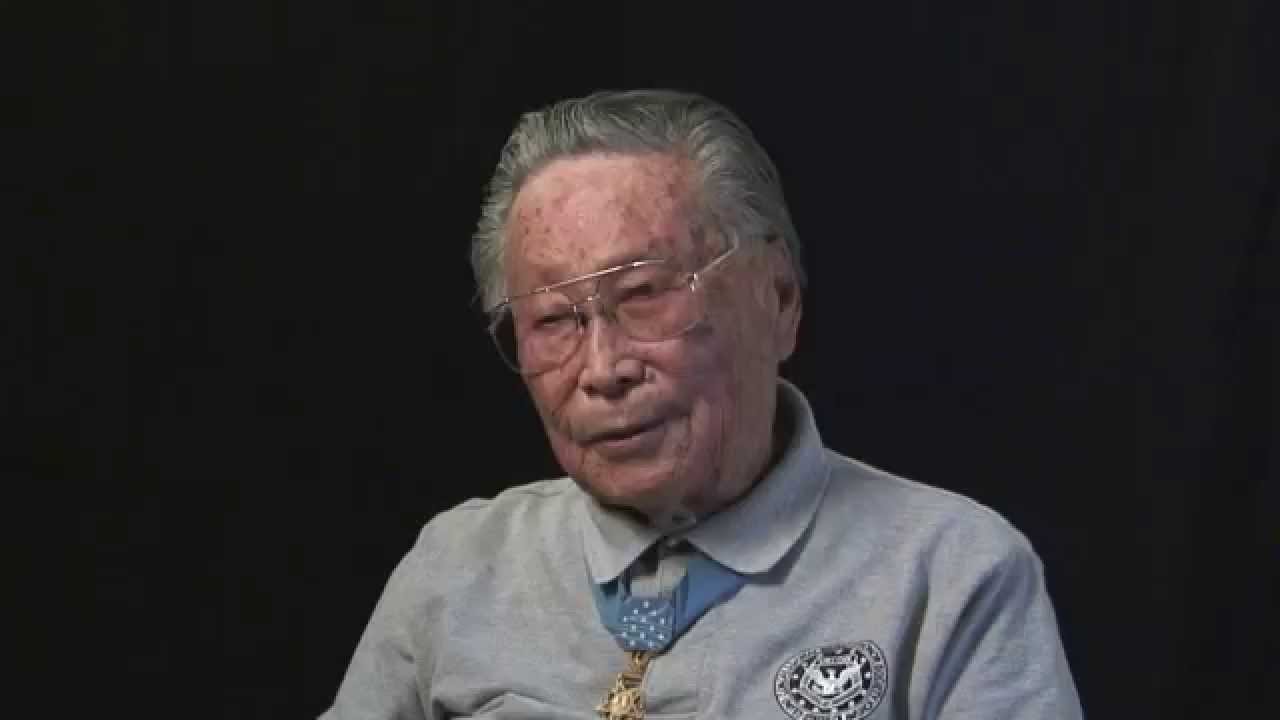 during World War II. Like many other Japanese Americans, he faced many obstacles in his effort to fight for his country. Americans of Japanese descent who enlisted in the military shortly after Japan bombed Pearl Harbor were classified as "4C"—"enemy aliens."

After the bombing on December 7, 1941, the U.S. let paranoia overwhelm the country. The government worried that the Japanese on the mainland might aid their former countrymen. The ruling soon came down that people of Japanese descent who lived in areas along the West Coast were to move away from their homes and businesses within three days. Those who did not relocate were taken to temporary holding quarters (anywhere from a stable to a government storage building), and then they were eventually spread throughout ten internment camps primarily located in remote parts of the Southwest. Most lost their homes and many possessions. If they could sell any part of their businesses, it was at a loss because the sale had to be accomplished so quickly.
As the war went on and an increasing number of men were needed, the military decided that organizing a segregated regiment to fight in the European Theater could work. But recognition for jobs exceedingly well done by these men came slowly. In 2001, 22 Japanese American veterans were awarded the highest military award in the land, the Congressional Medal of Honor. Only seven of them were still alive to attend the ceremony.
Joe Sakato was among them.
Early Life
George "Joe" Sakato was one of eight children born to Japanese-born parents who ran a barber shop and pool hall in Colton, California. The confusion over George/Joe's name stemmed from a misunderstanding. His father saw Geo written in the newspaper and thought that would be a great name for one of his sons. He pronounced it Joe, but since Joe's birth certificate became the basis for all his legal paperwork, the name George became part of his story.
Before Joe started high school, the family moved to Redlands, California where they ran a store selling meat and produce.
Sakato was opening the store on December 7, 1941. He had the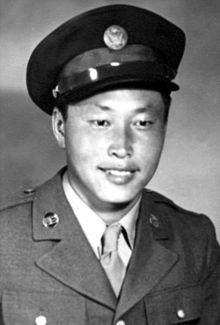 radio on and heard about the attack on Pearl Harbor. Little could he have imagined that within days, the country of which he was a citizen would request immediate relocation for all the Japanese Americans living near the West Coast. Paranoia among the people in the government led to a conspiracy theory that the Japanese in America might aid their former countrymen.
The Sakato family learned that if they willingly moved out of California, they could avoid being sent to an internment camp. They quickly sold their food mart at a loss and moved to Glendale, Arizona (near Phoenix). After settling in one location, they had to move. They had to be on the "correct" side of the railroad tracks in Glendale to avoid being sent away.
Joe Sakato and others like him wanted to prove their loyalty to the United States, so they went to recruitment offices to enlist. They were turned away, classified as 4C, "enemy aliens." As Joe Sakato said in an interview with PBS in 2003: "I'm an American, and I want to be respected as an American, even though I look like the enemy."
Hawaiian National Guard
When Pearl Harbor was bombed, the one group of Japanese left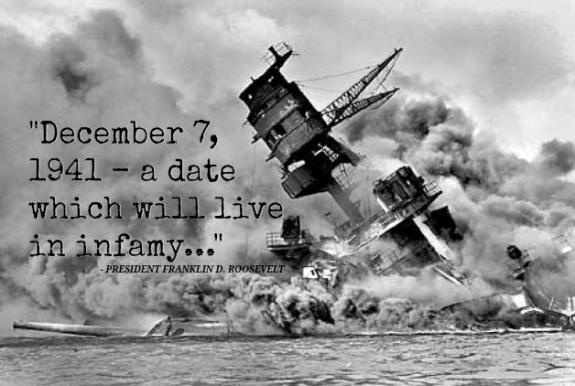 largely unaffected were those who served in the Hawaiian National Guard. The guard unit consisted primarily of men of Asian descent, and Military Governor General Delos C. Emmons saw no need for the National Guard to divest themselves of these men. Initially they helped guard Hawaii, and then in May, Emmons assembled them into an all-Nisei provisional battalion and sent them to Camp McCoy (Wisconsin) for combat infantry training. The fact that this unit—known as the 100th Infantry Battalion—distinguished itself gave Emmons the proof that he needed to continue to champion the inclusion of Japanese Americans.
As the war continued and soldiers were needed, the decision was made to send the Hawaiian National Guard/100th Battalion to fight in Italy. Because they fought well and earned the admiration of the military brass, those who advocated for accepting Japanese Americans into the military finally won out. By creating a segregated infantry unit and placing them in the European Theater, military leaders felt they could successfully put the badly needed men to work aiding their country.
Joe Sakato Enlists
IN 1944, the news spread that the government was finally willing to accept Japanese Americans. Joe Sakato enlisted, specifying that he wanted to be in the Air Force as he wanted to be a pilot. When he arrived at Fort Blanding, Florida, he realized he was going to be an infantry man.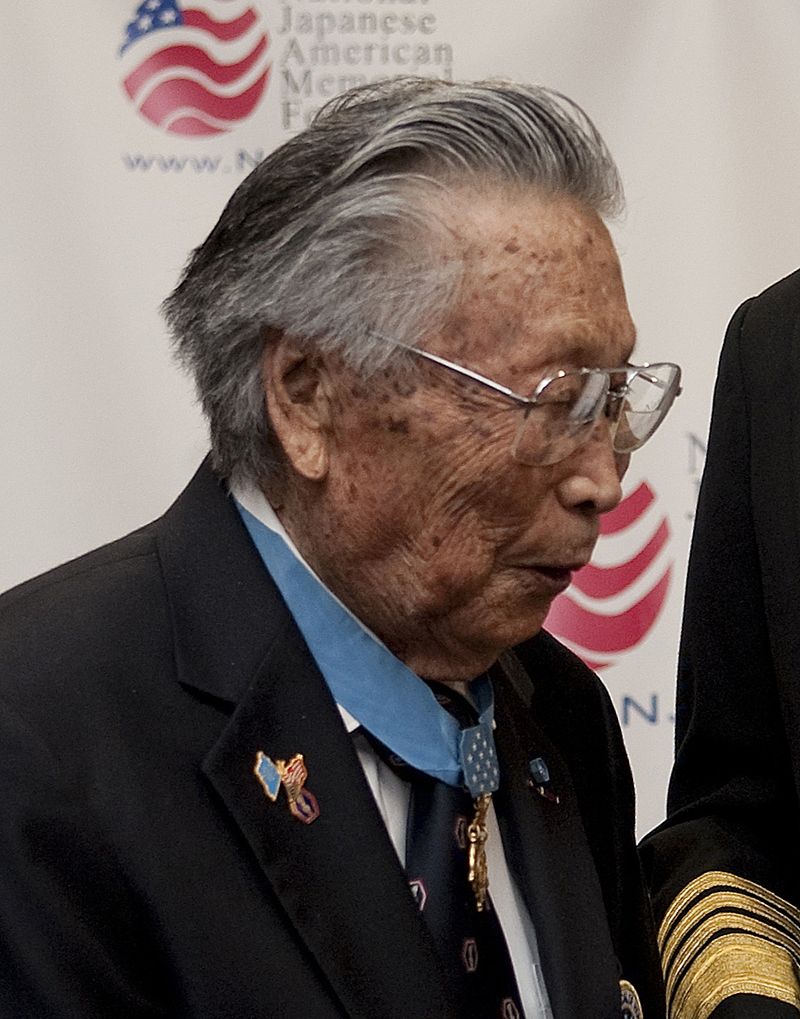 As he told the story in an oral interview for the Veterans History Project with the Library of Congress, Sakato states honestly and humorously that he was an unlikely soldier to be any type of hero. He had been a sickly child, and as an adult, he stood only 5' 4" and weighed 135 pounds. In combat training, he was unable to climb over some of the bigger obstacles, so he became adept at running around them. When it came to firearms, he usually missed the target.
No matter, the military needed him, and he was assigned to the 3rd platoon, 2nd battalion in the 442nd Combat Infantry Regiment.
The Regiment departed from Newport News, Virginia, in the summer of 1944. Because the Germans patrolled parts of the Atlantic with submarines, the convoy traveled in a zigzag pattern so the Germans could not predict their path. Even then, the Americans lost three transport ships to submarine fire on a cross-Atlantic trip of 28 days. After a stop in Oran, North Africa, the ships took the men to Marseilles, France where they boarded small landing crafts to reach shore. Their assignment was to fight in the Vosges Mountains (eastern France) under General John E. Dahlquist. They traveled by train and truck to meet up with other units, including those who had formerly been part of the Hawaiian National Guard.
The 442nd in France
The Vosges Mountains featured rugged terrain, and Sakato describes how his small size continued to plague him. The packs the men carried were estimated to weigh about 75 pounds. Sakato weighed only 135. "On some of the inclines, I couldn't carry all of my gear. I would get other men who were bigger to carry some I could. I couldn't manage and still keep up."
They also went through such thick forest growth that the only way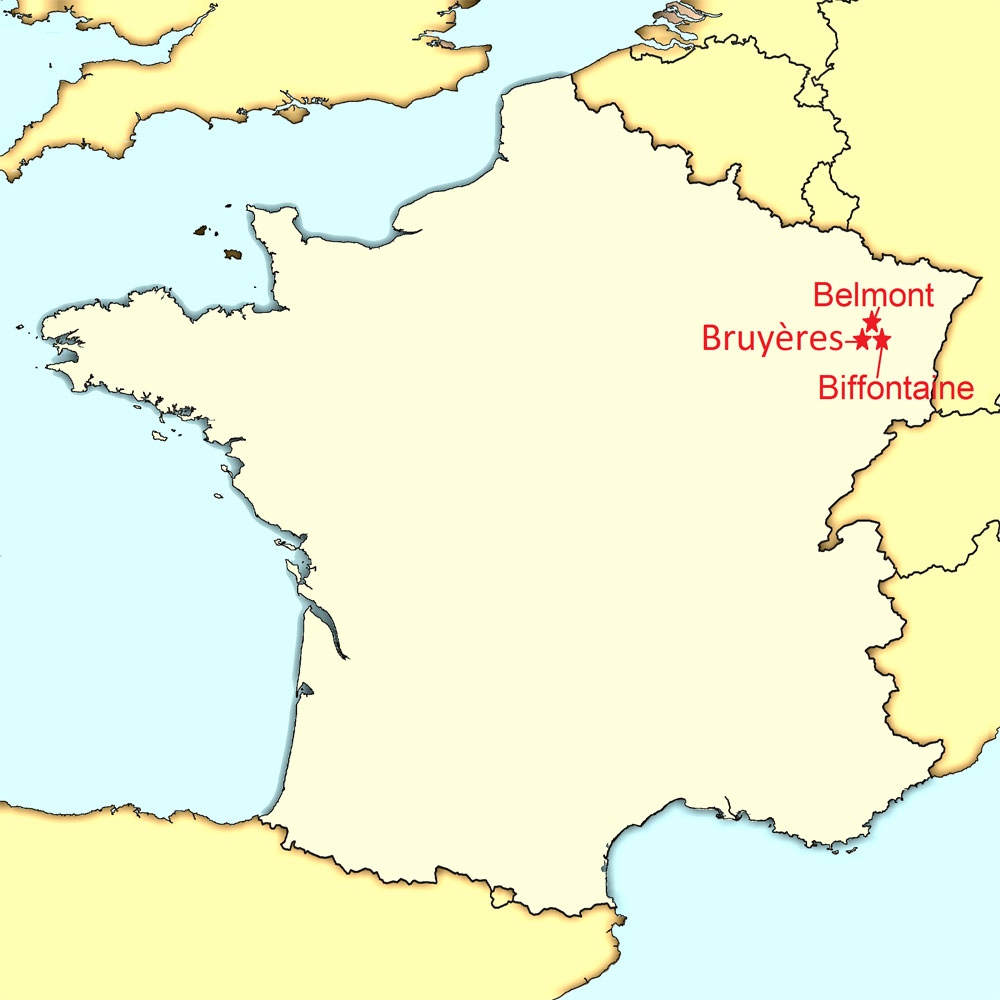 to stay together was to travel single file, holding on the strap of the pack of the fellow ahead of you.
In the Vosges, their first siege was near Bruyeres, France. It was mid-October 1944, and the men faced every type of danger imaginable. Roads blockades slowed progress, minefields were all over, and as they traveled, the 442nd faced ongoing machine gun fire and mortar and artillery fire. The Americans were clearly going to have to take the land inch by inch.
But take it they did. After success at Bruyeres, the men were given little time to sleep or recover before moving on toward Biffontaine.
Taking On the Next Challenge
The Germans were well encamped near Biffontaine, and they had excellent visibility of the terrain around them. The 442nd was to oust the Germans, but they were also hoping to rescue what was sometimes called the "lost" battalion (though everyone knew exactly where they were). The 141st "Alamo" Regiment (the 36th Texas Division), had fallen behind enemy lines and their rations were almost gone.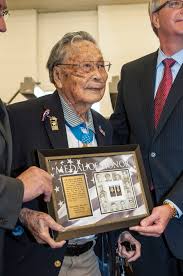 As the 442nd fought at Biffontaine, Sakoto was part of a group trying to take what was known as Hill 617. The date was October 29, 1944, and the fighting was relentless. The men were hungry and sleep-deprived, and they were struggling. Nonetheless, Sakato's platoon virtually destroyed two of the enemy defense lines. Progress was being made.
As they fought, Joe saw the enemy coming from a new direction, and he turned to warn his best friend in the foxhole next to him. For some reason (perhaps overwhelming fatigue), the friend stood up to look. He was shot, falling back onto Sakato.
As Sakato tells it, the loss of his friend gave him an adrenaline boost that led him to make a one- man rush at the enemy, encouraging others to follow. In the melee, Sakato saw that his squad leader was down. Sakato took charge, and as his citation describes what happened:
"…[Sakato took] charge of the squad, he continued his relentless tactics, using an enemy rifle and P-38 pistol to stop an organized enemy attack. During this entire action, he killed 12 and wounded two, personally captured four and assisted his platoon in taking 34 prisoners. By continuously ignoring enemy fire, and by his gallant courage and fighting spirit, he turned impending defeat into victory and helped his platoon complete its mission.
Private Sakato's extraordinary heroism and devotion to duty are in keeping with the highest traditions of military service and reflect great credit on him, his unit, and the United States Army.
Battle Continues
Sakato was injured late in the battle. At first, he didn't think he'd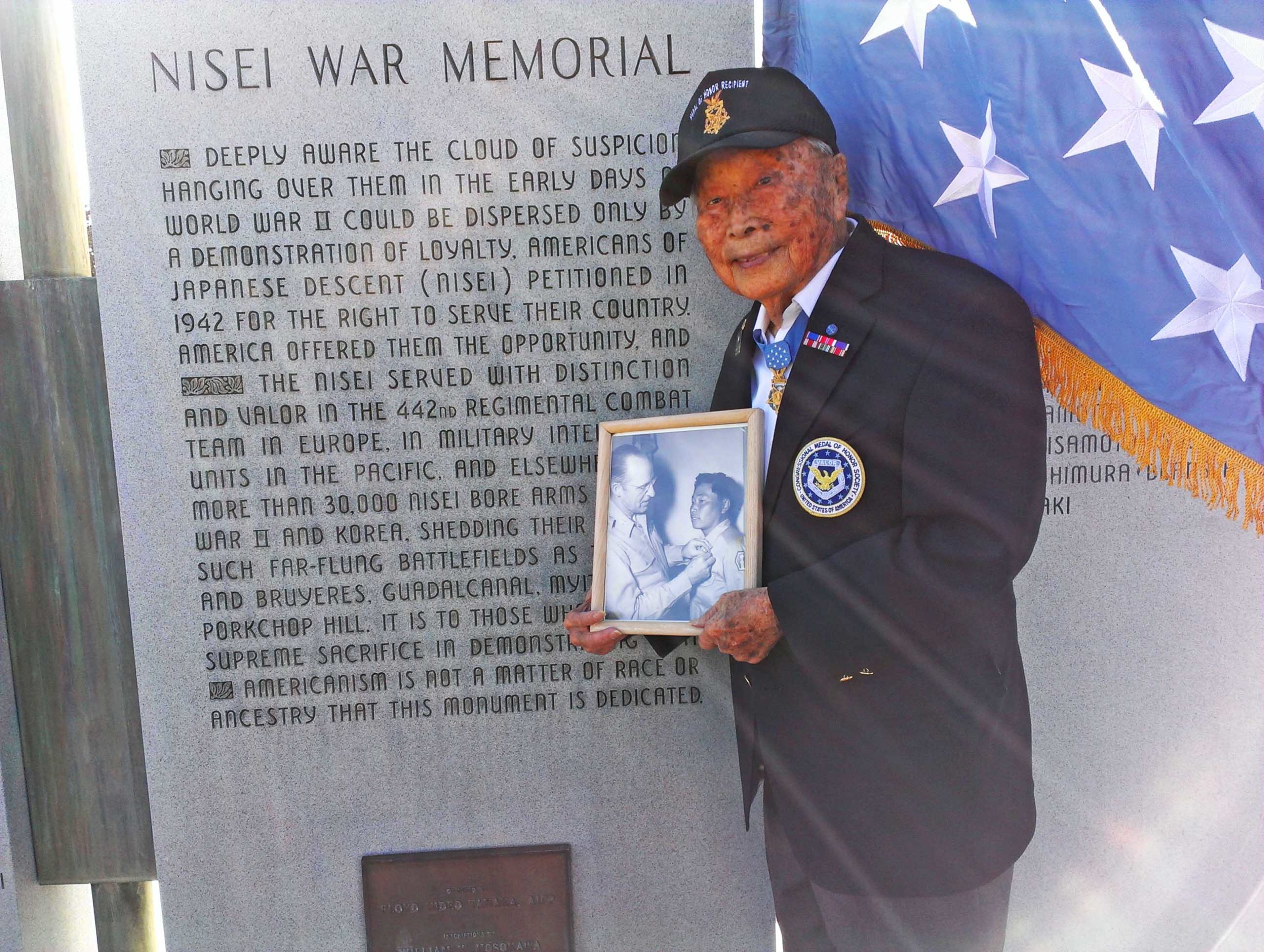 been hit, but when he removed his pack into which he had stuffed his overcoat, he saw that shrapnel had indeed entered his back. He was bleeding. (His overcoat and pack undoubtedly saved him.) He was eventually sent to a field hospital near Marseilles.
The 442nd lost 800 men while rescuing 211 troops of the Texas 141st. In his oral interview, Joe Sakato tells a story of his unit coming back for a review ordered by Colonel Anders. "When the men of the 442nd marched in review, Colonel Anders snapped: "I said I wanted to review ALL of the 442nd."
The regiment leader answered: "Yes sir, This IS all of the 442nd." They had been decimated.
Hospitalized
Sakato spent many months in hospitals. His first location was in Vancouver, Washington. When he was notified that he would receive the Distinguished Service Cross, a local Congressman got him transferred to Southern California to be closer to his family.
Sakato and several others had been nominated for the Medal of Honor. Ultimately the military decided they could only give the men the Distinguished Service Cross. This decision was revisited in the early 1990s. A Congressman fought for Japanese American recognition to be re-examined.
Life After the Military
After Joe Sakato's recovery, he tried several jobs in several cities. When he moved to Denver, Colorado, he took the civil service test . He was eventually hired on by the post office where he spent his entire career.
Medal of Honor Call Many Years Later
In 2000, fifty-five years after his military service ended, Joe Sakato got a phone call from the Pentagon. As he said in his oral history: "They were telling me that I needed to come to Washington because they were going to give me the Congressional Medal of Honor. I couldn't believe it!"
He added: "Then they explained I could bring only 10 guests…friends and family. Well, I had a lot more people than that who would want to come, so I said, 'Okay never mind. Just mail it to me.'"
At that point, The Pentagon was clearly out to finally "do right" by these men. Sakato soon received word that he could bring whomever he needed to… that the military would work it out. And they did.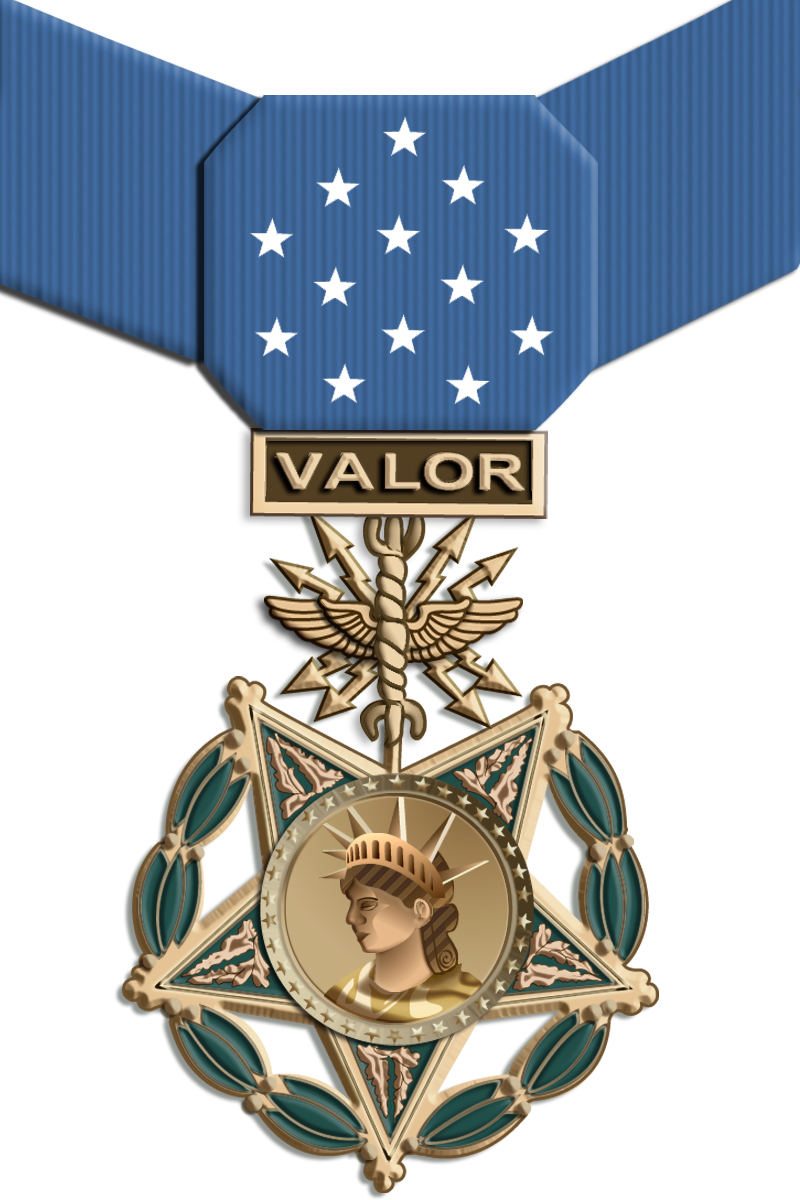 On June 23, 2000, President Bill Clinton awarded George Taro "Joe" Sakato and 21 other men of Japanese descent the Congressional Medal of Honor. Bill Clinton's speech hit all the right notes:
"… it is long past time to break the silence about their courage, to put faces and names with the courage, and to honor it by name: Davila, Hajiro, Hayashi, Inouye, Kobashigawa, Okutsu, Sakato, Hasemoto, Hayashi, Kuroda, Moto, Muranaga, Nakae, Nakamine, Nakamura, Nishimoto, Ohata, Okubo, Ono, Otani, Tanouye, Wai. These American soldiers, with names we at long last recognize as American names, made an impact that soars beyond the force of any battle. …
"Rarely has a nation been so well served by a people it had so ill-treated. For their numbers and length of service, the Japanese-Americans of the 442d Regimental Combat Team, including the 100th Infantry Battalion, became the most decorated unit in American military history. By the end of the war, America's military leaders in Europe all wanted these men under their command. Their motto was "Go for Broke." They risked it all to win it all.
Japanese American Medal of Honor Winner Gives Back
From that date forward, Joe Sakato continued to give back to his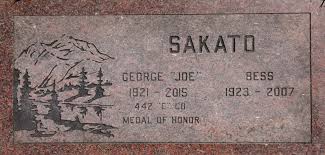 country. He spent many days traveling and speaking at schools and to veterans' groups to tell the story of the 442nd. As a way of explanation, he said: "We have to show our loyalty to America for this is our country. We must love and respect her. This is our home. God Bless America."