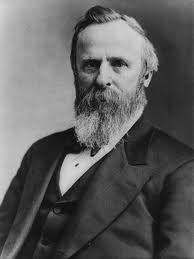 Rutherford and Lucy Hayes  both loved animals. They came to Washington with several pets, but their favorite by far was a dog named Grim. This was also an era when foreign leaders sent animals as gifts, so the Hayes household was always lively.
But first we need to take a look back at how President Hayes, also known as "Rutherfraud Hayes") actually made it into office.
How Hayes Reached the White House
Rutherford B. Hayes (1822-1893) served the country honorably and held to the reforms he believed in, yet he is best remembered as "Rutherfraud B. Hayes" or "Old 8 to 7" for the manner in which he won the election of 1876.
Both Hayes, a Republican, and the Democratic candidate Samuel Tilden were in favor of certain reforms—hard money (a return to the gold standard) and a way to give out civil service jobs that did not involve patronage.
Though Tilden was the better known, the Republicans kept pounding on the need for a Republican, and as a result, the election results were murky.  Tilden won the popular vote but twenty electoral votes were in dispute. (Tilden only needed one of the electoral votes for a win, but Hayes needed all twenty.)
To devise a path forward, Congress established an electoral commission, and despite basic intentions to arrange for a neutral commission, the conservatives held sway.  When the commission ruled in favor of Hayes, the Democrats intended to filibuster to prevent Congress from accepting the votes.
A back room deal was struck.  Hayes was deemed winner of the election, and he agreed to accept the end of federal occupation of the South as well as a government subsidy for a Southern rail line.  This was known as the Compromise of 1877.
Hayes in the White House
Rutherford B. Hayes and his wife, Lucy, moved into the White House with their children and many animals.  Lucy (known as "Lemonade Lucy" for her refusal to serve alcohol at the White House) was said to love animals—and they her, so pets were very much a part of the Hayes household.  (Given the era of photographic development of the time there are no images of the Hayes' dogs.)
The Hayes' had several dogs: Jet, a mutt;  Deke, an English mastiff; Hector, a Newfoundland; Dot, a cocker spaniel; two shepherd dogs, Hector and Nellie, and two hunting dogs.  (It is not clear exactly which dogs were with them in Washington.)  A two-year-old greyhound named Grim was given to Mrs. Hayes by Mrs. William DuPont of Wilmington, Delaware.  In the President's diary, he notes that the dog "took all our hearts at once."
In research provided by Nan Card, the manuscripts curator at the Hayes Presidential Center, she writes that "One day, as Lucy sang the 'Star Spangled Banner,' Grim lifted up his head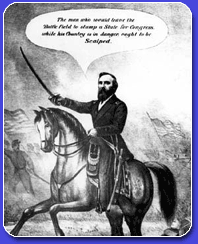 and howled in a most pitiful manner. And ever after, when his mistress sang the national anthem, Grim began to howl.
"But if Hayes and the children were exceedingly fond of their 'large, handsome' greyhound, it was Lucy whom Grim loved best. Hayes recalled, 'How happy old Grim always was when she returned after an absence.'"
Grim Loved Lucy Best
Grim accompanied the family in their move to Spiegel Grove, Ohio, and there Grim was joined by two of his own pups: Juno and Jove.
The curator's report continues: "Wagons and carriages turned aside for him [Grim] wherever he went. But Grim's privileged status may have been his undoing. One spring day, while running on the Lake Shore Railroad tracks, Grim encountered an oncoming train. Instead of moving aside, he 'stopped still.' The engineer blew his whistle repeatedly, but Grim 'did not stir.' Death was instantaneous. The president could only conclude that Grim fully expected 'the train to turn out for him.'"
Other Animals at the White House
Given the time period, the Hayes White House also kept several carriage horses, Jersey cows and a goat (probably for milking) as well as four canaries and a mockingbird.
The Hayes' received several kittens, and one of them, Siam was said to be the first Siamese cat brought to America. Siam was a gift from David B. Sickels, a U.S. diplomat posted in Bangkok.  Siam was a favorite of Hayes's daughter Fanny.  When Siam became ill, the president's own physician was summoned to provide care for the cat.  Unfortunately Siam did not recover, and instructions were given to preserve her body, however, according to the Hayes Presidential Center, a stuffed version of Siam has never been found.
Hayes Left After One Term
Hayes intended to rid the country of the spoils system, and after years doing what he could to free slaves and help the newly freedmen, his goal to abolish the color line in this country was unsuccessful. However, he remained true to his intention to only serve one term.
Though he had hoped to make further progress on civil service reform and abolish the color line in the country, he had served as well as he could given the circumstances.  When he retired he devoted his time to education reform and working with other reformers to find viable answers to what was referred to as the Negro Question.  He died of a heart attack in 1893.
Rutherford Hayes is the first president to have a presidential library–something that is now a tradition. The Hayes Presidential Center is located in Spiegel Grove, Ohio where the family once lived with their children and animals.