Robert Ripley (1890-1949) achieved worldwide fame through his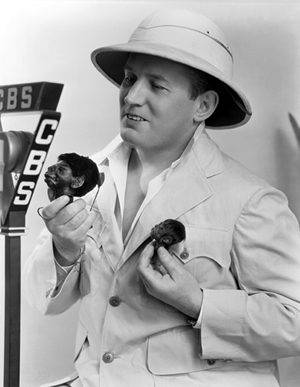 "Ripley's Believe It or Not!" column, a wildly popular newspaper panel series and radio program during the 1930s and '40s. The phrase, "Believe It or Not" became a well-known saying of the day.
At a time when few people could afford to travel, the outside world had to come into homes via newspaper or radio. Robert LeRoy Ripley brought foreign customs, amazing oddities, outrageous bits of information, and bizarre human feats to readers and listeners each week. He was a flamboyant dresser and an ardent self-promoter who was curious about everything.
Ripley's columns, if run today, would amaze people even now. He featured stories like the accidental fisherman who caught a four-pound sea bass with his bare hands, or the fellow who sat on a block of ice for 27 hours and 10 minutes for a competition but was disqualified for running a fever of 102.
Ripley traveled the world reporting on stories from exotic locations, but he also included items sent in by readers, ranging from the dog that was elected mayor of a California town to a will that was written on an egg shell. Ripley provided illustrations for each item he wrote about, sketching them himself.
Robert Ripley's Early Life
LeRoy Ripley was born in Santa Rosa, California, most likely in 1890.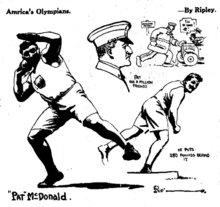 He was a gifted young athlete who was intent on a career in baseball. He broke his arm in one of his early semi-professional games, and this changed the nature of his career.
Ripley remained connected to the team but had to switch roles and become the team promoter. He was an excellent illustrator and so he began drawing team posters to publicize the games. This brought his work to the attention of a San Francisco newspaper editor. The editor felt he had great potential, and Ripley was soon hired as a cartoonist covering sporting events.
Ripley decided to drop his first name, LeRoy, to use what he considered the sportier name of "Robert," and he began publishing as Robert Ripley. In 1912 he moved to New York where he sold his column to The New York Globe. Later on he moved it to The New York Post.
The "Believe It or Not" series came about in 1918 when Ripley was trying to come up with a new idea. He decided to string together annotated drawings noting odd sports facts: a man who hopped 100 yards in 11 seconds, another who jumped rope 11,800 times nonstop, and a third who remained underwater for six-and-a-half minutes. Originally the feature was called Champs and Chumps. Over time, Ripley saw ways to begin changing the column, and he added odd facts from science, politics, history, and the animal world. After its evolution, the column was re-titled "Believe It or Not."
Eventually his work attracted the attention of publishing mogul William Randolph Hearst, who offered to publish his work in Hearst's King Features Syndicate. In 1929 the column debuted in 17 newspapers. By 1934 he was syndicated in 325 papers in 33 countries, and the columns were read by an estimated 80 million people.
Robert Ripley Loved Controversy
Ripley was not afraid of discord and was more than happy to stir up trouble if he could do so while still being accurate.
When Charles Lindbergh flew across the Atlantic solo in 1927, Ripley knew that this was not the first time the Atlantic had been crossed by air travel. Two dirigibles and one two-man airplane had flown across the Atlantic before Lindbergh's flight, though Charles Lindbergh was the first person to fly solo.
Ripley noted the historic occasion by writing that Lindbergh was the 67th man to make a non-stop flight. Nearly 175,000 letters poured into Ripley's office in defense of America's aviator hero. But Ripley held to his story: He pointed out that a two-man British airplane made the crossing in 1919 and in that same year an English dirigible flew it with a crew of 31. In 1924 a German dirigible repeated the Atlantic flight with 33 men on board.
While Lindbergh made the first solo flight, Ripley was technically correct—Lindbergh was the 67th person to make the crossing by air.
Robert Ripley Brought about the Selection of a National Athem
"Believe It or Not America has no national anthem" was the panel
for November 3, 1929. This set off a national outcry. Surprisingly quickly (March 3, 1931), President Herbert Hoover signed a law adopting The Star Spangled Banner as national anthem for the United States.
Ripley also was first to publish another soon-to-be-famous cartoonist. In 1937 an adolescent Charles Schulz submitted a drawing of his beagle that ate razor blades. This is the earliest known appearance of Snoopy.
Ripley's Credibility
Could readers believe him? The public always wanted to know if Ripley was trustworthy.
While he may have embellished his own past— including being vague about his true date of birth— he was exceedingly careful with his column. In 1923 Ripley hired researcher and linguist Norbert Pearlroth (1893-1983) as his fulltime assistant. Pearlroth spent the next 52 years (outlasting Ripley) as the feature's researcher, working in the New York Public Library six days a week, finding and verifying unusual facts.
The First Ripley's Believe It Or Not Odditorium
In 1932 after a trip to Asia, Ripley exhibited some of his oddities at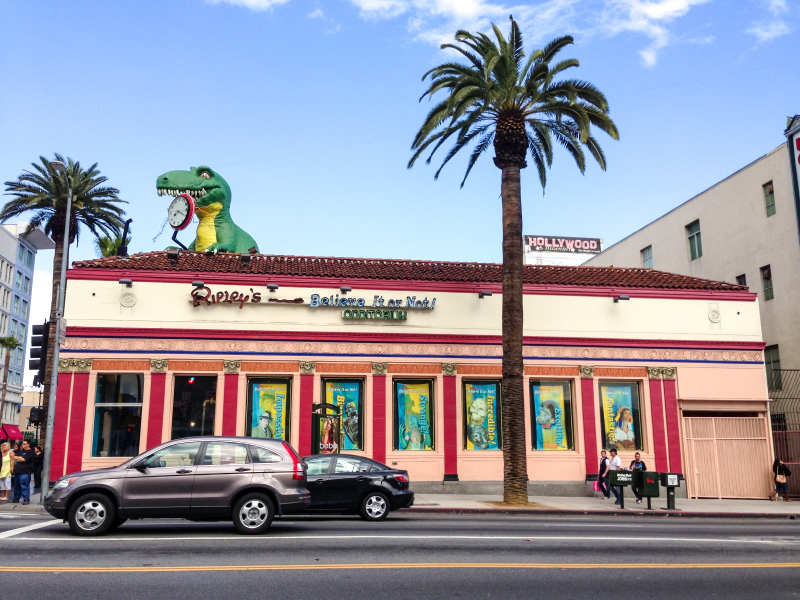 Chicago's Century of Progress Exhibition. He called the display his "Odditorium," and 10 years later there were similar displays in San Diego, Dallas, Cleveland, San Francisco, and New York City. There are still Odditoriums in many major cities.
Ripley: a Natural on Radio
Radio was extremely popular during the 1930s and '40s, so it was the perfect medium for the well-known Ripley to bring the world into his audience's homes.
Ripley is described as a shy and awkward man by those who knew him personally. However, he was perfectly comfortable behind a microphone, and his live radio program continued successfully for 18 years. Many of the programs were from bizarre locations like caves and snake pits; he even broadcast one show while skydiving.
In 1948 Ripley ended his radio program to move to television. At the time there were few homes with televisions, so the public viewed this as idiocy. Today we know that Ripley was right to see that the future was in television. Sadly, Ripley did not live long enough to fully explore the possibilities of this new medium. He had put together 13 television shows to be aired, but he collapsed during the filming of the final episode.
Ripley suffered of a heart attack shortly after that time, dying in 1949.
Life in Mamaroneck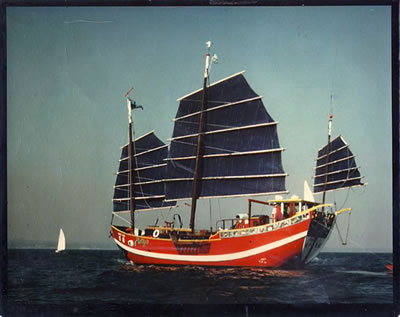 By the early 1930s, Ripley had achieved great financial success, and in 1934 he bought a 28-room mansion on an island just off Taylor's Lane in the Rye Neck section of Mamaroneck. He renamed it BION (Believe It Or Not) Island and moved himself and his vast collections into his new home. Among his possessions were priceless tapestries, shrunken heads, totem poles from Alaska, a large collection of beer steins, and a model of the Eiffel Tower made from 30,000 matchsticks. Ripley had one of the largest automobile collections in the world, although he never learned how to drive.
On BION, he worked in the mornings in a studio on the top floor of the house. Then the parties would commence. Life on BION involved lots of lavish entertaining, generally starting in the afternoon and going on through the evening. Liquor flowed freely, and food was plentiful. His home was filled with beautiful women most of the time as well as luminaries of the day including Babe Ruth, Jack Dempsey, W.C. Fields and Mae West. Ripley generally entertained wearing an embroidered mandarin robe, one of many he had purchased in China. Guests were often offered a trip on Long Island Sound in one of the boats in his collection, including the Chinese junk, which never ceased to draw the attention of local sailors.
Ripley willingly participated in charity work and helped raise money for Westchester causes ranging from the local PTA to the Red Cross. During World War II, Ripley was asked to help the Village of Mamaroneck in a fund-raising campaign for United Service Organizations (the USO). The event concluded with a party for celebrities and town officials at BION.
Ripley died in New York City a few days after blacking out during a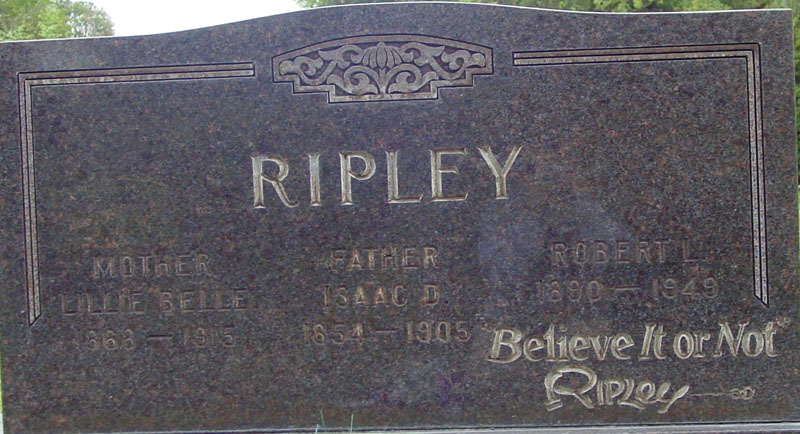 taping of his television program. Buried next to his parents in the Oddfellows Lawn Cemetery in Santa Rosa, California, Ripley's last will and testament was notable for remembering all who had helped him along the way. His house was sold to Ferruccio Tagliavini, a well-known opera singer, but was later torn down to make room for newer housing. Many of Ripley's possessions were sold at a multi-day auction.
Today Ripley's legacy lives on in Ripley Entertainment, now owned by a Canadian company. The cartoons are still enjoyed by millions of readers, and a chain of "odditoriums" in major cities around the world continue to display curiosities from Ripley's lifetime of collecting as well as new items deemed worthy of Ripley. In addition, numerous books about Ripley's collecting continue to be published.
This story was first written for the Westchester Historian. For more stories of famous people who lived in Westchester, New York, just outside New York City, visit Westchester County Historical Society.