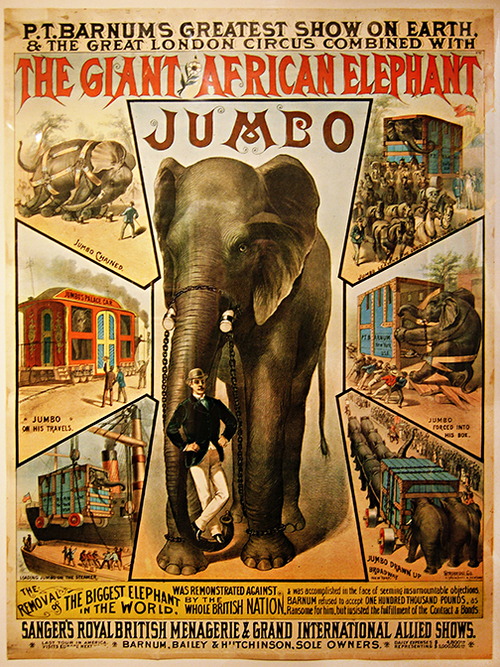 Jumbo the elephant was identified as a possible "get" for the Barnum & Bailey circus in 1882 by a circus scout who found the elephant at the London Zoo. After learning of the elephant, James Bailey sent the man back with money to buy it.
The story that came next—that of getting Jumbo to America–is such an incredible tale that it simply had to involve showman P.T. Barnum.
Barnum and Bailey Combine forces
James Bailey (1847-1906) and P.T. Barnum (1810-1891) came from very different worlds. P.T. Barnum had been a retailer, a newspaper publisher, a legislator, a museum proprietor, and always a promoter. (Read more about him here.)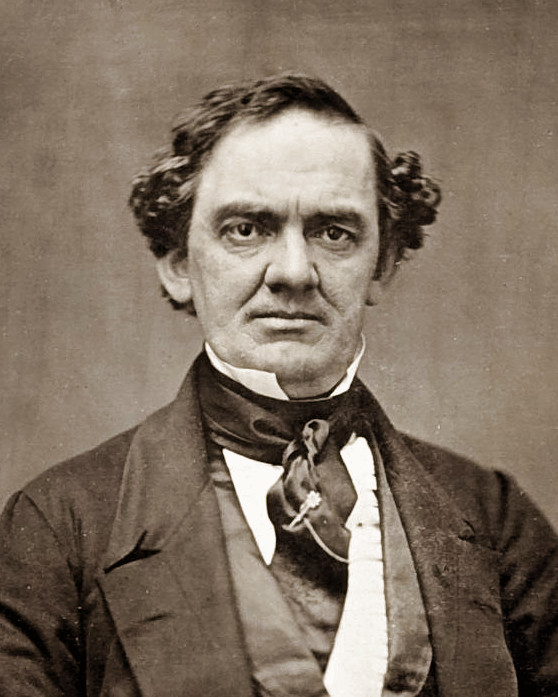 James Bailey was born James Anthony McGinnis in Detroit, Michigan. He was orphaned at the age of 8 and placed in an unhappy home situation. By the age of 11, he ran away and took odd jobs to support himself. While working as a bellhop in Pontiac, Michigan, he met circus proprietor Frederic Harrison Bailey. Bailey offered the boy a job—a turning point in James Bailey's young life.
James thrived in his work for Bailey, and he eventually took his mentor's surname. As they traveled the country with the circus, James came to know other circus owners. Later, he joined William Lake and John Robinson's circus. When Robinson died, Bailey became the manager of the Lake & Robinson Circus.
A few years later, Bailey bought an interest in another circus that came to be known as Cooper & Bailey. He eventually acquired several other shows.
Head-to-Head Against Barnum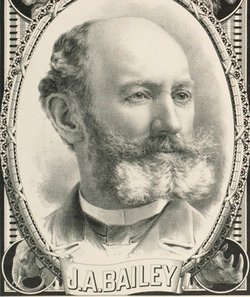 As James Bailey built his portfolio of circus businesses, he knew his main competition: A relatively new circus run by P.T. Barnum. (Barnum did not get into the circus business until late in his life.)
Barnum's circus base was in Bridgeport, Connecticut, where he lived. In 1880, Bailey booked one of his circuses there. To Barnum's consternation, Bailey's circus outsold Barnum's, taking in $2 to every $1 of Barnum's show.
A younger Barnum might have fought for dominance, but instead, Barnum proposed a merger. Barnum was the showman; Bailey took over management of business affairs. Together, they were soon running "the greatest show on earth."
Always Looking for New Attractions
Though Barnum is generally given credit for bringing "the world's largest elephant" to the U.S., James Bailey was actually the man behind the deal. The story is a perfect example of why Barnum and Bailey were an ideal team.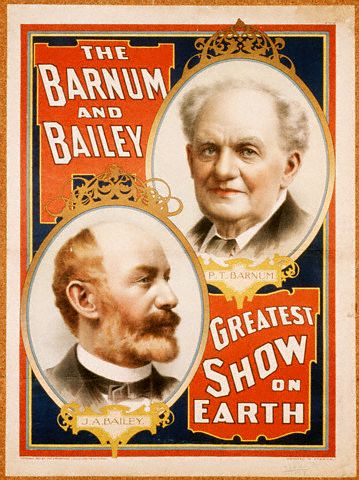 In 1882, Bailey sent a representative to Europe to look for interesting new attractions. When the scout, Joseph Lee Warner, came back, Bailey said to him: "What was the best thing you saw over on the other side?"
"Well," answered Warner, after long thought, "I think the greatest thing I saw was an elephant in the London Zoo."
"Go back and buy him," said Bailey.
Bailey sent Warner off with $10,000 for the purchase of the elephant that became known as "Jumbo." As part of the deal, Jumbo was to be accompanied by his keeper, Matthew Scott.
Jumbo Bound for the U.S.
After the sale, a media storm ensued. Britons and The British press were irate that the London Zoological Gardens let their "treasure" go. Massive publicity resulted, paving the way for P.T. Barnum to do what he did best—drum up more publicity.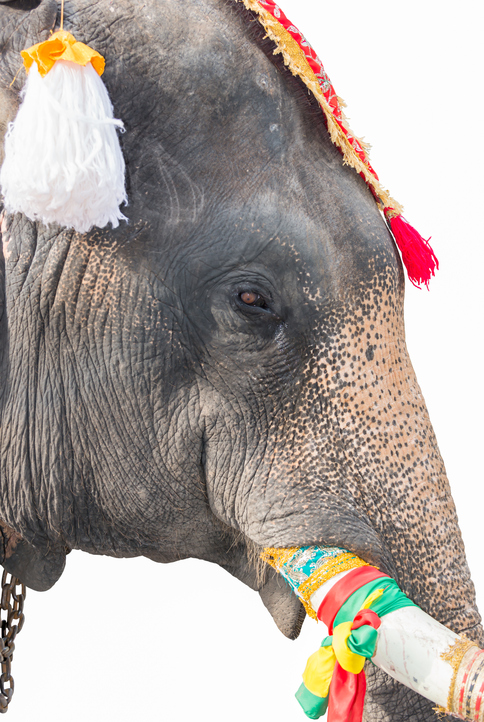 As plans for the elephant's transport began, Jumbo expressed no interest in walking into his specially-built travel create.
Barnum made certain that the press had easy access to the reluctant traveler. Each day there were stories of Jumbo: "Would he or wouldn't he agree to go to America?" Every day the elephant refused, there were more stories. Barnum and Bailey were already getting their money's worth.
Eventually, Jumbo was lured into the crate. It was then loaded on to a wagon to be transported to the wharf where it was loaded on to a ship. Finally, Jumbo and Matthew Scott were on their way to the U.S.
New York Arrival
When Jumbo disembarked in New York City, thousands were there to greet him. Jumbo was given maximum exposure. The elephant paraded up Broadway and across the Brooklyn Bridge and then back again.
By the time, Barnum was finished, New Yorkers and those from all around could not wait to buy tickets for the circus.
Life with the Circus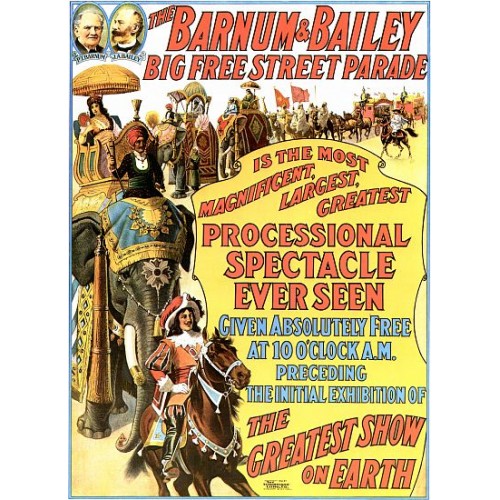 For any animal, life with the circus is hard—lots of travel, challenging weather, poor living conditions, little exercise, and an inconsistency in the quality of meals. The same was true for Jumbo. He was with the Barnum & Bailey Circus for only 3 years when there was a tragic accident.
The circus was closing down after performances in Ontario, Canada. Circus trains were routinely loaded after dark, relying on dim lantern light and any light from the moon.
That night the animals were being led through the rail yards in St. Thomas (Ontario). An arriving train charged into the area at a high rate of speed. Jumbo was hit, and he died shortly after the accident.
It was a tragic end to what cannot have been a happy life for an elephant.
Jumbo On Display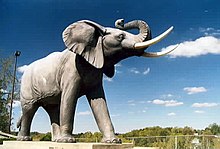 Barnum never wasted an opportunity. For a year or so, he sold tickets to see Jumbo's skeleton wherever the circus performed. He also arranged for the elephant skin to be stuffed so a more lifelike Jumbo could be displayed.
The skeleton was eventually donated to the Museum of Natural History in New York City. The stuffed version of Jumbo was displayed in Barnum Hall at Tufts University for many years. In 1975, it was destroyed in a bad fire at the school.
His Keeper
After Jumbo died, his keeper, Matthew Scott, traveled with the circus for the remainder of that year. Then the business manager of the circus gave him his final pay and arranged passage for him back to London. But Scott never showed up when the ship sailed.
A few weeks later, the business manager found him. Scott returned to Bridgeport where some of the circus elephants were spending the winter. In Scott's mind, he belonged with elephants even with no pay.
As for Barnum and Bailey
P.T. Barnum died in 1891 of a stroke. His widow maintained ownership of his share of the circus and left the management of it to Bailey.
James Bailey ran the circus on his own for many years. By this time the circus was a well-run enterprise, and Bailey was particularly happy when the circus was performing at Madison Square Garden, near his home in Yonkers.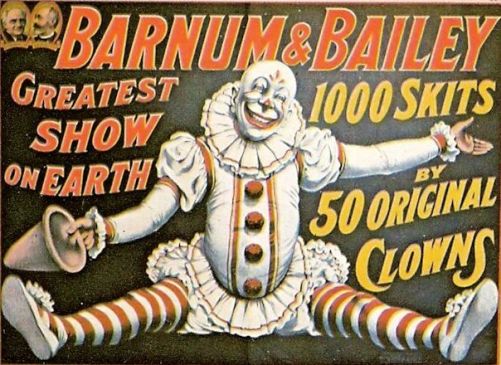 Each year when the circus was in New York, he sponsored an "orphan's day" in remembrance of his own beginning. Children were given free tickets to the circus, and peanut vendors were paid by Bailey to be there to give everyone a bag of peanuts to enjoy during the show. Press agents said it was his favorite show of the year; it may have been.
Unfortunately, in the autumn of 1906 when the circus filled the Garden, Bailey was too sick to get to many of their performances. He died that autumn of an infection.
Acquired by Ringling Brothers
After Bailey's death, Barnum & Bailey was acquired by their main rival, Ringling Brothers. Ringling was started by seven siblings who transformed their small touring company of performers into one of America's largest circuses.
For a time, the two circuses traveled as two separate entities. In 1919, the two circuses combined to become Ringling Brothers Barnum & Bailey. The first performance of the newly combined circus was in Madison Square Garden.
Here is a little more about P.T. Barnum from a circus historian.