Pedro Guerrero, the son of a sign painter, grew up in Arizona attending Mexican-only public schools. He attended an art school in Los Angeles but did not stay long. When he returned home, his father suggested he stop by the home of a famous new resident, Frank Lloyd Wright. Guerrero's father had done some small projects for Wright. He suggested that Pedro show his photographs to the architect. Pedro Guerrero caught Wright in his driveway and made a pitch there.
Wright invited him to return with his portfolio. The architect liked what he saw and eventually came to rely on Guerrero exclusively.
Pedro Guerrero's Early Years
Pedro Guerrero (1917-2012) was born in Casa Grande, Arizona, on September 5, 1917. His family lived in Arizona for several generations before the territory achieved statehood. His great-grandfather had settled in a little town known as Florence in 1876. He served as justice of the peace. Family members drifted about 30 miles west of Florence. Guerrero's parents settled in Casa Grande, which is about an hour south of Scottsdale. As a sign painter, Guerrero's father frequently found work in the bigger cities.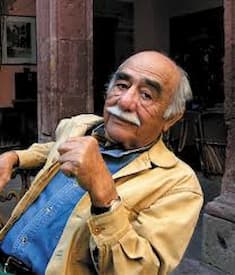 After graduating from public school in Casa Grande, Pedro applied and was accepted to the Art Center School in Los Angeles. (The school is now known as the Art Center College of Design.) But Guerrero did not like the experience and came home.
Share to Google Classroom:
Famous Architect Moves to Arizona
Frank Lloyd Wright started visiting Arizona in the 1920s. He and his wife loved the winter months there, and he always had jobs to check on. After dozen years of visiting the state, Wright decided to build a new school in the state. His art had benefited from the desert surroundings, and he thought students would like it, too.
By 1937–at the age of 70–Wright was building Taliesin West. (His other school, Taliesin, is located in Spring Green, Wisconsin.)
During one of Wright's trips to the state, Guerrero approached him. Guerrero appeared in Wright's driveway one afternoon and caught sight of the man. Guerrero introduced himself as a photographer—the first time he had ever classified himself in that way. Perhaps because Wright knew Guerrero's father, he invited the young man to show him his portfolio.
Guerrero did not have many photos to display, but those he had caught Wright's interest. Wright also liked it when Guerrero commented that he would photograph Wright's work as it if were sculpture. The assignments began.
Settled in Connecticut
As a young adult, Pedro Guerrero married and wanted a home near New York where he and his wife could raise a family. They chose a house in New Canaan, Connecticut, because it was relatively close to New York City. He knew of the small town partly because it was the town where Philip Johnson built his Glass House. Guerrero went on to photograph for architects Johnson, Eero Saarinen, and Marcel Breuer. Later he was commissioned to photograph the work of artists Alexander Calder and Louise Nevelson.
Strong Bond Began
For the next twenty years (with the exception of Guerrero's service as a photographer for the Army Air Corps during World War II), Guerrero was on call for Wright at all times. Wright came to trust Guerrero implicitly and refused to work with any other photographer.
Guerrero also freelanced for magazines like Vogue, House & Garden and Harper's Bazaar. In 1962, House and Garden hired him to go to Cambridge, Massachusetts, to photograph Julia Child's kitchen. In his book, Guerrero writes that being in Julia's presence was simply a joy. He also noted that she prepared dinner for them and it was a "once-in-a-lifetime" experience.
But his relationship with Wright was paramount. Guerrero always set aside everything else when Wright needed him.
Guerrero's Work Highly Esteemed
While all of Pedro Guerrero's work is held in high regard, he is most strongly identified for capturing the work of Frank Lloyd Wright. Art critic James Auer, writing for The Milwaukee Journal Sentinel says it well. Guerrero's photographs of Wright's work "have a simple elegance that belies the skill that went into their making."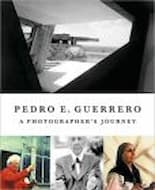 While most of Guerrero's photos concerning Wright are of his buildings, one unique series involves only Wright's hands. In 1953, Wright appeared on The Today Show where he was asked about the difference between organic and conventional architecture. Wright carefully described the difference between the two ways to build things, expressively using his hands. One of Wright's editors was so taken by Wright's purposeful and fluid use of his hands that he phoned Guerrero to come to New York to document it.
Returning to Arizona
In 1999, Guerrero was 82. He decided it was time to leave Connecticut, his home of 50 years, and return to Florence, Arizona, the town where his ancestors first lived. He writes in his 2007 book, Pedro Guerrero: A Photographer's Journey: "I felt compelled to come here in response to a silent call, a chorus of voices from the past."
Stereotyping Never Ended
He relates that stereotyping never ended. He wrote that in the northeast if he dressed like other party attendees in a tuxedo, Guerrero was frequently mistaken as a waiter. "No matter how much I achieved, I always felt the need to explain just who I was and why I belonged."
When he returned to Arizona, he wrote: "…Looking around me—aware that these people, this place, and even the bigotry I experienced so strongly more than sixty years ago shaped me for the better—I feel a strong sense of peace. I no longer need to explain myself. I now realize that discrimination can have its positive side, propelling a person to action when he might just sit around believing that what others say about him is true. I know now who I am, and I know that I belong."
To read more about Frank Lloyd Wright's house Fallingwater click here.
To read more about Julia Child, click here.
Another famous photographer, Gordon Parks, chose to return "home" to his state for burial. See . "Gordon Parks: Extraordinary Photojournalist."