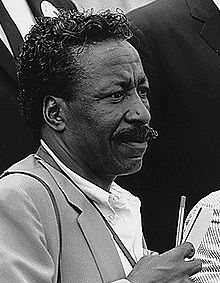 Gordon Parks, best-remembered as a gifted photojournalist, was also an author, composer and film director, achieving remarkable success in each field. His journalistic platform in Life magazine permitted him to affect the world he covered—from gang life in Harlem to poverty in Brazil. Parks' coverage of the Civil Rights movement in the 1960s provided Life readers with a unique and important perspective on the struggle against racism.
Gordon Parks: Early Life
Gordon Parks (1912-2006) was the 15th child of a tenant farmer, Andrew Jackson Parks, and his second wife, Sarah, who worked as a maid and cared for their 15 children. Sarah and her husband deeply loved their family, and family strength may have been what gave Gordon the ability to obtain for himself more than what society offered him.  
All the Parks children attended a segregated grade school in Fort Scott, Kansas, but since there was only one high school, it was integrated. However, black students were banned from sports and discouraged from taking college prep courses. In A Hungry Heart: A Memoir, Parks writes of one teacher advising black students against setting their sights on college. They were, after all, destined to become railroad porters and maids.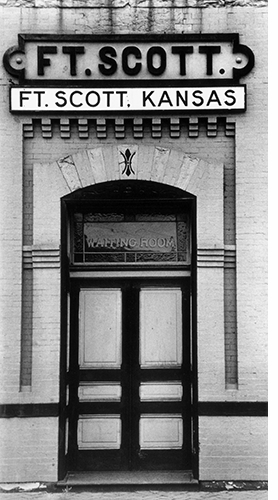 Gordon's mother died when he was 15, but before she died she left her husband specific instructions: Gordon was to go live with his married sister in St. Paul, Minnesota. Before sending him north, Gordon's father told him: "It won't be easy for you up there. It's a strange cold country and you're bound to meet some hard times. But you're not to worry, son. Your heart will tell your feet which roads to take."
Gordon needed that advice. His brother-in-law soon kicked him out of the house, and Gordon was left to make his own way in the world, never having the chance to finish high school.
Parks: Making His Own Way
Parks taught himself to play the piano and an early job was playing piano at a brothel, while also working as a hotel busboy. His musical talent gave him another boost when he joined a band and they began traveling. When the band broke up, he returned to St. Paul where he married an early love, Sally Alvis, in 1934. To support his new wife, Parks took a job as a porter and waiter with the railroad, working on the North Coast Limited.
The job brought about a life-changing moment: a passenger left behind a magazine that contained photos taken by several of the U.S. Farm Security Administration photographers, Dorothea Lange's among them. Parks was very moved by the honest stories told by the Depression-era photographs, and he purchased his first camera, a Voigtlander Brilliant, at a Seattle pawn shop for $12.50.
In St. Paul, Parks approached the owners of a small boutique, volunteering to take some fashion photographs. The store liked his work, and the photography caught the eye of Marva Louis, wife of champion boxer Joe Louis, and she encouraged him to move to Chicago where she could help him get work.
Parks moved to Chicago without his family and continued with fashion photography, but spent his spare time photographing the slums of Chicago. This work earned him a fellowship from the Julius Rosenwald Fund, and he used that backing to move his family to Washington where he applied for a job with the Farm Security Administration.
Getting Hired by the FSA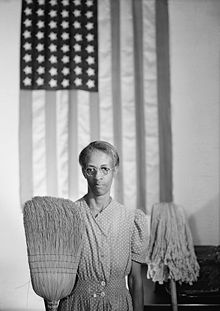 Roy Stryker was head of the FSA in 1942, and his first instinct was that a black photographer would be incapable of maneuvering around Washington, D.C, a city with a very southern mentality. On Parks' first day Stryker sent him off without his camera to make a purchase at a department store, go to a movie, and eat at a coffee shop. Parks quickly saw what he was up against, and he came back to the office boiling mad. As he and Stryker talked, Stryker pointed to Emma Watson, the black cleaning lady taking care of the building. "Spend time with her. See what she has to say about life."
Parks did so, and the first photo he took of Watson was what we now know as Gordon Parks' "American Gothic."
When the Farm Security Administration disbanded, Parks moved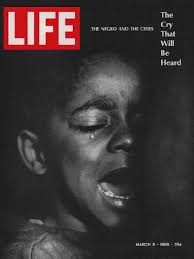 with Stryker to the Office of War Information but when the WIO decided not to send a reporter to cover the Tuskegee Airmen, he left the WIO and moved to New York City.
At Harper's Bazaar, Parks was told they could not hire him because of his skin color, but Alexander Liberman at Condé Nast agreed to see him and hired him for freelance assignments for Glamour and Vogue.
Parks traveled for work a great deal, but David Parks (1944-  ), youngest son of Gordon Parks, recalls that his father relished having people at their house in Westchester, N.Y.—that the children's friends were always welcome. Because the neighborhood was filled with musicians, it was not uncommon for them to gather at someone's house, often the Parks, and play together.
Gordon Parks at Life Magazine
Parks had his sights set on working for Life magazine. One day he stopped by the office with his portfolio and talked his way in to see photo editor Wilson Hicks. Hicks was annoyed at first, but then saw the pictures. Hicks asked Parks what he would like to try; Parks suggested a story on the gangs in Harlem.
Hicks agreed this was a good test. Parks' skin color gave him access to the gang, and his easy-going personality helped him get the story. He soon was put on staff as a full-time photographer. Parks was Life's first black photographer, covering subjects as wide-ranging as fashion in New York and poverty in Brazil.
Parks' coverage of the Civil Rights movement gave Life access to important stories of the era. From the shooting of Martin Luther King, Jr., to the speeches of Malcolm X, Parks gave Life readers a front-row seat. "Success among whites never made Parks lose touch with black reality," wrote Malcolm X of Parks in his own autobiography.
In the late 1940's, Life sent Gordon Parks and his family to Paris on assignment. Mrs. Parks apprenticed to be a hat designer, and the children loved being in schools where skin color wasn't an issue. Parks photographed fashion and news and enjoyed connecting with all who passed through Paris. Richard Wright, (1908-1960), author of Native Son, was among those with whom Parks crossed paths in Paris. Wright coached Parks: "You have to write cold and hard about Black life in America—and not allow Whites to face the words with the consolation of a few tears."
Parks' Other Achievements
In 1968 Parks decided to undertake film-making, working first on The Learning Tree, a memoir of his youth. In 1971 he became the first African-American to direct a major Hollywood production, directing Shaft, one of the first hip black action films. In addition Parks directed other films, authored several other books about his life, wrote original musical compositions, and created a ballet about Martin Luther King, Jr.
Though Parks never received a high school diploma, he was presented with over 50 honorary degrees, and in 1988 he received the National Medal of Arts.
Personal Life
Parks was married and divorced three times. For many years, Parks also had an ongoing relationship with Gloria Vanderbilt. He first met her in 1954, when he photographed her for Life. The two eventually went on record about their relationship, sitting for an interview with The New York Times in 2000. Marriage for the two of them may have been unthinkable initially because of Gordon's skin color, but it also seemed that the class difference was perhaps the bigger hurdle.
In 2012 Anderson Cooper, Vanderbilt's son, spoke at a fundraiser for the Gordon Parks Foundation and attested to Parks' presence in his life. Cooper noted that his choice of career was influenced by Parks. "He was the first journalist I knew….He gave voice to those whose voices had been silenced by poverty and injustice."
Gordon Parks: In the End
When it was clear that Gordon was dying, he told son David, "I want to go home to be buried." David said, "Westchester?" Gordon replied: "No, I want to be buried in Kansas." He was buried in Fort Scott, the place where his amazing life began.
To read more about the Gordon Parks' family life and his home in Westchester, New York, click here for my original article on Parks.