First African-American woman elected to Congress
First woman to run for Democratic presidential nomination (1972); Margaret Chase Smith had run for Republican nomination in 1964
First black candidate to put name forward to run for president with a major party
"Shirley Chisholm had guts" was her answer when she was asked how she wanted people to remember her.
Throughout her life, she never blinked at challenging the status quo, and she made contributions to better education for children in New York City (education was her original line of work), and she took many steps forward for blacks and women as she staked out tough positions in Congress.
Early Years
Shirley Chisholm was born in Brooklyn to parents who had emigrated to the U.S. in the 1920s. Her father was a factory worker and her mother was a seamstress and domestic worker. When Shirley was 3, Shirley and her sisters were sent to Barbados to live with her maternal grandmother. Chisholm credits her ability to speak and write well to the strength of her early education at the British-style schools in Barbados. Shirley was ten when she moved back to the U.S.
When she returned to Brooklyn, she attended Girls' High School followed by earning a B.A. from Brooklyn College and an M.A. in elementary education from Columbia University in 1952.
From 1953-59 she was director of Hamilton-Madison Child Care Center (NYC) and in 1959 she became an education consultant on day care.
Life in Politics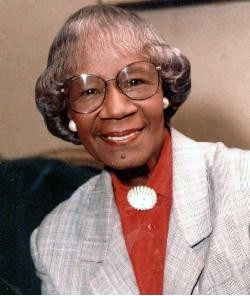 In 1964 she was elected to the NYS Legislature. Shortly thereafter, Brooklyn had to undergo a court-ordered redistricting. This provided a new district that was primarily in Chisholm's Bedford-Stuyvesant neighborhood, and she decided to run to represent the 12th Congressional District. The Democratic machine was in favor of placing an African-American in the position, but three other African-Americans had their eye on the seat. Chisholm won the primary and then beat out the Republican candidate, James Farmer. This made her the first black woman elected to Congress. She also became one of the founding members of the Congressional Black Caucus (1971).
Congress
Committee assignments in Congress are doled out according to seniority, and as a freshman, Chisholm was assigned to the House Agricultural Committee. Coming from an urban area, she could not imagine what good she could do her constituents with that assignment, so she challenged the seniority system and asked for a new assignment.
"Apparently all they know here in Washington about Brooklyn is that a tree grew there." She added: "Only nine black people have been elected to Congress, and those nine should be used as effectively as possible." (NY Times obituary 1-4-2005)
She was placed on Veteran Affairs. She then backed Hale Boggs to be majority leader and when he was elected to the post, Boggs assigned her to the highly coveted Education and Labor Committee. She served there throughout her time in Congress and when she retired she was the third highest-ranking member of the committee.
During her time in Congress, she fully staffed her office with women, half of whom were black. While serving in the New York legislature she said that it was more difficult being a woman than being black. That was the reason for her staffing decision.
Wrote Two Books
In 1970 she wrote "Unbought and Unbossed;" the title was taken from her original campaign slogan. Commenting on the failings of Congress, she noted: "The Congress that is supposed to represent the voters does not respond to their needs. I believe the chief reason for this is that it is ruled by a small group of old men."
In 1972 she decided to run for president. She chose to do so "in spite of hopeless odds…to demonstrate the sheer will and refusal to accept the status quo." She campaigned in 12 states. During that time there were three attempts on her life; she survived them all. Ultimately George McGovern got the nomination.
The same year candidate George Wallace of Alabama was also a target of assassination; his attack left him paralyzed. Wallace's primary cause had been to dedicate himself to forcing a continuation of segregation.
Chisholm went to visit Wallace in the hospital, and when Wallace asked what her supporters would say about her visit, Chisholm responded: "I know what they're going to say, but I wouldn't want what happened to you to happen to anyone."
Chisholm reported that Wallace wept openly at her comment. (NY Times 1-4-2005)
Several years later when she put forward a bill to give domestic workers a right a minimum wage, Wallace helped gain votes from Southern congressmen and the bill eventually passed the House.
Personal Life
Chisholm's first marriage ended in divorce in 1977; she later married a Buffalo businessman who died in 1986.
In 1982 she retired from Congress; her seat was won by a fellow Democrat.
After life in DC she returned to working in education, teaching at various institutions and was a frequent guest lecturer. In 1990 she helped start the African-American Women for Reproductive Freedom, an issue that is still important today, particularly for women in the South.
Shirley Chisholm died in 2005. Before Chisholm's death, filmmaker Shola Lynch completed a documentary about Chisholm's campaign for president. "Chisholm 72: Unbought and Unbossed" was screened at Sundance in 2004 and was shown on PBS stations in 2005.