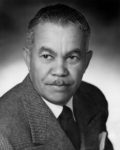 One of Southern California's signature architects
First certified African American architect west of the Mississippi
Designed hundreds of public and private places
When Paul Revere Williams was four, both his parents died of tuberculosis, and he and his brother were put in two separate foster homes. It was Paul's good fortune that his foster mother was kind and supportive. As Paul began to show interest and ability at drawing, his foster mother encouraged him. Soon he never went anywhere without a sketchbook and pencil. Though he was the only African-American in his elementary school, he was set apart by his art as much as his skin color.
In high school a guidance counselor tried to discourage his plan for becoming an architect; the counselor suggested he should be a doctor or a lawyer "because the Negro people would need those types of professionals." However, Williams was unwilling to give up his dream. After high school, he attended the Los Angeles School of Art and Design followed by a Los Angeles branch of the New York-based Beaux-Arts Institute of Design.
He needed to work while in school, and Williams was determined to find appropriate employment. He made a list of architectural firms from the telephone directory, and he went door-to-door offering his services. When he was offered an "office boy" position with no pay at a respected landscape architectural firm, Williams decided to bet on his own future. The firm recognized his talent relatively quickly, and he was soon earning $3 per week as the office boy.
Even with balancing work and school, Williams entered a national competition for students to design a civic center for Pasadena, and he won first place. His plan emphasized open space, which was a characteristic that Williams maintained in much of his design work over the decades.
Career-Changing Advice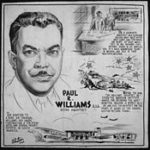 While still a design student, he got great advice–that sketching was just a small part of planning a great building. A good architect needed to know how a building was assembled. At that point, Williams realized he needed an engineering degree as well.
He applied and was accepted to the University of Southern California School of Engineering; he got his engineering degree in 1919, and in 1921 he became a certified architect, the first certified African-American architect west of the Mississippi.
During these early years, he married Della Mae Givens (1917(, at the first AME Church in Los Angeles (co-founded by Biddy Mason). They had two daughters and a son (the son died during infancy). Williams was a devoted and caring family man to his children as well as his grandchildren.
To be a Black Architect in the '20s-70's
In 1921, Louis Cass, a white classmate of Williams from high school hired Williams to build a house for him; Cass also encouraged Williams to go out on his own. At the age of 28, Williams opened his own firm. Later Williams noted that clients and builders (in 1937) would arrive at his office not knowing he was black. When they came in and met him, he wrote: "their one remaining concern was to discover a convenient exit without hurting my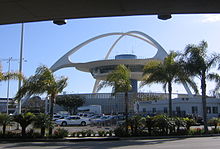 feelings."
In order to help clients feel comfortable, Williams mastered the art of writing and drawing upside down. That way he could sit facing them, instead of beside them, which might make them uncomfortable.
Around that time, Williams was hired to be co-designer on the first federally funded public housing project, Langston Terrace in Washington, D.C. To travel to Washington, however, in 1937, he had to change trains in Texas to get on a Jim Crow car for his trip through the South.
Over time, he began to get major commercial commissions. He designed the Beverly Hills headquarters of Music Corporation of America, designed the interior of Saks Fifth Avenue, planned a restoration of the Beverly Hills Hotel, including the Polo Lounge and the Fountain Coffee shop. In 1945 he became the first African-American to design a major public building when he was hired to plan a unit of the L.A. General Hospital. He also was co-designer with William Pereira of the futuristic spider-like building that straddles Los Angeles International Airport.
Architect to the Stars
He also built up a portfolio of celebrity clients included Frank Sinatra, Lucille Ball/Desi Arnaz, Tyrone Power, Lon Chaney, Bert Lahr and Zsa Zsa Gabor. Williams was hired to design in communities like Bel Air, Beverly Hills, and San Marino, but he and other African-Americans could never have lived there.
Though he was very successful working for white Californians, he wanted to return to the African-American community. Among the buildings he designed were the Second Baptist Church and the 28th St. YMCA, Los Angeles' first Y for "colored boys and young men." Among the Williams' touches were hand-carved images of Booker T. Washington and Frederick Douglass.
For fifty years and over 3000 projects, Williams was extremely influential in helping to establish Southern California style. He gained influence and added awards, commendations, and honorary degrees but continued to give back to Los Angeles. He served on several statewide commissions and for eleven years he served as president of the Los Angeles Municipal Art Commission.
In Karen E. Hudson's wonderful book about her grandfather (Paul R. Williams, Architect, a Legacy of Style—Rizzoli) she includes a quote from an essay written by Williams about the racial divide: "Inevitably such contacts [client contacts between black and white] have influenced my beliefs about the relationship, present and future, between the races in America. I see a present which demands a closer bond of understanding. I foresee a future in which the two races, although forever divided, and rightly so, will work side by side toward the achievement of common goals which are not racial."
While today's readers might take issue with the added "and rightly so" that may have been necessary at the time Williams wrote it in 1937, most would agree that Williams was correct in predicting that over time more people would be working toward racial-free goals.